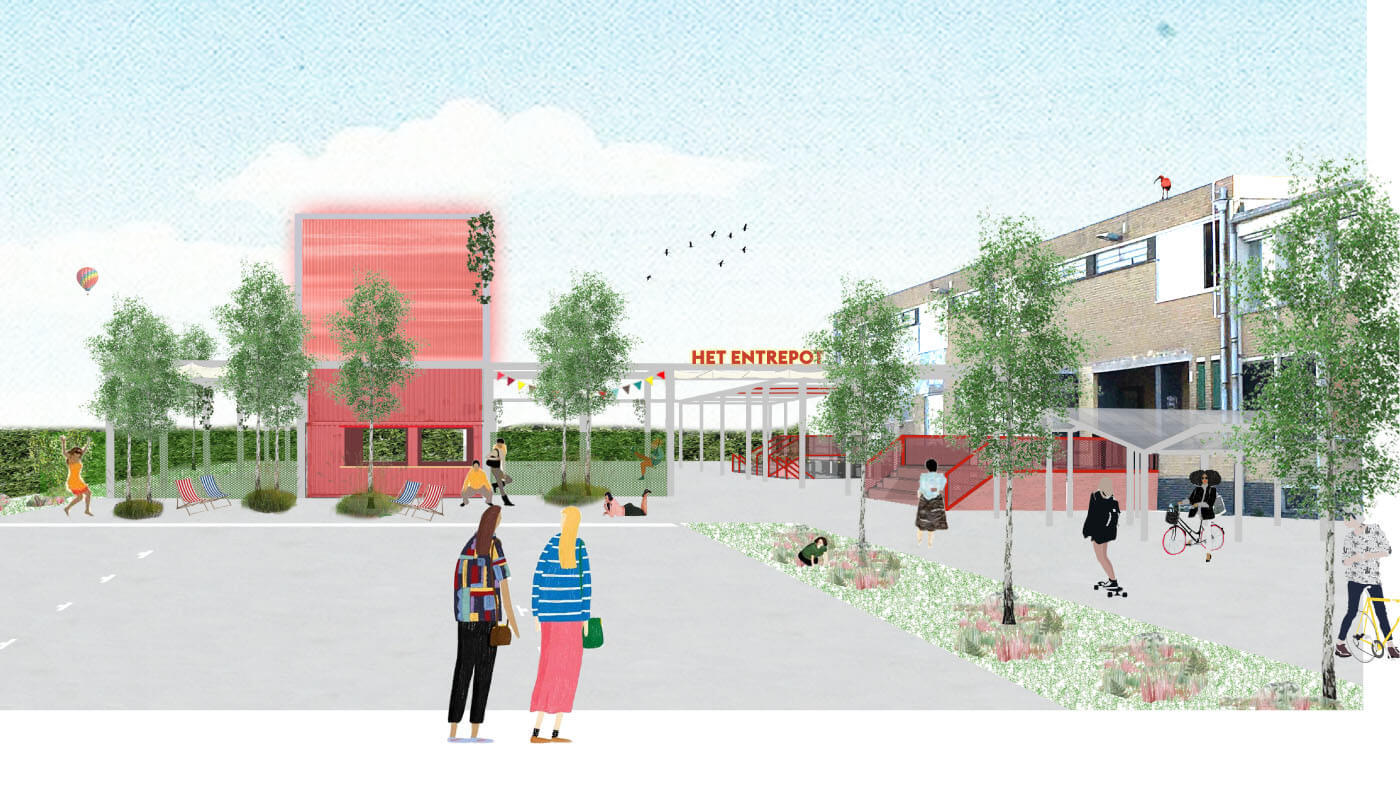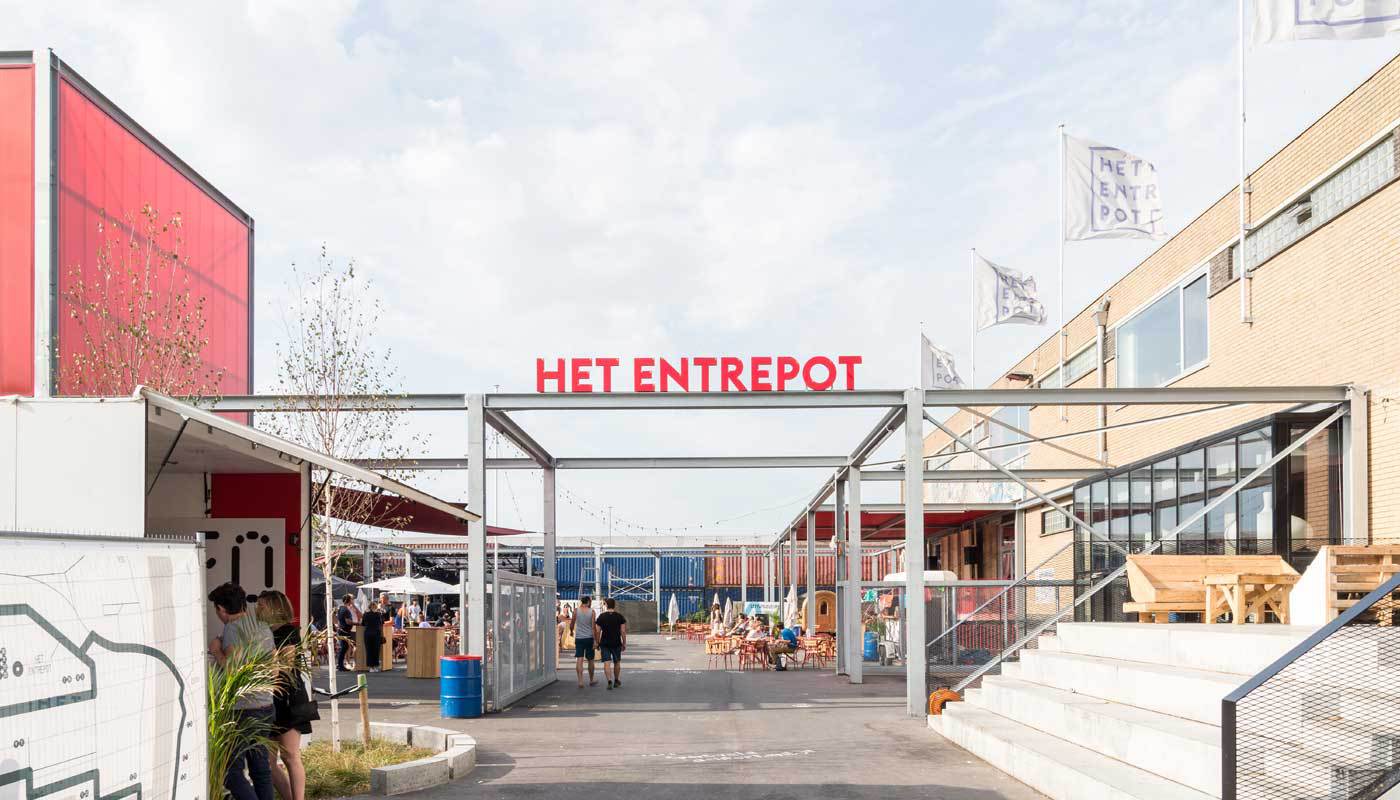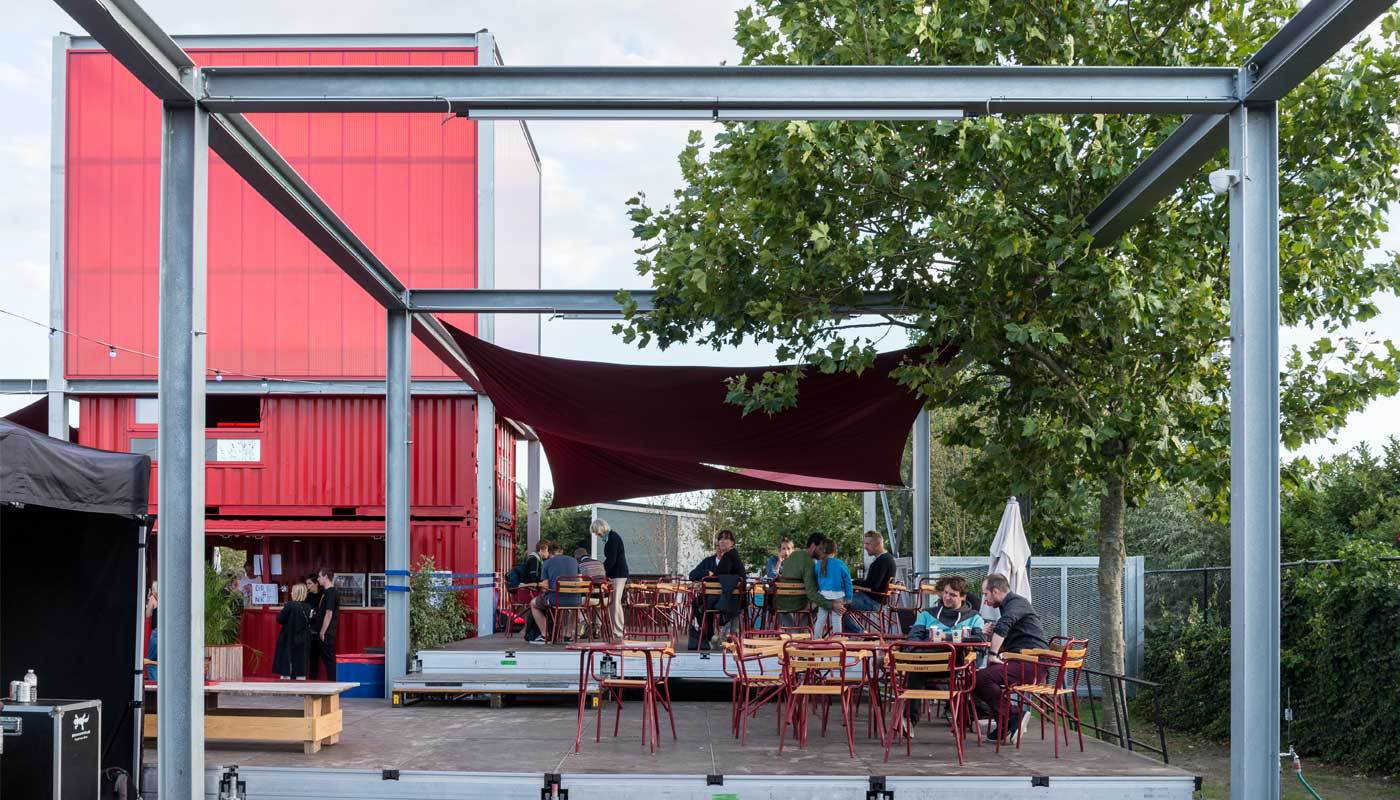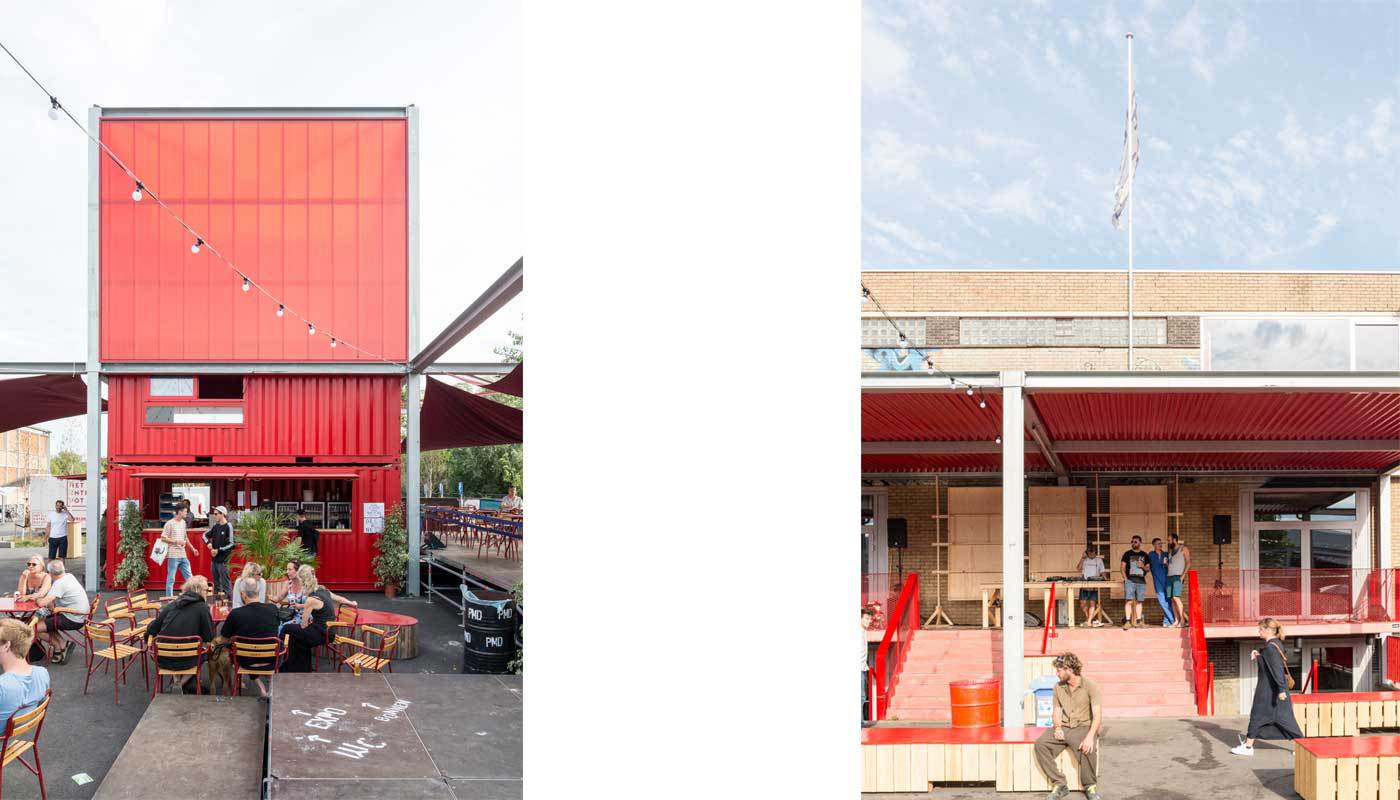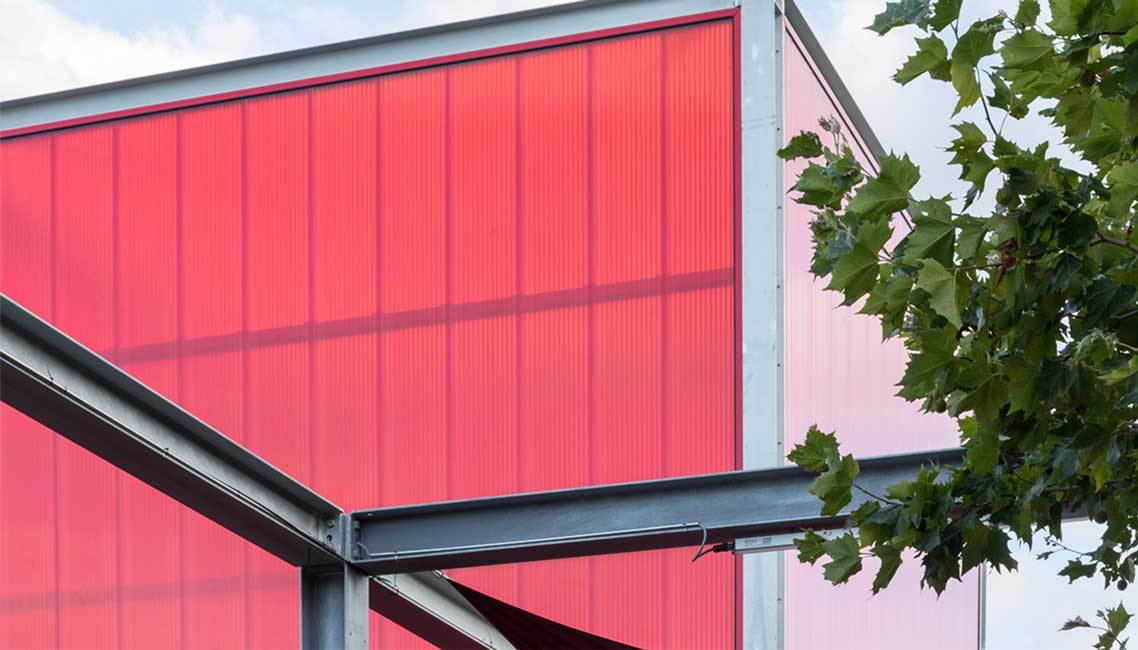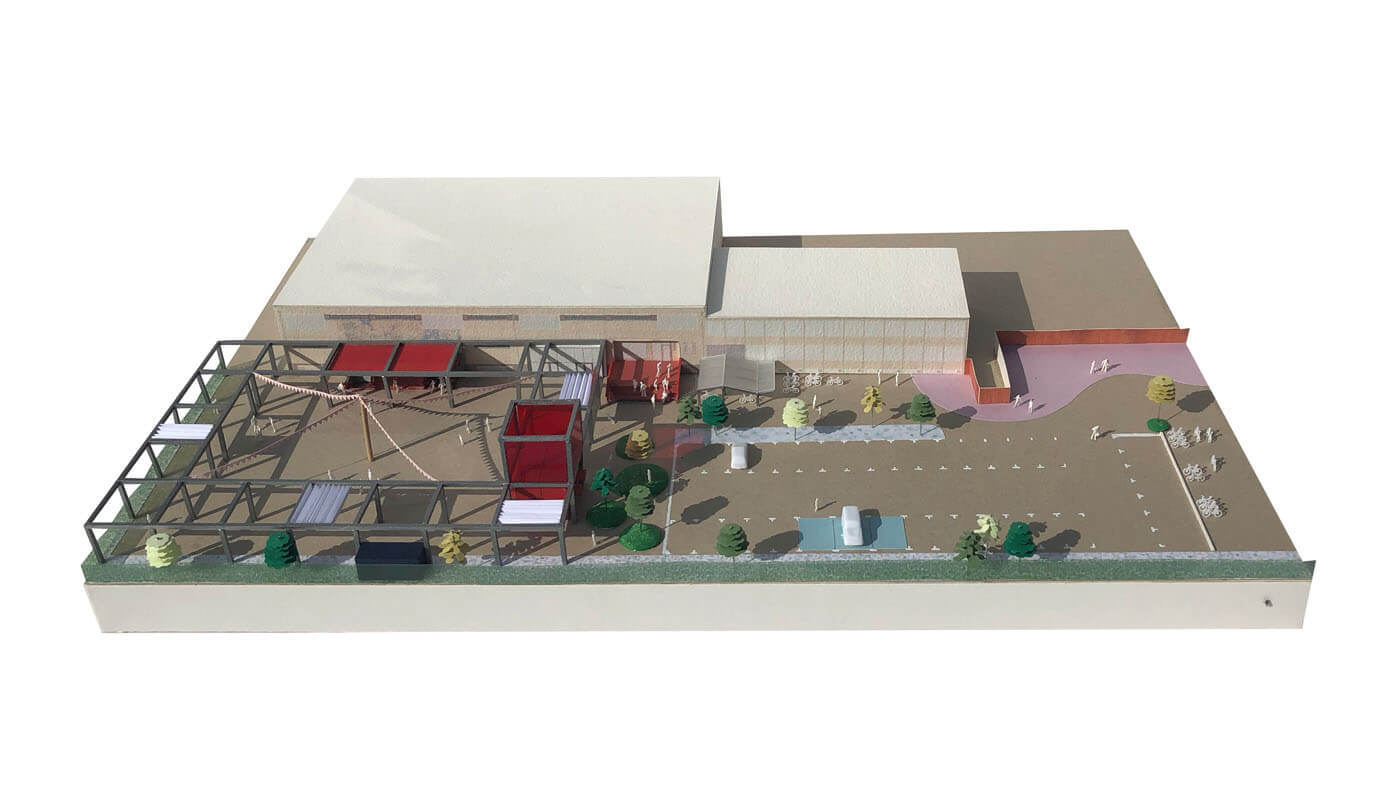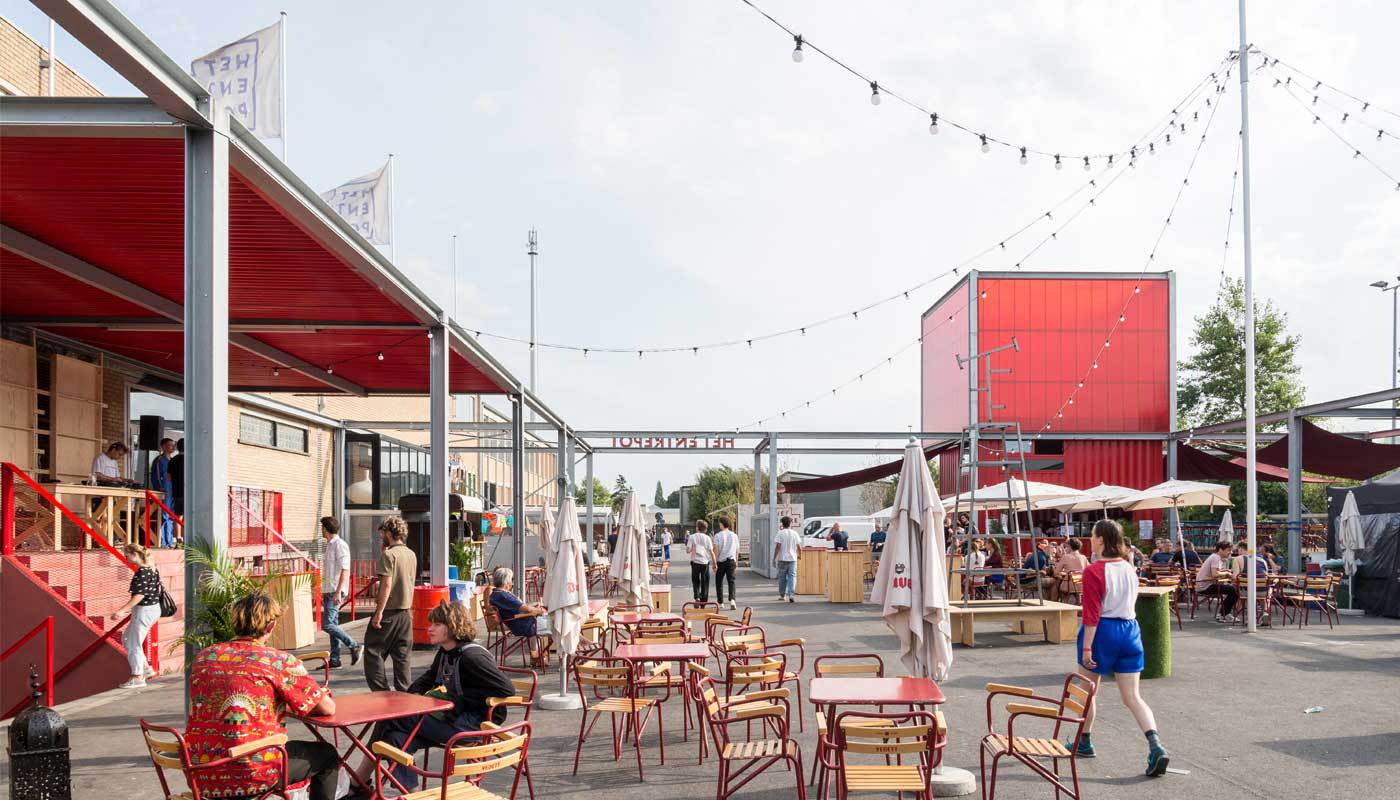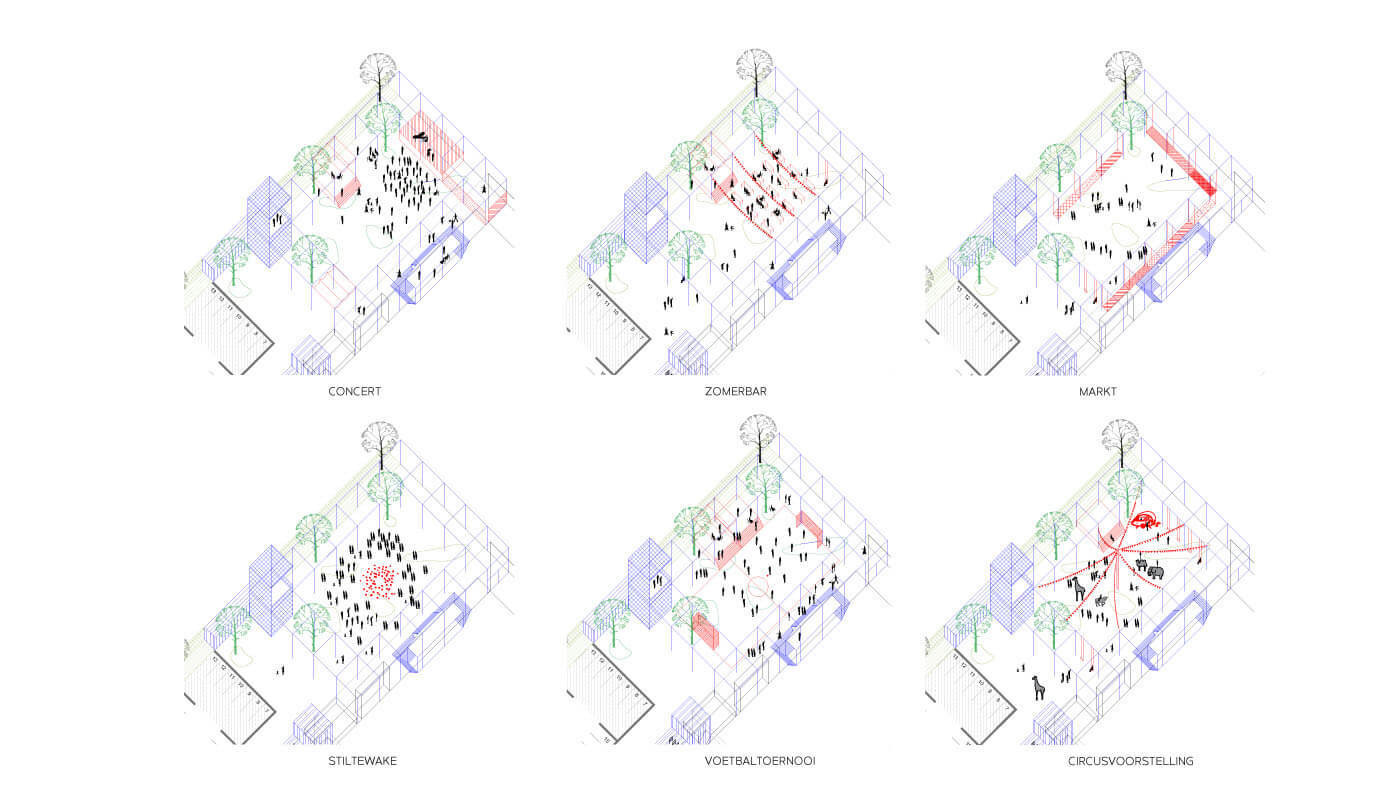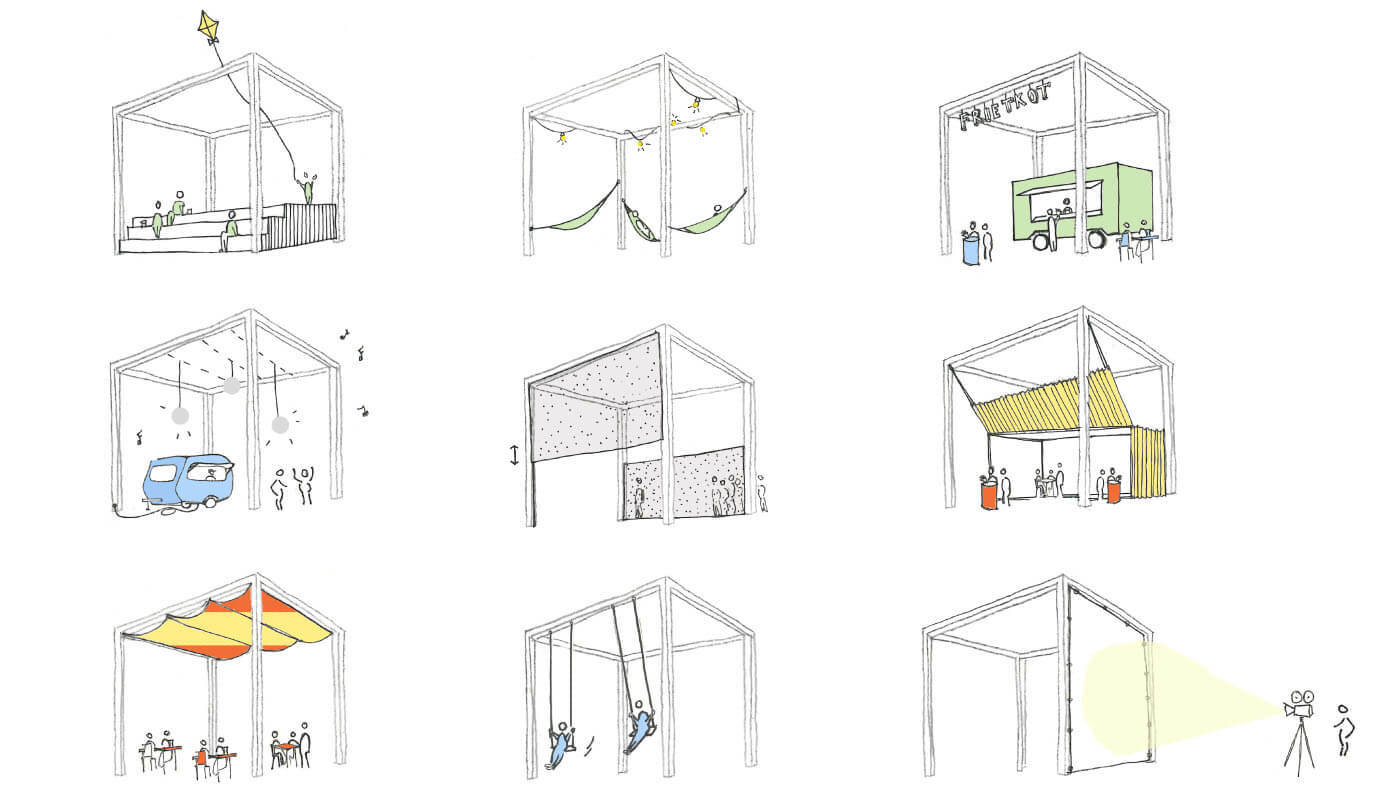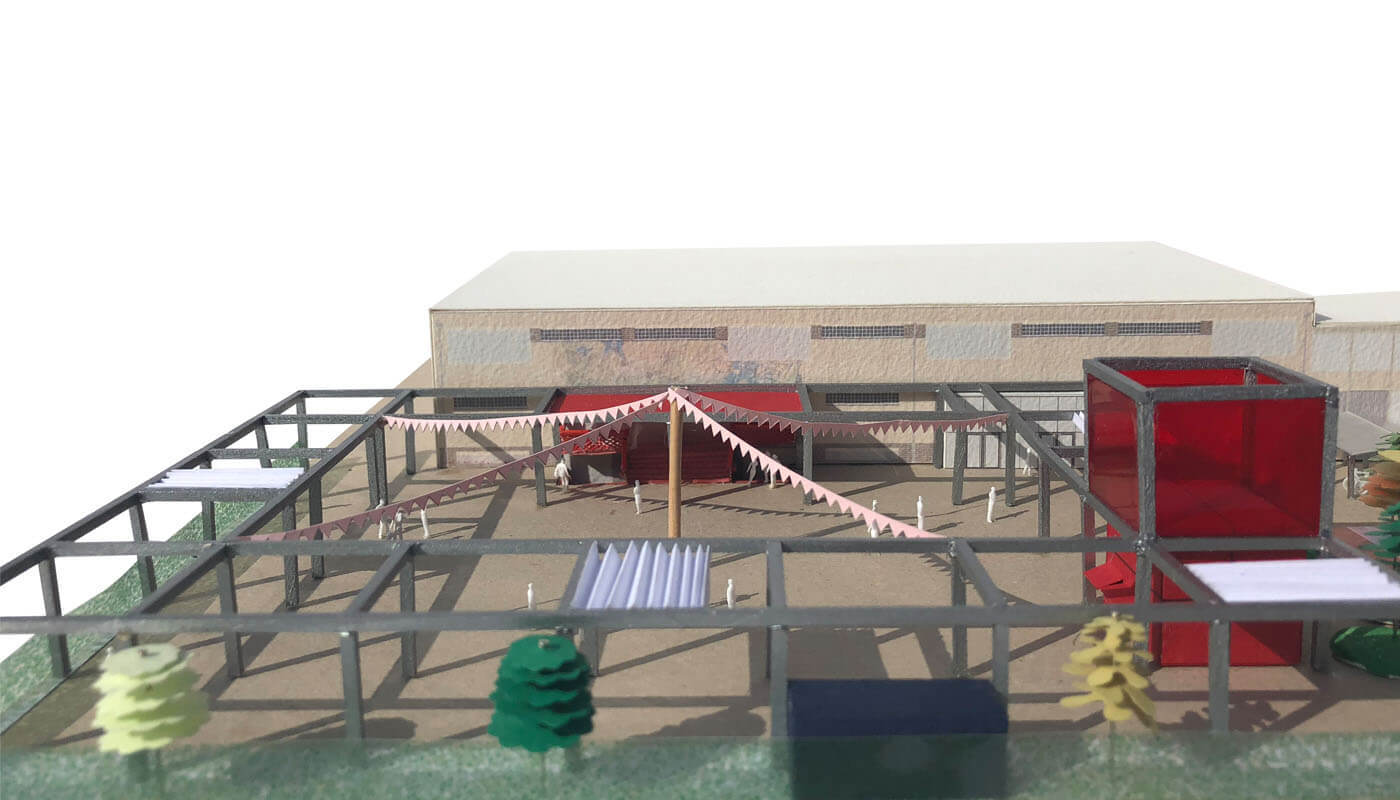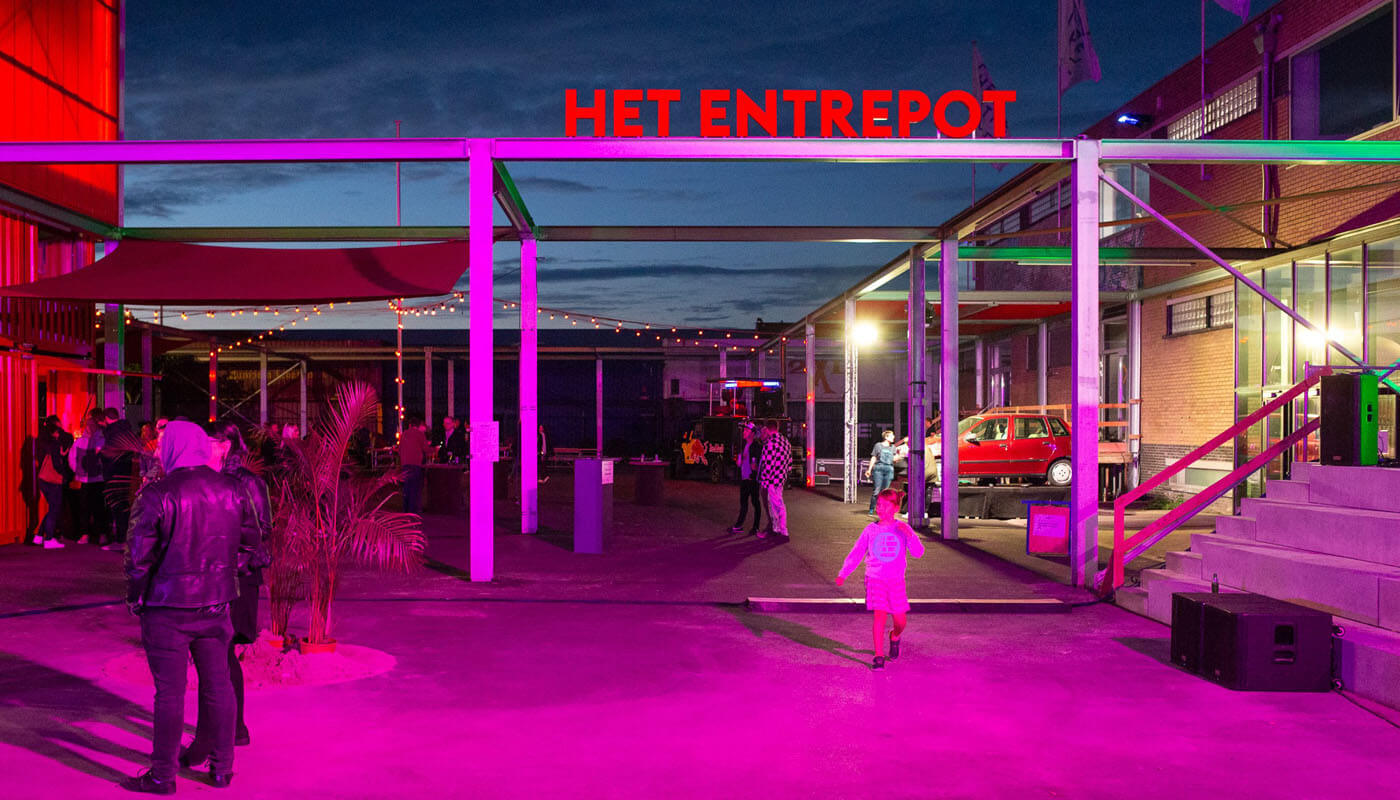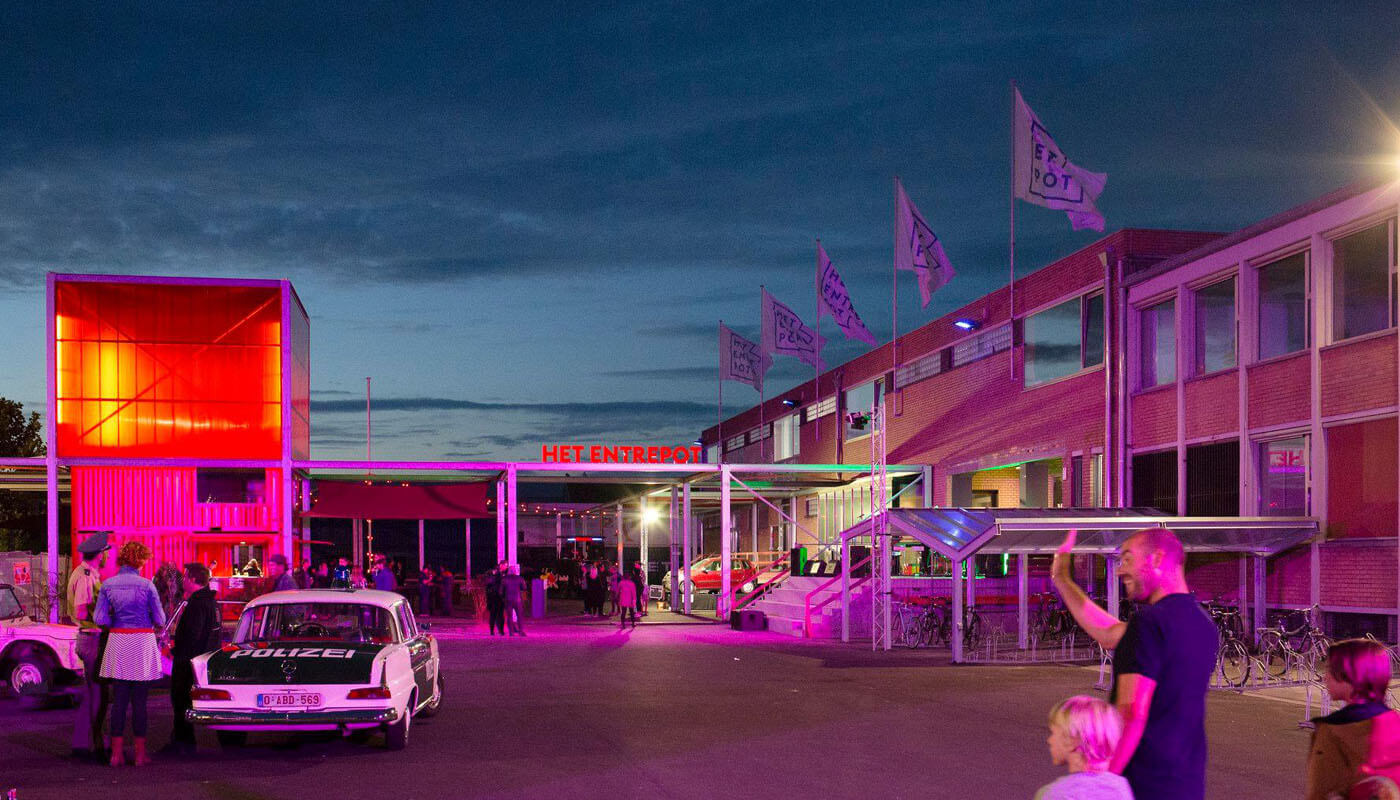 info
client

Stad Brugge

location

Brugge

surface

4250 m²

procedure

Competition - 1st prize

period

2017 - 2018

phase

Completed

team

ZAmpone architectuur - TC plus - TAD

photography

Jason Slabbynck - Hart Cornelis
Description
De parking aan het Entrepot ondergaat een ware gedaanteverwisseling. De grote parking aan de binnenhaven wordt omgetuned tot een volwaardige evenementenlocatie voor jongerencentrum Entrepot en Jeugdhuis Comma.
De nieuwe buitenaanleg bestaat uit een stalen structuur die in de vorm van een gaanderijzone wordt opgebouwd. Die ingreep heeft als groot voordeel dat de organisatoren van evenementen elementen als blokkendozen naar hartenlust kunnen verschuiven, monteren en demonteren in functie van de activiteit. Op die manier kunnen er heel wat kleinschalige activiteiten zoals lezingen, kleine optredens of zelfs een stiltewake tot grootse voorstellingen en concerten plaatsvinden. Het ontwerp speelt op die manier ook in op eventuele noden in de toekomst.
Het ontwerpteam van architectenbureau Zampone Architectuur en Tc-plus heeft samen met de Stad en jongerencentrum Het Entrepot grondig nagedacht over de nieuwe site. Zo komt er een link tussen de binnen- en buitenruimte door uitbreiding van het terras en de rokerszone. De brede trappen aan het nieuwe terras zullen tegelijkertijd ook dienstdoen als tribune tijdens de evenementen.
Ook groen krijgt een prominentere plaats bij de nieuwe buitenaanleg. De parking is tot op vandaag een stenige vlakte. Het nieuwe ontwerp brengt daar gelukkig verandering in door een kwalitatief groenlandschap op de site te voorzien. Zo komen er kleine bosjes tegenover het jeugdhuis en krijgen allerlei klimplanten de kans om zich langs de achterzijde van de gaanderijen vast te hechten. Nieuwe bomen en struiken zullen de nieuwe parking aan het zicht onttrekken.
De parking verdwijnt dus niet helemaal. Het ontwerp voorziet 39 parkeerplaatsen voor auto's. Nieuw zijn de fietsenstallingen voor maar liefst 510 fietsers. De nieuwe fietsenstallingen komen aan de zijkant van het terrein, zodat de automobilisten en fietsers elkaar niet kunnen hinderen. De veiligheid van de jongeren zal dus ook verbeteren.
Le parking à l'Entrepot subit une véritable transformation. La grande zone de stationnement du port intérieur est en train d'être convertie en un lieu d'événements à part entière pour le centre de jeunes Entrepot et la Maison de la Jeunesse Comma.
Le nouveau plan extérieur est constitué d'une structure en acier construite sous la forme d'une zone de galerie. Cette intervention présente un avantage significatif, permettant aux organisateurs d'événements de déplacer, assembler et désassembler librement des éléments tels que des blocs de construction en fonction de l'activité. De cette manière, un large éventail d'activités à petite échelle telles que des conférences, de petites performances ou même une veillée silencieuse, ainsi que de grands spectacles et concerts, peuvent avoir lieu. La conception prend également en compte les besoins potentiels futurs.
L'équipe de conception du cabinet d'architecture Zampone Architectuur et Tc-plus, en collaboration avec la Ville et le centre de jeunes Het Entrepot, a soigneusement planifié le nouveau site. Il y aura une connexion entre les espaces intérieurs et extérieurs grâce à l'agrandissement de la terrasse et de la zone fumeurs. Les larges escaliers de la nouvelle terrasse serviront également de gradins pendant les événements.
Le verdissement jouera également un rôle plus important dans le nouveau plan extérieur. Jusqu'à présent, le parking était une étendue de pierres. Heureusement, la nouvelle conception apporte un paysage vert de qualité sur le site. De petits bosquets seront placés en face du centre de jeunesse, et diverses plantes grimpantes auront l'occasion de se fixer à l'arrière des galeries. De nouveaux arbres et buissons masqueront le nouveau parking à la vue.
Le parking ne disparaîtra pas complètement. La conception comprend 39 places de stationnement pour les voitures. Ce qui est nouveau, ce sont les racks à vélos, pouvant accueillir jusqu'à 510 cyclistes. Les nouveaux supports à vélos seront placés sur le côté de la zone, garantissant que les automobilistes et les cyclistes ne se gênent pas mutuellement. Cela améliorera également la sécurité des jeunes visiteurs.
The parking lot at the Entrepot is undergoing a true transformation. The large parking area at the inner harbor is being converted into a fully-fledged event location for the youth center Entrepot and Youth House Comma.
The new outdoor layout consists of a steel structure built in the form of a gallery zone. This intervention has a significant advantage, allowing event organizers to freely move, assemble, and disassemble elements like building blocks according to the activity. In this way, a wide range of small-scale activities such as lectures, small performances, or even a silent vigil, can take place as well as grand shows and concerts. The design also addresses potential future needs.
The design team from architecture firm Zampone Architectuur and Tc-plus, together with the City and the youth center Het Entrepot, carefully planned the new site. There will be a connection between the indoor and outdoor spaces through the expansion of the terrace and the smoking area. The wide stairs on the new terrace will also serve as a grandstand during events.
Greenery will also play a more prominent role in the new outdoor layout. The parking lot has been a stony expanse until now. Fortunately, the new design brings a quality green landscape to the site. Small groves will be placed opposite the youth center, and various climbing plants will have the opportunity to attach themselves to the rear of the galleries. New trees and bushes will hide the new parking area from the view.
The parking area will not completely disappear. The design includes 39 parking spaces for cars. What's new are the bicycle racks, accommodating up to 510 cyclists. The new bicycle racks will be placed on the side of the area, ensuring that motorists and cyclists do not obstruct each other. This will also improve the safety of the young visitors.
info
client

Stad Brugge

location

Brugge

surface

4250 m²

procedure

Competition - 1st prize

period

2017 - 2018

phase

Completed

team

ZAmpone architectuur - TC plus - TAD

photography

Jason Slabbynck - Hart Cornelis