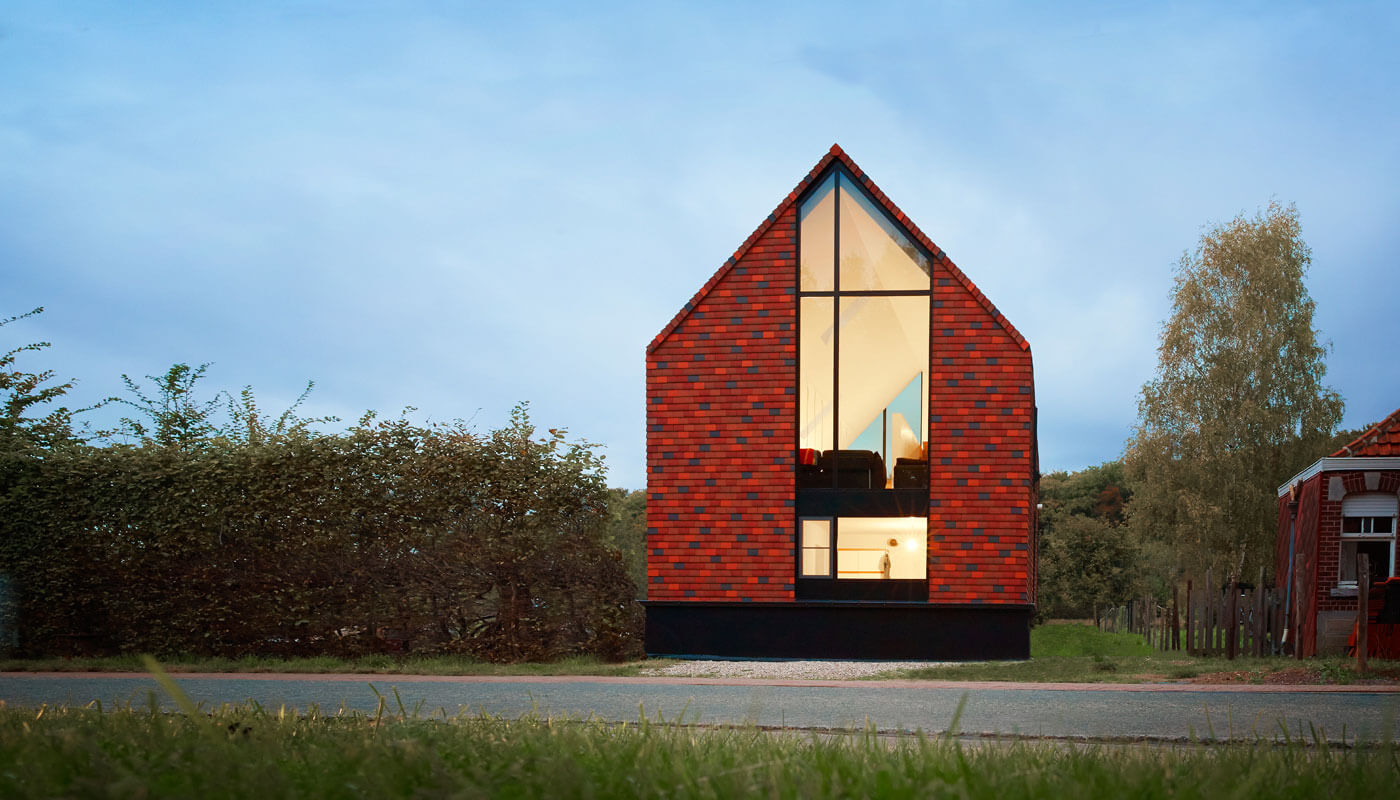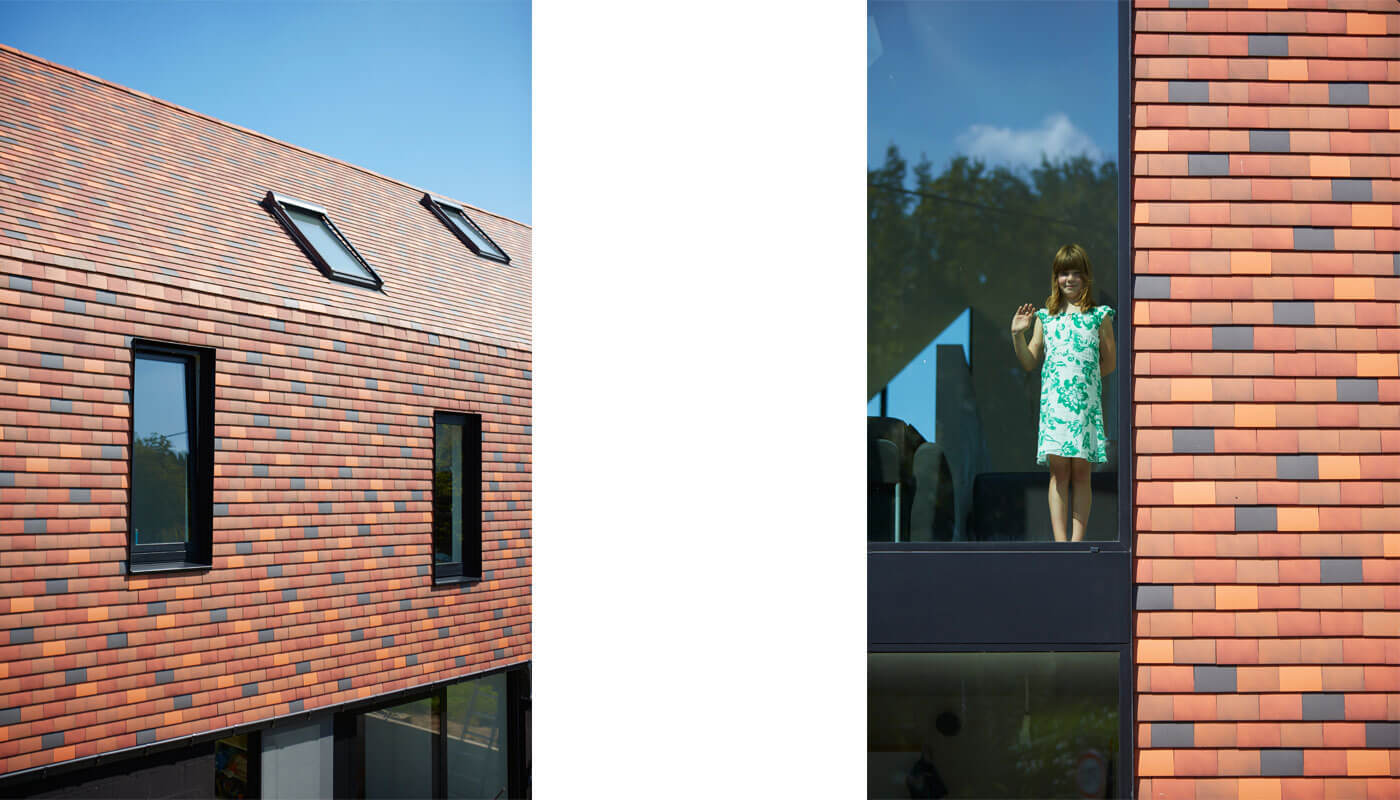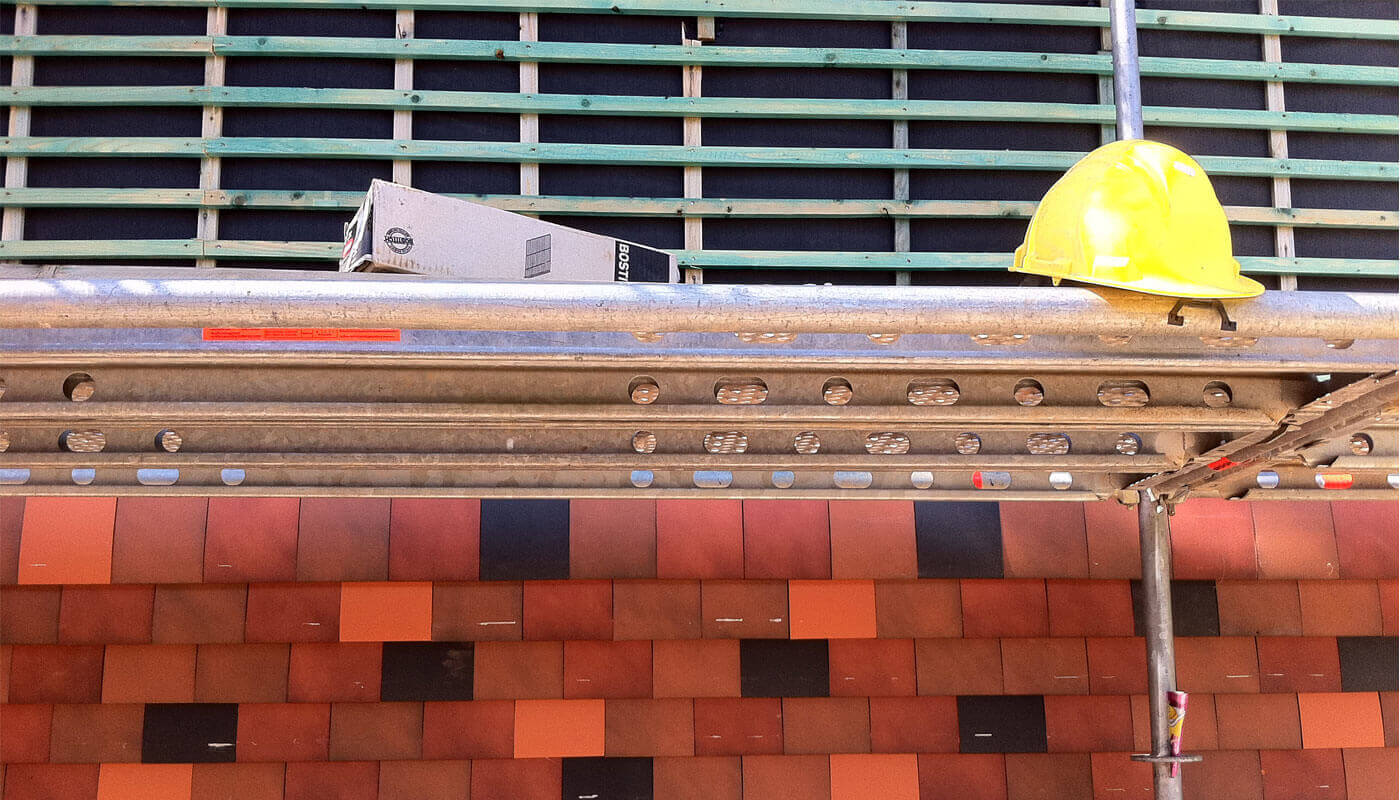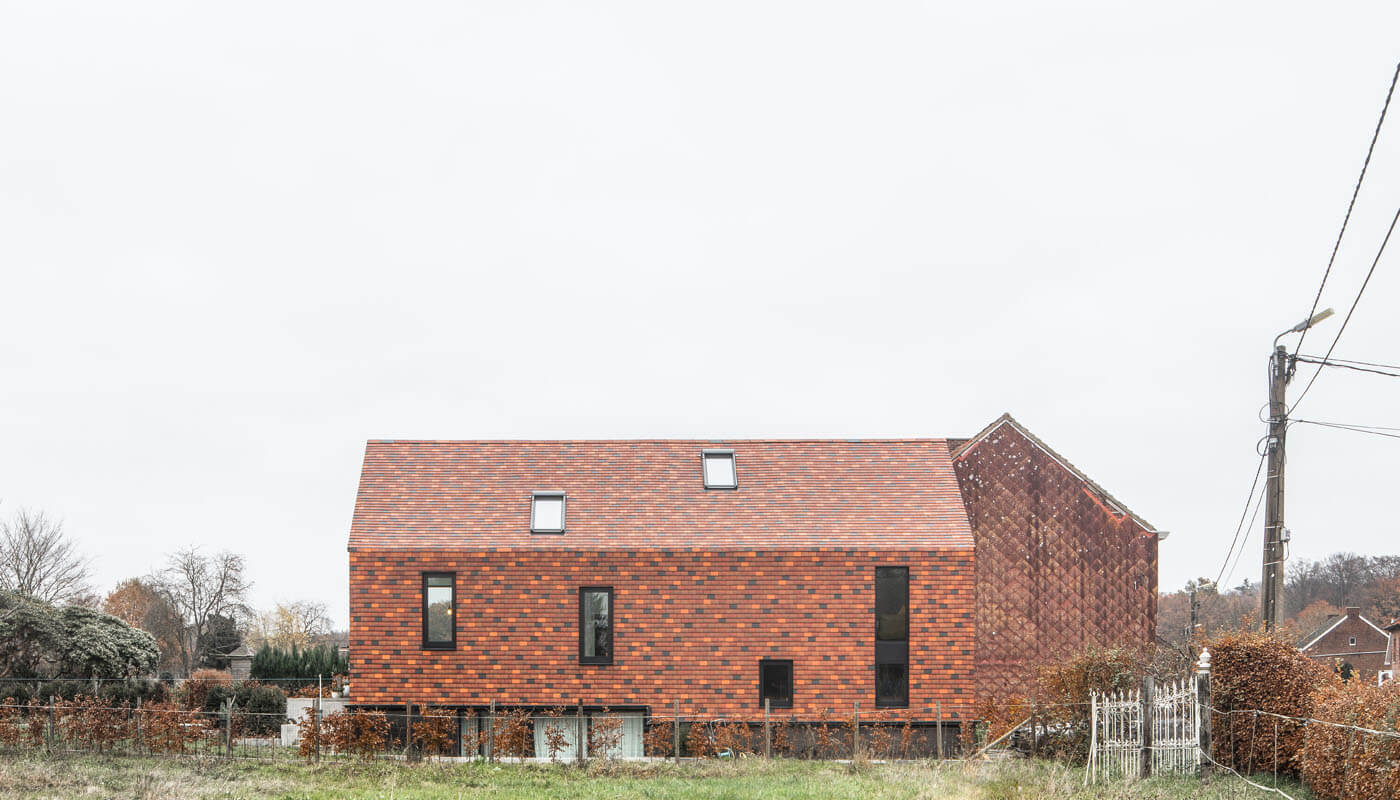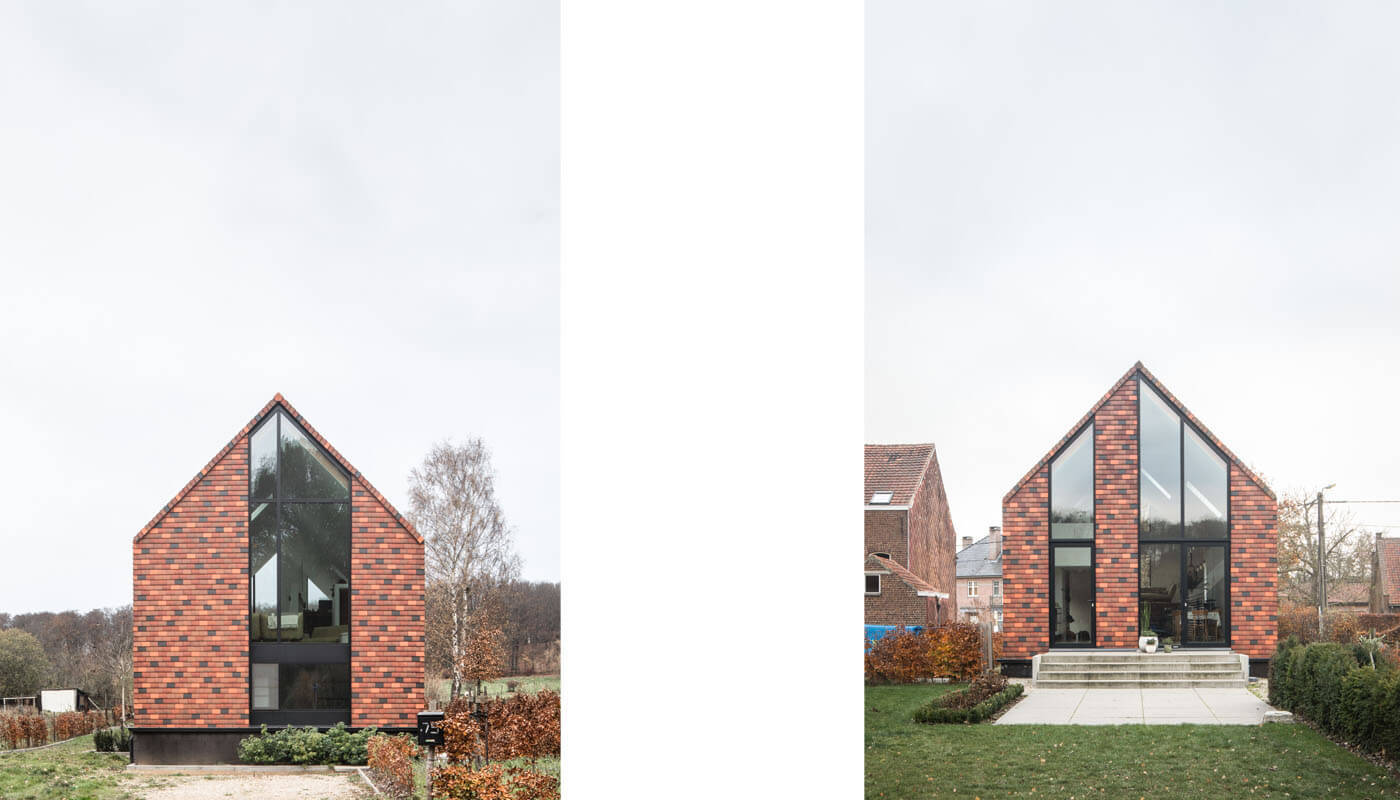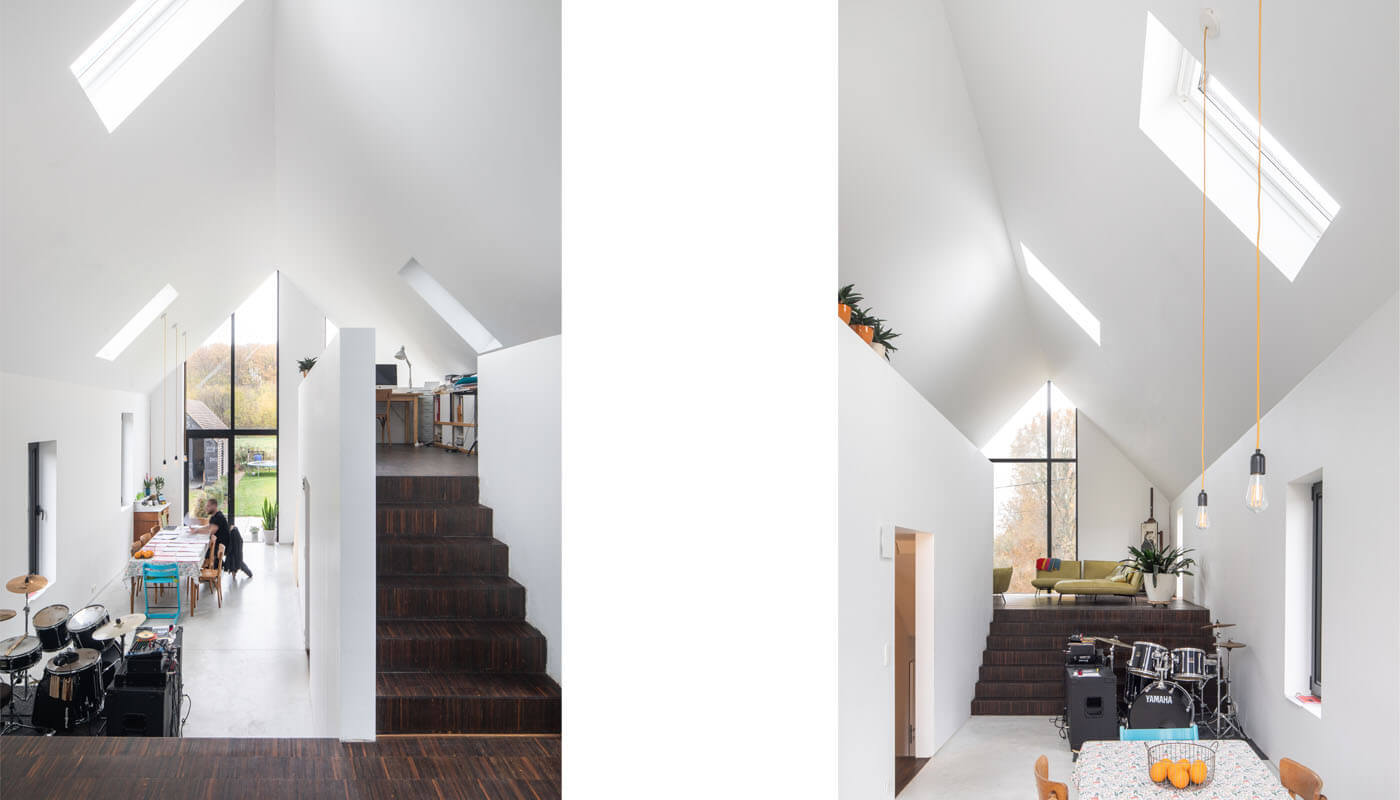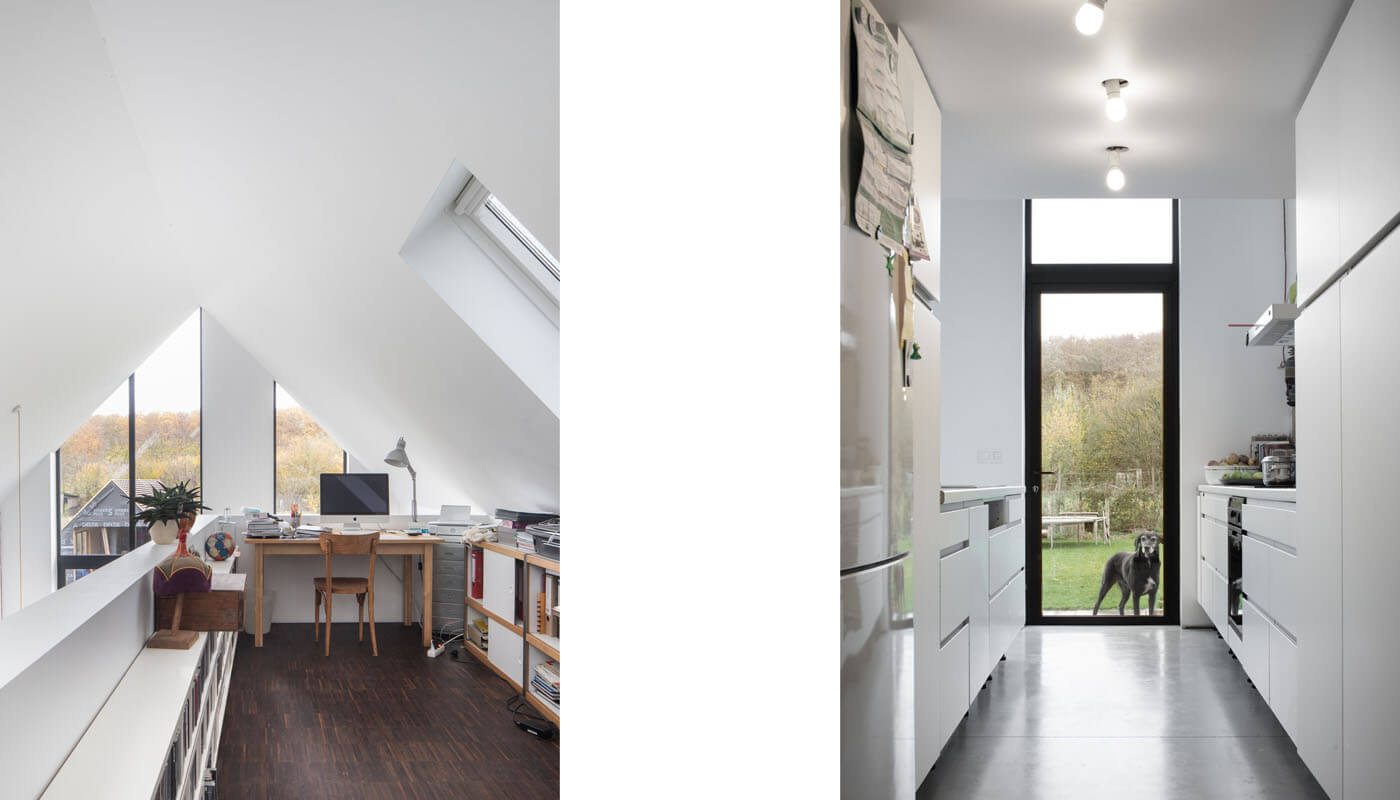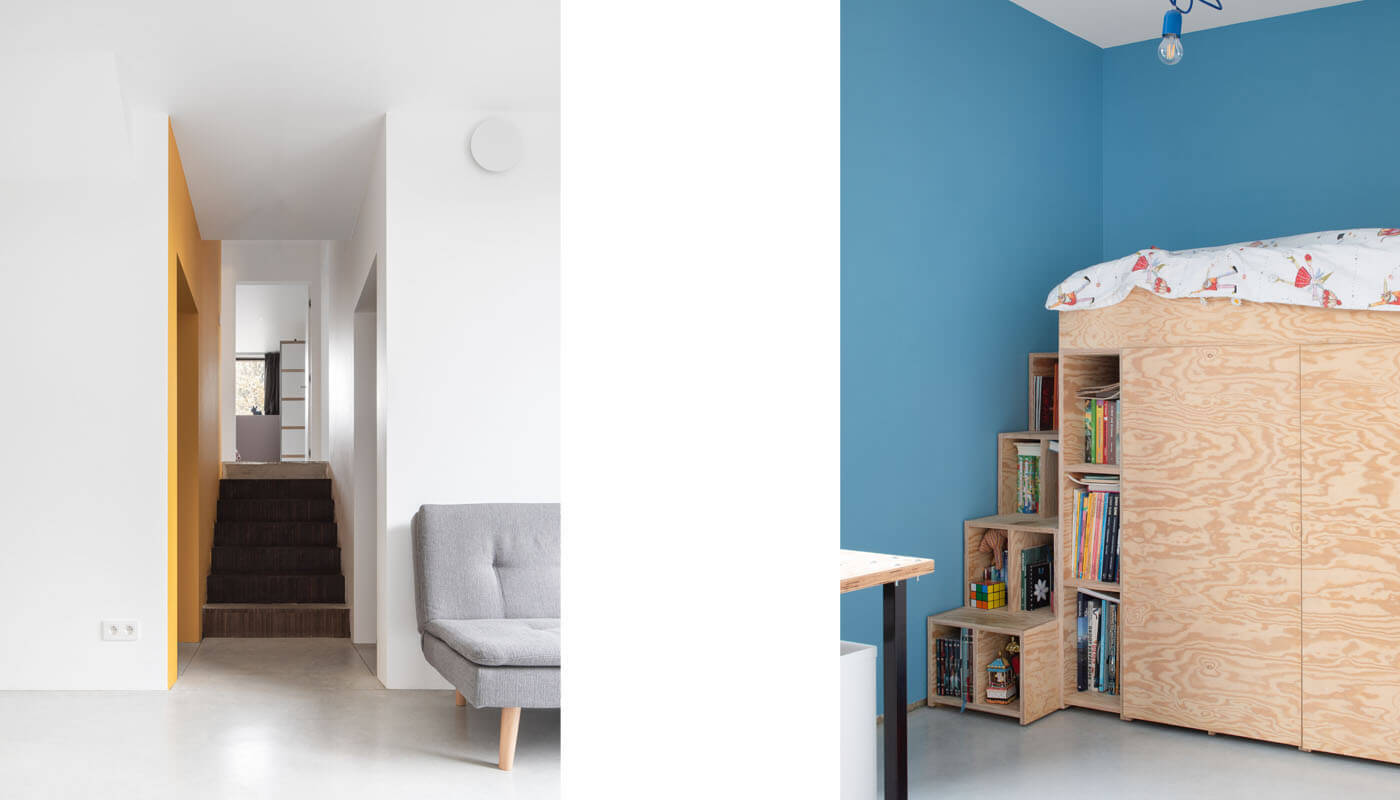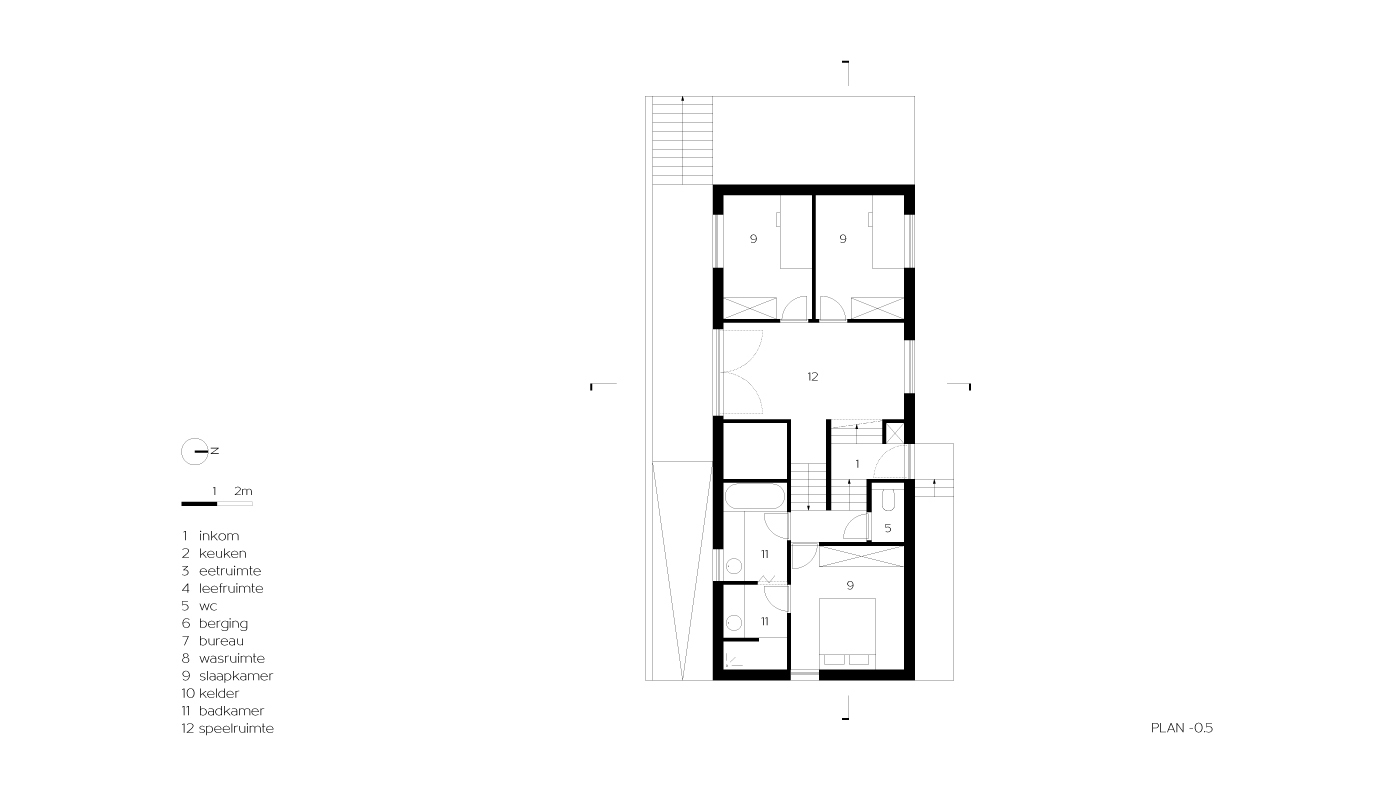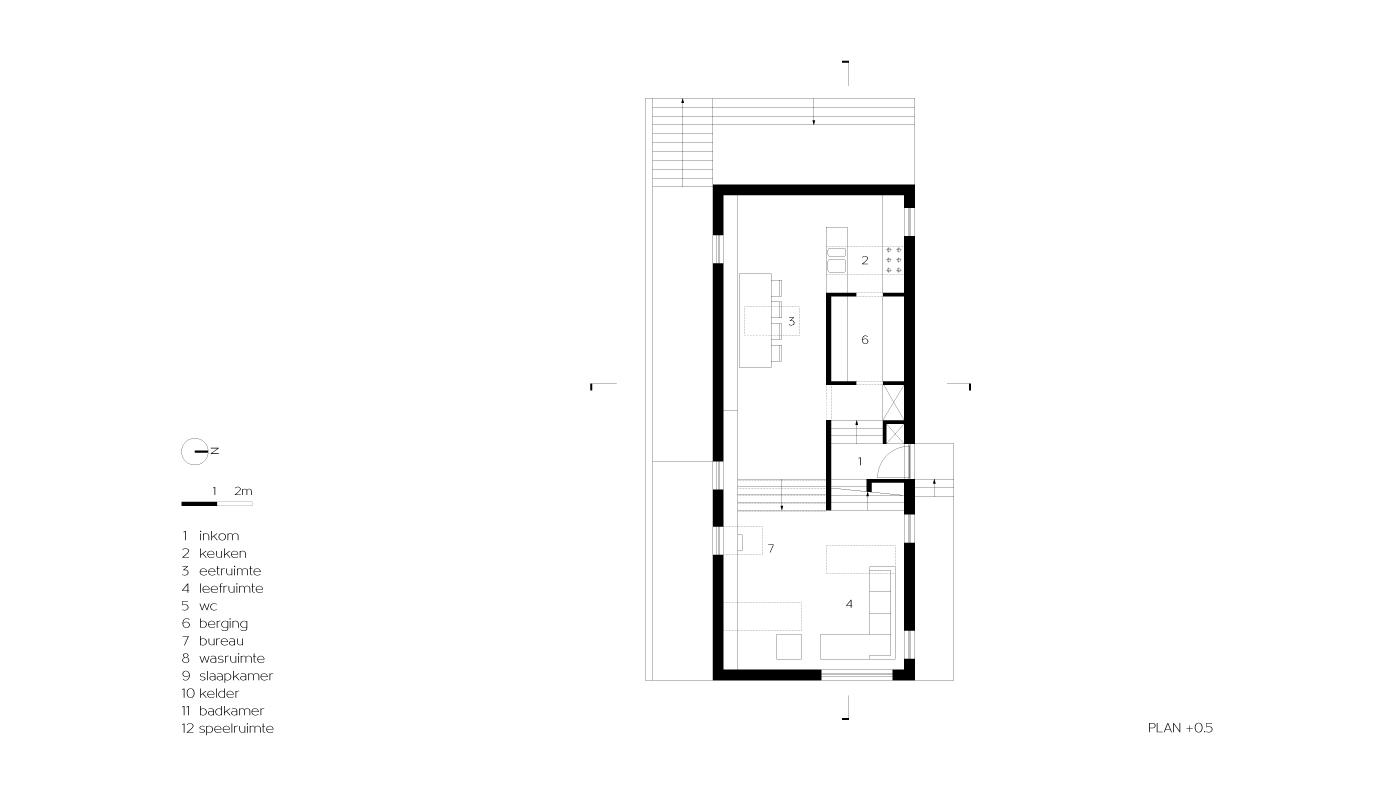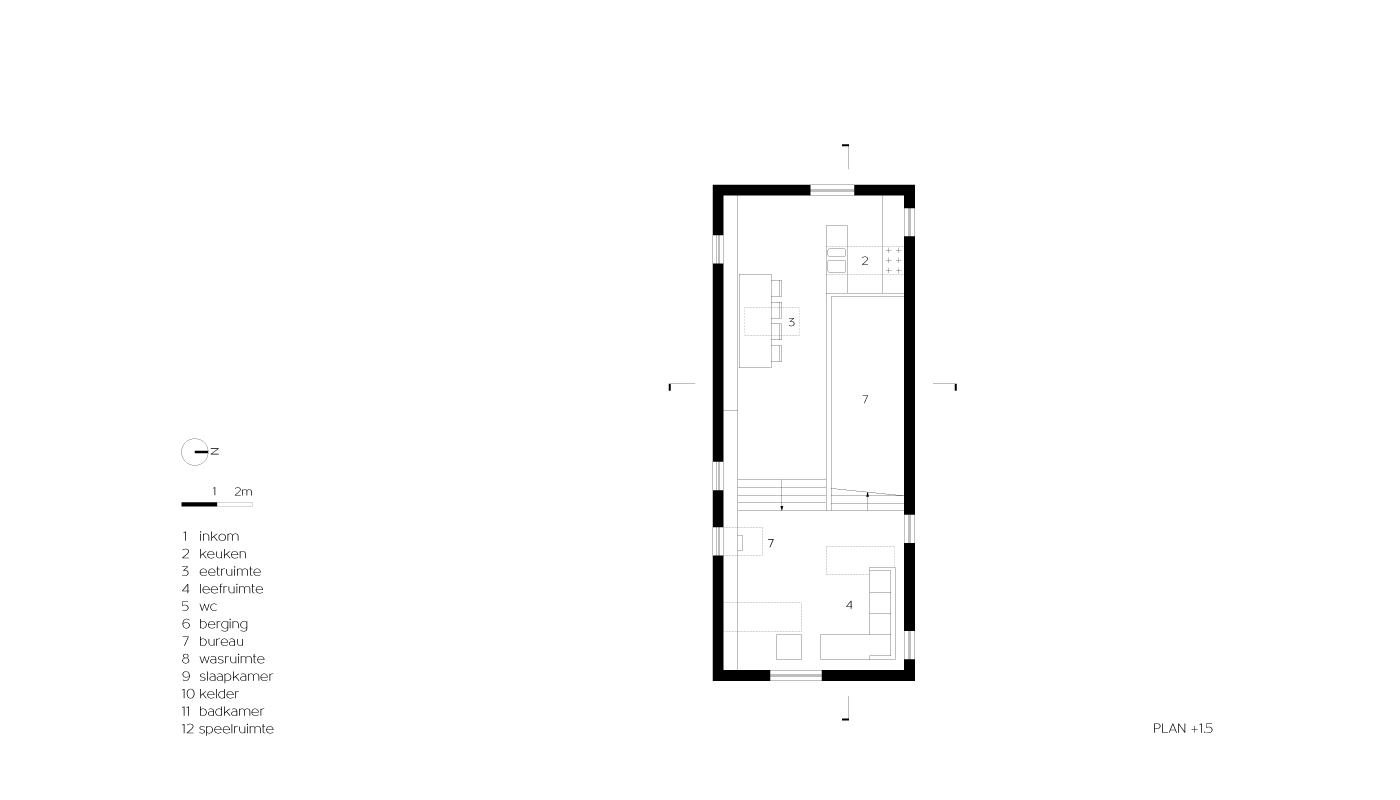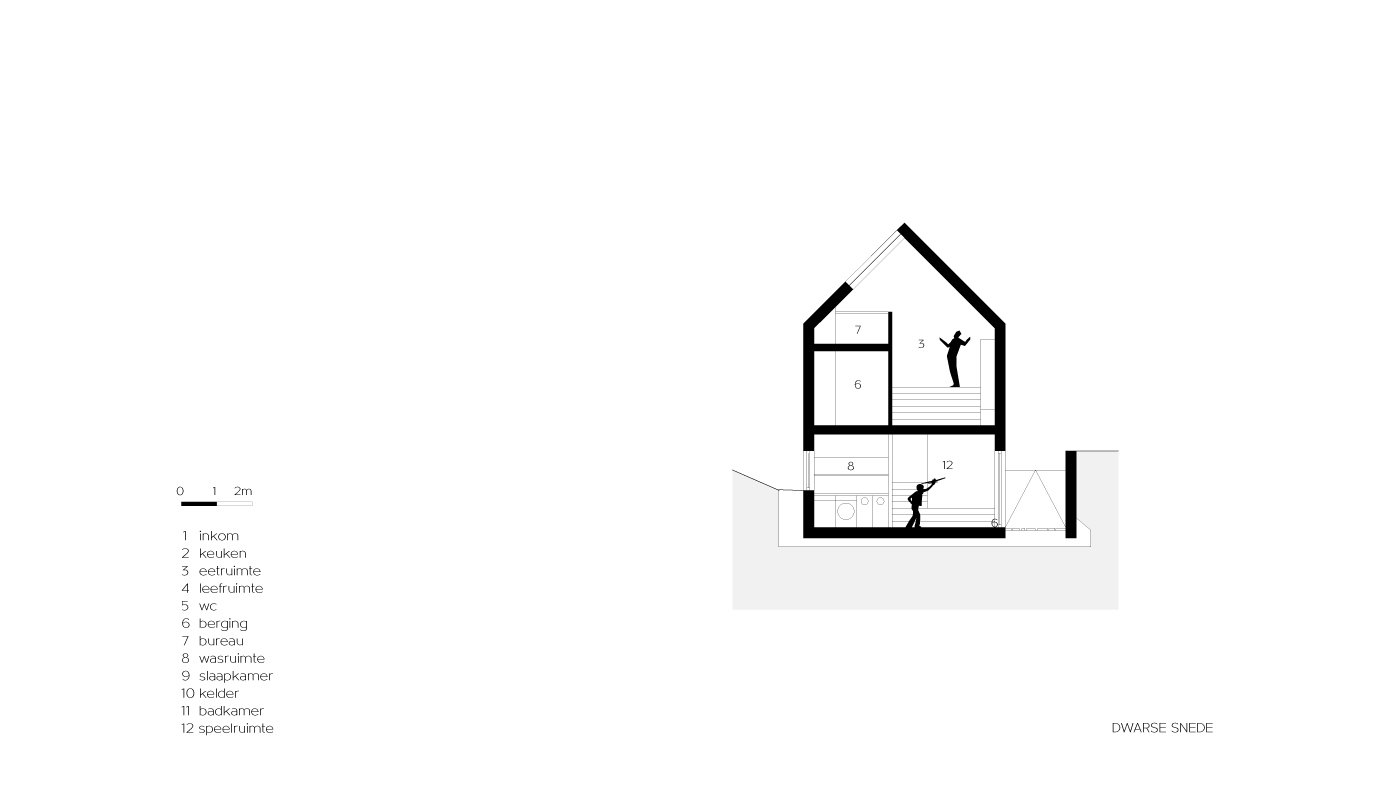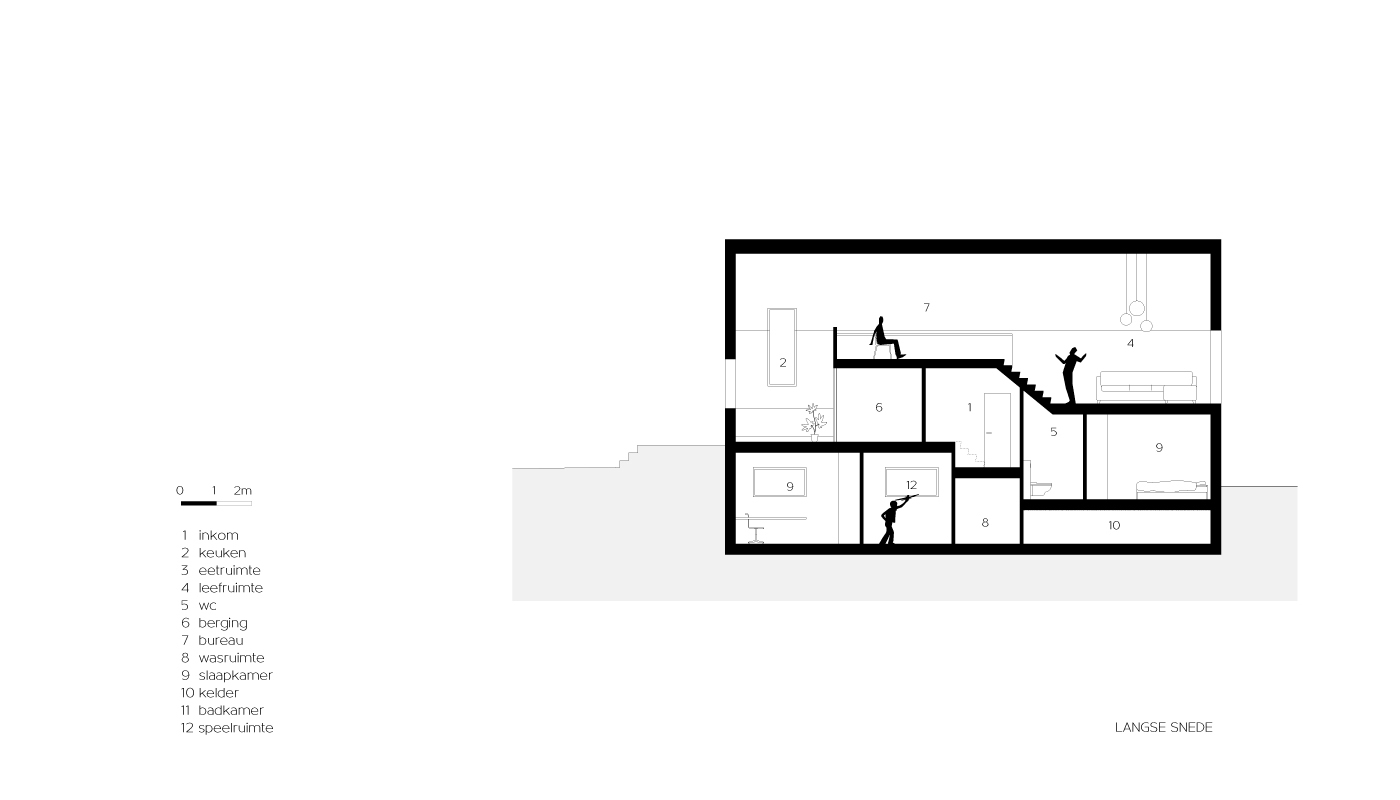 info
client

Fierens - Vandersypen

location

Lubbeek

surface

150 m²

period

2009 - 2013

phase

Completed

team

ZAmpone architectuur - Robrecht De Keersmaecker

photography

Jeroen Verrecht

press
Description
Een smalle bouwgrond aan de voet van een heuvel, vooraan raast verkeer, achteraan verstilt een prachtig uitzicht. Dat was het gegeven. Een compacte woning voor een gezin met twee kinderen binnen een beperkt budget de vraag.
Op een zwarte sokkel troont het archetype van een huis. Sculpturaal en speels lopen dak en gevel naadloos in elkaar over. De vormelijke outcome van de keuze voor een dubbele bouwmethode. Een zeer goed geïsoleerde betonnen kuip, massief en inert, als basis voor een lichte houtskeletbouw creëert een laagenergiewoning.
De bekleding met tegelpannen in diverse rood-bruin tinten lijkt vanbuiten schijnbaar willekeurig onderbroken door ramen. Zij verraden echter een doordachte spiraalsgewijze aaneenschakeling van functies waarbij de pure circulatieruimtes tot een minimum herleid zijn. Daardoor blijft de woning compact en ademt binnenin de weidsheid uit van het achterliggende landschap.
De kinderslaapkamers liggen deels onder het maaiveld en zijn voorzien van daglicht door een cour anglaise. Enkele treden hoger liggen de master bedroom en de badkamer. Nog een paar tredes hoger kook je zo goed als in de tuin, vanwaar je doorklimt naar de leefruimte die met z'n anderhalve meter ten opzicht van het maaiveld, in de voorgevel het goede wonen verklapt. Als sluitstuk het bureau, dat als een mezzanine boven keuken en berging meegeniet van de tuin.
Un étroit terrain au pied d'une colline, un trafic animé à l'avant et une vue tranquille et magnifique à l'arrière. Voilà la situation donnée. Une maison compacte pour une famille avec deux enfants, tout en respectant un budget limité, était la demande.
Sur un piédestal noir trône l'archétype d'une maison. Sculptural et ludique, le toit et la façade se fondent harmonieusement l'un dans l'autre. Le résultat formel d'avoir choisi une méthode de construction double. Une coque en béton hautement isolée, solide et inerte, sert de fondation à une construction légère à ossature en bois, créant ainsi une maison à basse consommation d'énergie.
Le revêtement avec des tuiles en différentes nuances de rouge-brun semble être interrompu de manière aléatoire par des fenêtres. Cependant, elles révèlent une interconnexion en spirale bien réfléchie des fonctions où les espaces de circulation purs sont réduits au minimum. Cela permet de maintenir la maison compacte et d'apporter à l'intérieur une respiration de l'immensité du paysage qui se trouve derrière.
Les chambres des enfants sont en partie en dessous du niveau du sol et reçoivent la lumière du jour à travers une "cour anglaise" (un type de cour avec des fenêtres). Quelques marches plus haut se trouvent la chambre principale et la salle de bains. Encore quelques marches plus haut, vous pouvez presque cuisiner dans le jardin, d'où vous montez vers l'espace de vie qui, avec sa hauteur d'un mètre et demi par rapport au niveau du sol, dévoile le concept de vie agréable dans la façade avant. Pour couronner le tout, le bureau, comme une mezzanine au-dessus de la cuisine et du stockage, profite également du jardin.
A narrow plot of land at the foot of a hill, busy traffic at the front, and a tranquil and beautiful view at the back. That was the given situation. A compact home for a family with two children, all within a limited budget, was the request.
On a black pedestal, the archetype of a house sits. Sculptural and playful, the roof and facade seamlessly merge together. The formal outcome of choosing a dual construction method. A highly insulated concrete shell, solid and inert, serves as the foundation for a lightweight timber frame construction, creating a low-energy house.
The cladding with tile shingles in various shades of red-brown seems externally interrupted seemingly at random by windows. However, they reveal a well-thought-out spiral interconnection of functions where pure circulation spaces are reduced to a minimum. This keeps the house compact and allows the interior to breathe the vastness of the landscape behind it.
The children's bedrooms are partly below ground level and receive daylight through a "cour anglaise" (a type of courtyard with windows). A few steps higher are the master bedroom and the bathroom. A few more steps up, you can almost cook in the garden, from where you ascend to the living area that, with its one-and-a-half-meter elevation from ground level, gives away the concept of good living in the front facade. As the final touch, the office, like a mezzanine above the kitchen and storage, enjoys the garden as well.
info
client

Fierens - Vandersypen

location

Lubbeek

surface

150 m²

period

2009 - 2013

phase

Completed

team

ZAmpone architectuur - Robrecht De Keersmaecker

photography

Jeroen Verrecht

press