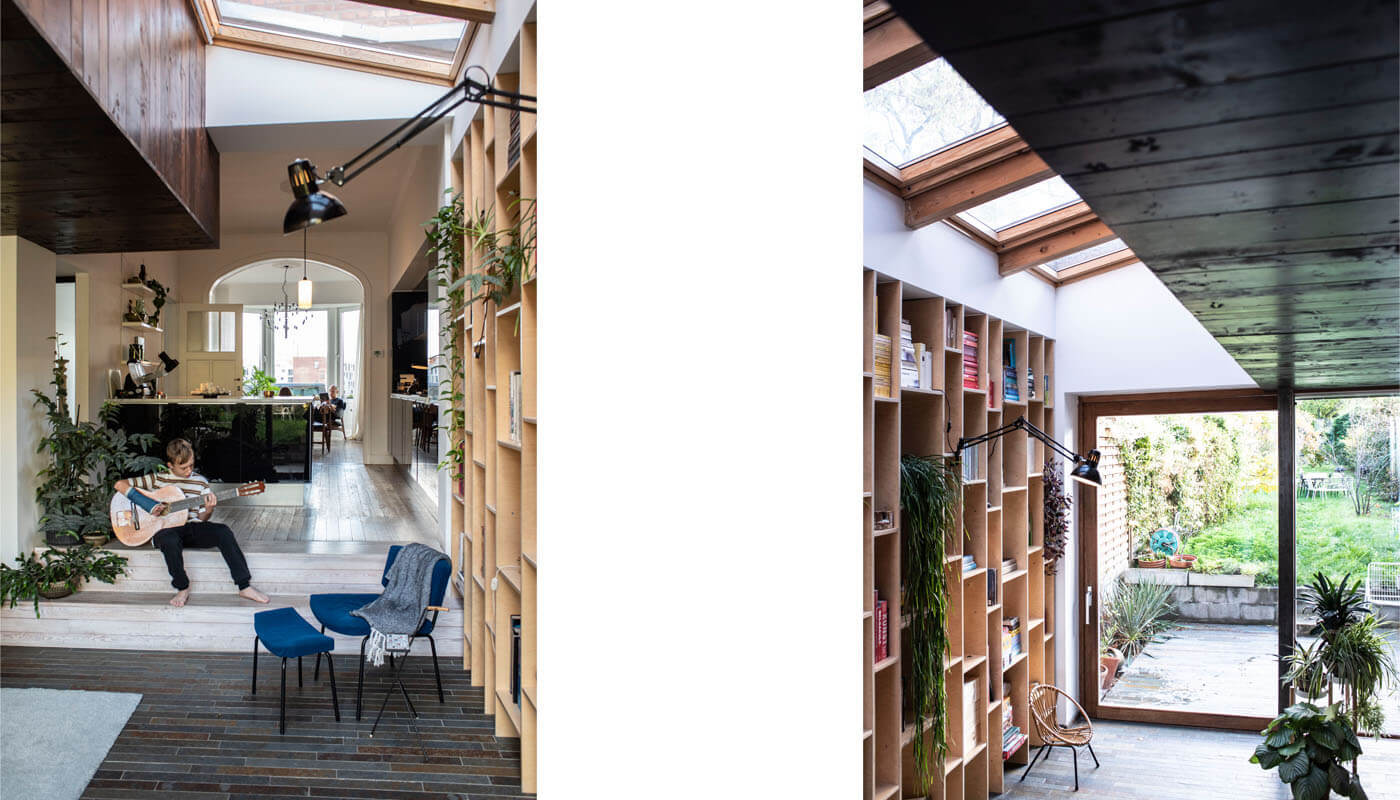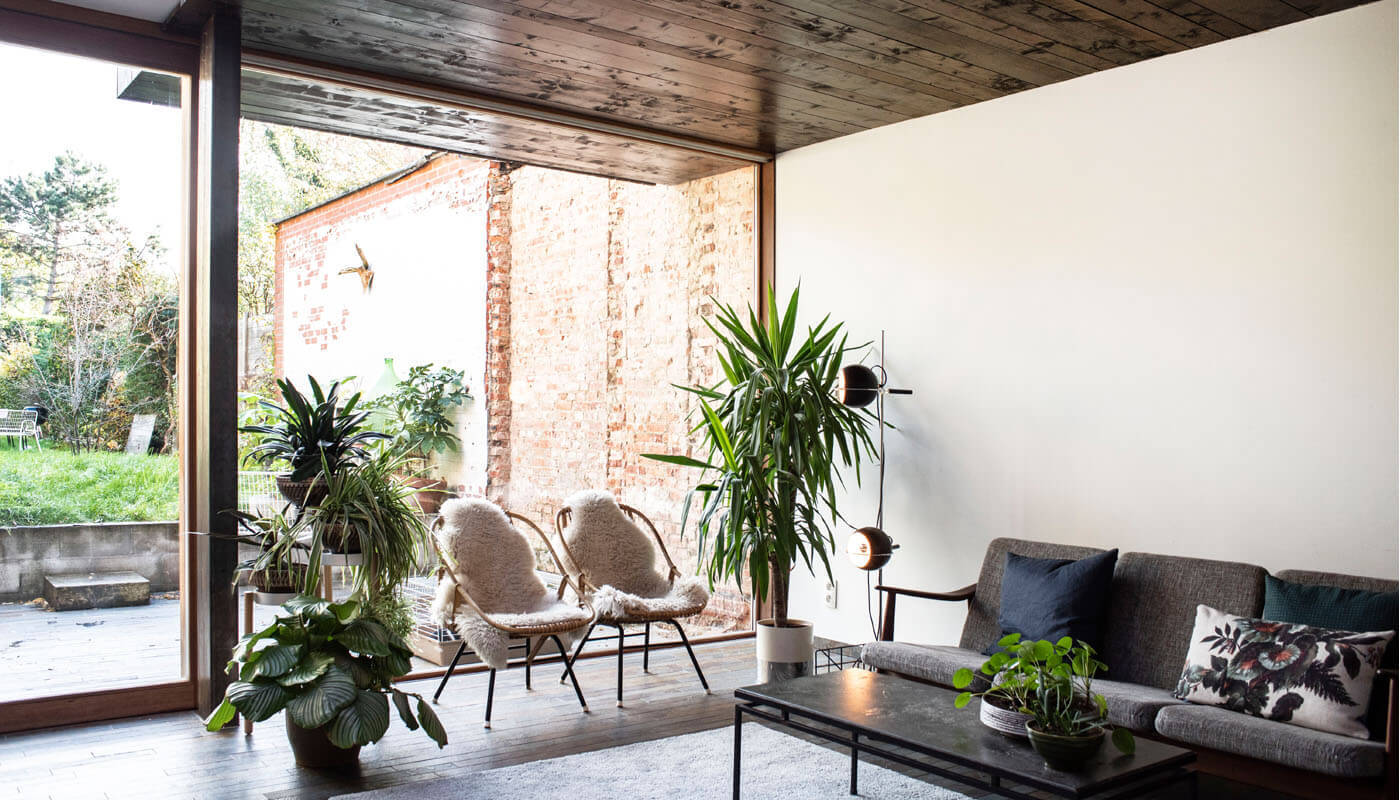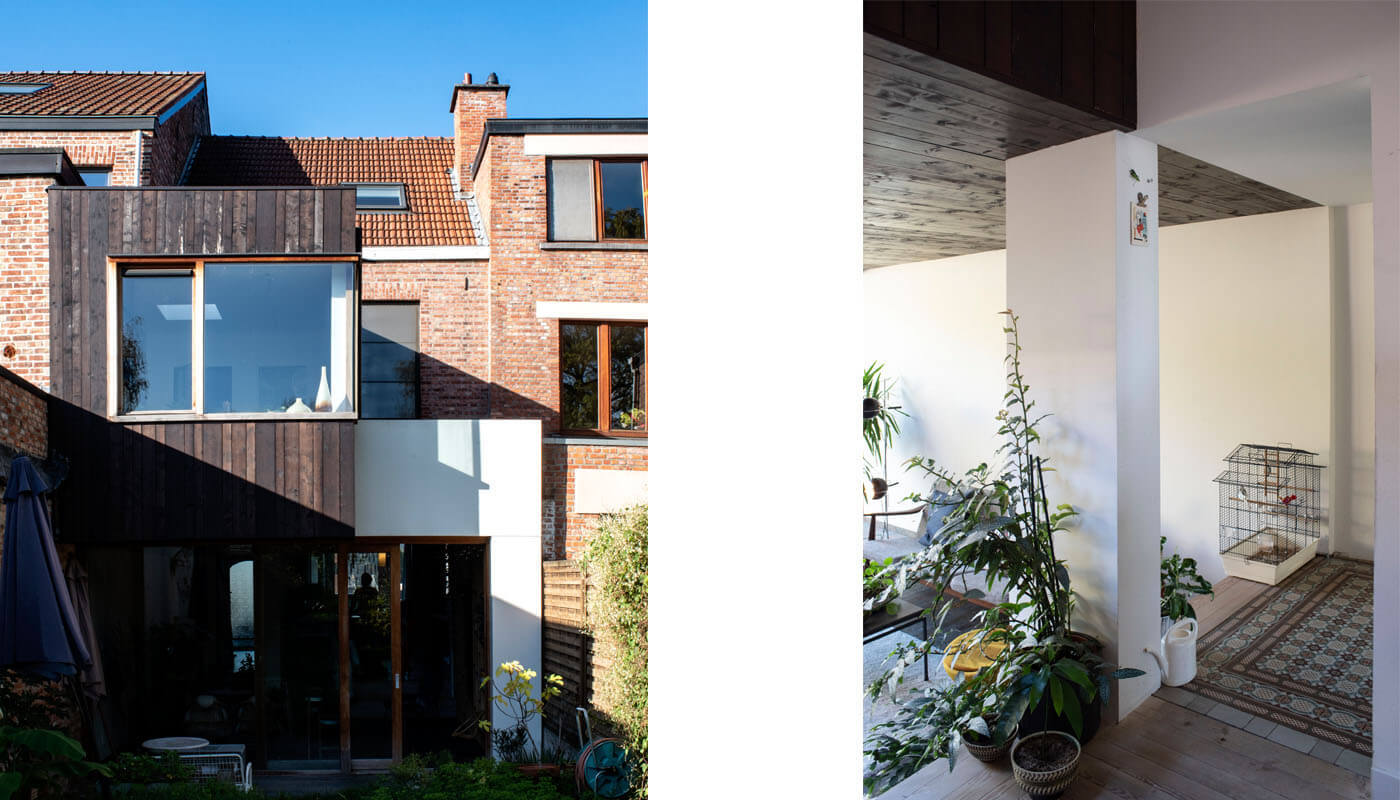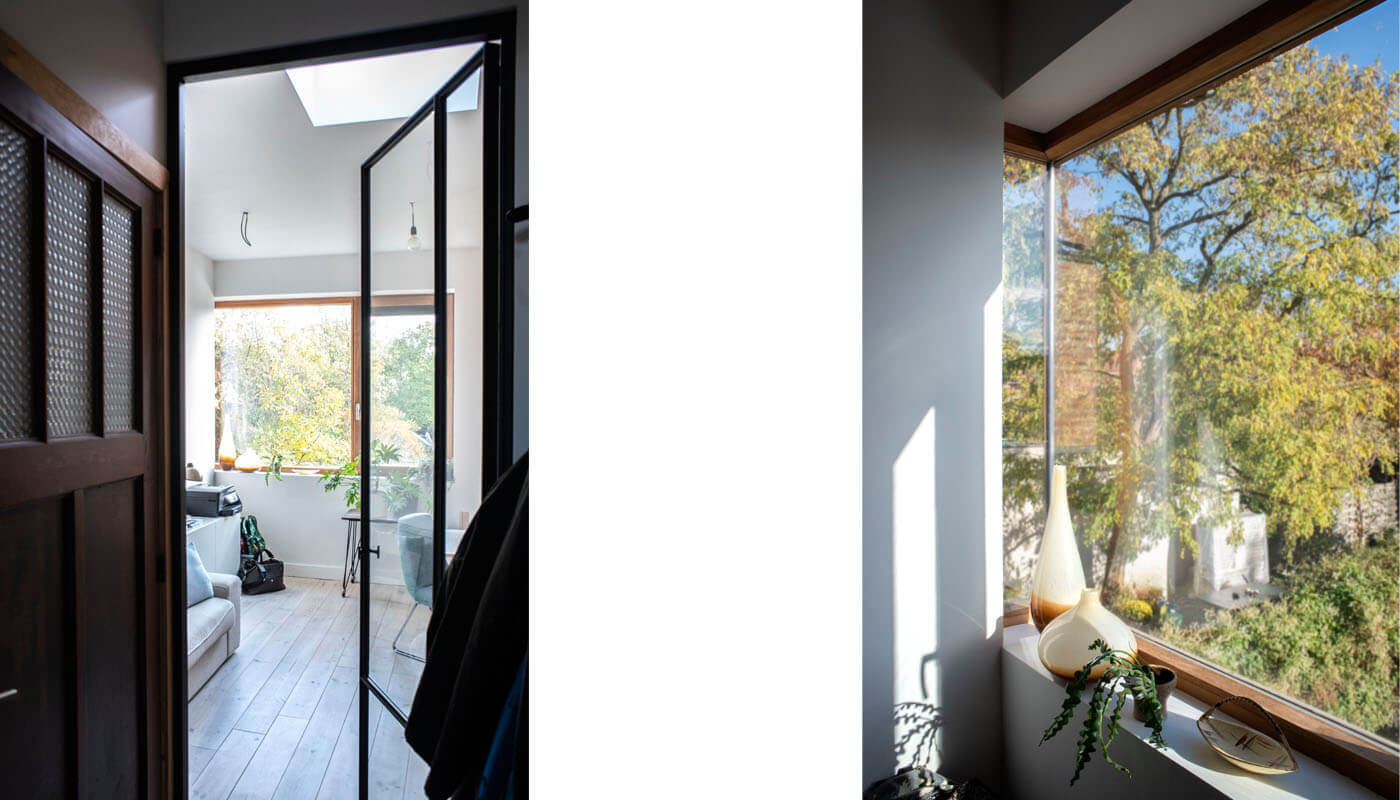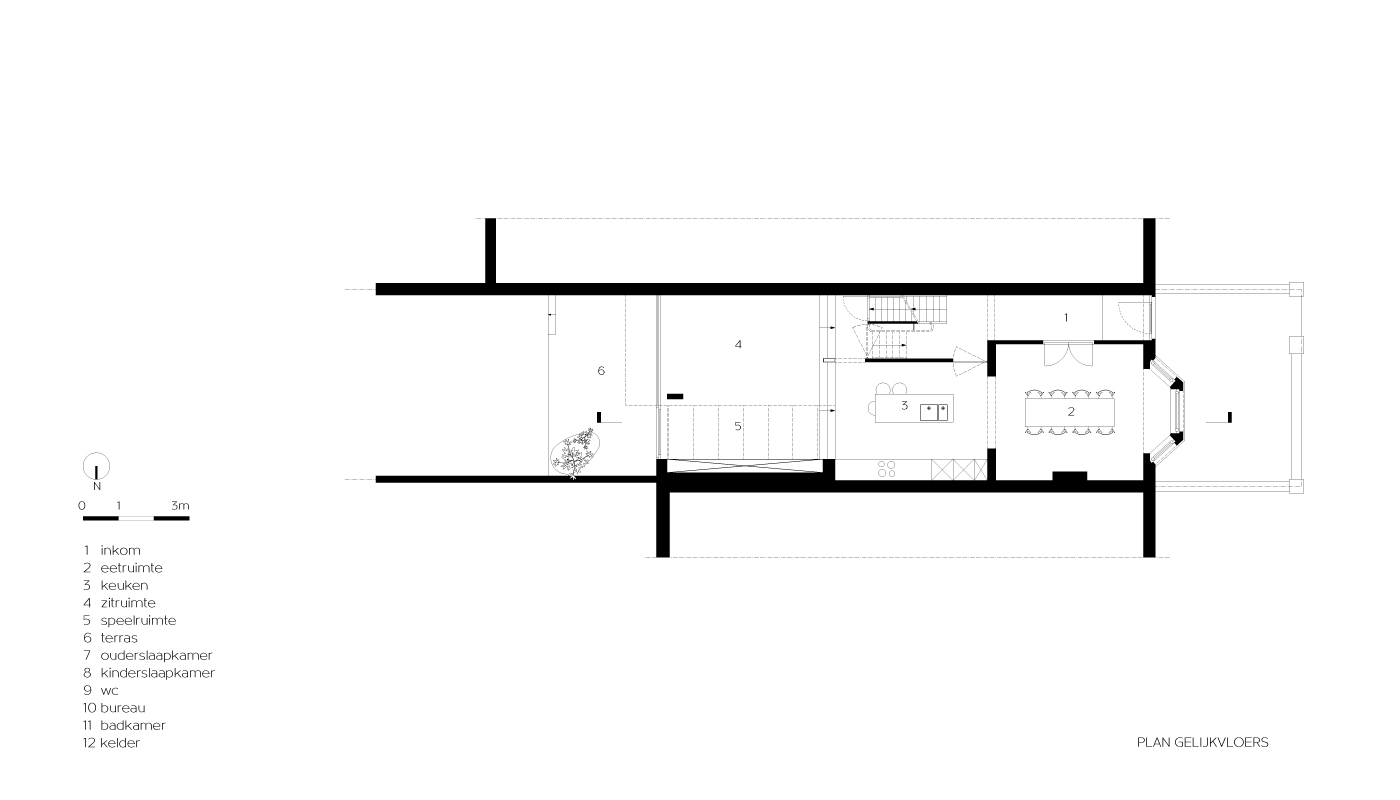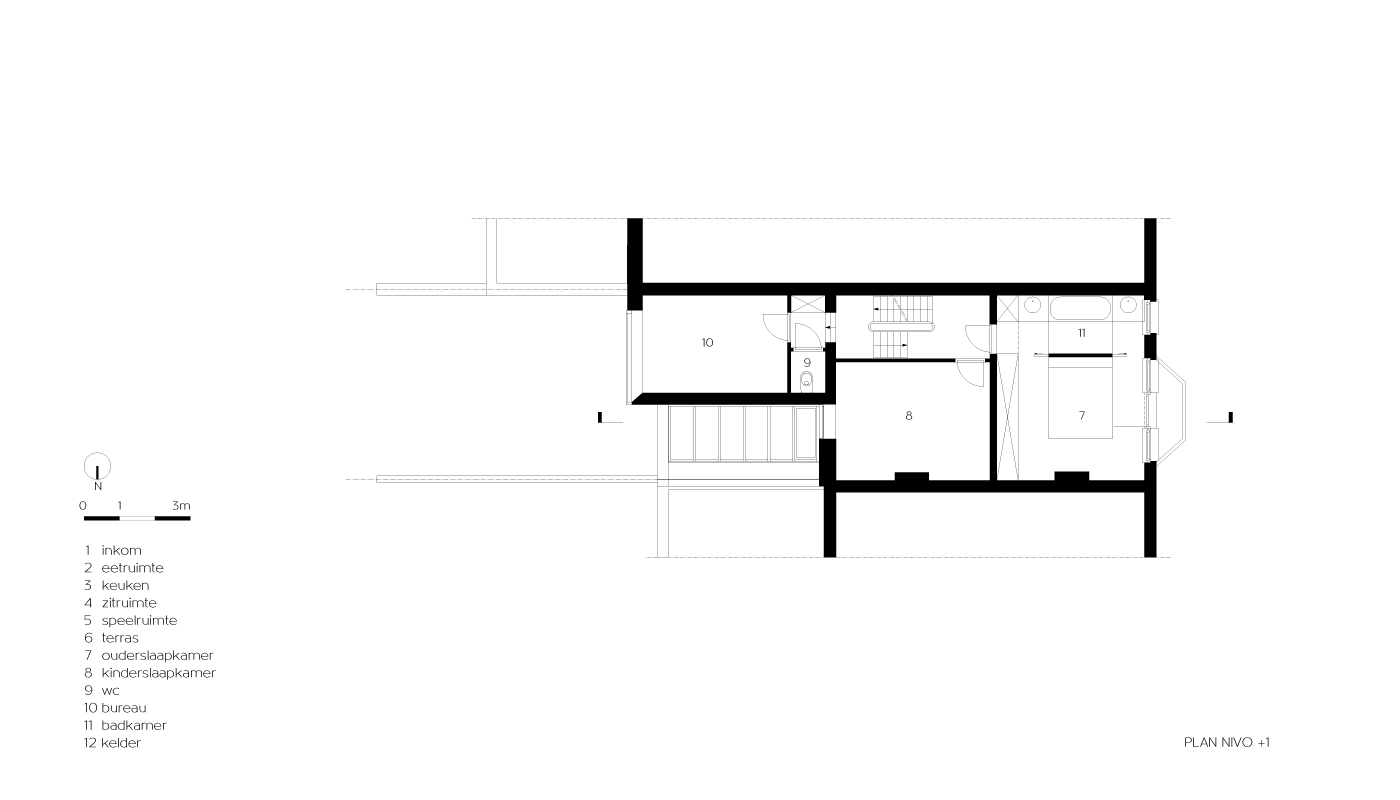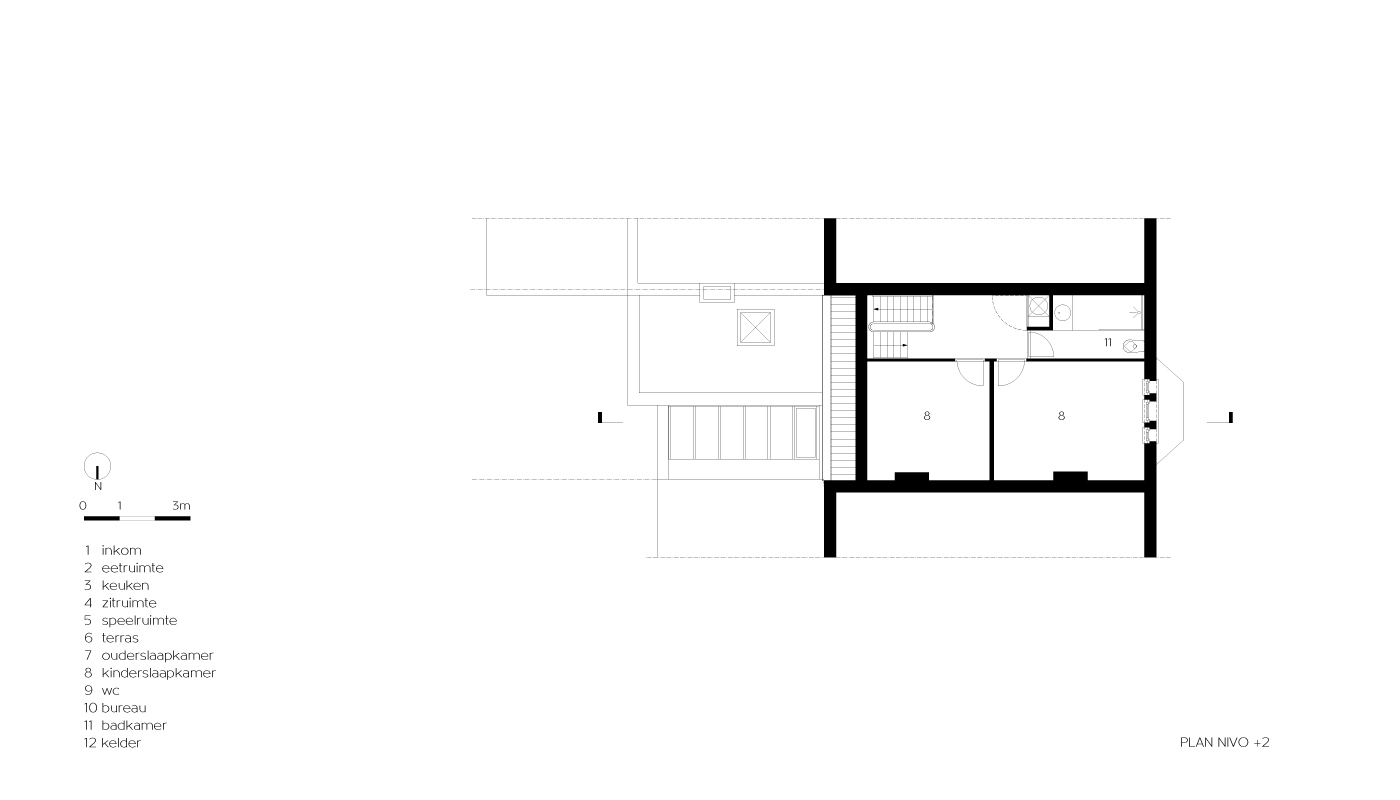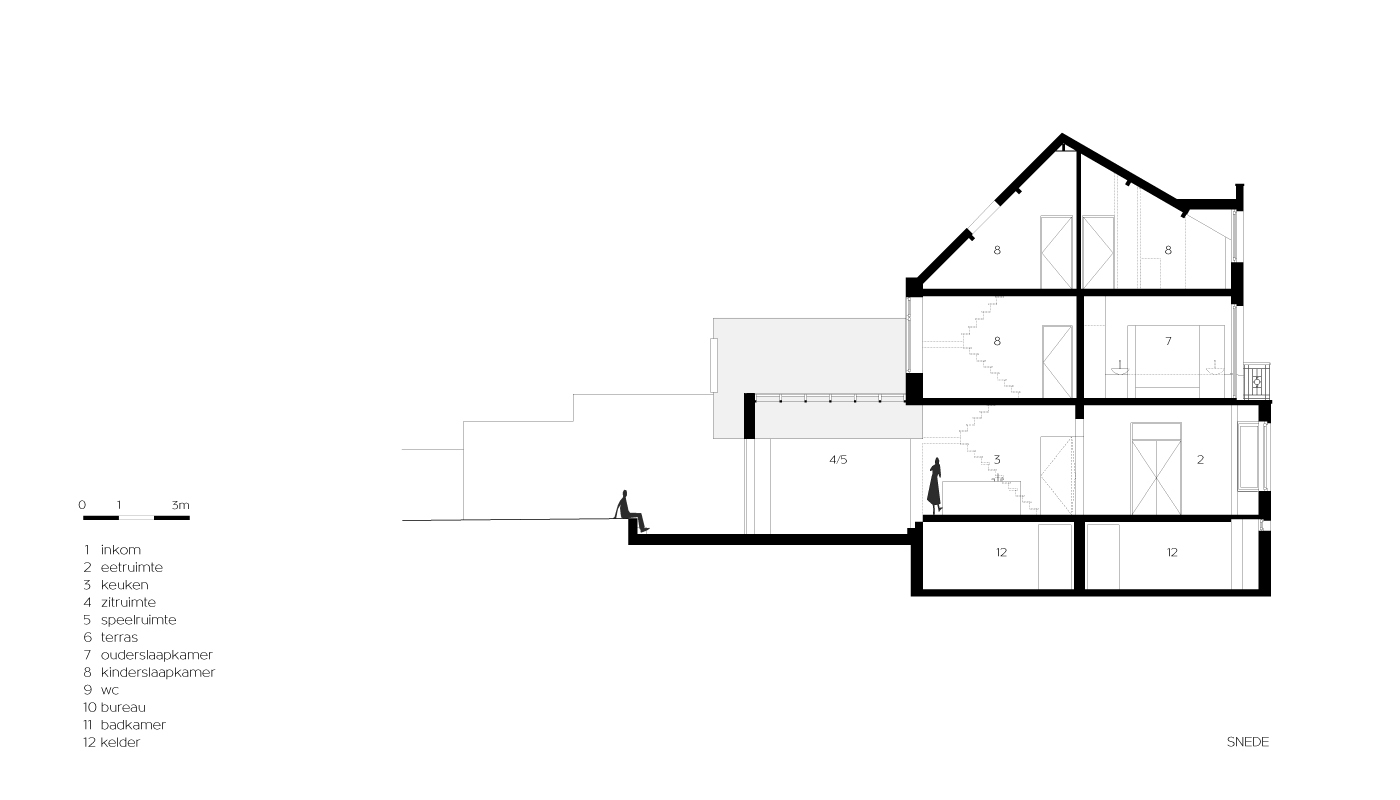 info
client

Nackaerts - Decroos

location

Kessel-Lo

surface

50 m²

period

2009 - 2011

phase

Completed

photography

Linde Raedschelders
Description
Meer ruimte en meer licht. Evidente uitgangspunten voor de verbouwing van de achterbouw van een traditioneel rijhuis.
Een minder voor de hand liggende oplossing: een lichtstraat dwars op de achtergevel.
Dwarsliggen levert royaal daglicht in leefruimte en keuken op en de mogelijkheid om een bijkomend vertrek op het verdiep te bouwen.
Het niveauverschil van ongeveer een meter tussen straat- en tuinniveau wordt opgevangen door een kamerbrede trap. Deze vormt een zit-, praat- en speeltribune, de zithoek het toneel, de tuin het achterdoek.
De leefkamer voelt ruimer aan door haar dezelfde vloerbekleding te geven als het terras. Het terras wordt vormgegeven als een natuurlijke zitput in de tuin, halfoverdekt door een nieuw houten volume. Deze houten kamer op de verdieping is een echte hide away, een free zone, voor de bewoners, een plek waar men zich kan terugtrekken met het zicht gericht op de tuin.
Plus d'espace et plus de lumière. Des points de départ évidents pour la rénovation de l'extension d'une maison de rangée traditionnelle. Une solution moins évidente : un puits de lumière à travers la façade arrière. Cette disposition offre une abondante lumière du jour dans le salon et la cuisine et permet la construction d'une pièce supplémentaire à l'étage supérieur.
La différence de niveau d'environ un mètre entre le niveau de la rue et le niveau du jardin est compensée par un escalier de la largeur d'une pièce. Il sert de plateforme pour s'asseoir, discuter et jouer, avec l'espace assis comme scène et le jardin comme arrière-plan.
Le salon semble plus spacieux en ayant le même revêtement que la terrasse. La terrasse est conçue comme une fosse d'assise naturelle dans le jardin, partiellement couverte par une nouvelle structure en bois. Cette pièce en bois à l'étage supérieur est un véritable refuge, une zone libre pour les résidents, un endroit où ils peuvent se retirer tout en ayant une vue sur le jardin.
More space and more light. Obvious starting points for the renovation of the extension of a traditional row house. A less obvious solution: a skylight across the rear facade. This arrangement provides ample daylight in the living room and kitchen and allows for the construction of an additional room on the upper floor.
The level difference of approximately one meter between the street and garden level is accommodated by a room-width staircase. It serves as a seating, conversation, and play platform, with the seating area as the stage and the garden as the backdrop.
The living room feels more spacious by having the same flooring as the terrace. The terrace is designed as a natural seating pit in the garden, partially covered by a new wooden structure. This wooden room on the upper floor is a real hideaway, a free zone for the residents, a place where they can retreat while overlooking the garden.
info
client

Nackaerts - Decroos

location

Kessel-Lo

surface

50 m²

period

2009 - 2011

phase

Completed

photography

Linde Raedschelders