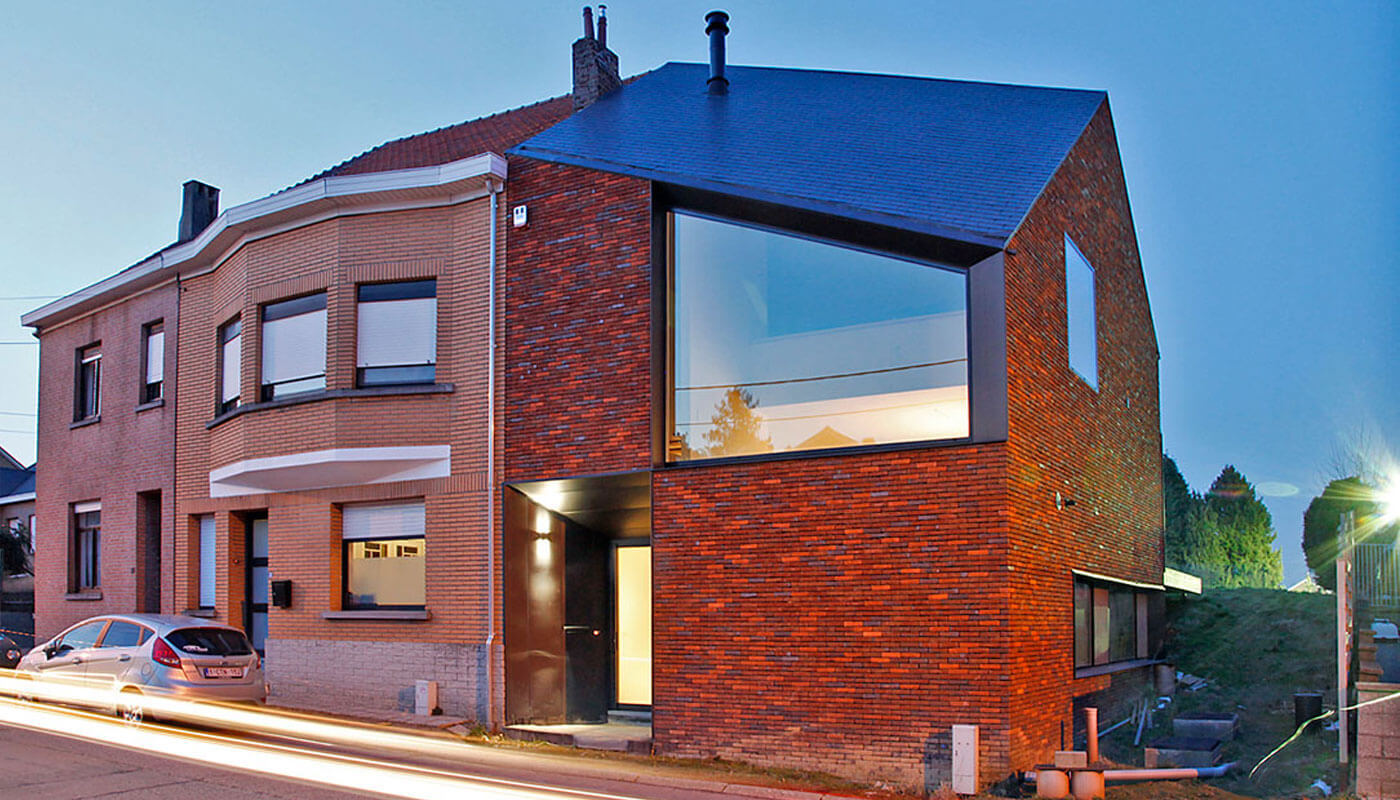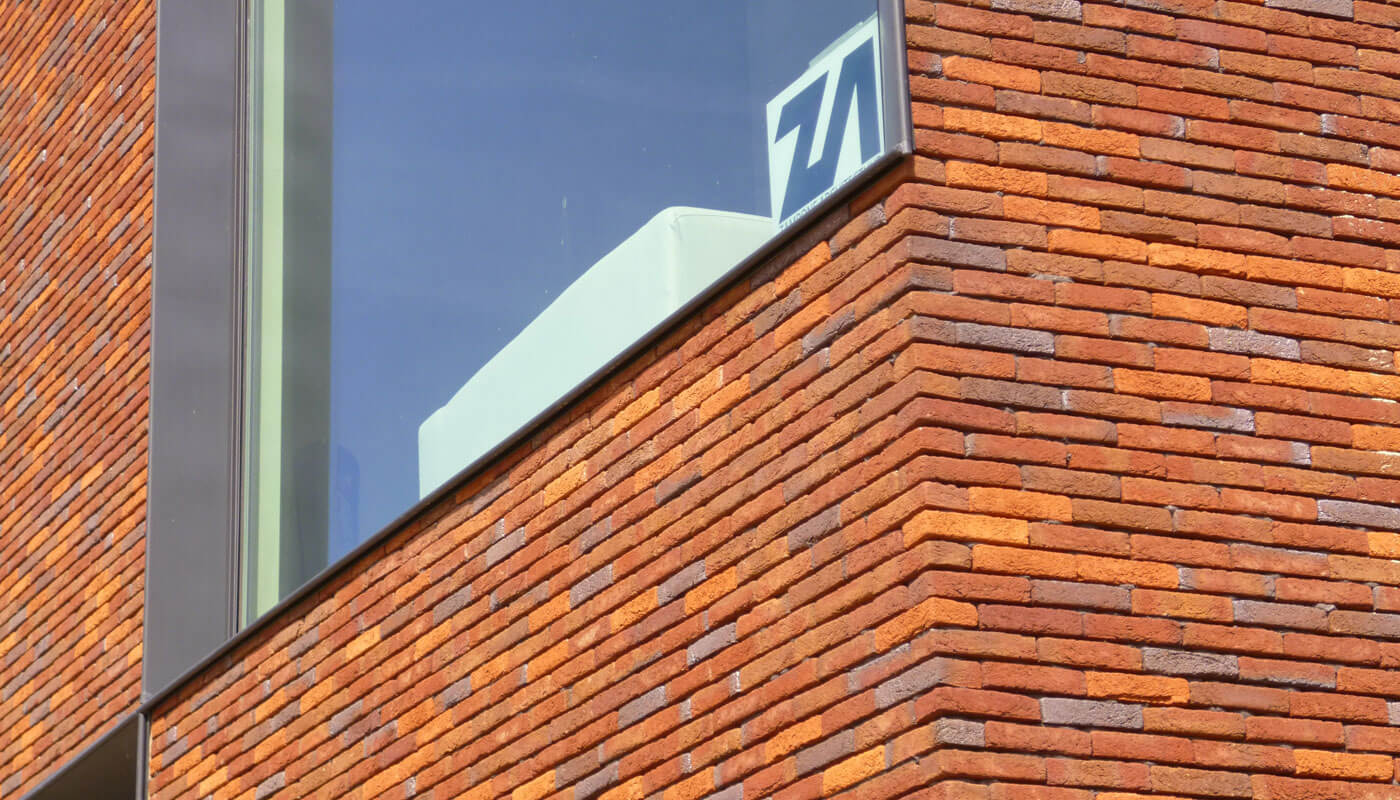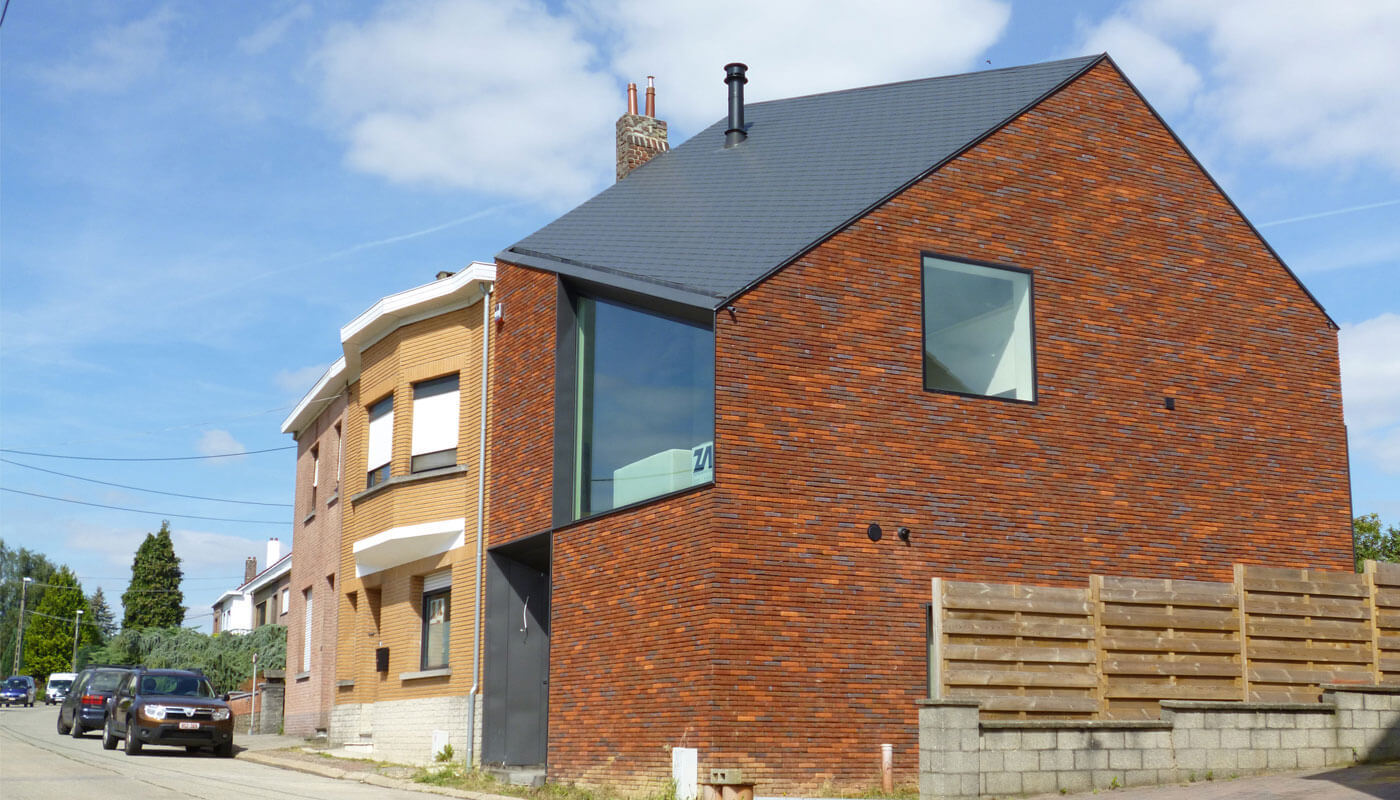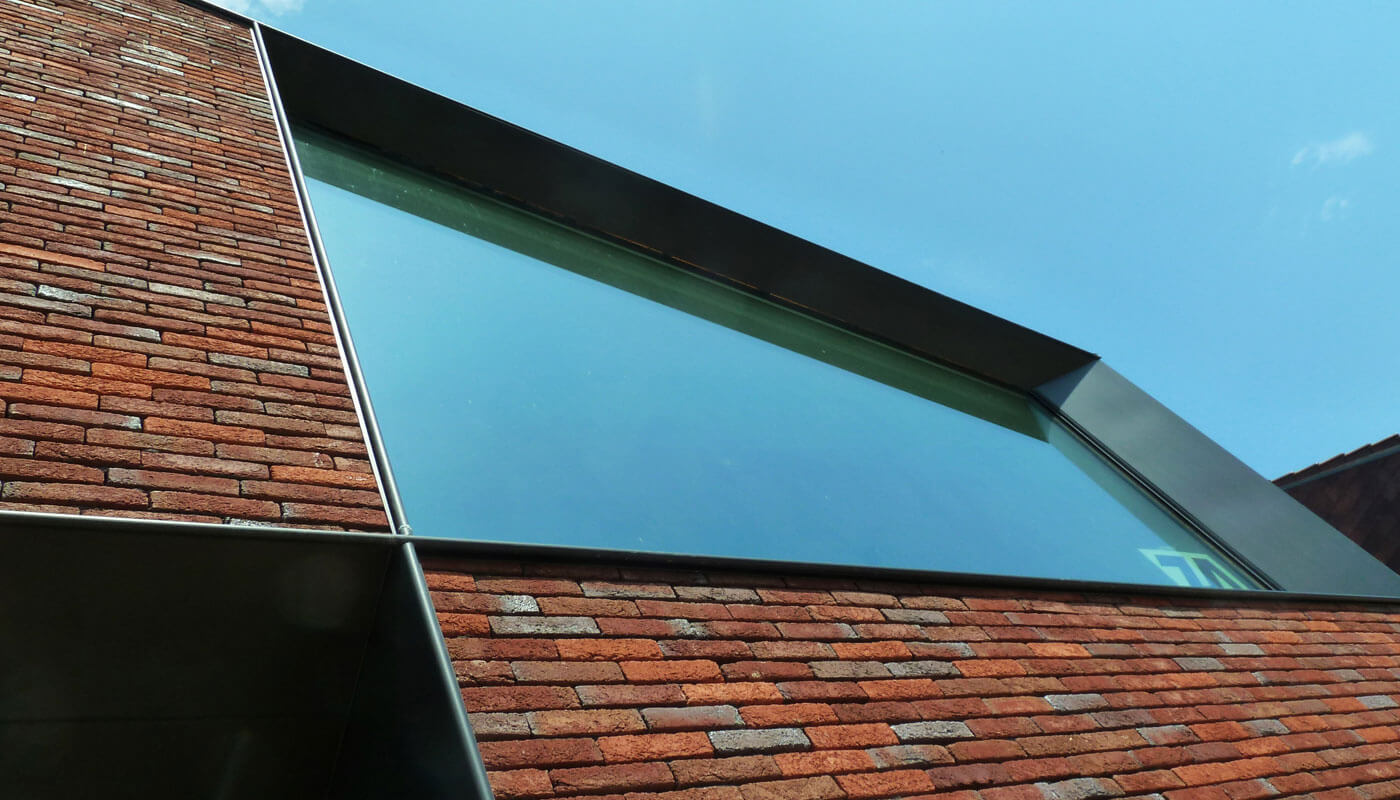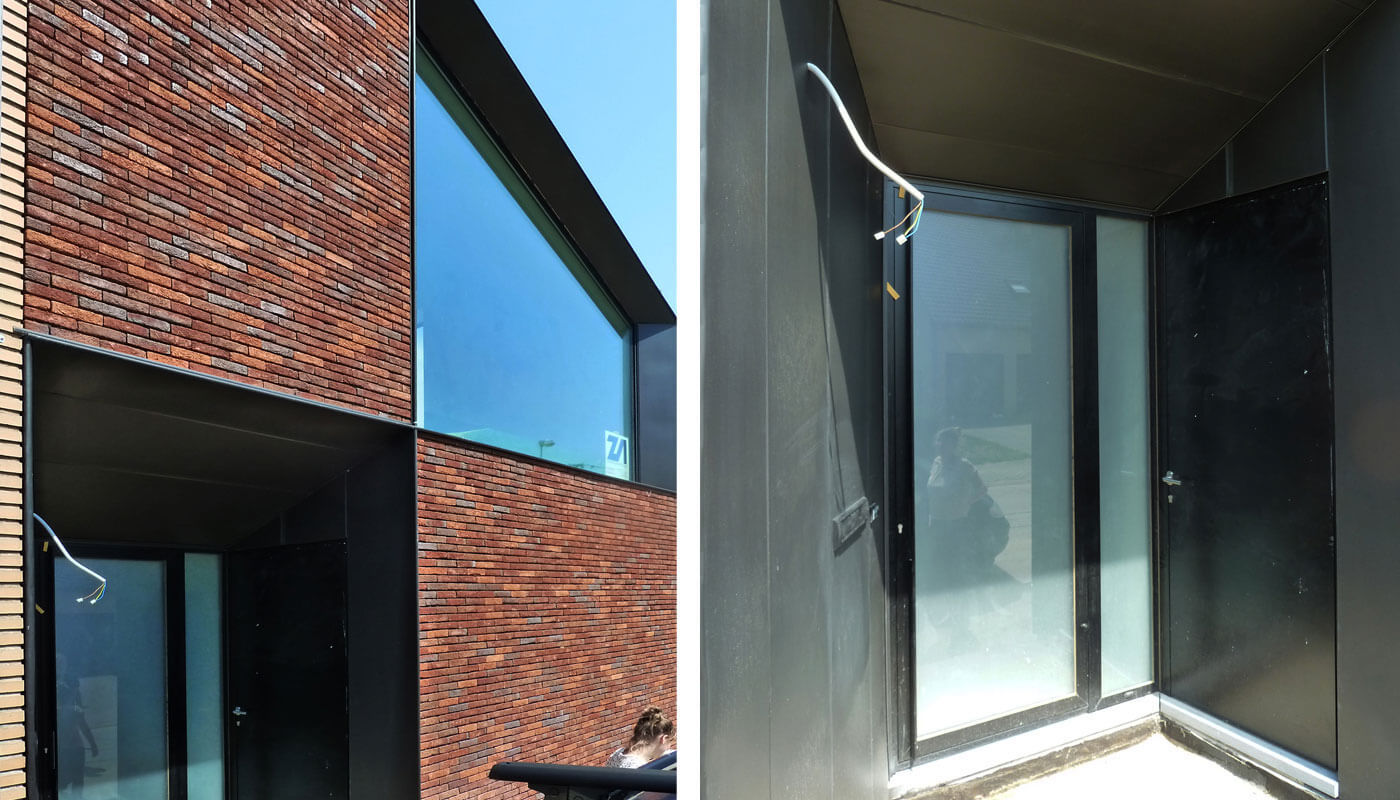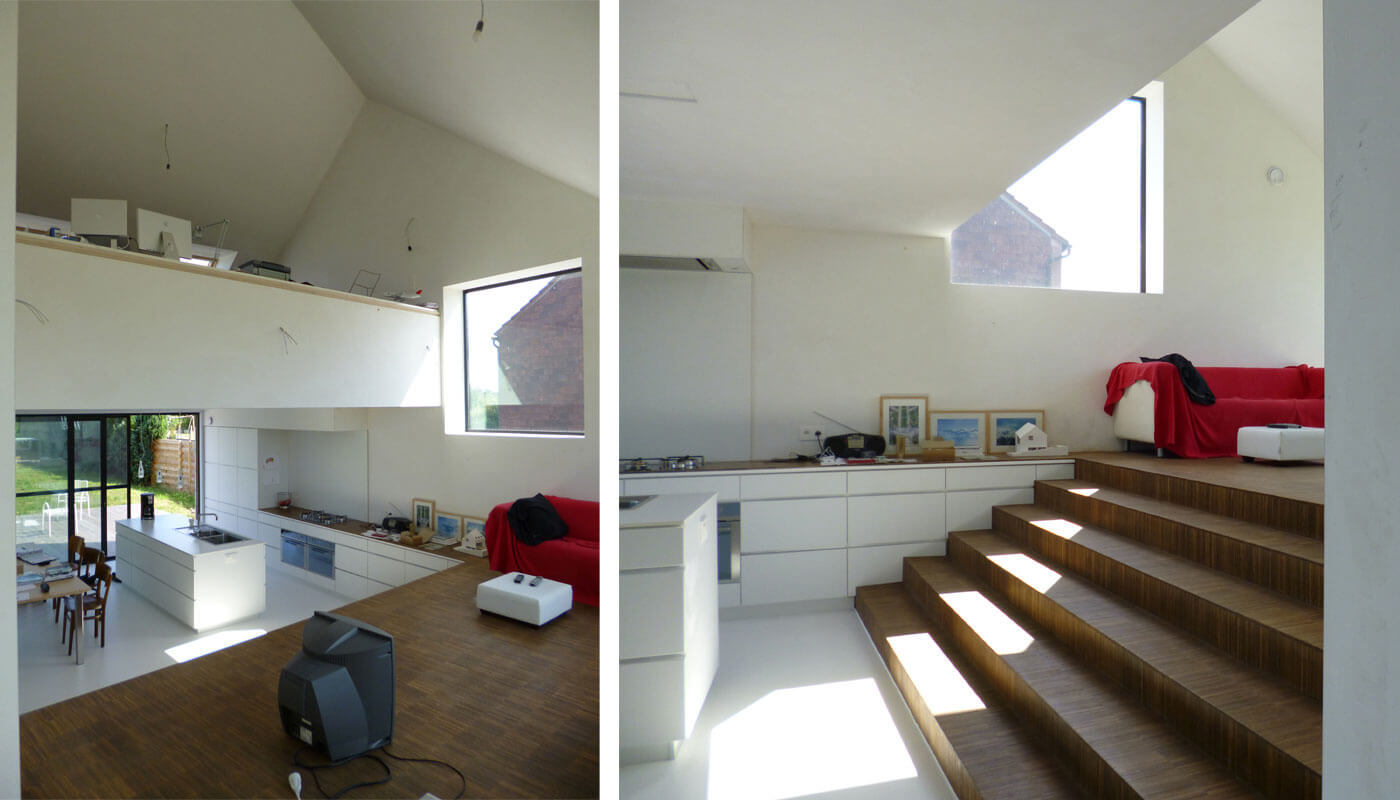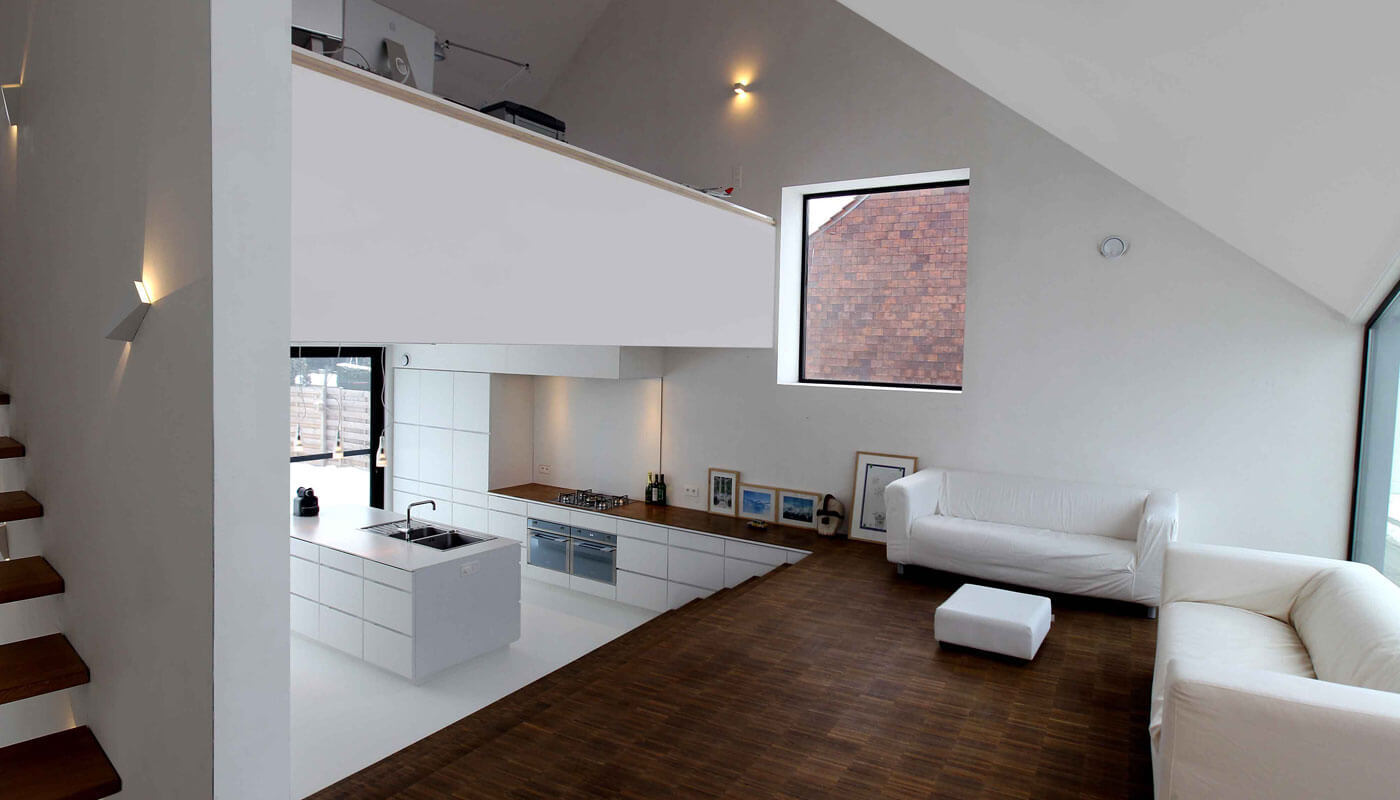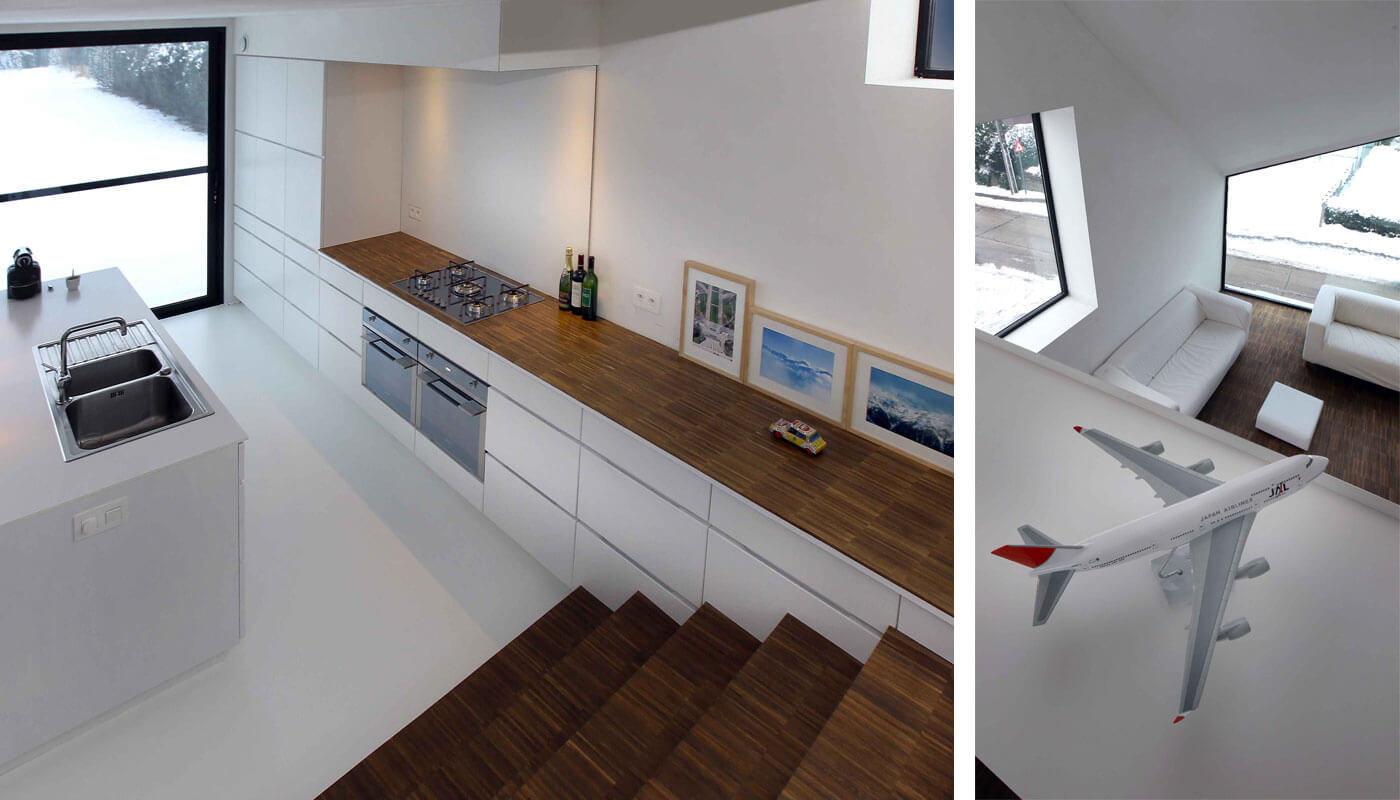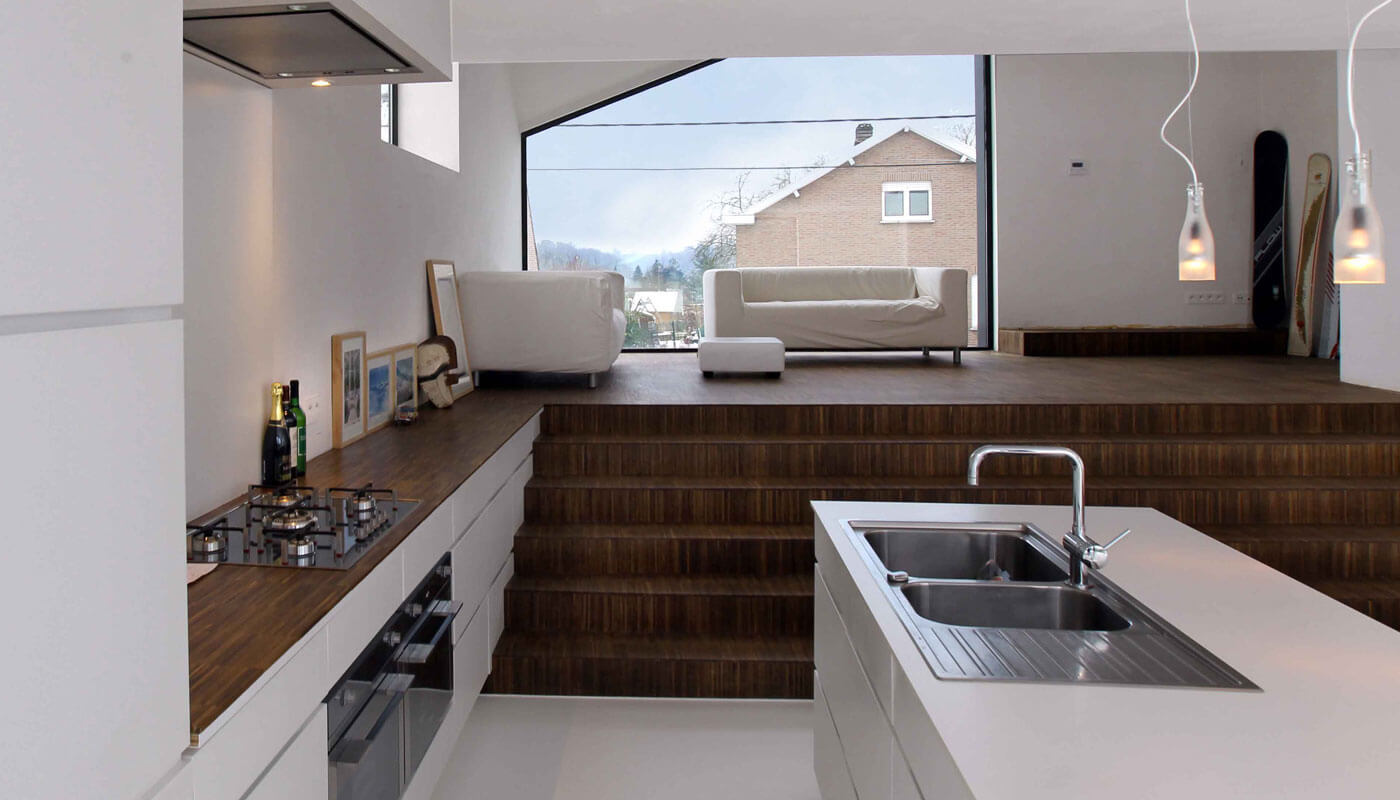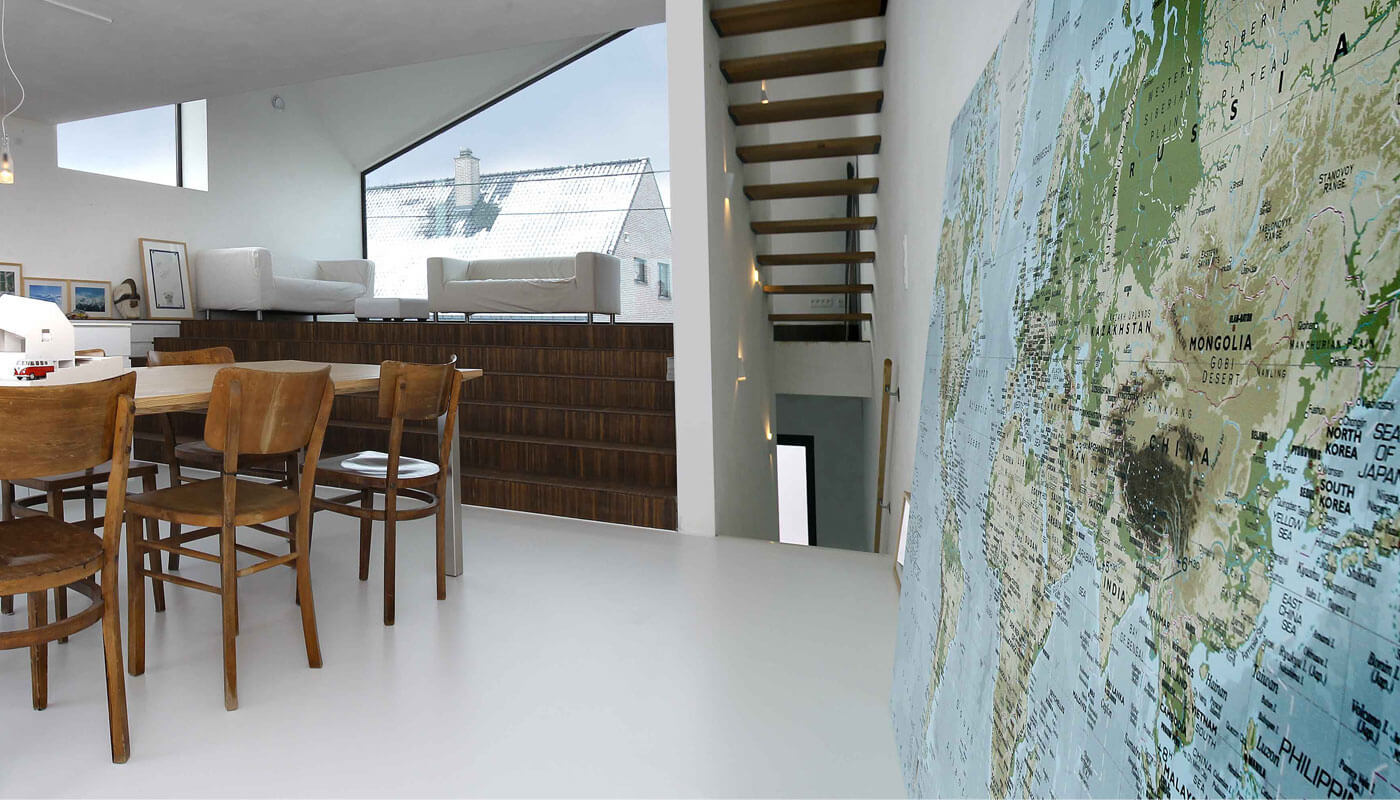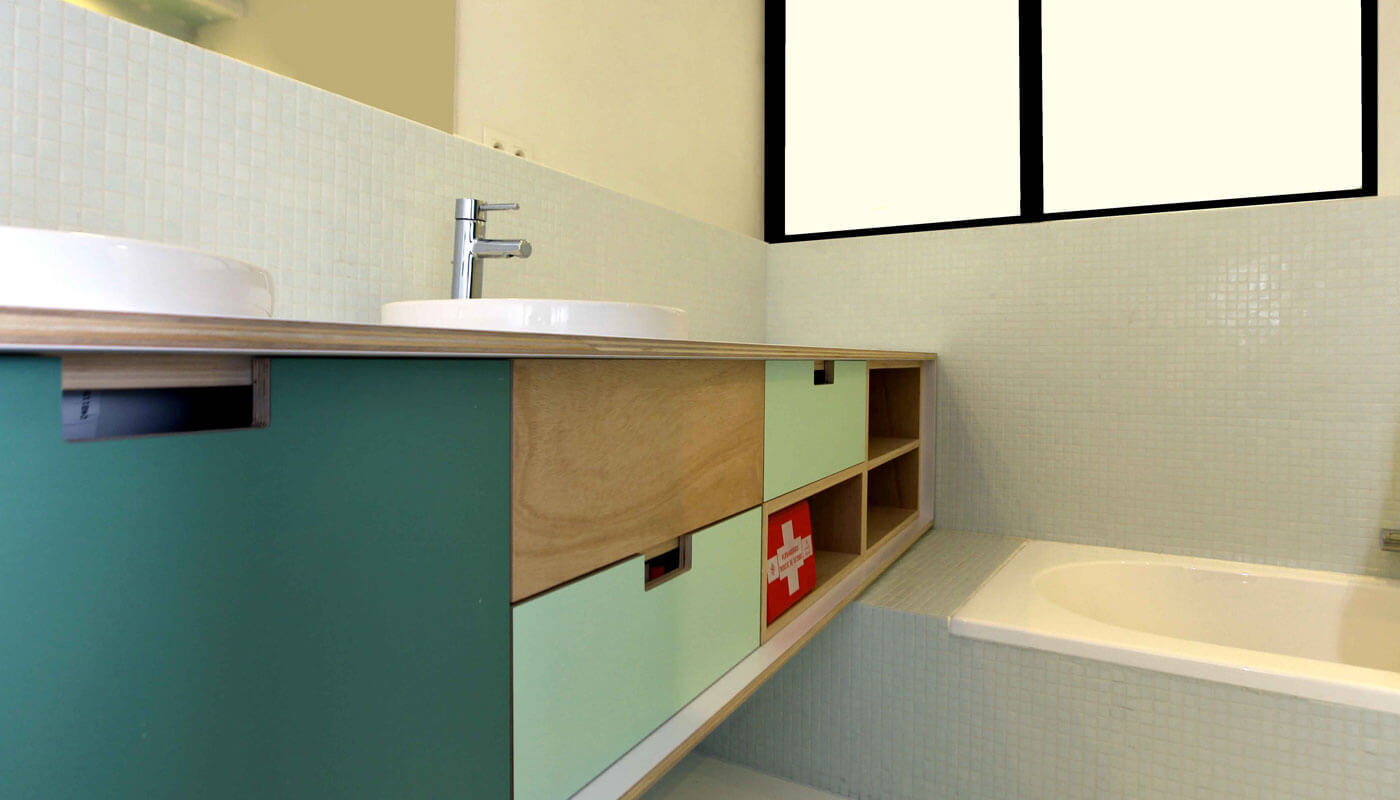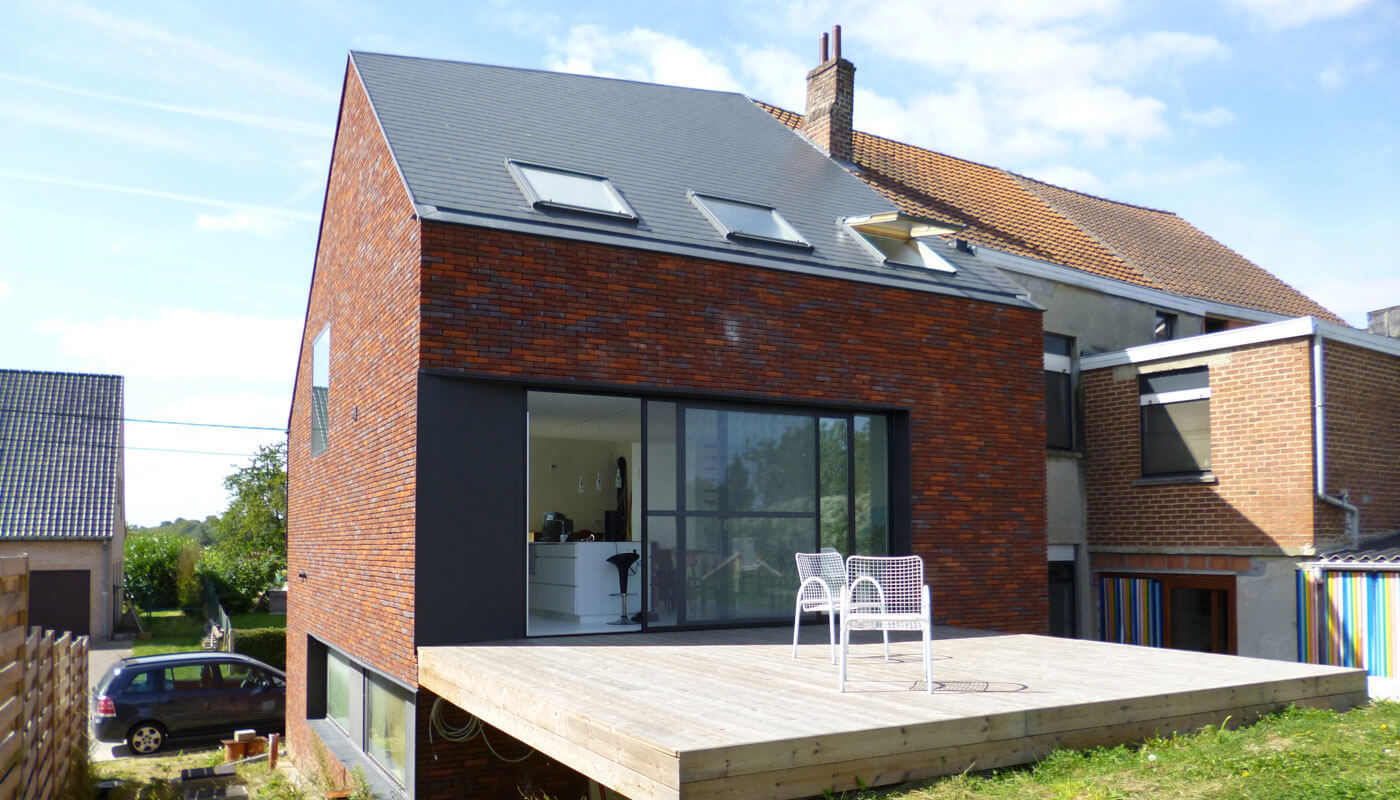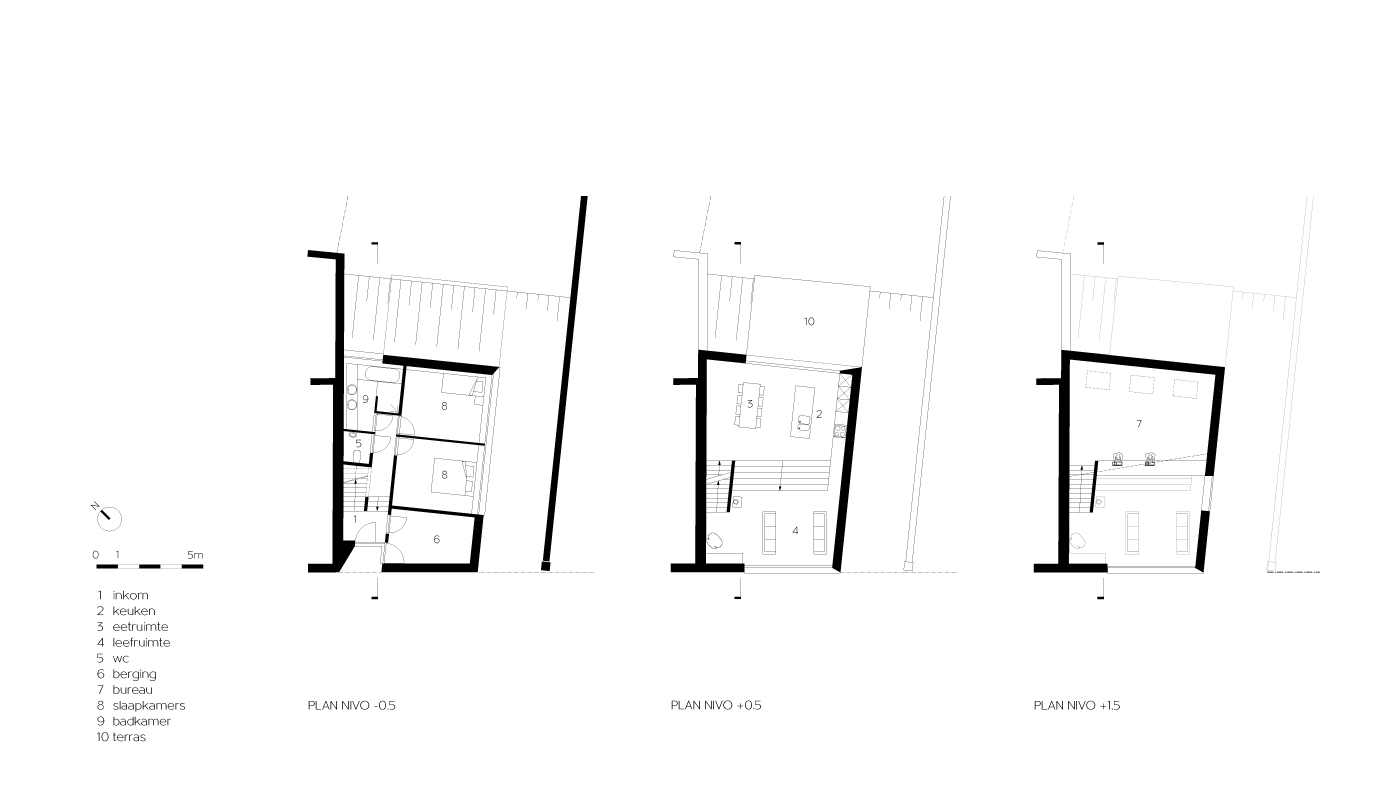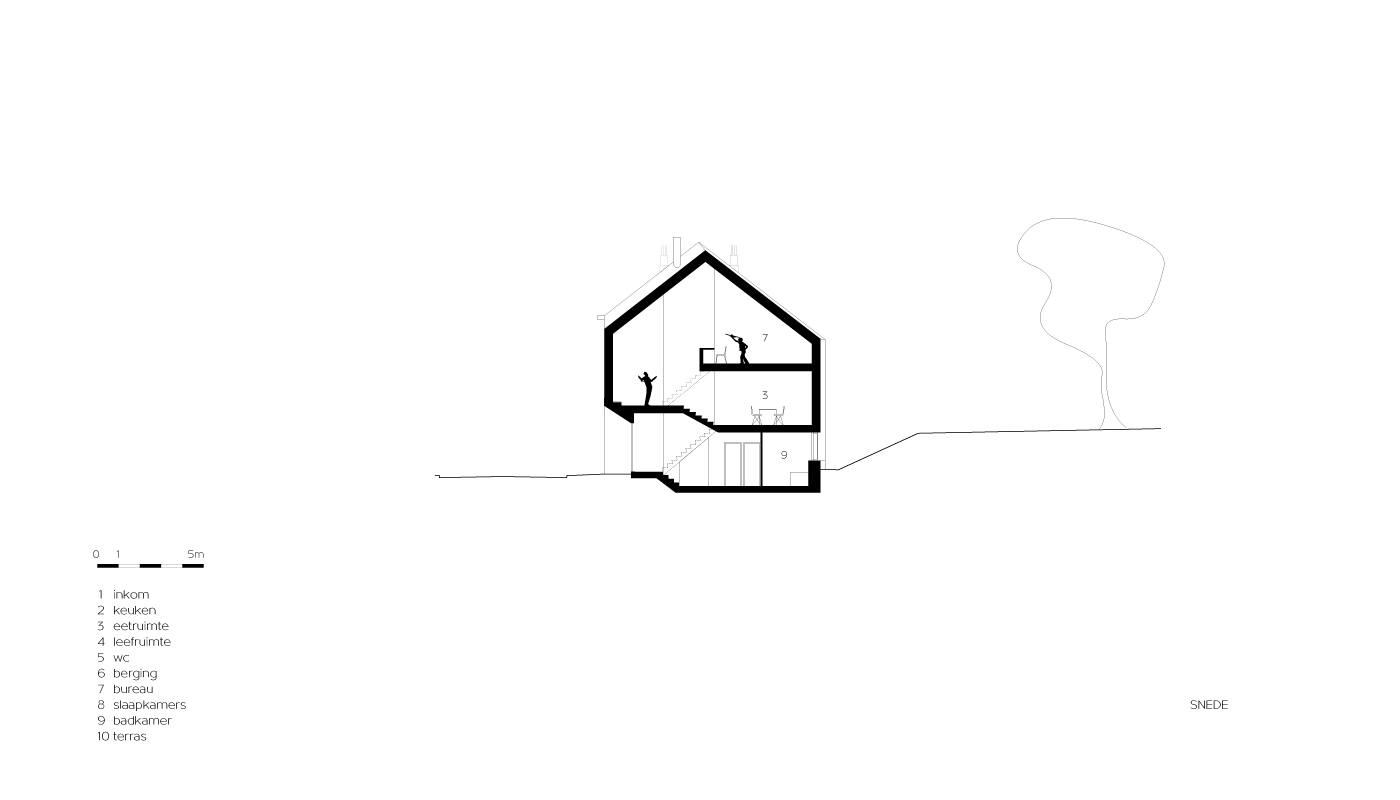 info
client

Timmermans

location

Vossem - Tervuren

surface

150 m²

period

2008 - 2011

phase

Completed

team

ZAmpone architectuur - ir. arch. Jo Deflander

photography

Yvan De Saedeleer

press
Description
Een driegevelwoning compact houden ondanks het stedenbouwkundig voorschrift om aan te sluiten bij het gabarit van het naburige pand.
ZAmpone laat het profiel van de nieuwbouw links aansluiten bij de buren, rechts maakt het dak  een duik naar beneden. Deze ingreep maakt voor- en zijgevel evenwaardig interessant voor het straatbeeld. Binnen ontstaat op slechts 145m2 een zeer ruimtelijk gevoel dat hier en daar een duik in geborgenheid neemt.
De grote hoogteverschillen, kenmerkend voor de streek rond Vossem vormen een tweede uitdaging. Het straatniveau ligt twee meter lager dan de tuin van het perceel. Dit gegeven inspireert tot een bel etagewoning met split levels. Een groot zwevend terras verbindt leefruimtes met tuin. De slaapvertrekken zijn half ingegraven en krijgen licht via de zijgevel. 
De open zitplaats vooraan werd bijna een meter hoger voorzien dan de aanpalende keuken zodat je uitzicht over het landschap verder reikt. De lichtinval is royaal, 's ochtends door het karakteristiek, diep in de gevel verzonken raam aan de voorzijde, 's avonds door het grote raam aan de achterzijde.
Momenteel wordt er geslapen op het gelijkvloers, geleefd op de eerste en gewerkt op de tweede, open verdieping. Op vraag van de bouwheer kunnen woon- en werkruimte makkelijk omgewisseld worden zonder grote bouwwerken zodat werk en leven duidelijker gescheiden zijn en er meer privacy ontstaat.
Sfeer buiten: leien leggen het dak, zink plooit de zichten.
Wit en gesmoorde eik binnen: vloeren en vlakken lopen in mekaar over, net zoals functies en fases in het leven.
Een gemengde constructie van klassieke massiefbouw en een houten dakconstructie met doorgedreven isolatie en een ventilatiesysteem met warmterecuperatie, tilt deze woning op tot de laag-energiestandaard.
En gardant une maison à trois côtés compacte malgré l'exigence de l'urbanisme de s'aligner sur la hauteur du bâtiment voisin, ZAmpone connecte le profil de la nouvelle construction aux voisins de gauche tandis que le toit plonge vers le bas sur la droite. Cette intervention crée une façade tout aussi intéressante pour l'avant et le côté du bâtiment, améliorant ainsi la vue d'ensemble de la rue. À l'intérieur, sur seulement 145 m2, on parvient à une sensation d'espace très spacieuse, plongeant occasionnellement dans un sentiment de sécurité.
Les importantes différences de hauteur, caractéristiques de la région de Vossem, constituent un deuxième défi. Le niveau de la rue est situé deux mètres plus bas que le jardin de la parcelle. Cela inspire le concept d'une maison bel-étage avec plusieurs niveaux. Une grande terrasse flottante relie les espaces de vie au jardin, tandis que les chambres sont partiellement encastrées et reçoivent de la lumière par la façade latérale.
Le salon ouvert à l'avant est presque un mètre plus élevée que la cuisine adjacente, permettant ainsi d'étendre la vue sur le paysage. La lumière naturelle est abondante, avec la caractéristique fenêtre profondément encastrée à l'avant qui offre une lumière du matin et une grande fenêtre à l'arrière qui offre une lumière du soir.
Actuellement, le sommeil a lieu au rez-de-chaussée, la vie au premier étage et le travail au deuxième étage ouvert. À la demande du client, les espaces de vie et de travail peuvent être facilement échangés sans travaux de construction majeurs, créant ainsi une séparation claire entre travail et vie et offrant plus d'intimité.
Ambiance extérieure : les tuiles d'ardoise couvrent le toit et le zinc façonne les vues. À l'intérieur, une combinaison de chêne blanc et fumé mélange harmonieusement les sols et les surfaces, tout comme les fonctions et les étapes de la vie s'entrelacent.
Une construction mixte de matériaux de construction solides traditionnels et d'une structure de toit en bois avec une isolation avancée et un système de ventilation à récupération de chaleur élève cette maison à des normes énergétiques basses.
Keeping a three-sided house compact despite the urban planning requirement to align with the neighboring building's height, ZAmpone connects the profile of the new construction to the neighbors on the left while the roof takes a dive downwards on the right. This intervention creates an equally interesting facade for both the front and side of the building, enhancing the overall street view. Inside, on just 145m2, a very spacious feeling is achieved, occasionally taking a dive into a sense of security.
The significant height differences, characteristic of the Vossem region, pose a second challenge. The street level lies two meters lower than the garden of the plot. This inspires the concept of a split-level maisonette. A large floating terrace connects living spaces to the garden, while the bedrooms are partially submerged and receive light from the side facade.
The open seating area at the front is almost a meter higher than the adjacent kitchen, allowing the view over the landscape to extend further. The natural light is abundant, with the characteristic deeply recessed window at the front providing morning light and a large window at the back providing evening light.
Currently, sleeping takes place on the ground floor, living on the first, and working on the second, open floor. At the request of the client, the living and working spaces can be easily exchanged without major construction works, creating a clear separation between work and life and providing more privacy.
Outside ambiance: slate tiles cover the roof, and zinc shapes the views. Inside, a combination of white and smoked oak seamlessly blends floors and surfaces, just as functions and stages in life intertwine.
A mixed construction of traditional solid building materials and a wooden roof structure with advanced insulation and a heat recovery ventilation system elevates this house to low-energy standards.
info
client

Timmermans

location

Vossem - Tervuren

surface

150 m²

period

2008 - 2011

phase

Completed

team

ZAmpone architectuur - ir. arch. Jo Deflander

photography

Yvan De Saedeleer

press