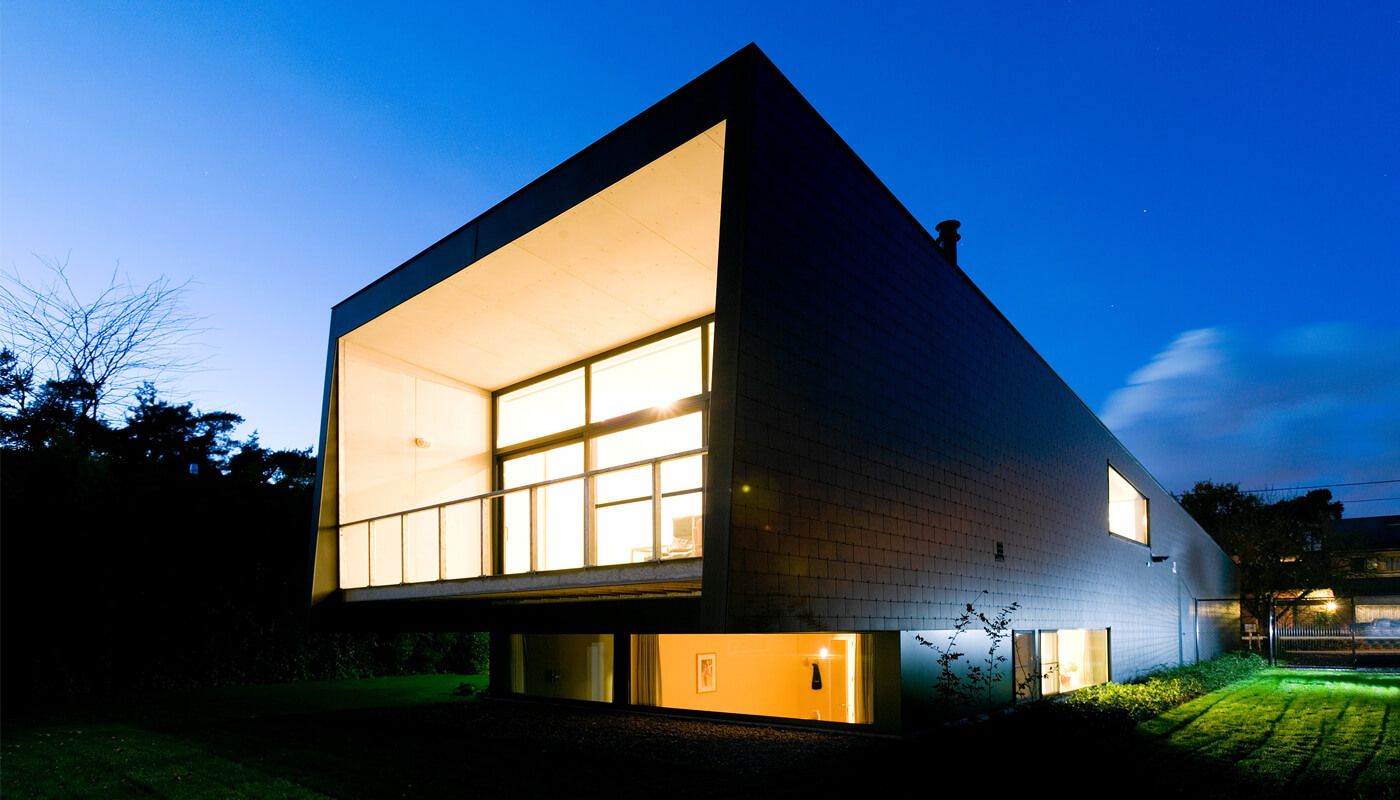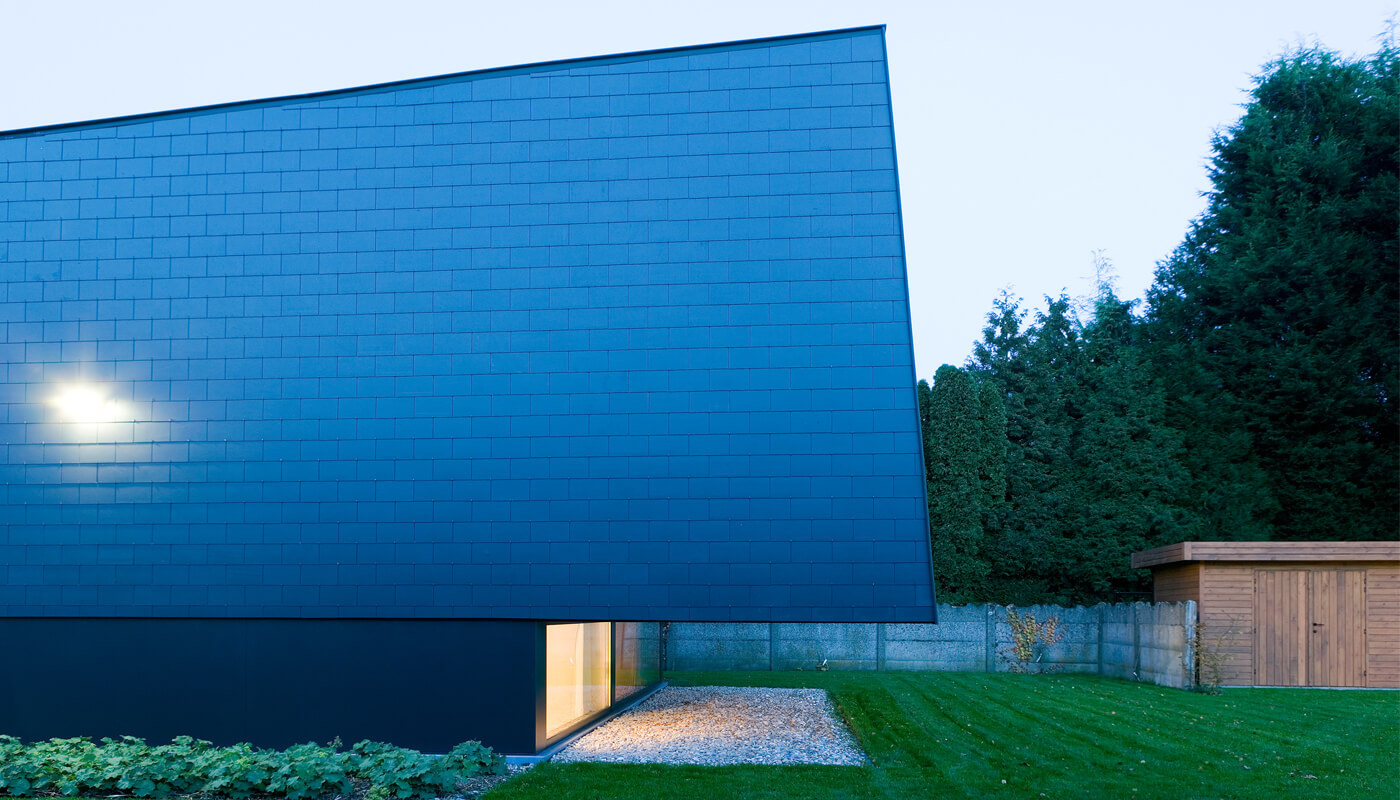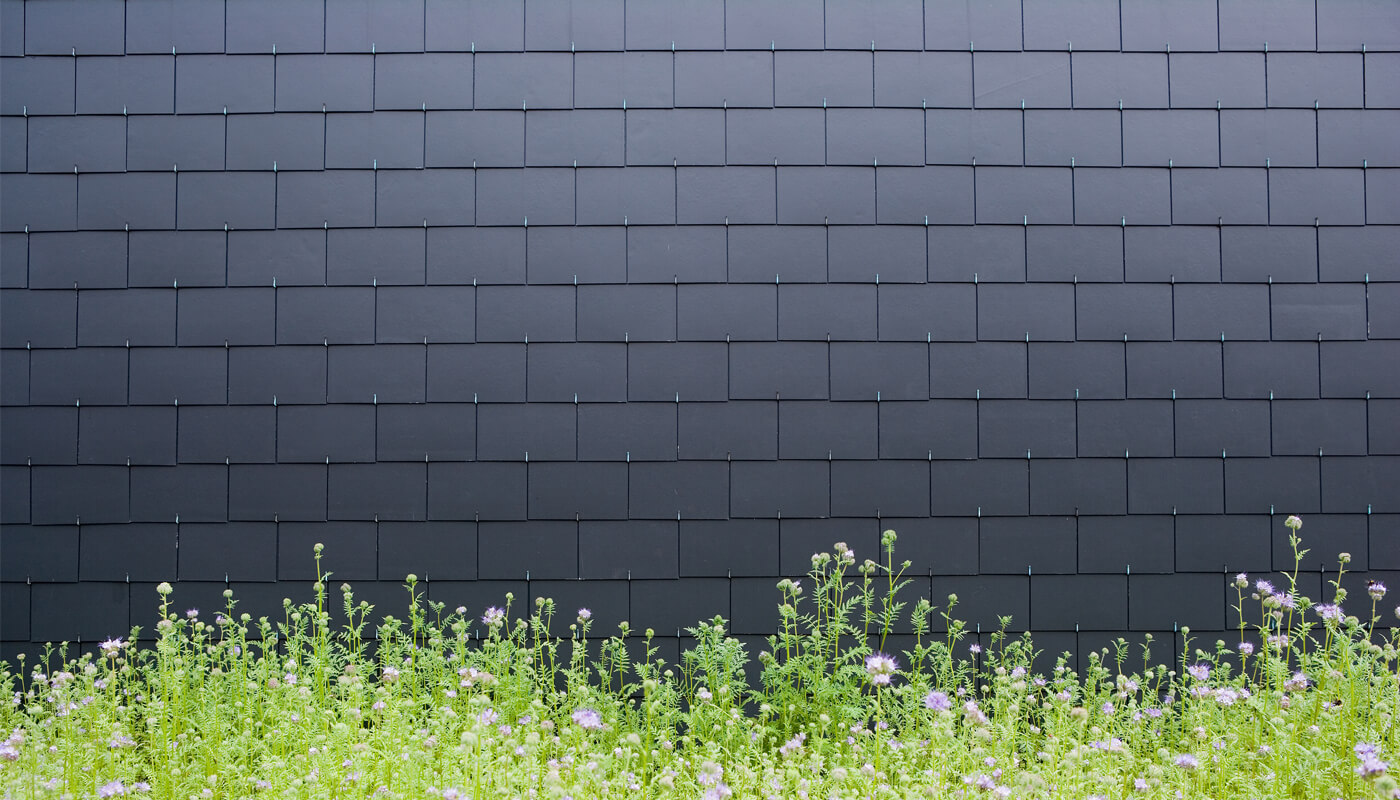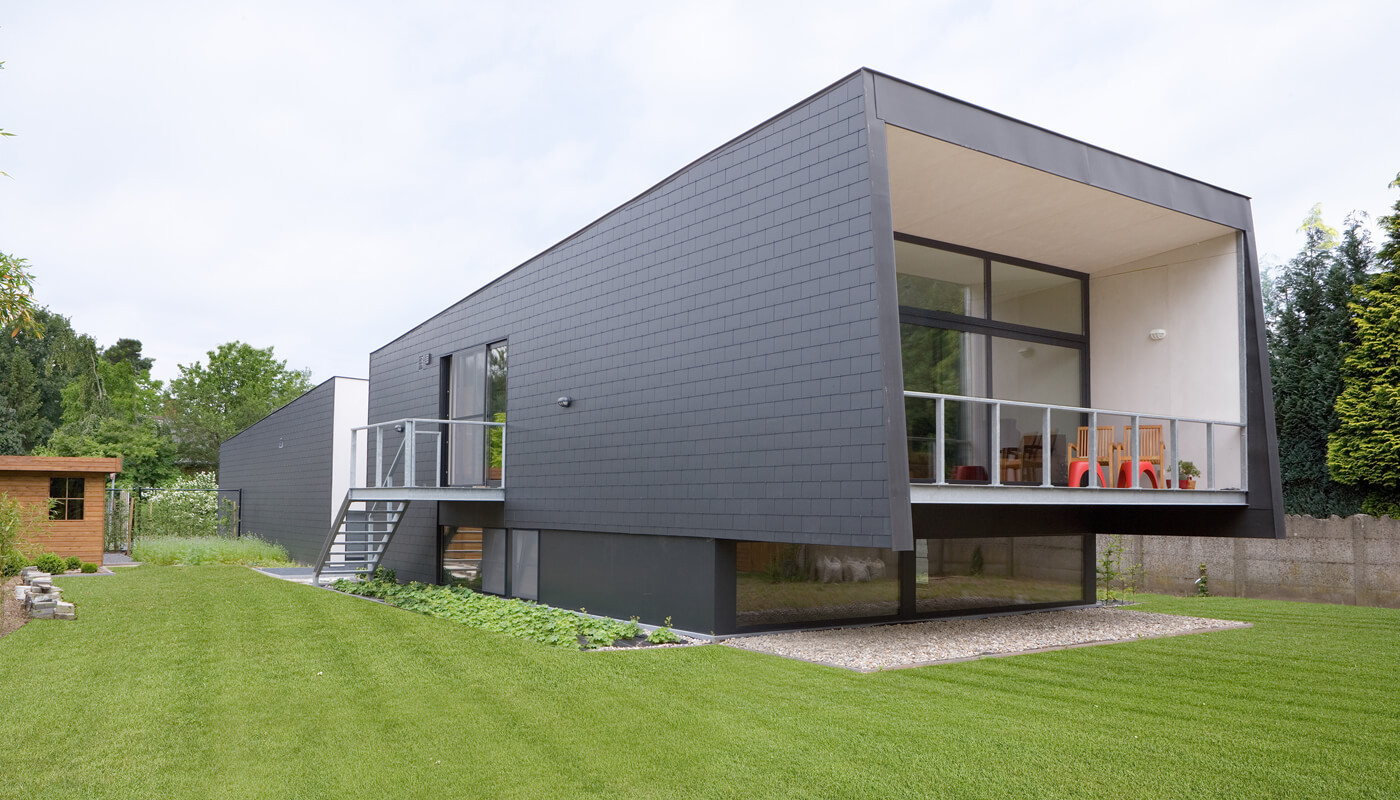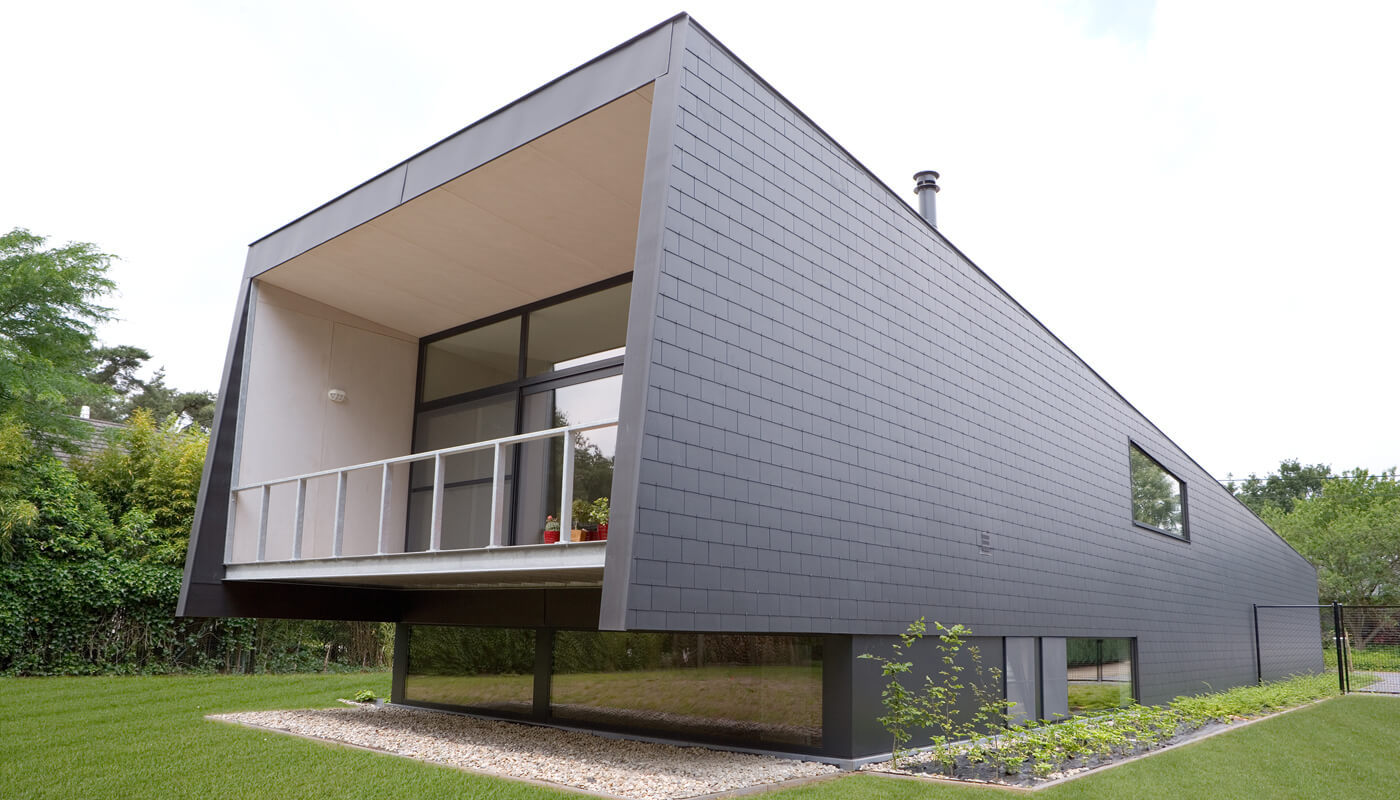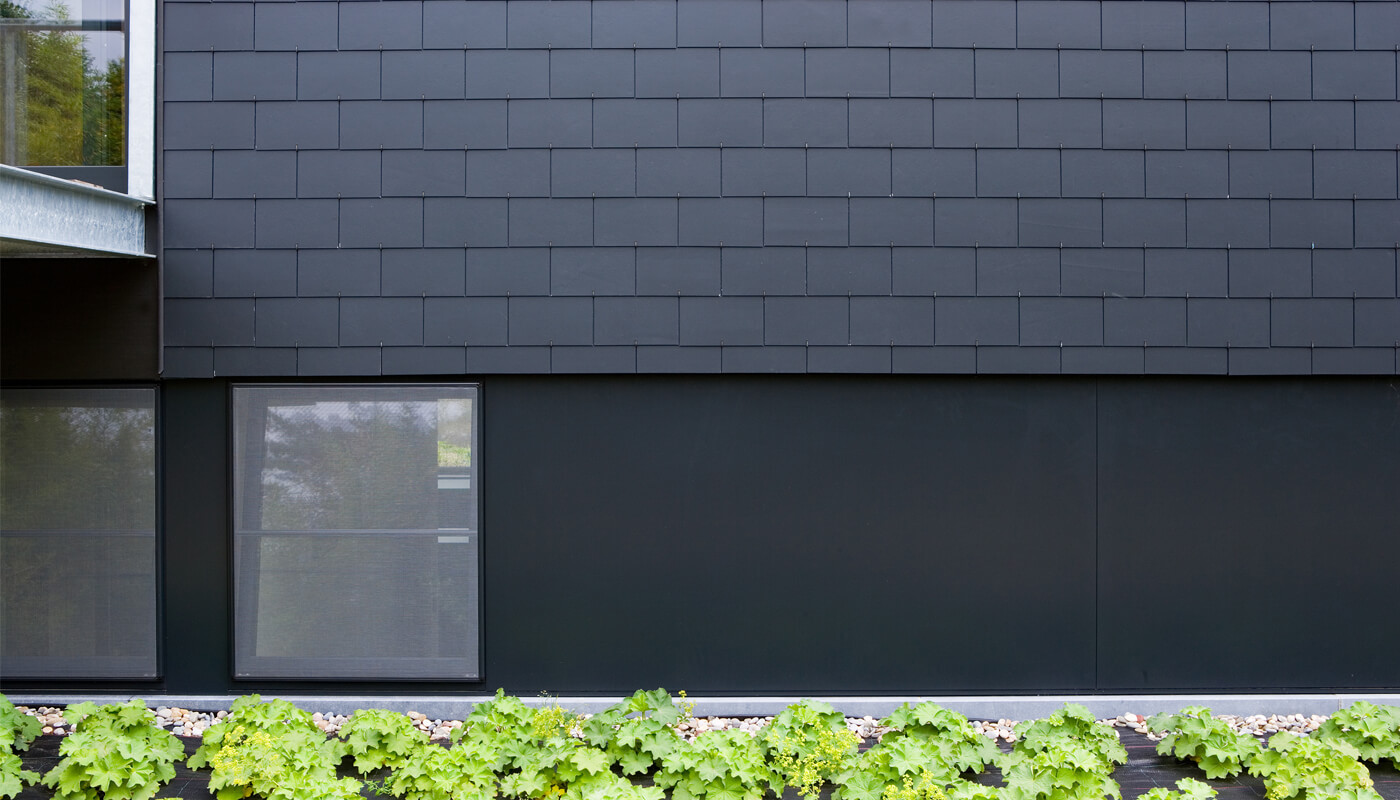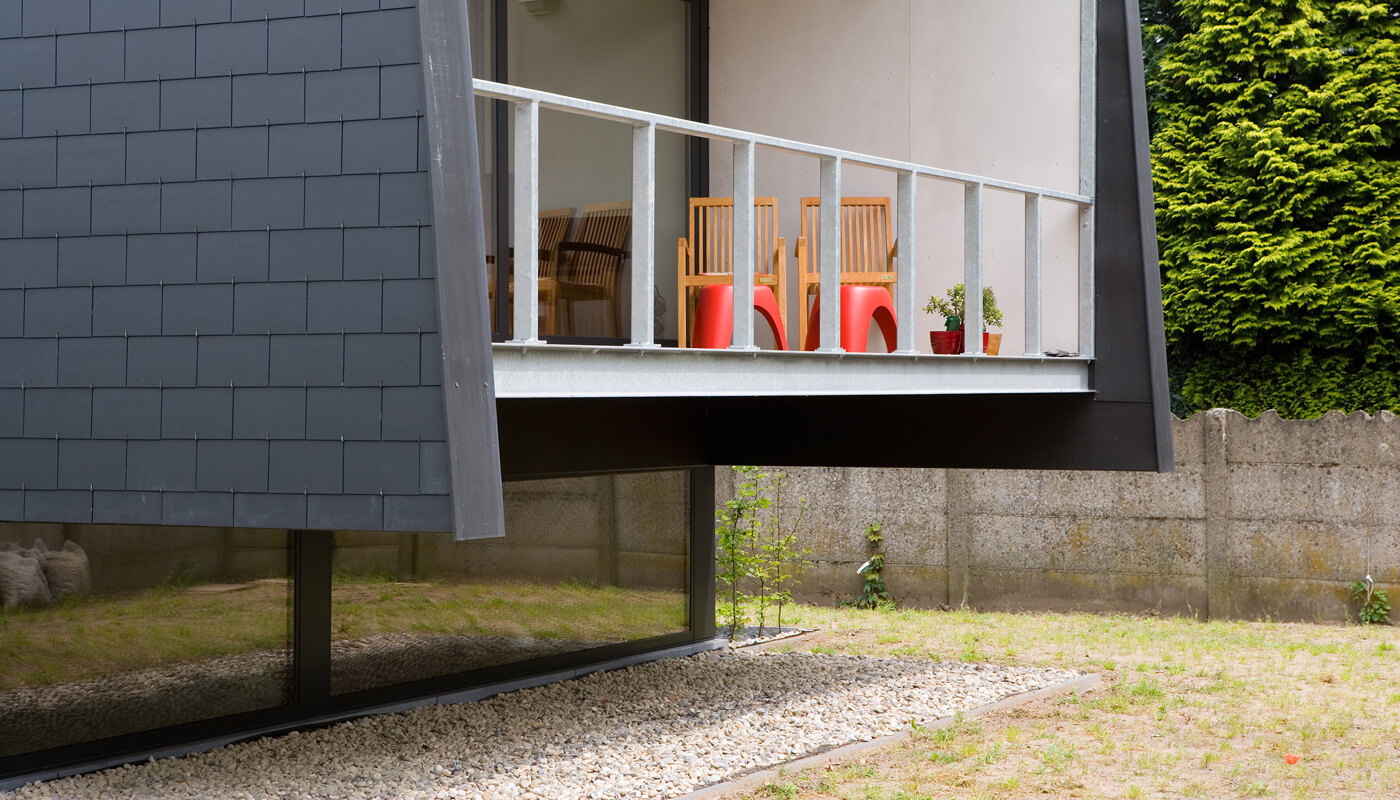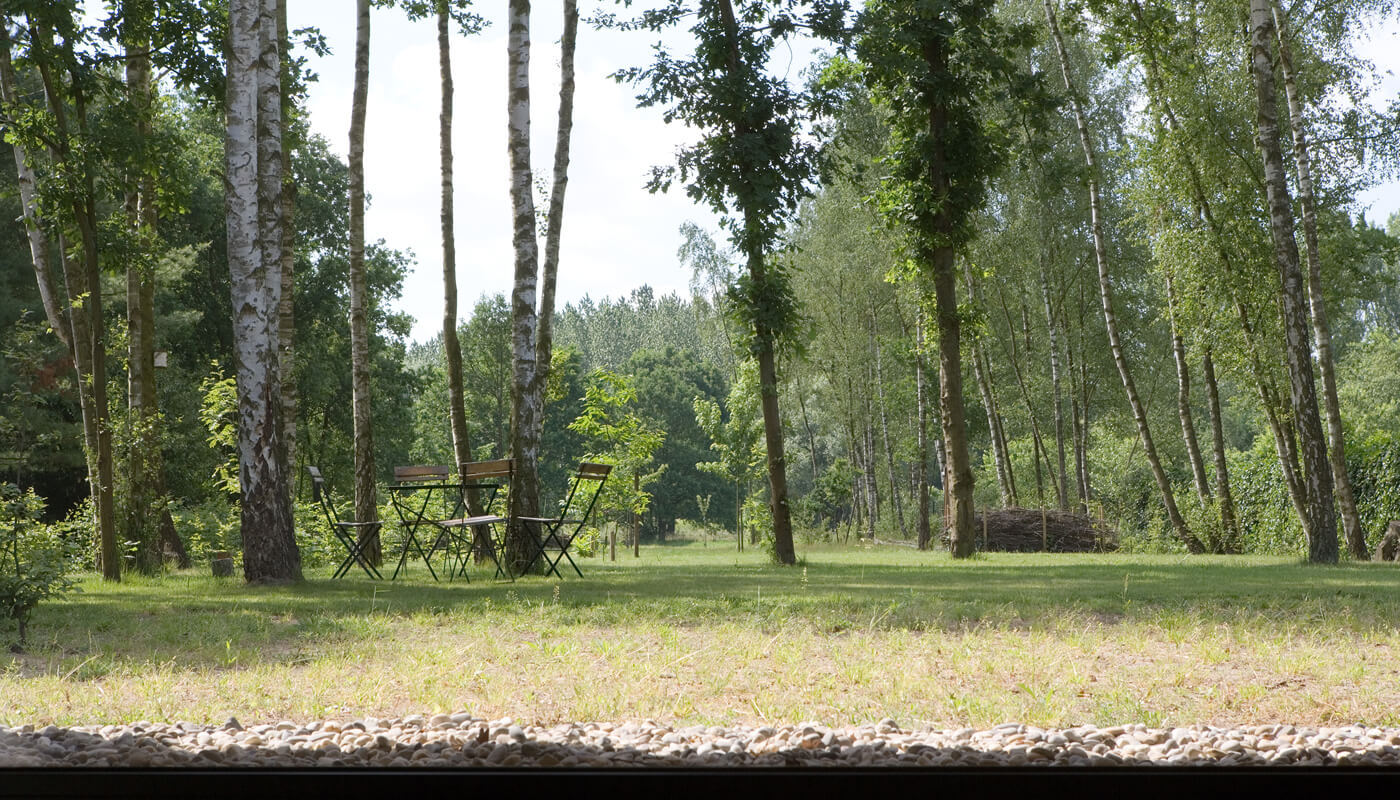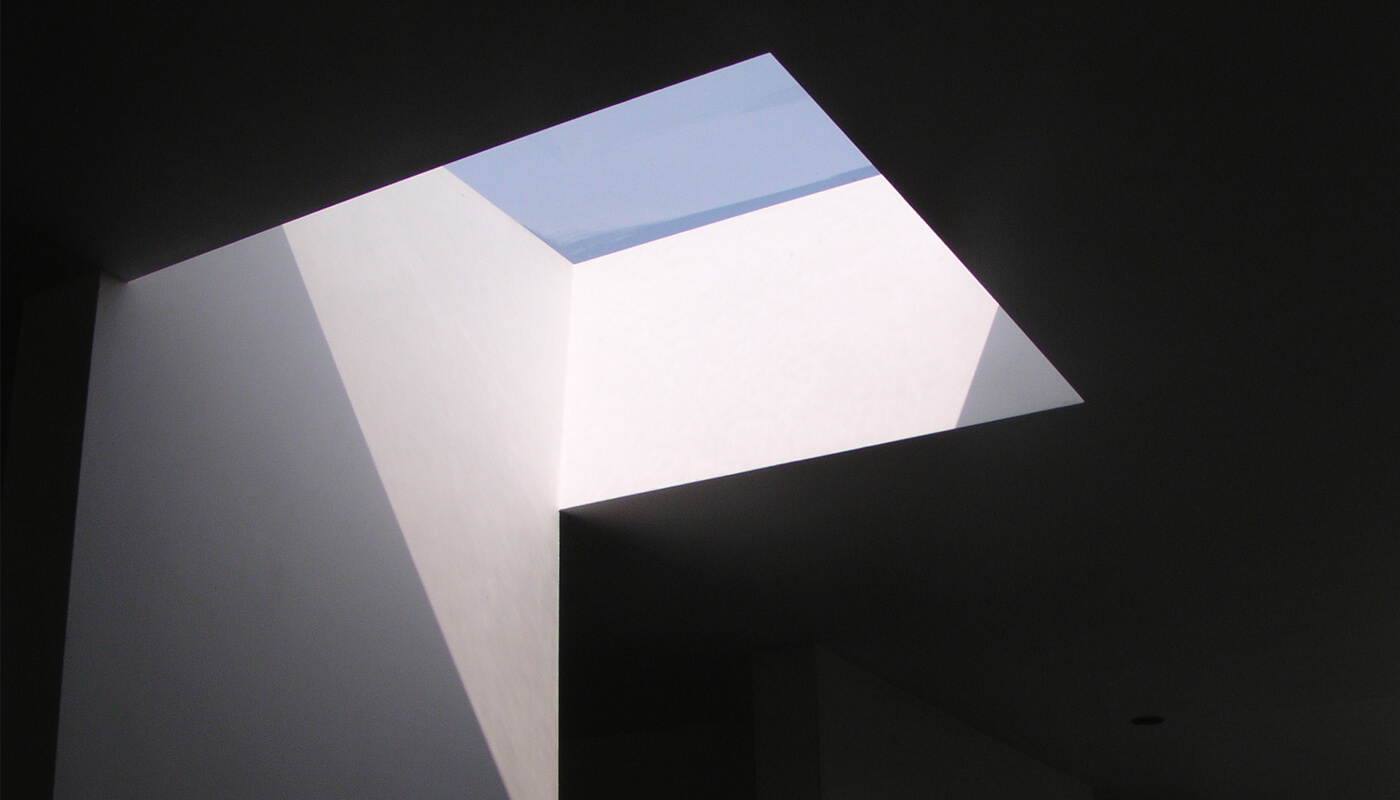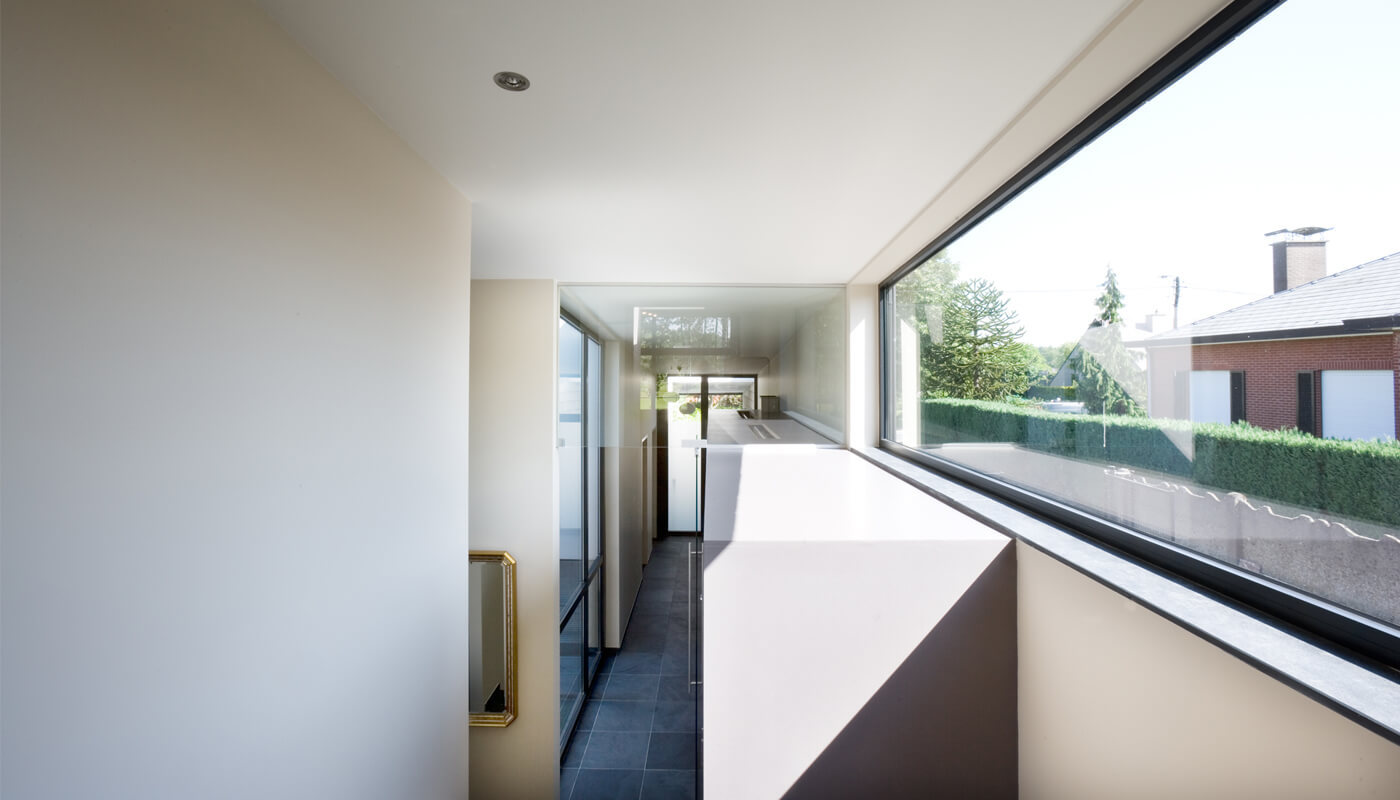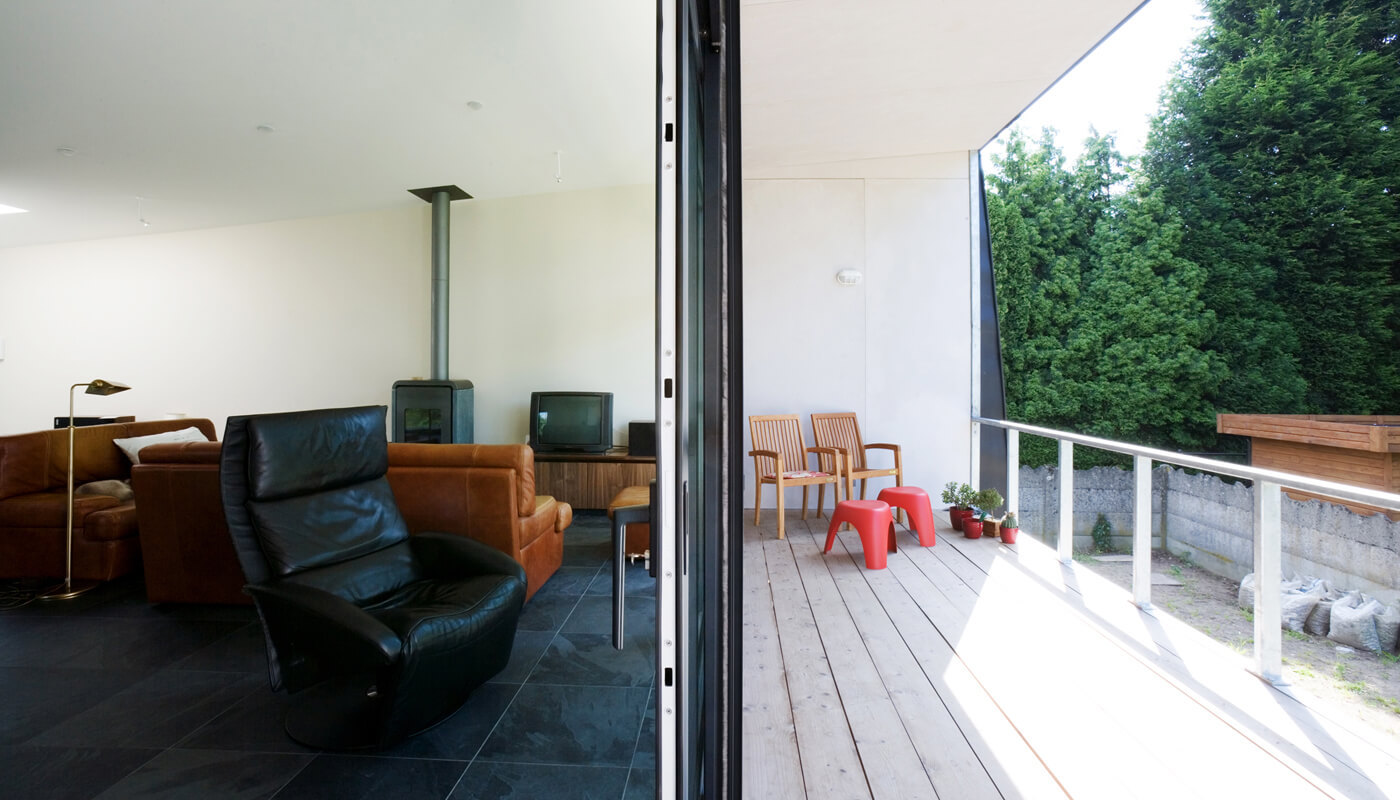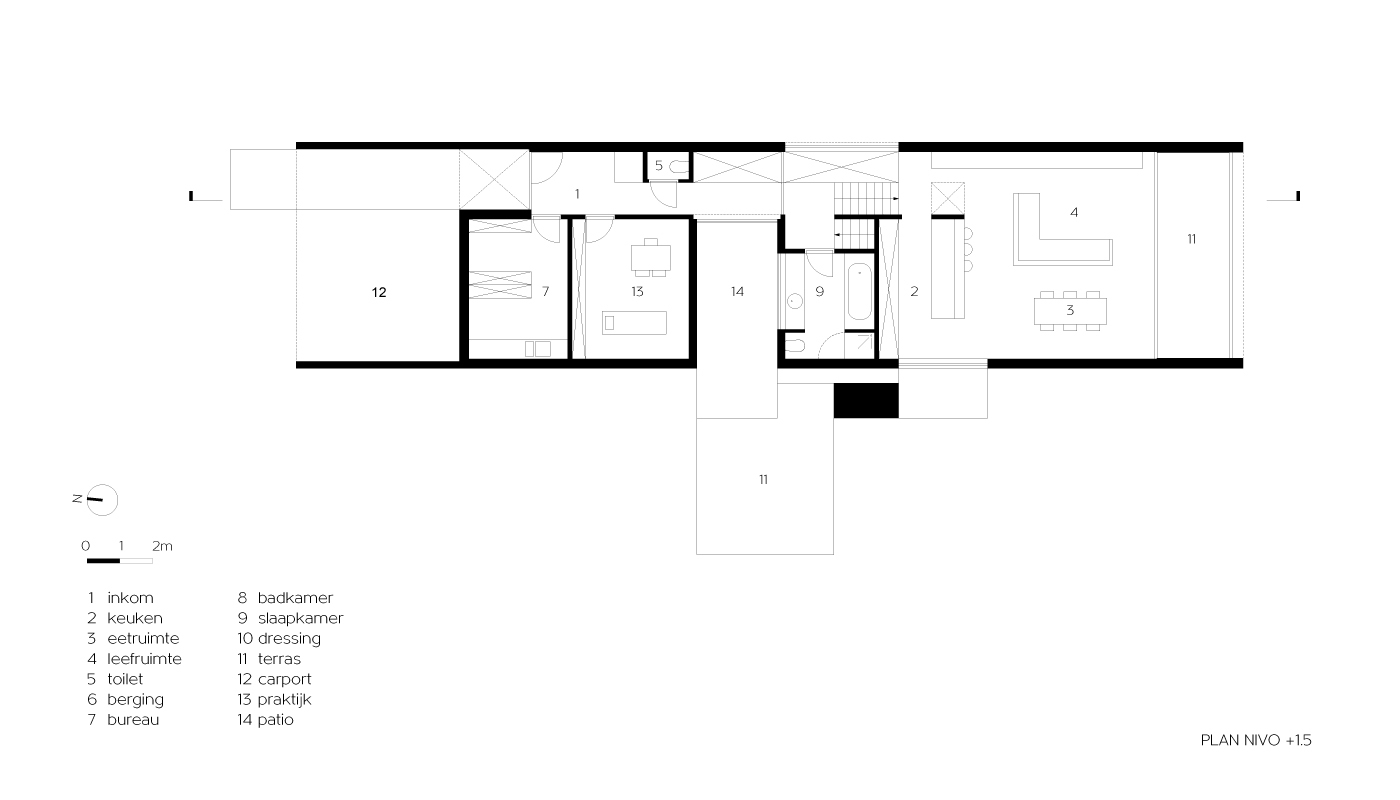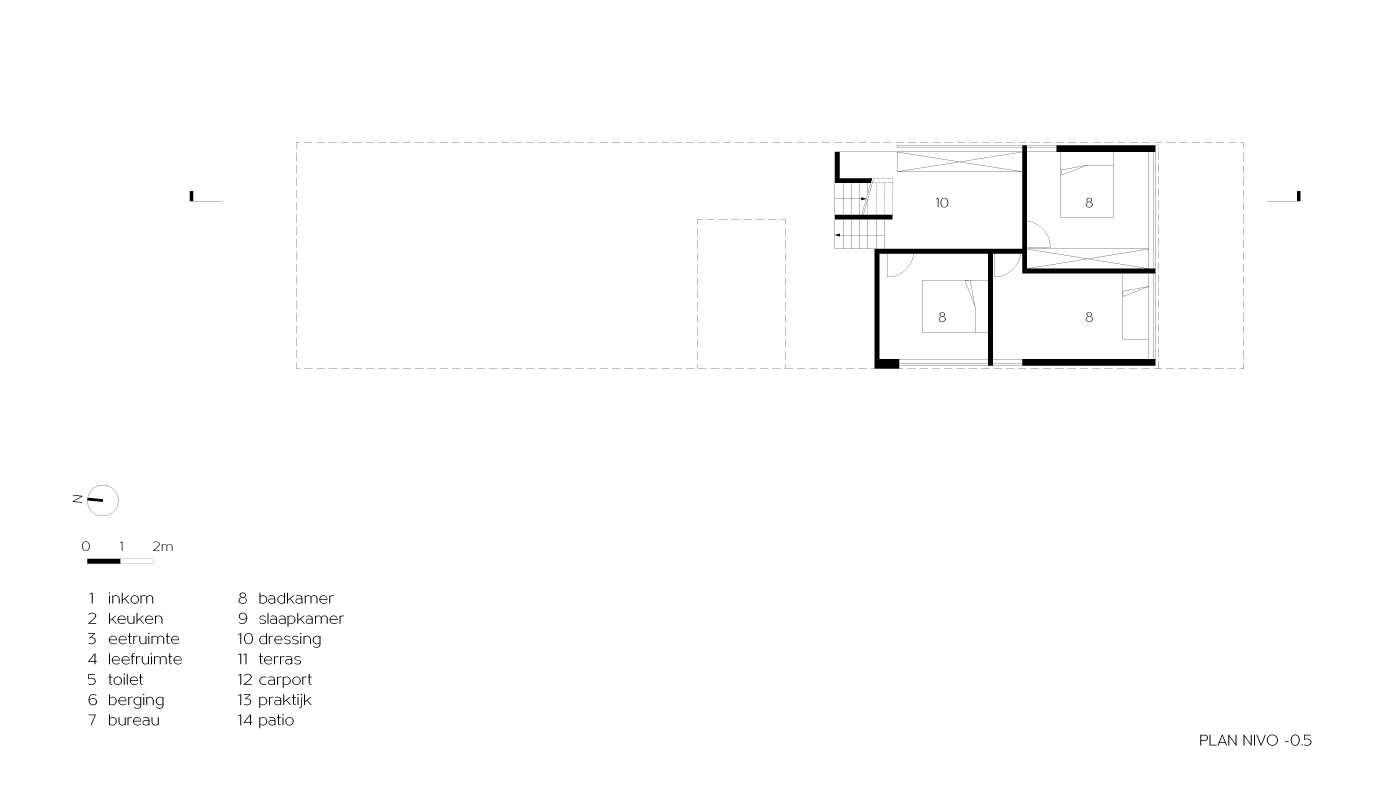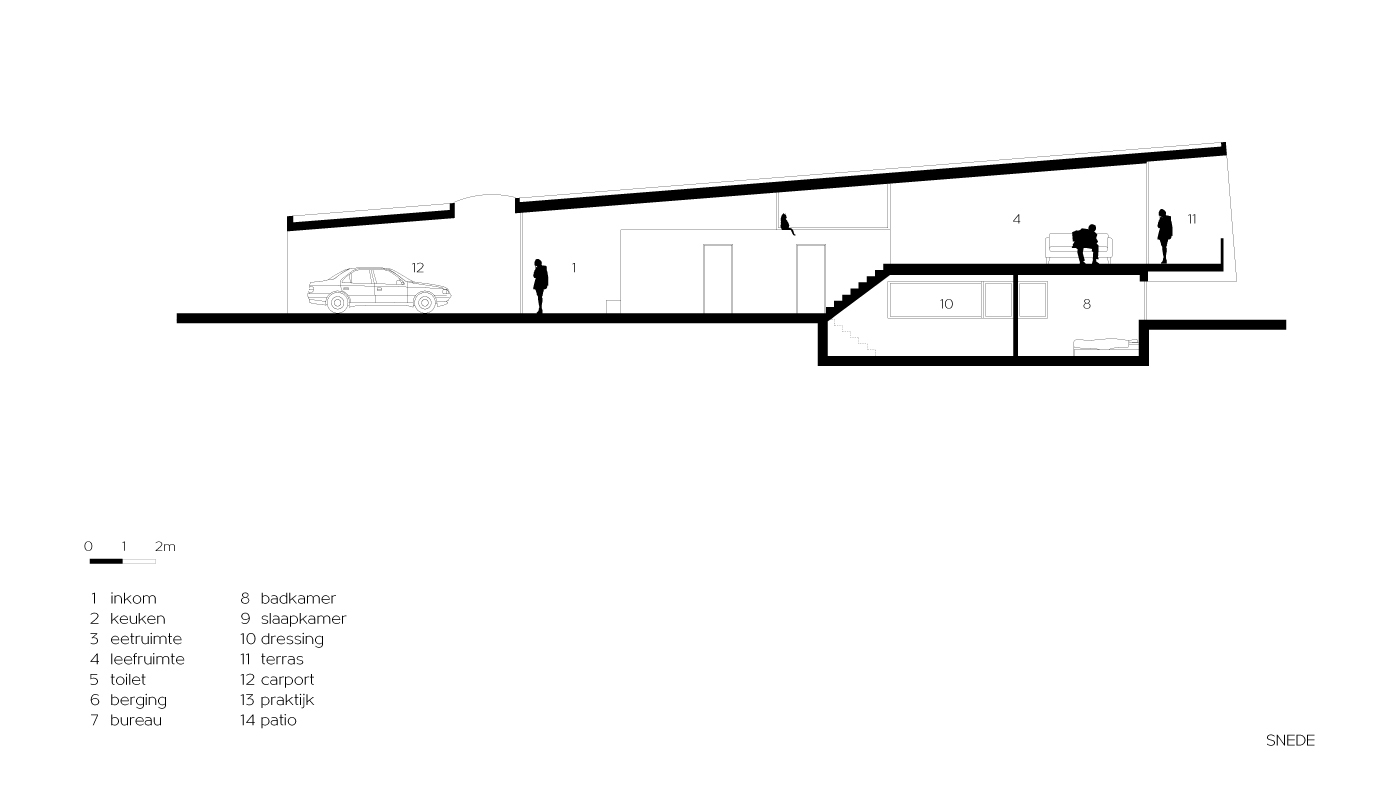 info
client

Vermaelen - Mans

location

Werchter

surface

230 m²

period

2003 - 2006

phase

Completed

team

ZAmpone architectuur - ir. arch. Jo Deflander

press
Description
De voorgevel van de linkerbuur ligt dicht tegen de straat, de achtergevel van de rechterbuur ligt zowat dertig meter dieper. ZAmpone neemt deze assen te baat als voor- en achterzijde van een nieuwbouw met uitzonderlijke bouwdiepte.

Een licht hellend en langgerekt volume, een rechtlijnige gradient van publiek naar privé, van praktijkruimte naar woonvertrekken, opent zich als een trechter naar het achterliggende natuurlandschap.
Subtiele happen uit wat een monoliet lijkt. Een koepel licht de voordeur gastvrij op. Een patio met waterpartij stileert de grens tussen privé en publiek en brengt onverwacht helderheid in het hart van de circulatieruimte.
Het woongedeelte krijgt een split level met een halfverzonken slaapverdieping en een bel etage met keuken en leefruimte. Door de ramen in de slaapkamers net boven het het maaiveld te plaatsen, kijk je naar de tuin alsof je op je buik in het gras ligt. Vanuit de zithoek zwevend boven de tuin reikt het uitzicht verder, dieper de Demervallei in.
De overdekking van het zwevende terras, biedt schaduw aan deze zuidgevel.
Constructief een combinatie: een betonnen kuip verleent de halfverzonken vertrekken een aangename constante temperatuur, voor het terras werd dan weer voor klassieke massiefbouw en een staalskelet geopteerd. Visueel één stijgende lijn, getekend in donkere leien.
La façade avant du voisin de gauche est proche de la rue, tandis que la façade arrière du voisin de droite se trouve à environ trente mètres plus profondément. ZAmpone exploite ces axes comme la façade avant et arrière d'une nouvelle construction avec une profondeur exceptionnelle.
Un volume légèrement incliné et allongé, un gradient linéaire du public au privé, des espaces de pratique aux espaces de vie, s'ouvre comme un entonnoir vers le paysage naturel à l'arrière.
De subtiles morsures dans ce qui semble être un monolithe. Un dôme éclaire chaleureusement la porte d'entrée. Une terrasse avec un élément d'eau stylise la frontière entre privé et public, apportant une clarté inattendue au cœur de l'espace de circulation.
La zone de vie présente un niveau divisé avec un étage de couchage semi-enfoncé et un étage surélevé comprenant la cuisine et l'espace de vie. En plaçant les fenêtres des chambres juste au-dessus du niveau du sol, vous pouvez contempler le jardin comme si vous étiez couché sur le ventre dans l'herbe. Depuis la zone d'assise qui surplombe le jardin, la vue s'étend plus loin, plus profondément dans la vallée de la Demer.
L'auvent de la terrasse flottante offre de l'ombre à cette façade sud.
Du point de vue structurel, il s'agit d'une combinaison : une coque en béton procure aux pièces semi-enfoncées une température agréable et constante, tandis que pour la terrasse, une construction solide classique et un cadre en acier ont été choisis. Visuellement, cela forme une ligne ascendante, dessinée dans des ardoises sombres.
The front facade of the left neighbor is close to the street, while the rear facade of the right neighbor is about thirty meters deeper. ZAmpone takes advantage of these axes as the front and back of a new construction with exceptional depth.
A gently sloping and elongated volume, a linear gradient from public to private, from practice spaces to living areas, opens up like a funnel towards the natural landscape behind.
Subtle bites out of what appears to be a monolith. A dome warmly illuminates the front door. A patio with a water feature stylizes the boundary between private and public, bringing unexpected clarity to the heart of the circulation space.
The living area has a split level with a half-sunken sleeping floor and a raised floor with the kitchen and living space. By placing the windows in the bedrooms just above ground level, you can gaze at the garden as if lying on your belly in the grass. From the sitting area hovering above the garden, the view extends further, deeper into the Demer Valley.
The covering of the floating terrace provides shade to this south facade.
Structurally, it's a combination: a concrete shell provides the half-sunken rooms with a pleasant and constant temperature, while for the terrace, classic solid construction and a steel frame were chosen. Visually, it forms one ascending line, drawn in dark slates.

Download projectsheet
info
client

Vermaelen - Mans

location

Werchter

surface

230 m²

period

2003 - 2006

phase

Completed

team

ZAmpone architectuur - ir. arch. Jo Deflander

press