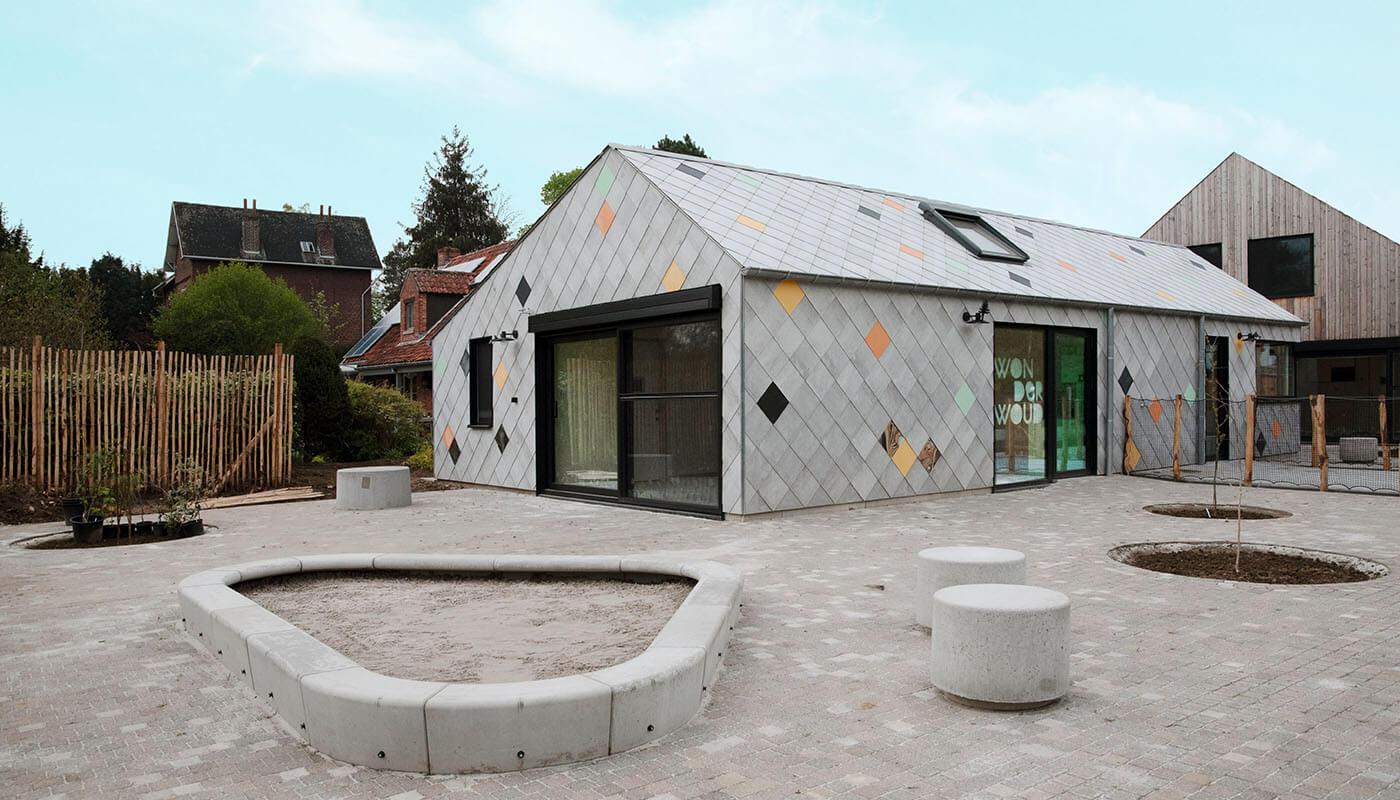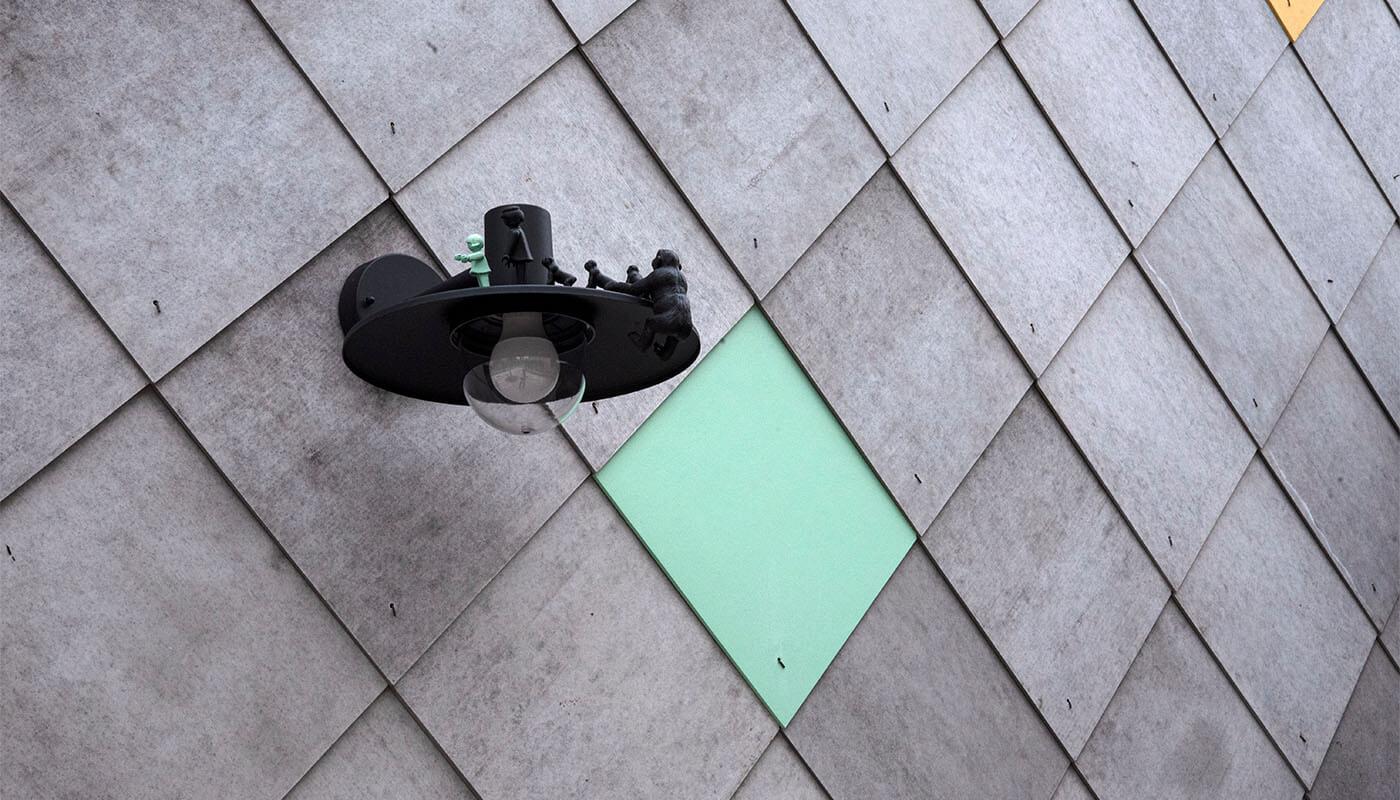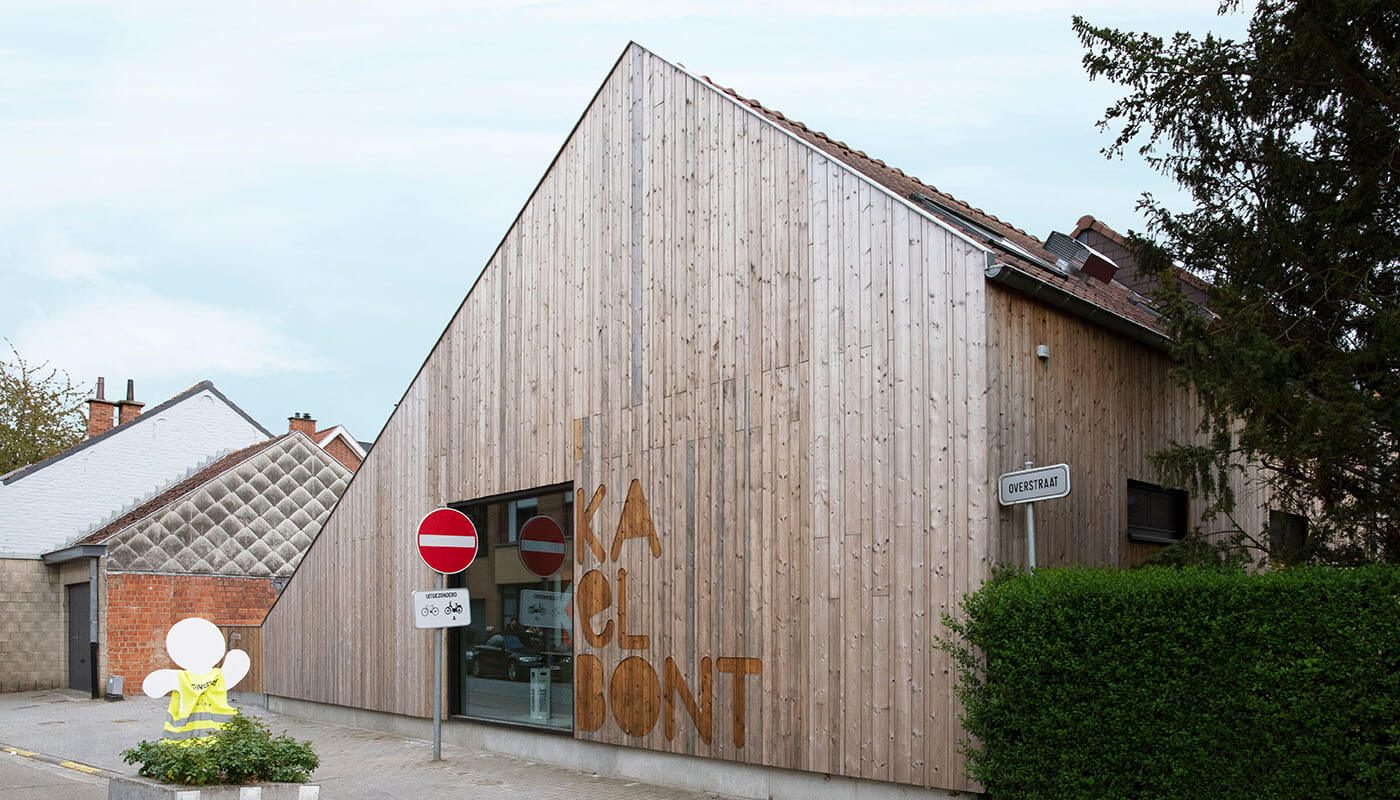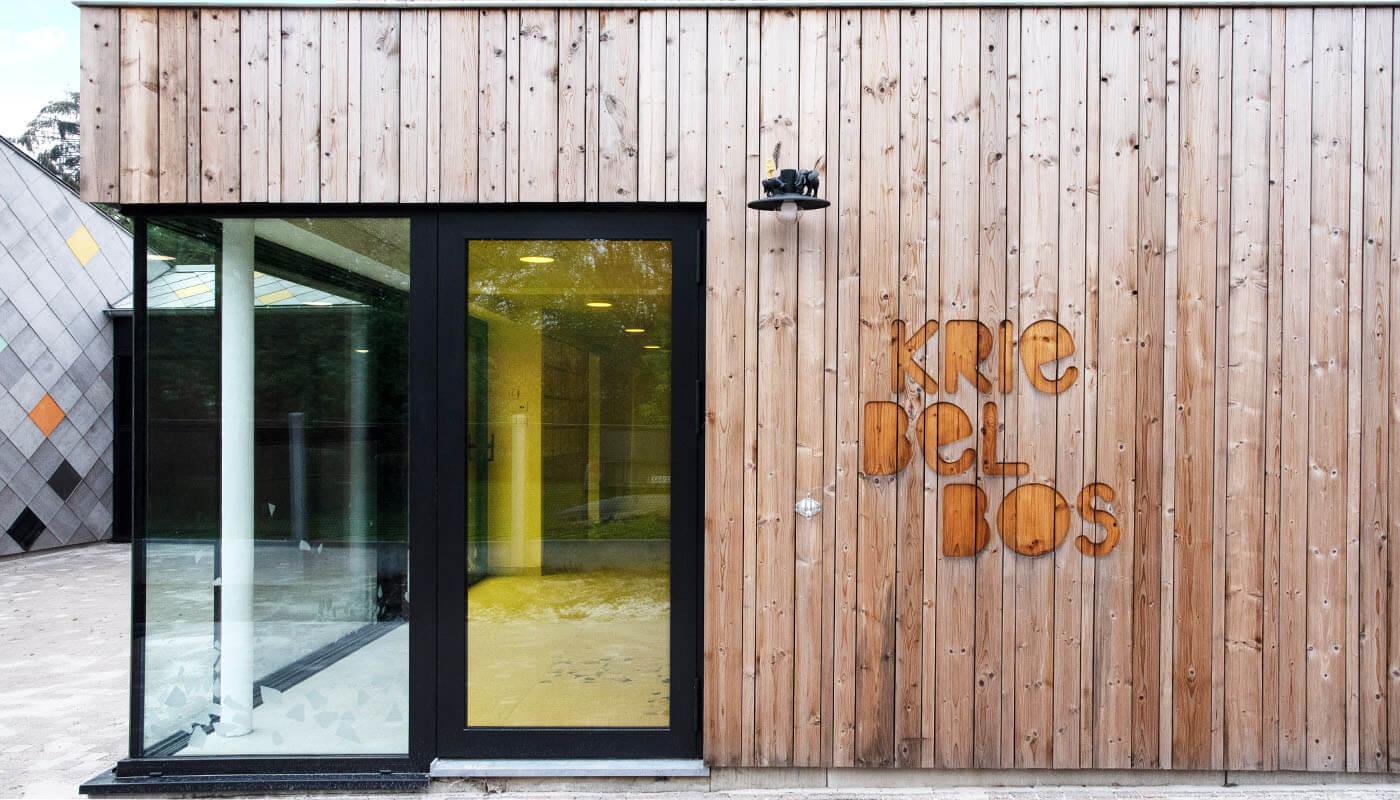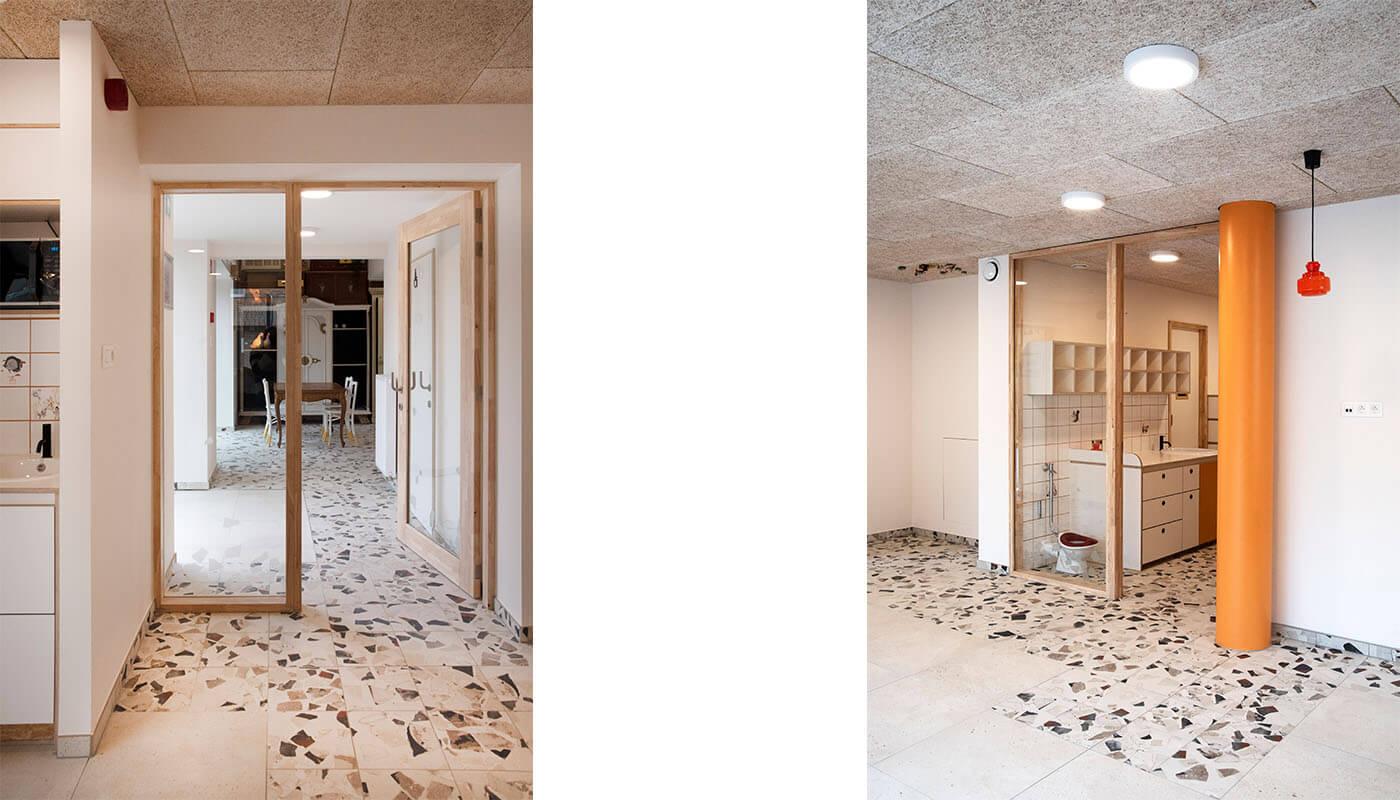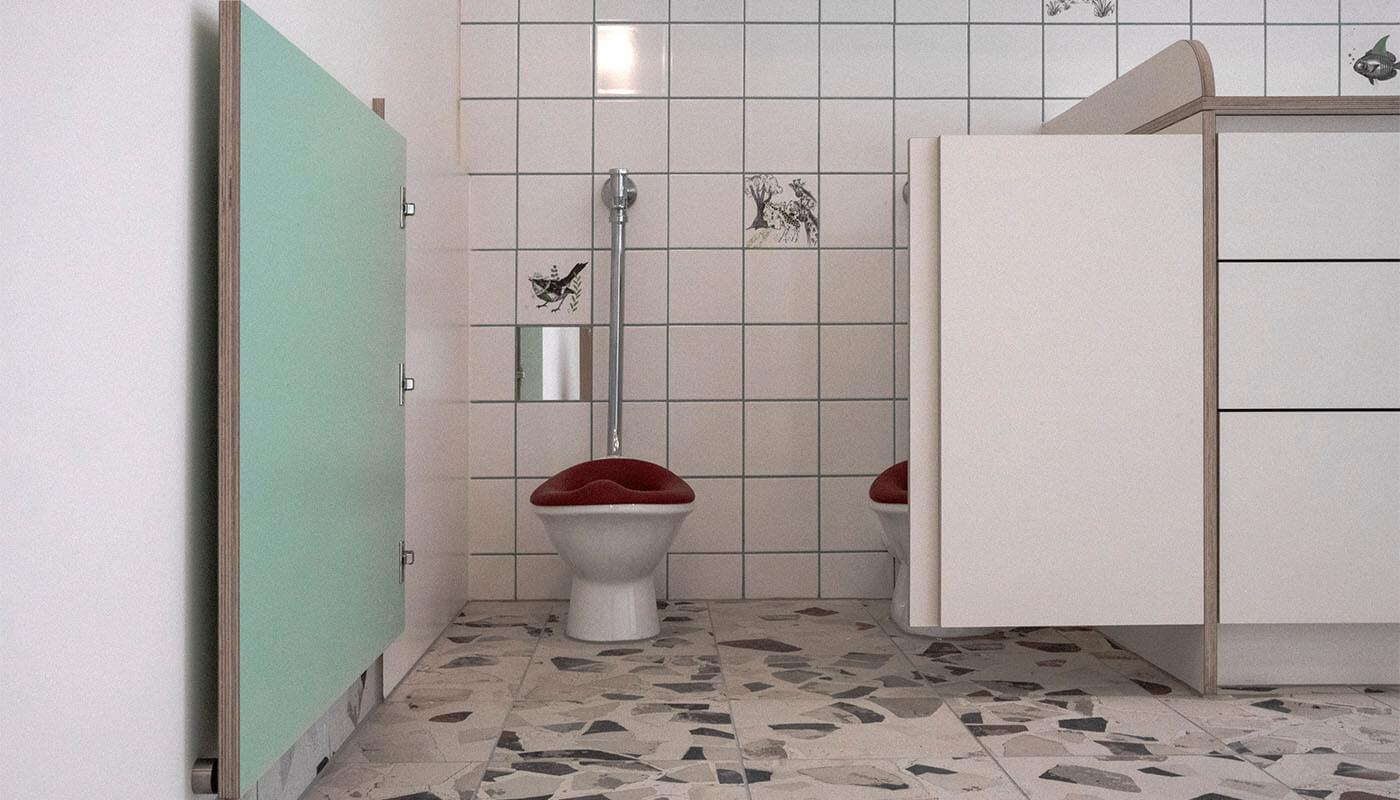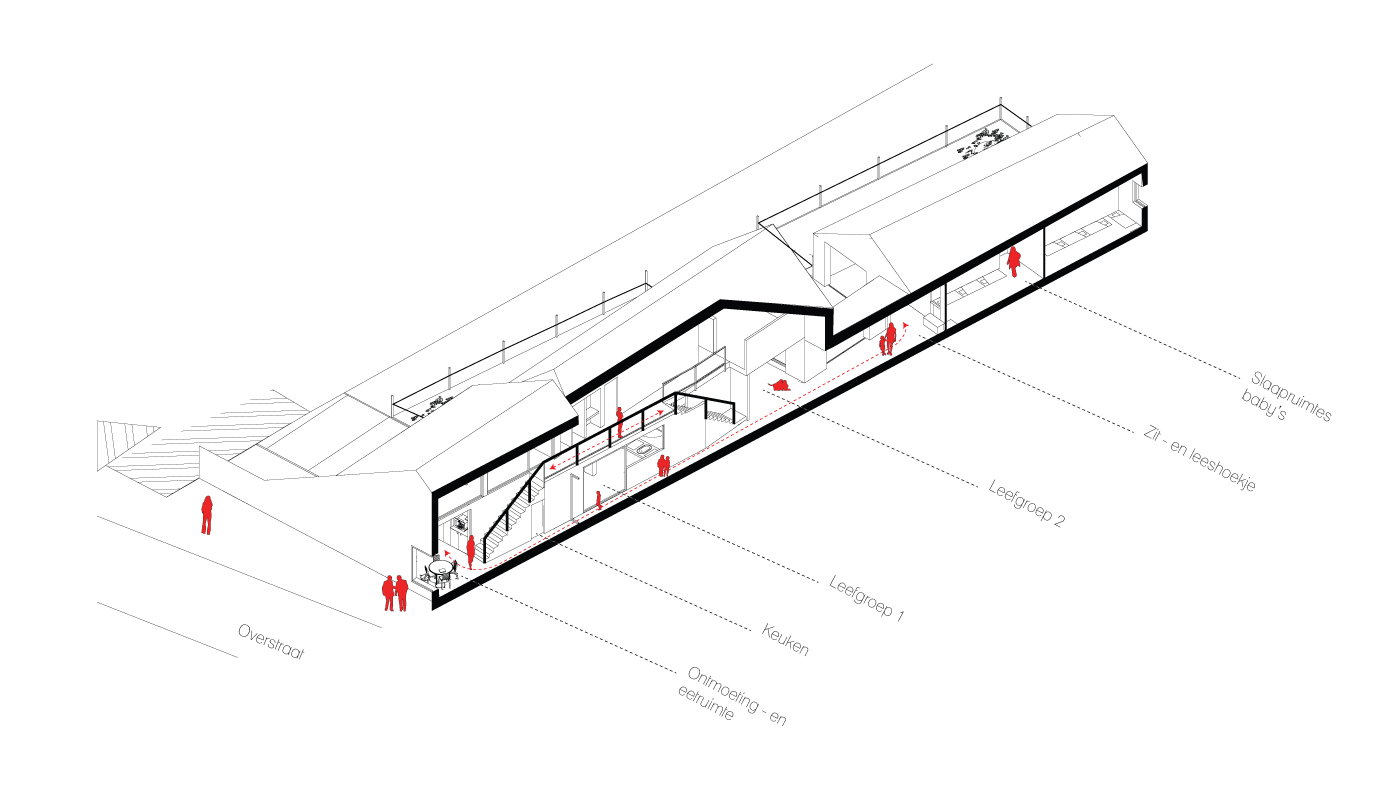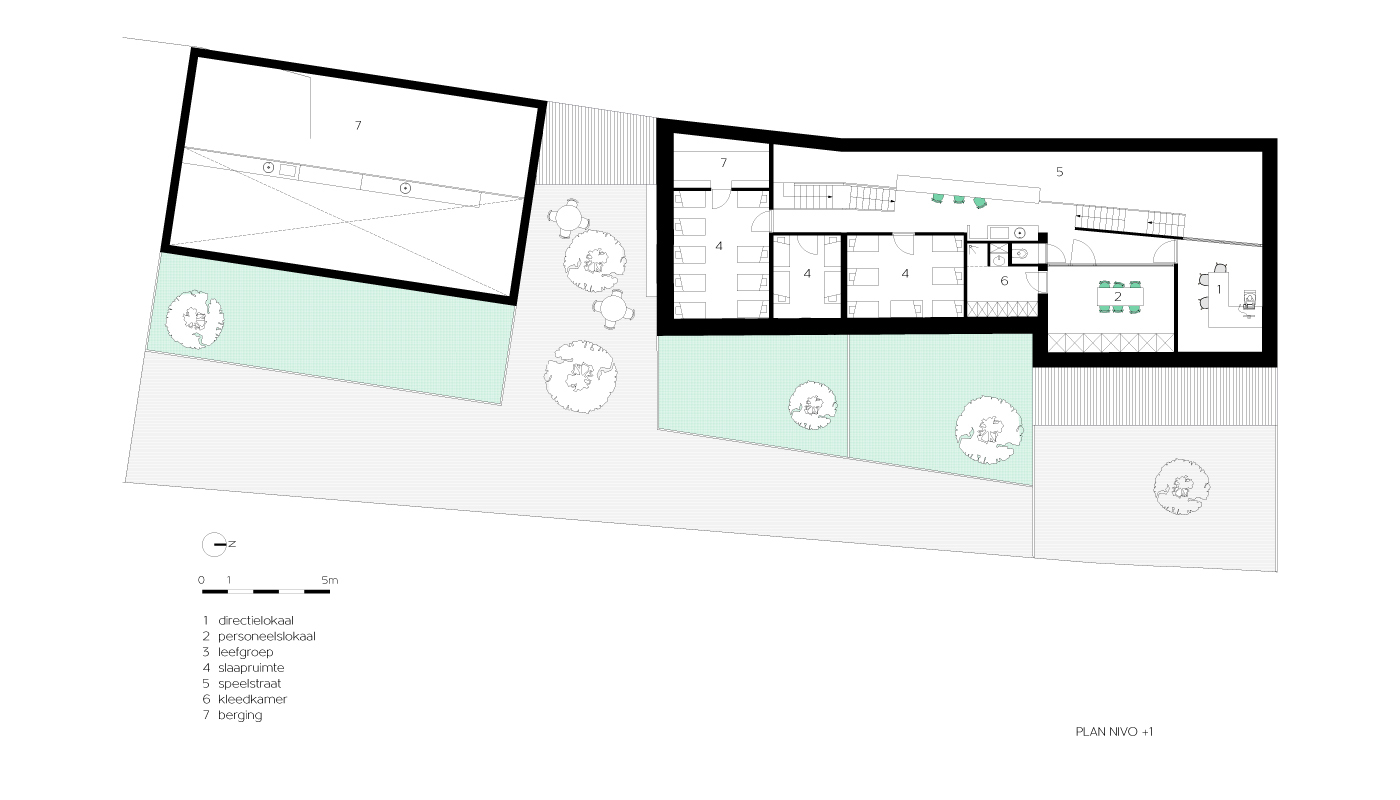 info
client

Kinderhuis Kakelbont vzw

location

Veltem-Beisem

surface

500 m²

period

2014 - 2020

phase

Completed

team

ZAmpone architectuur - Jo Deflander

photography

Linde Raedschelders

artwork

Heidi Schuurmans & Isabelle Geeraerts
Description
Kakelbont is een kleinschalige crèche voor 32 kids, verdeeld in 3 leefgroepen. Buiten spelen, huiselijkheid en vrijheid zijn de kernwaarden van Kakelbont die ZAmpone Architectuur vorm geeft in de verbouwing van een woonhuis in Veltem-Beisem tot creatief huis voor de kleinsten.
Het bestaande huis krijgt een upgrade naar de nieuwste isolatiestandaarden. Een nieuw volume aan de achterzijde herbergt de oudsten in een klein houtskelet huisje. Een binnenspeelstraat verbindt oud en nieuw. Via de zijkant van het huis kom je binnen in de ontvangstruimte waar het een gezellige va-et-viens is van ouders en verzorgers die bijbabbelen bij een kop koffie. Een groot raam toont deze huiselijke betrokkenheid aan de voorbijgangers op straat.
Er is een gemeenschappelijke tuin maar elke leefgroep krijgt ook zijn eigen buitengebied waardoor vaak en zonder veel gedoe buiten gespeeld kan worden. De weerstand van de kleintjes vaart er wel bij.
Veel licht en lucht maar ook een knusse zolder waar naar hartelust op ontdekking gegaan kan worden en verhaaltjes worden voorgelezen.
Heidi Schueremans en Isabelle Geeraerts, twee plaatselijke kunstenaars, stimuleren de creativiteit door kleine ingrepen en onverwachte accenten op de vloeren, wanden en plafonds binnen. Het bestaande gebouw werd bekleed met houten latwerk, het nieuwe huisje met ruitleien. Ook de leien en latten worden kunstig gemanipuleerd. Kleine verrassingen kleuren de fantasie.
Kakelbont est une crèche à petite échelle pour 32 enfants, répartis en 3 groupes d'âge. Le jeu en plein air, la convivialité et la liberté sont les valeurs fondamentales de Kakelbont, que ZAmpone Architecture intègre dans la rénovation d'une maison résidentielle à Veltem-Beisem pour en faire un foyer créatif pour les tout-petits.
La maison existante est modernisée pour répondre aux normes d'isolation les plus récentes. Un nouveau volume à l'arrière accueille les plus grands enfants dans une petite maison à ossature bois. Une rue de jeu intérieure relie les parties ancienne et nouvelle. En passant par le côté de la maison, vous entrez dans l'espace d'accueil où les parents et les gardiens discutent autour d'une tasse de café. Une grande fenêtre montre cet engagement chaleureux aux passants dans la rue. Il y a un jardin commun, mais chaque groupe d'âge a également son propre espace extérieur, ce qui permet de jouer en plein air fréquemment et sans tracas. Les plus petits s'épanouissent grâce à l'air frais et aux activités. Le design intègre beaucoup de lumière et d'air, mais aussi un grenier confortable où les enfants peuvent explorer et écouter des histoires à leur guise.
Heidi Schueremans et Isabelle Geeraerts, deux artistes locales, encouragent la créativité grâce à de petites interventions et des accents inattendus sur les sols, les murs et les plafonds à l'intérieur. Le bâtiment existant est recouvert de lattes en bois, et la nouvelle maison est revêtue d'ardoises. Même les ardoises et les lattes sont artistiquement manipulées, ajoutant de petites surprises pour stimuler l'imagination.
Kakelbont is a small-scale daycare center for 32 kids, divided into 3 age groups. Playing outdoors, homeliness, and freedom are the core values of Kakelbont, which ZAmpone Architecture incorporates in the renovation of a residential house in Veltem-Beisem into a creative home for the little ones.
The existing house is upgraded to meet the latest insulation standards. A new volume at the rear accommodates the eldest children in a small wooden frame house. An indoor play street connects the old and new parts. Through the side of the house, you enter the reception area, where parents and caregivers chat over a cup of coffee. A large window displays this homey involvement to passersby on the street. There is a communal garden, but each age group also has its own outdoor area, allowing for frequent and hassle-free outdoor play. The little ones thrive on the fresh air and activity. The design incorporates plenty of light and air, but also a cozy attic where children can explore and listen to stories to their heart's content.
Heidi Schueremans and Isabelle Geeraerts, two local artists, encourage creativity through small interventions and unexpected accents on the floors, walls, and ceilings inside. The existing building is covered with wooden laths, and the new house with slate shingles. Even the slates and laths are artistically manipulated, adding small surprises to stimulate the imagination.
info
client

Kinderhuis Kakelbont vzw

location

Veltem-Beisem

surface

500 m²

period

2014 - 2020

phase

Completed

team

ZAmpone architectuur - Jo Deflander

photography

Linde Raedschelders

artwork

Heidi Schuurmans & Isabelle Geeraerts