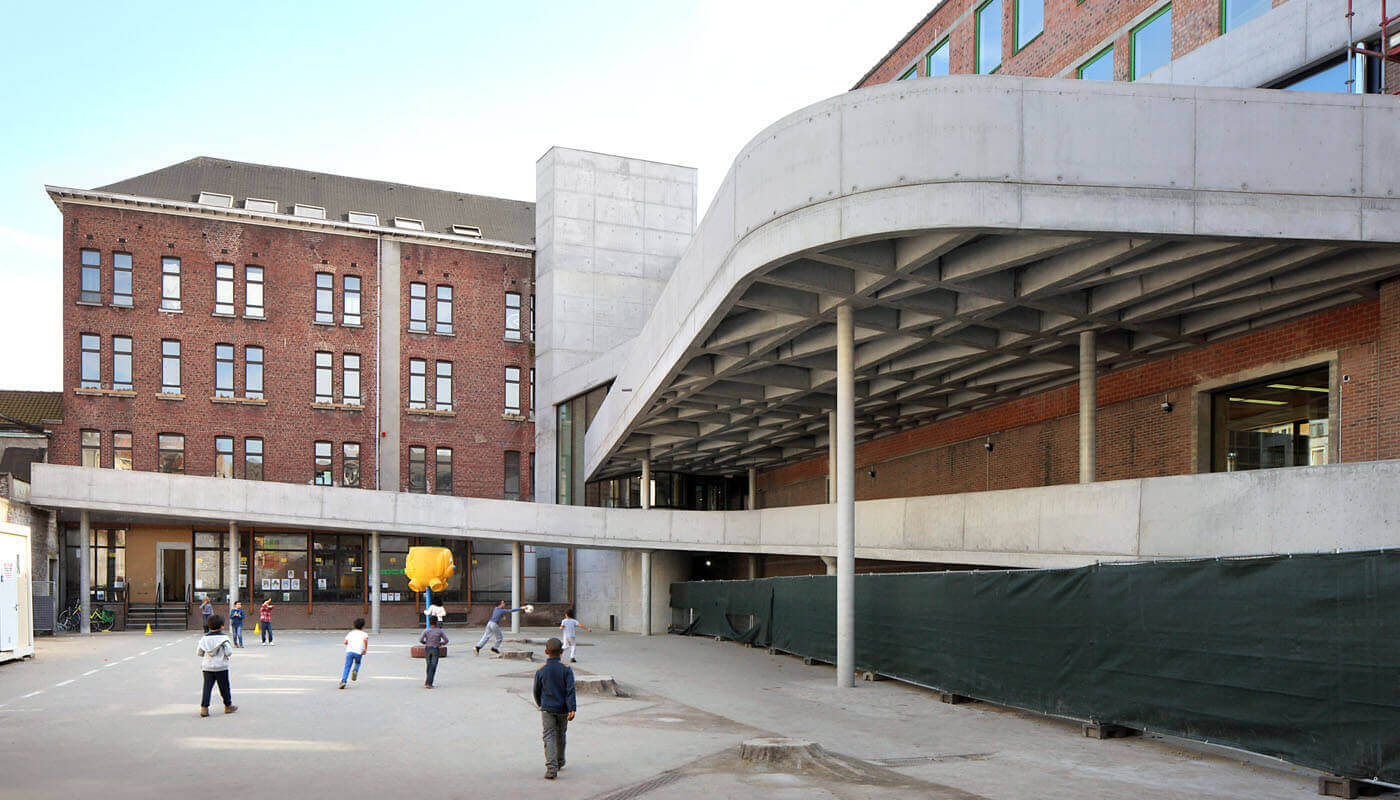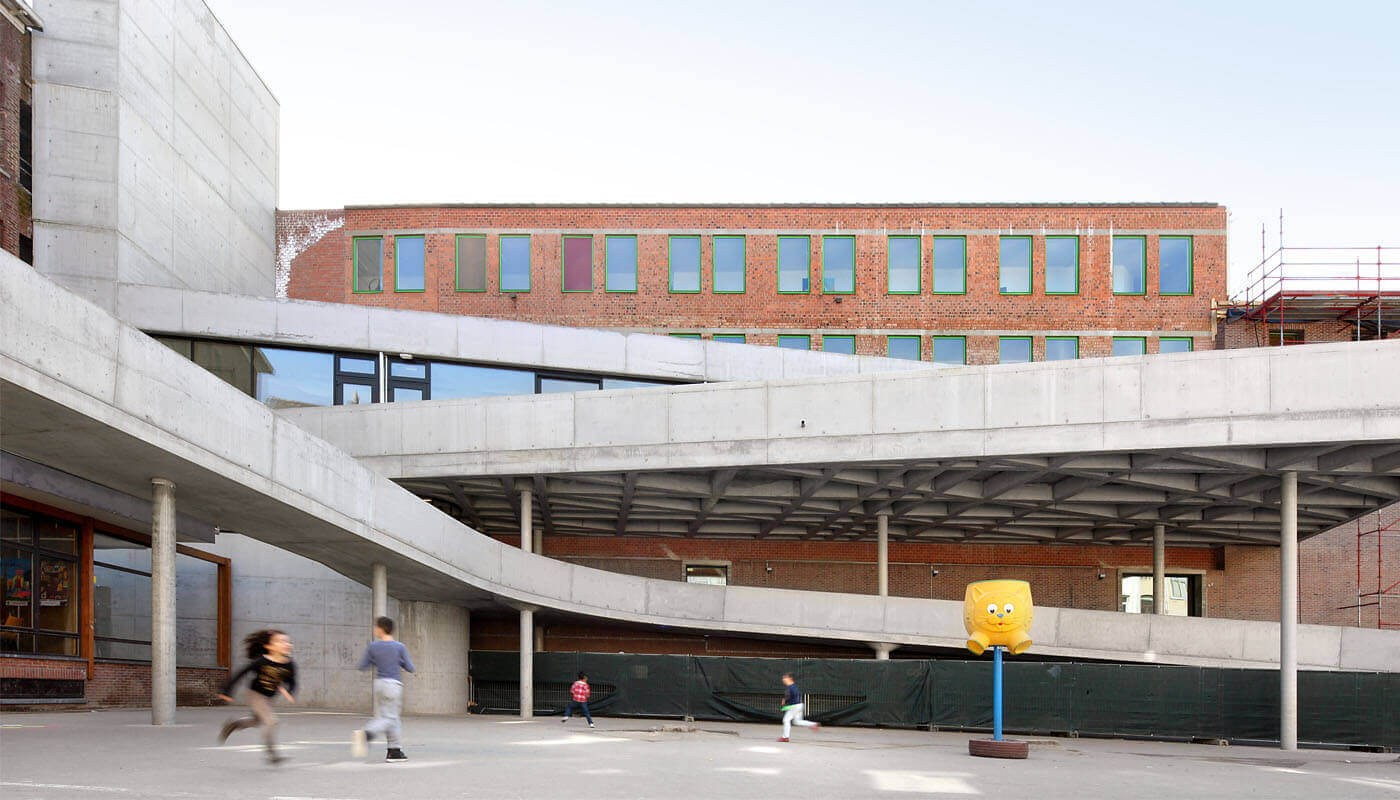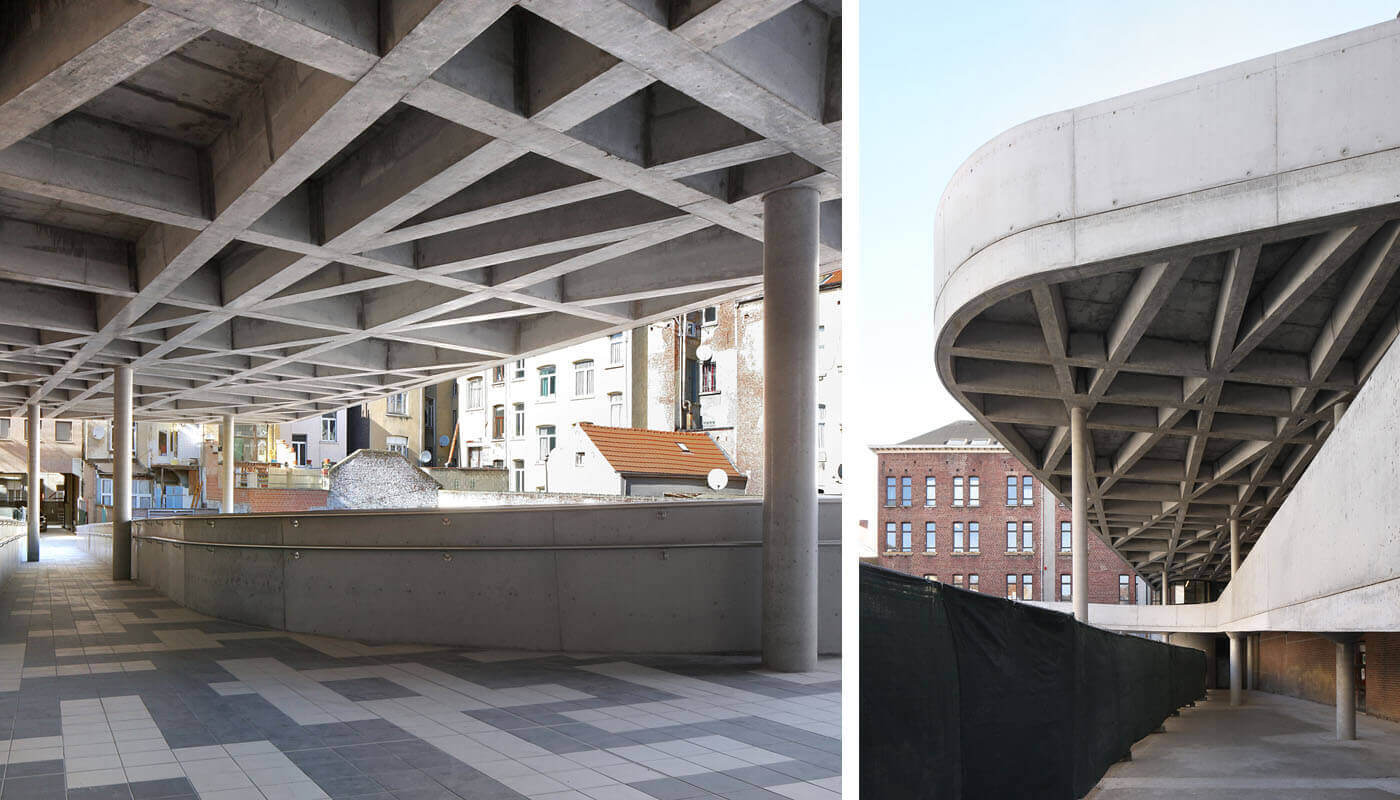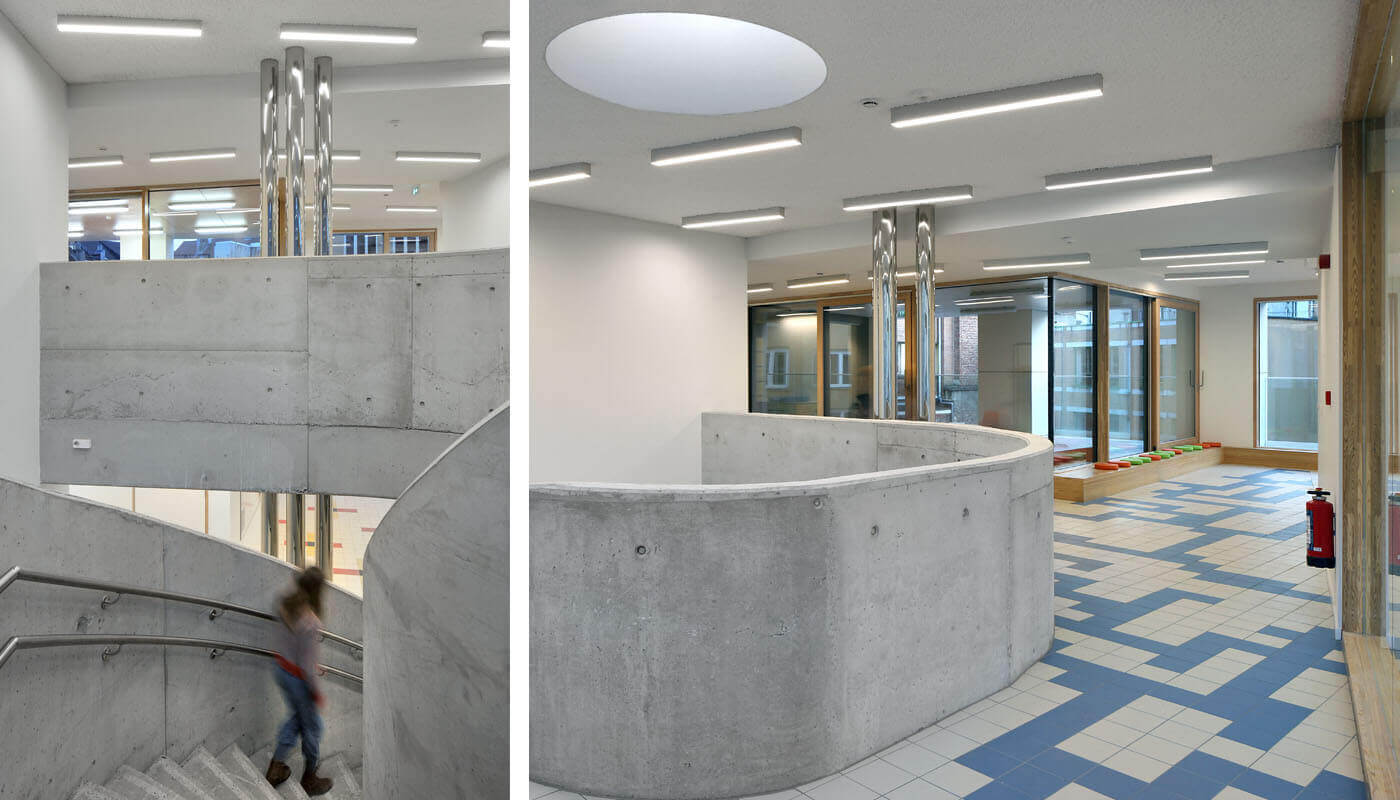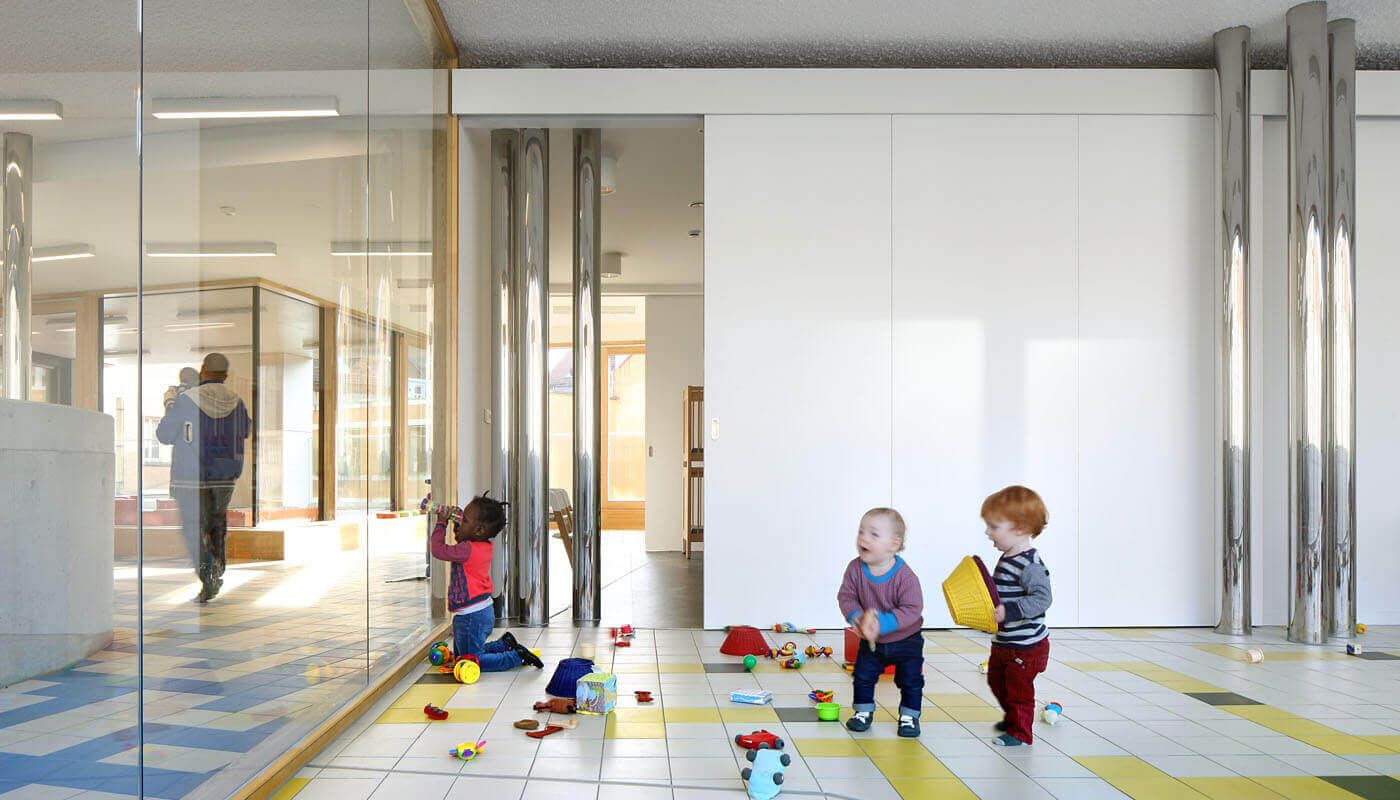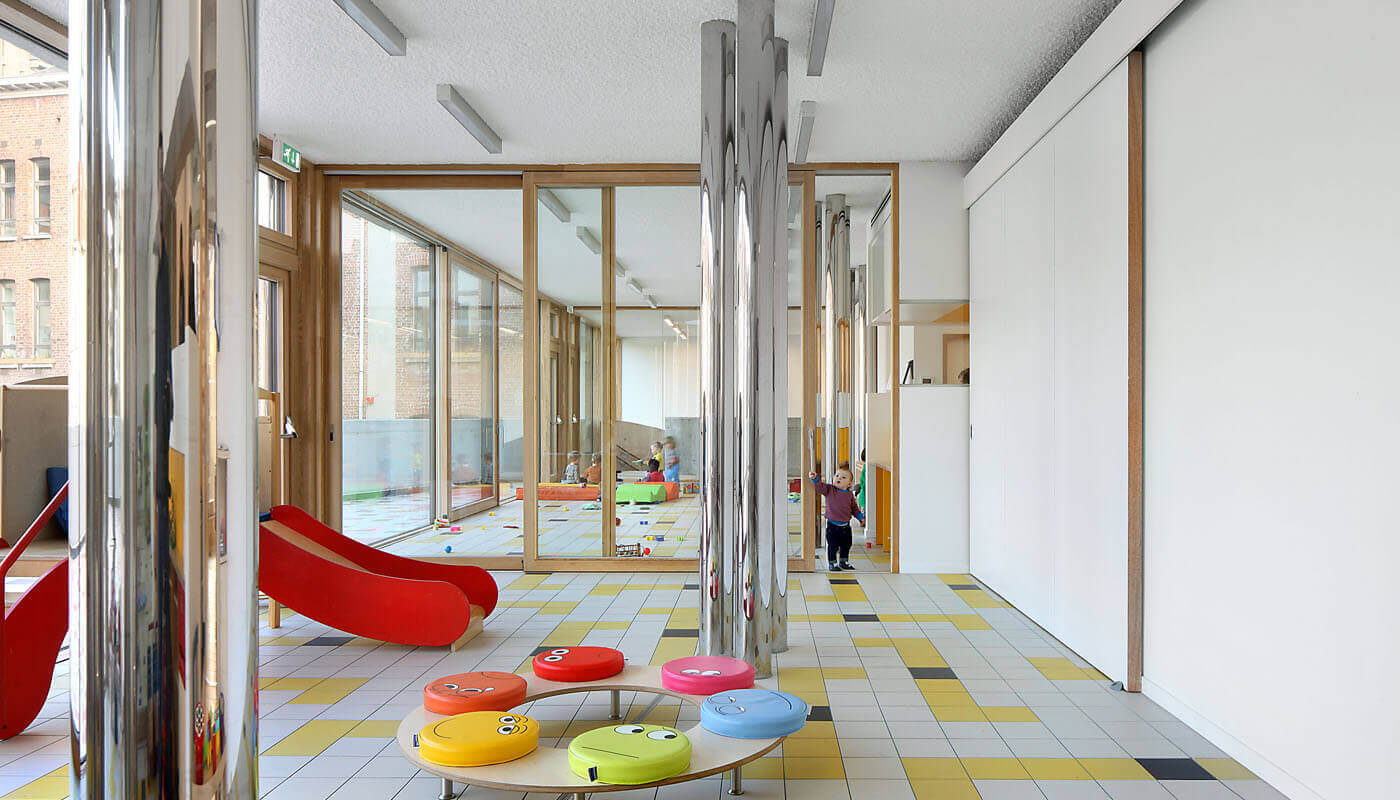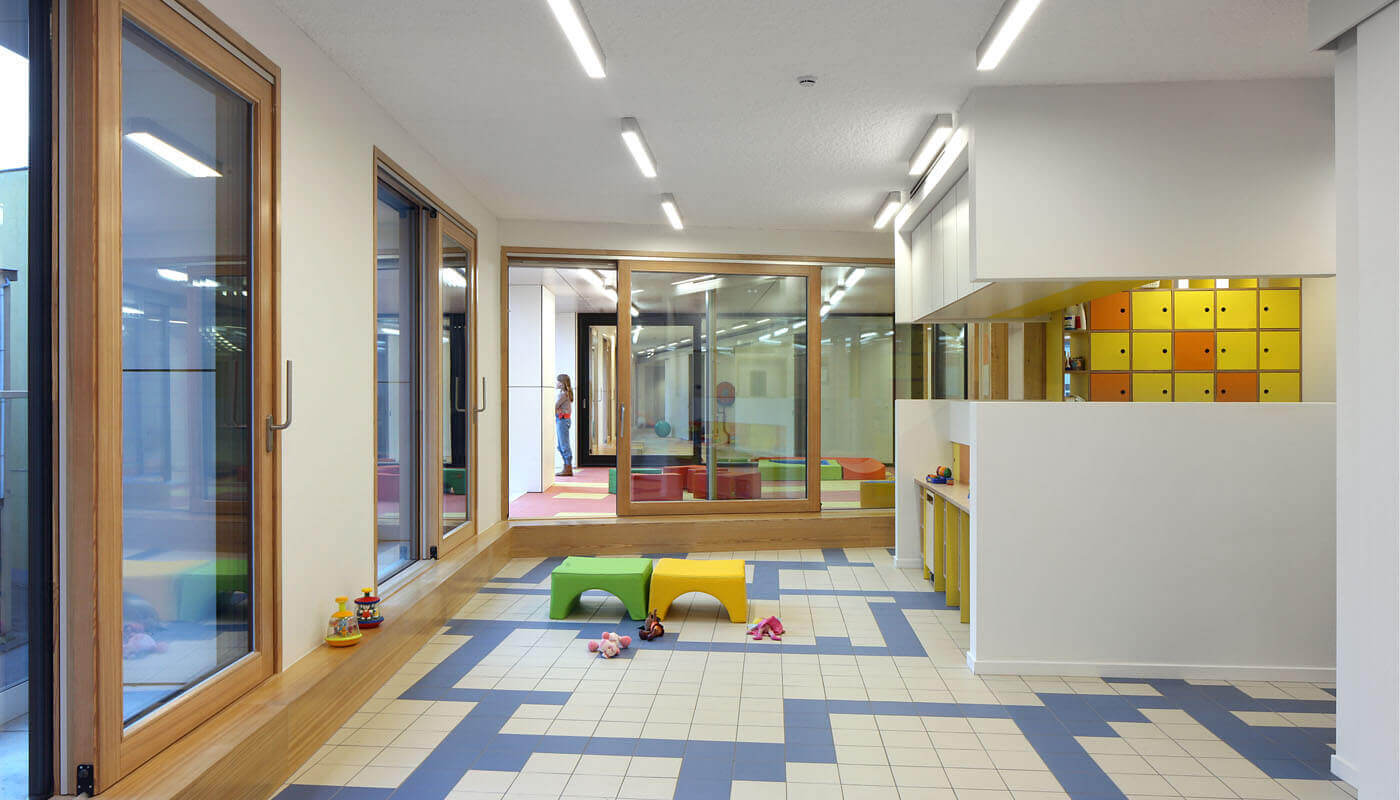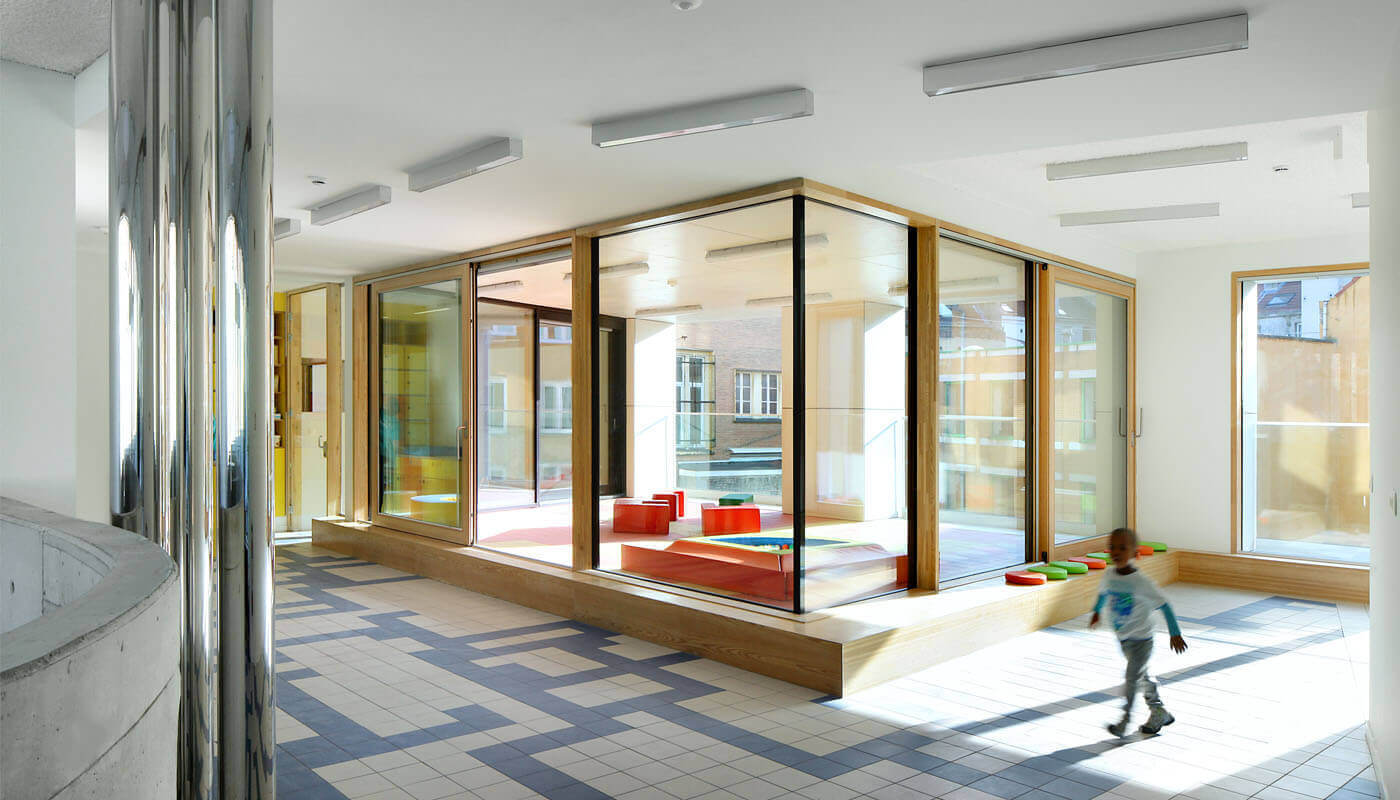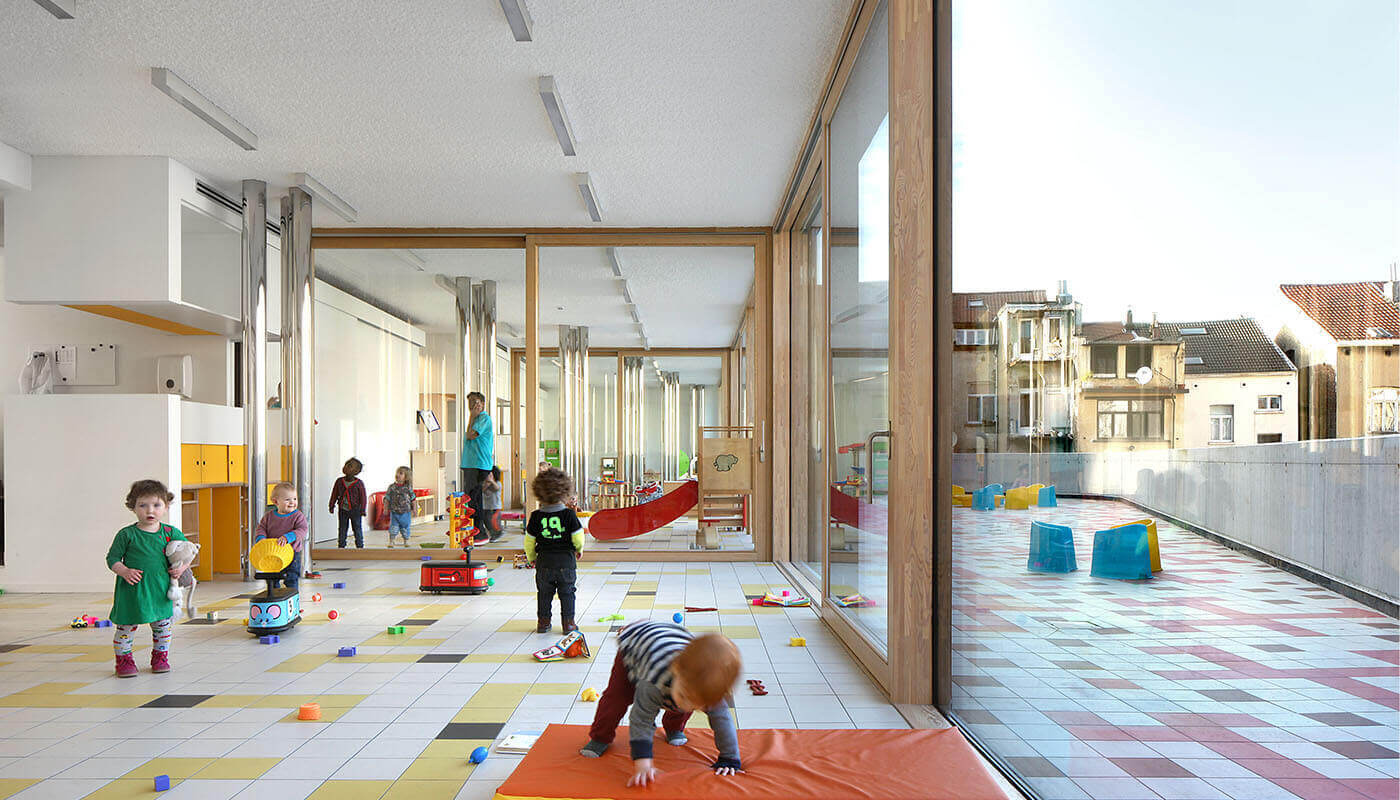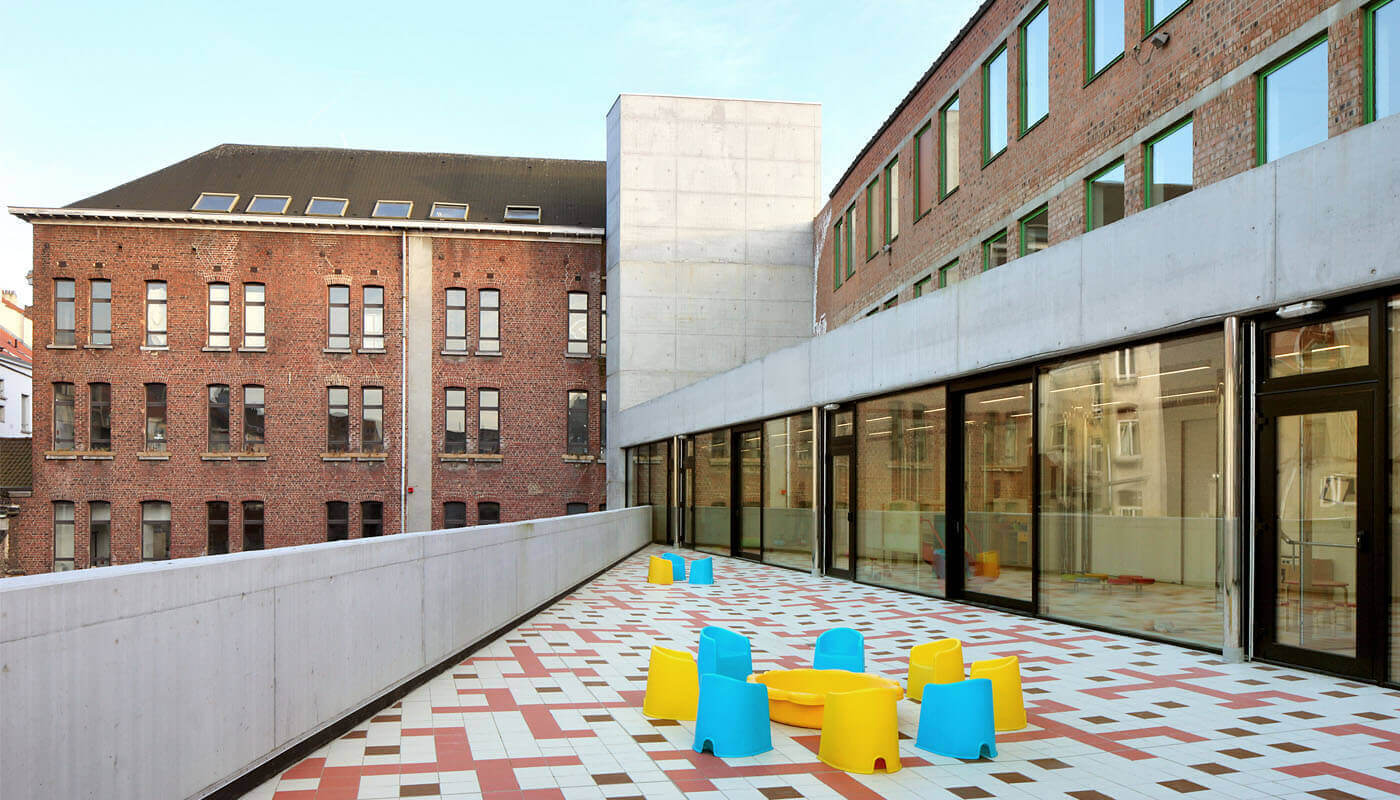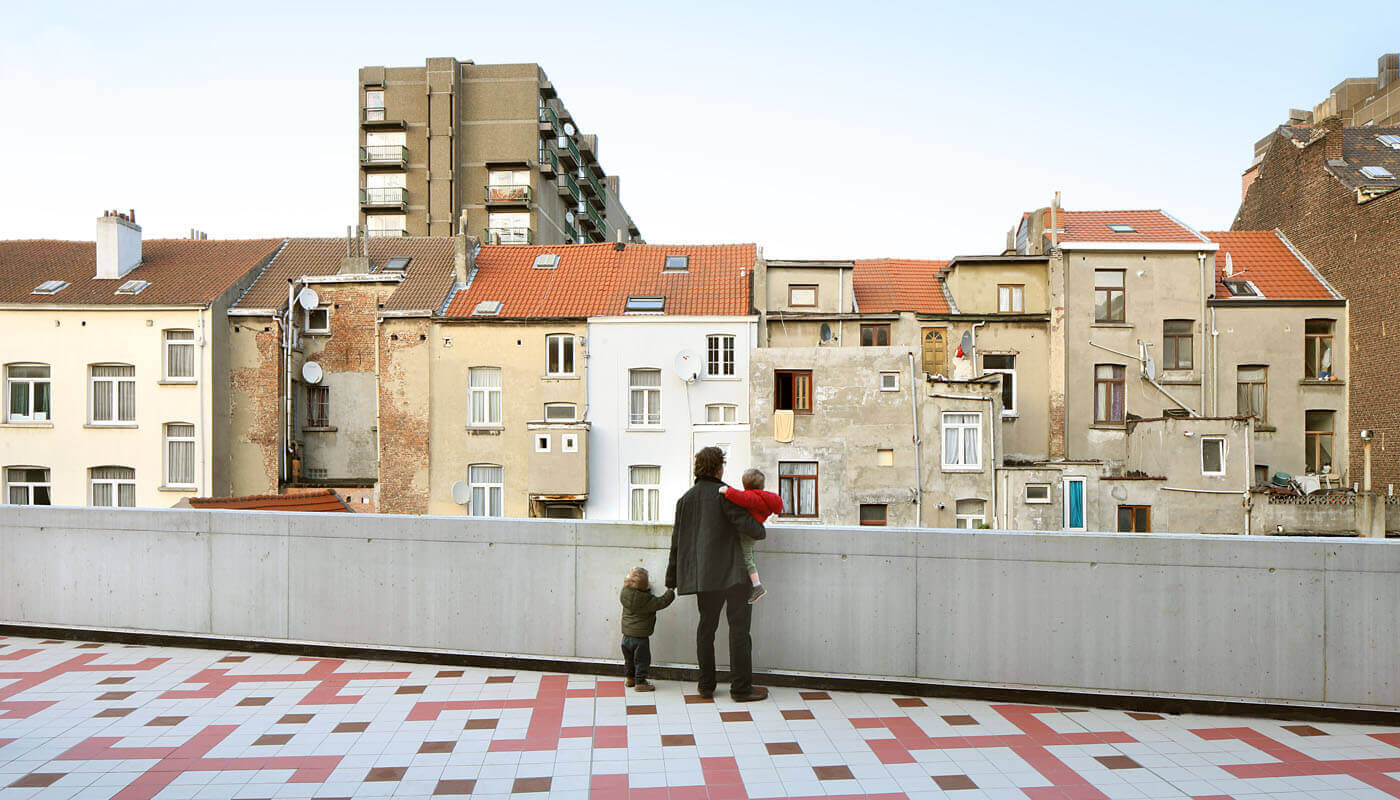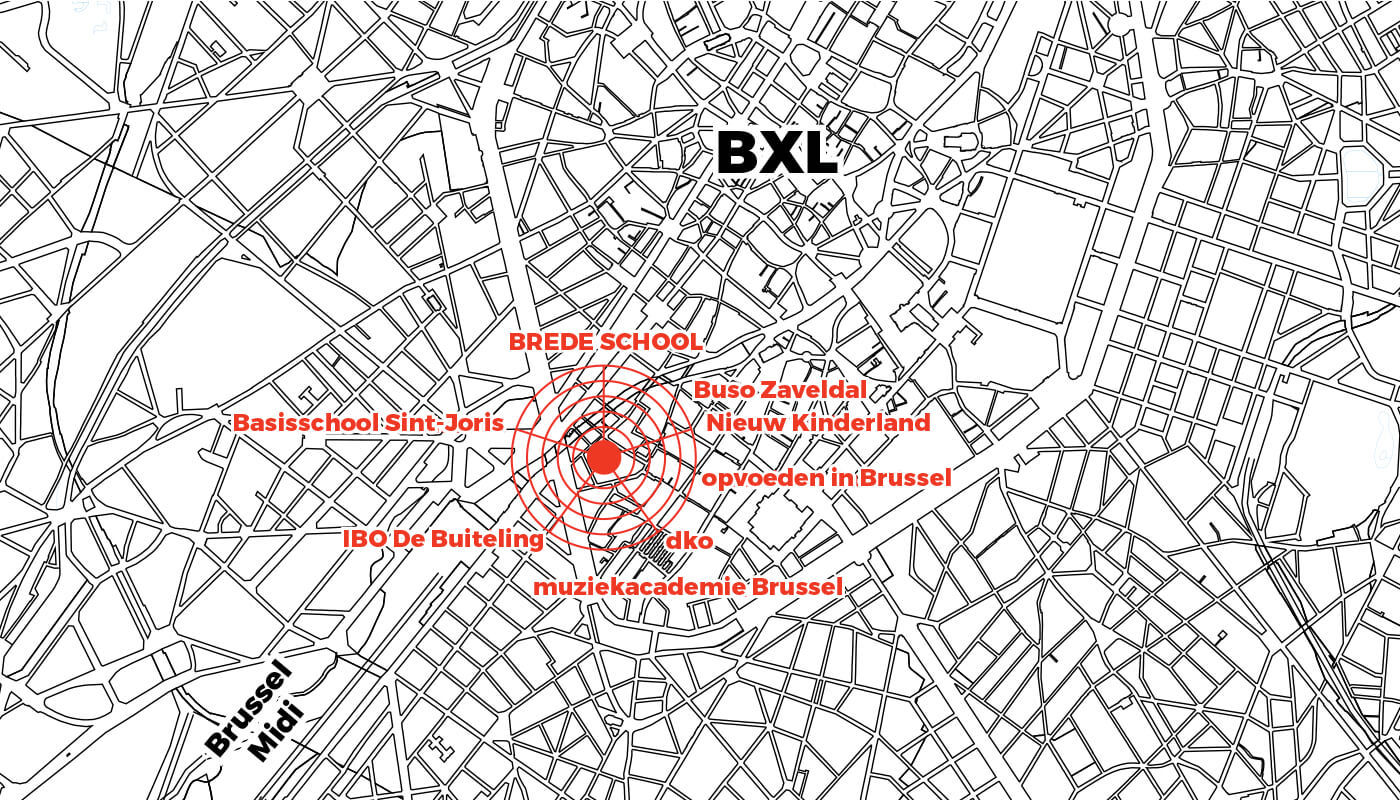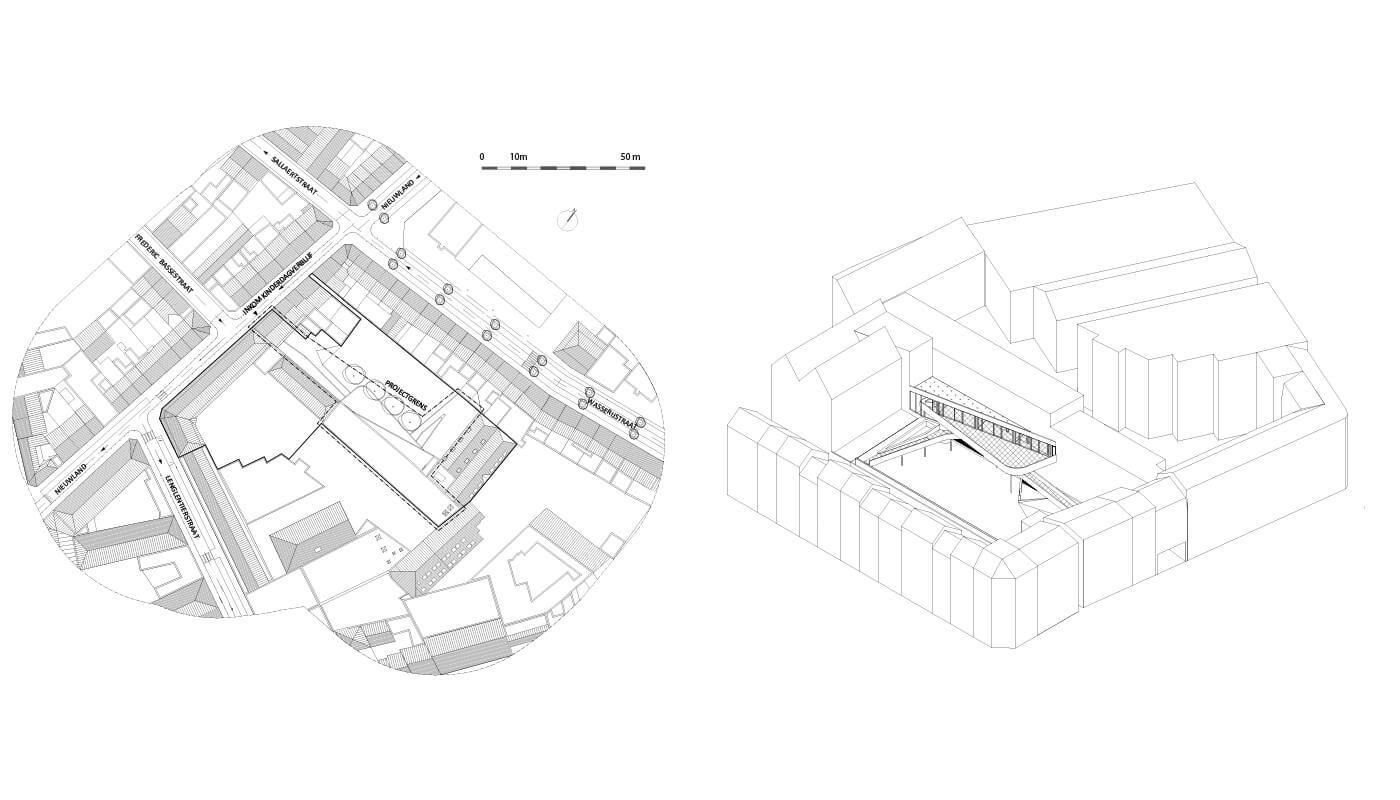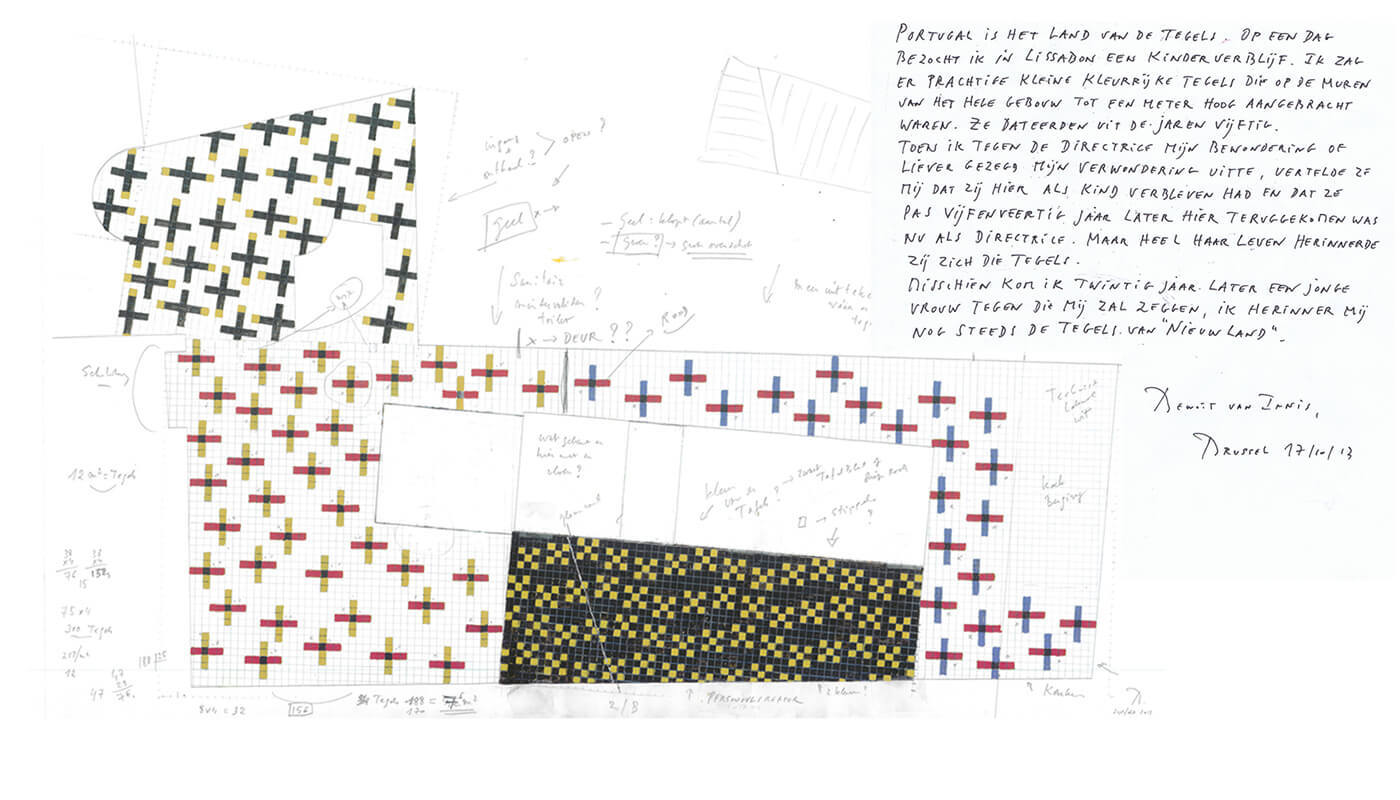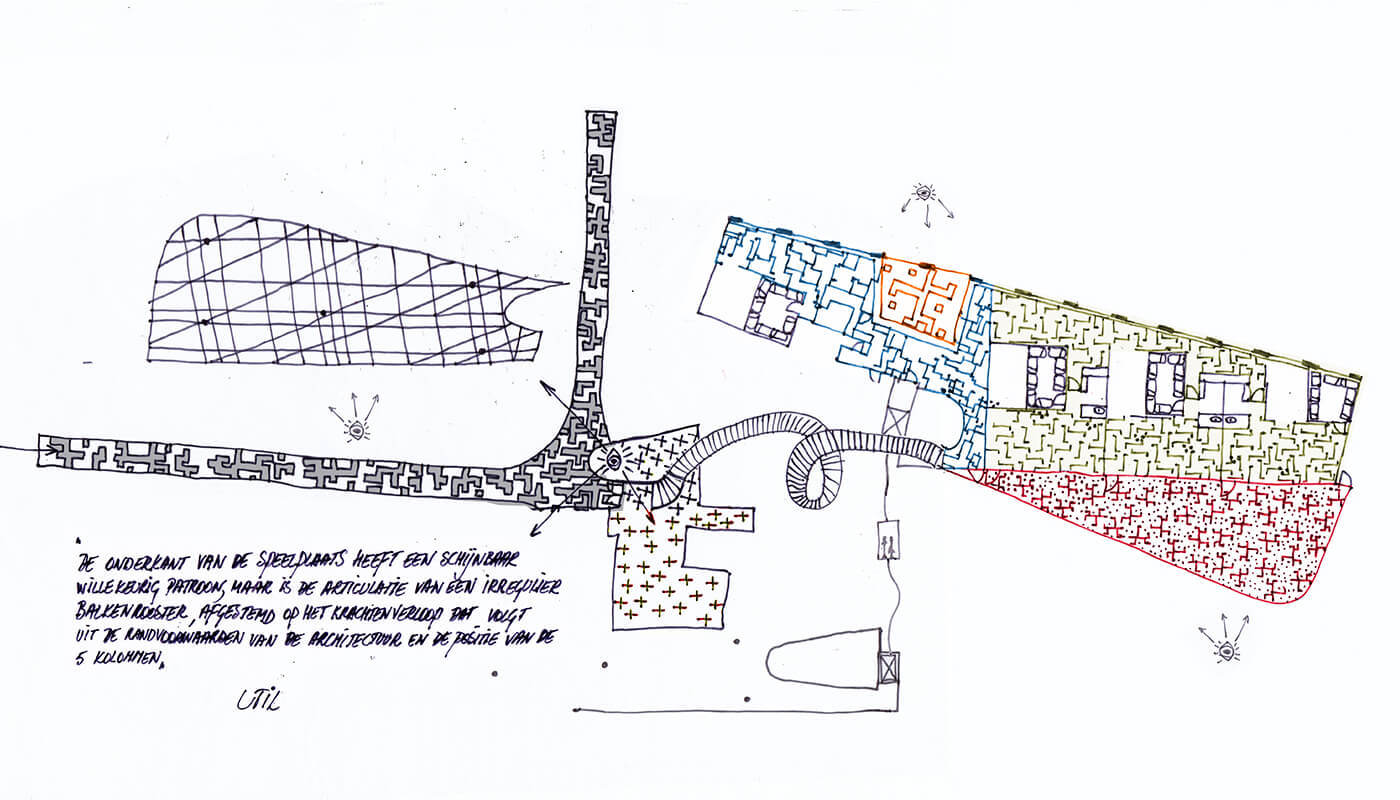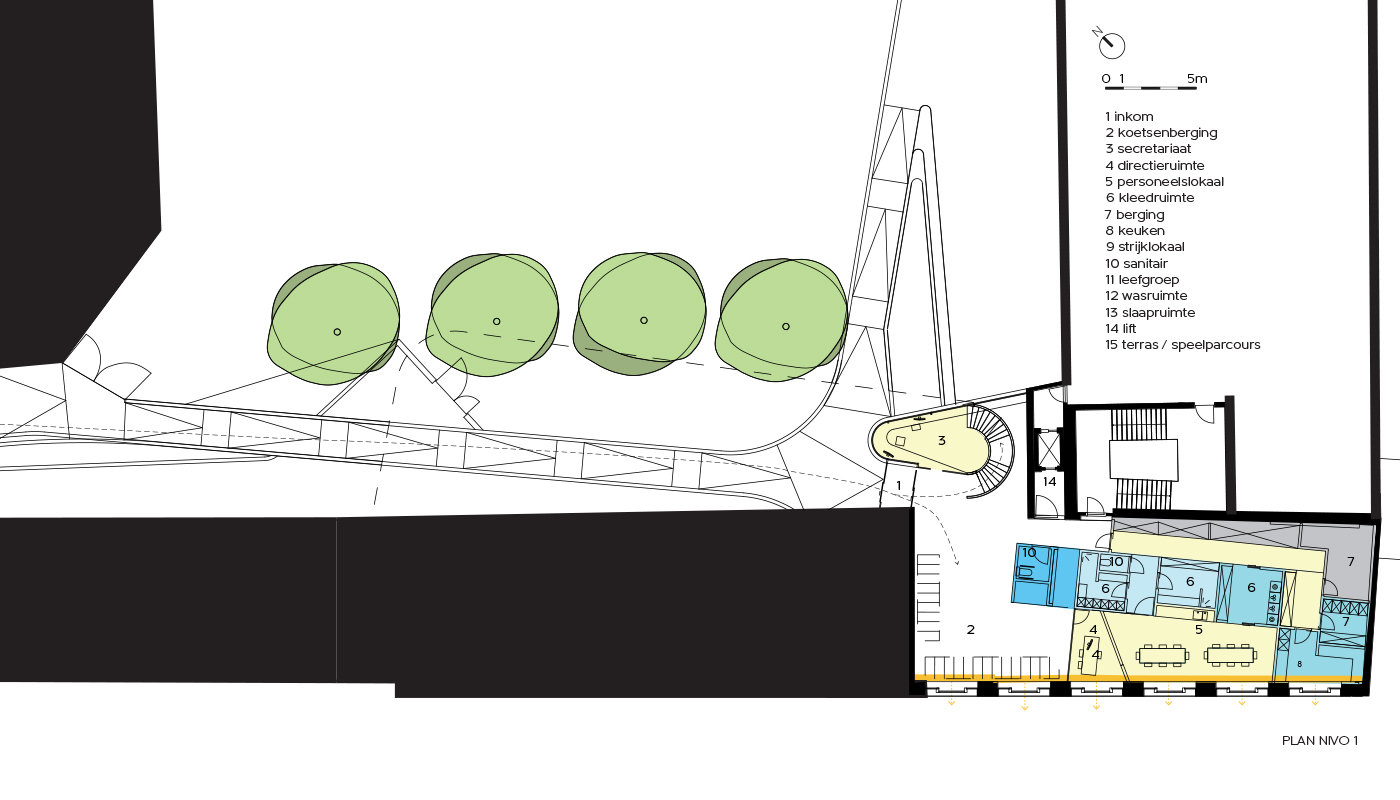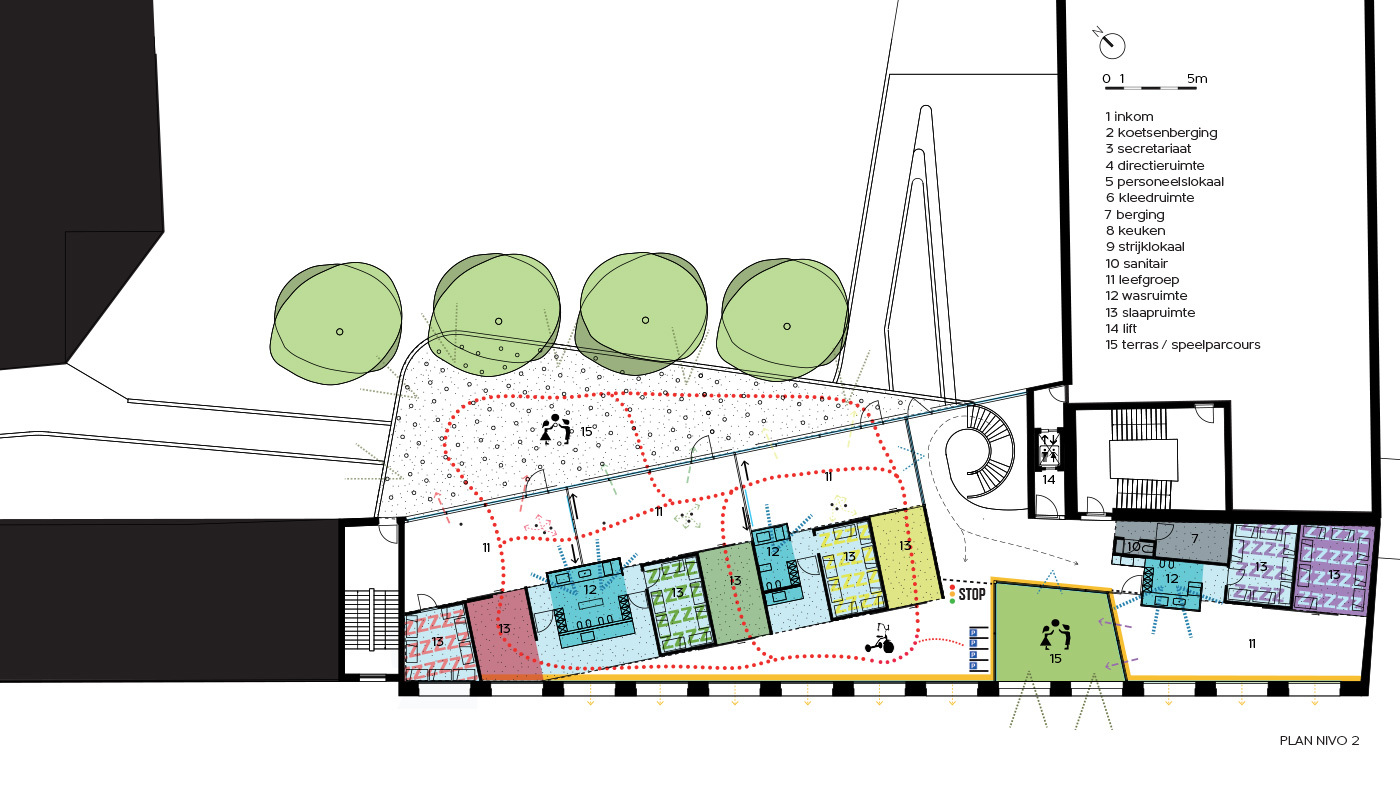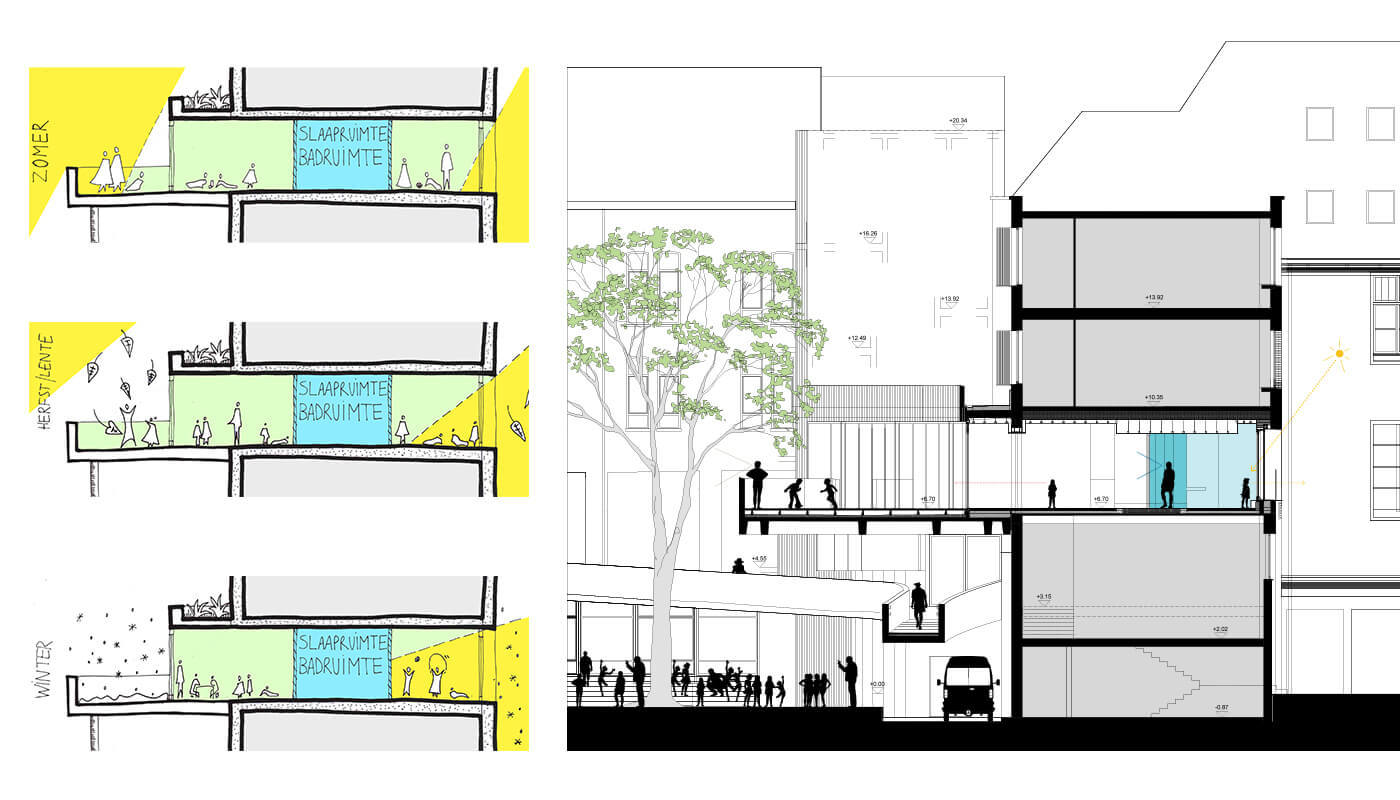 info
client

vzw Lutgardisschool

location

Brussels

surface

1200 m²

procedure

Competition - 1st prize

period

2011 - 2015

phase

Completed

team

ZAmpone architectuur - Burobill - Util - Arcade

photography

Filip Dujardin

artwork

Benoit Van Innis

press
Description
In het centrum van Brussel ontwierpen BUROBILL & ZAmpone architectuur een kinderdagverblijf voor 68 kinderen. Dit ontwerp heeft ambities op verschillende schalen : een duurzame ontwikkeling van het stedelijk landschap, het vergroten van de sociale uitwisselingen tussen alle gebruikers van de brede school - site, de realisatie van een laagenergetisch kinderdagverblijf in een bestaand schoolgebouw maar in de eerste plaats natuurlijk voorzien in een kwalitatieve omgeving voor kinderopvang.
Het kinderdagverblijf kreeg een plaats in de oksel van 2 bestaande gebouwen toegewezen op de tweede verdieping. Deze oppervlakte bleek te klein en er was geen buitenspeelruimte voorzien. Het ontwerp antwoordt op deze noden door een deel van het kdv en de buitenruimte te realiseren in overkraging buiten het gebouw. De betonnen luifel zorgt dus voor de buitenspeelruimte van het kinderdagverblijf alsook zal deze als afdak dienen voor de speelplaats van de naastgelegen school.
Structureel is er gekozen om de betonnen structuur uit te puren in functie van de lasten die op de plaat komen . Een helling functioneert als toegang voor zowel het KDV als voor de naastliggende school zodat er een vermenging komt tussen verschillende stromen gebruikers van de site.
Voor het realiseren van de kunstintegratie in het project, wordt er samengewerkt met beeldend kunstenaar Benoît van Innis voor de tegelvloeren en de kleuren van het meubilair.
La VGC a acquis le site Nieuwland pour y implanter une nouvelle Ecole Communautaire à Bruxelles. Sur le site, se trouvent des écoles tant francophones que néérlandophones, et différentes organisations souhaitent s'y installer (e.a. Baboes, Opvoeden in Brussel, DKO, muziekacademie Brussel,...) La crèche Sint-Lutgardis en fait donc partie.

La pente formant l'accès à la crèche remplit également une fonction pour l'école et crée ainsi une synergie entre les enfants et parents de la crèche d'une part, et ceux de l'école d'autre part. Cette pente d'accès aux deux fonctions fait également la séparation entre terrains de jeux et fonctions 'infrastructurelles' du site: charger et décharger, rangement vélos, etc. L'ascenseur, nécessaire pour l'accès à la crèche servira aussi à l'école.
La crèche a été conçue sur base d'un certain nombre de principes. Tous les publics sont adjacents à un espace extérieur afin d'avoir une lumière naturelle maximale. Tous les publics sont situés au premier étage, ce qui facilite la mutalisation et le fonctionnement des espaces de vies. Les espaces multifonctionnels régulent la circulation. Concept autour du jeu, autant à l'extérieur que l'intérieur (les couloirs ne sont pas uniquement des circulations, mais aussi des espaces de jeu) Vue depuis l'accueil vers l'entrée et vers l'espace poussettes. Tout ce qui a été réalisé pour la crèche sert aussi pour les autres fonctions sur le site (espaces extérieurs)
This Child Day Care Center will house 68 children in the center of Brussels. There is limited space available in this building block that also hosts 3 schools, a music academy, after-school care & many more organizations to guide children from the day they enter into Day Care till the day leave school at the age of 18.
This project is situated on the first floor of an existing building block. In order to get on this floor there is a concrete path to guide children and parents to the entrance. The same vocabulary of concrete curves is repeated in the terrace on the second floor that serves as external playground for the 68 children of the Day Care Center. In order to limit the weight of the concrete construction a system of modulation of supporting beams of the concrete terrace was designed.
This project has been awarded the price of sustainable exemplary building project of the city of Brussels – year 2013 because it is designed to be a very low energy consuming renovation/extension of an existing building.

Download projectsheet
info
client

vzw Lutgardisschool

location

Brussels

surface

1200 m²

procedure

Competition - 1st prize

period

2011 - 2015

phase

Completed

team

ZAmpone architectuur - Burobill - Util - Arcade

photography

Filip Dujardin

artwork

Benoit Van Innis

press