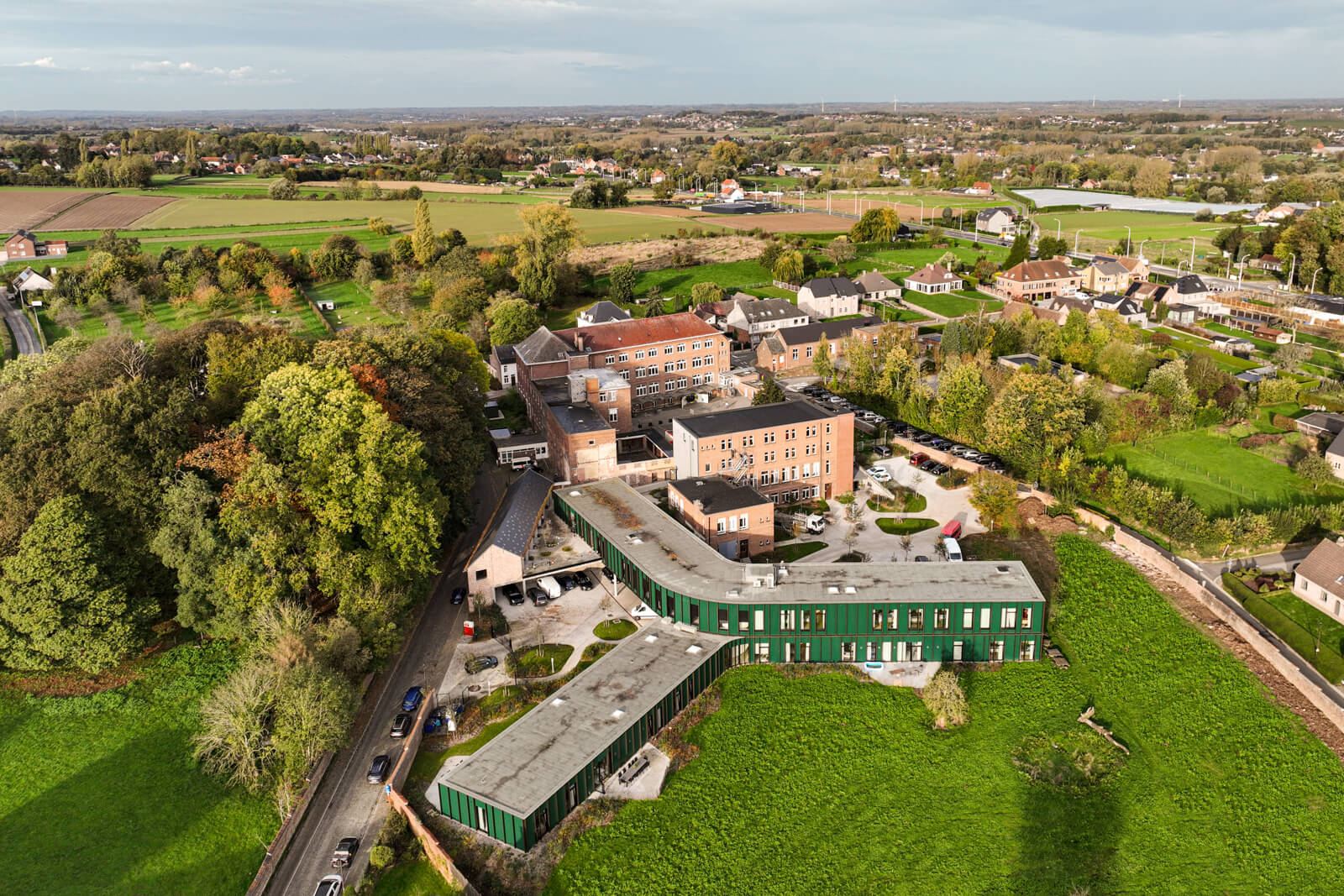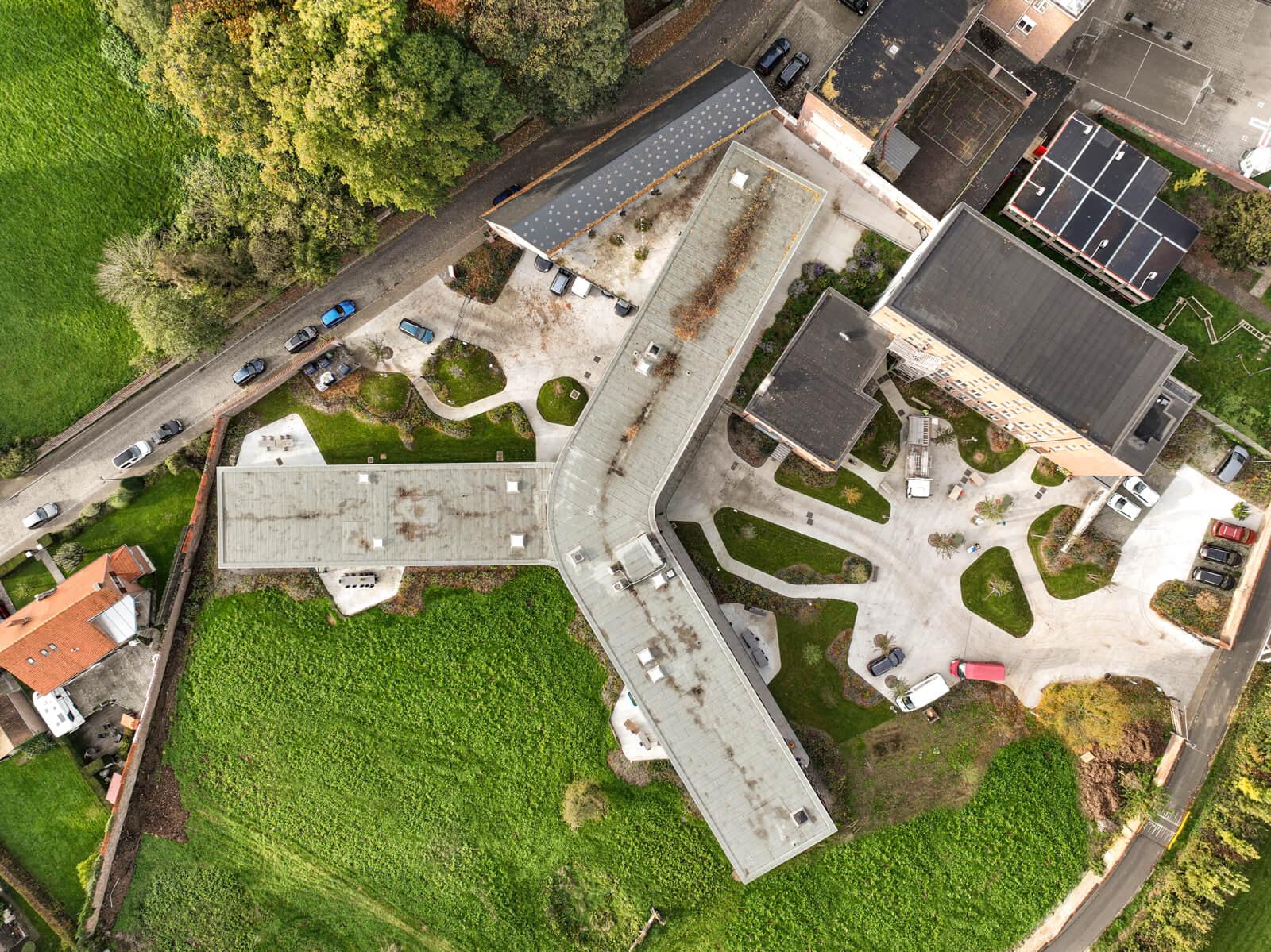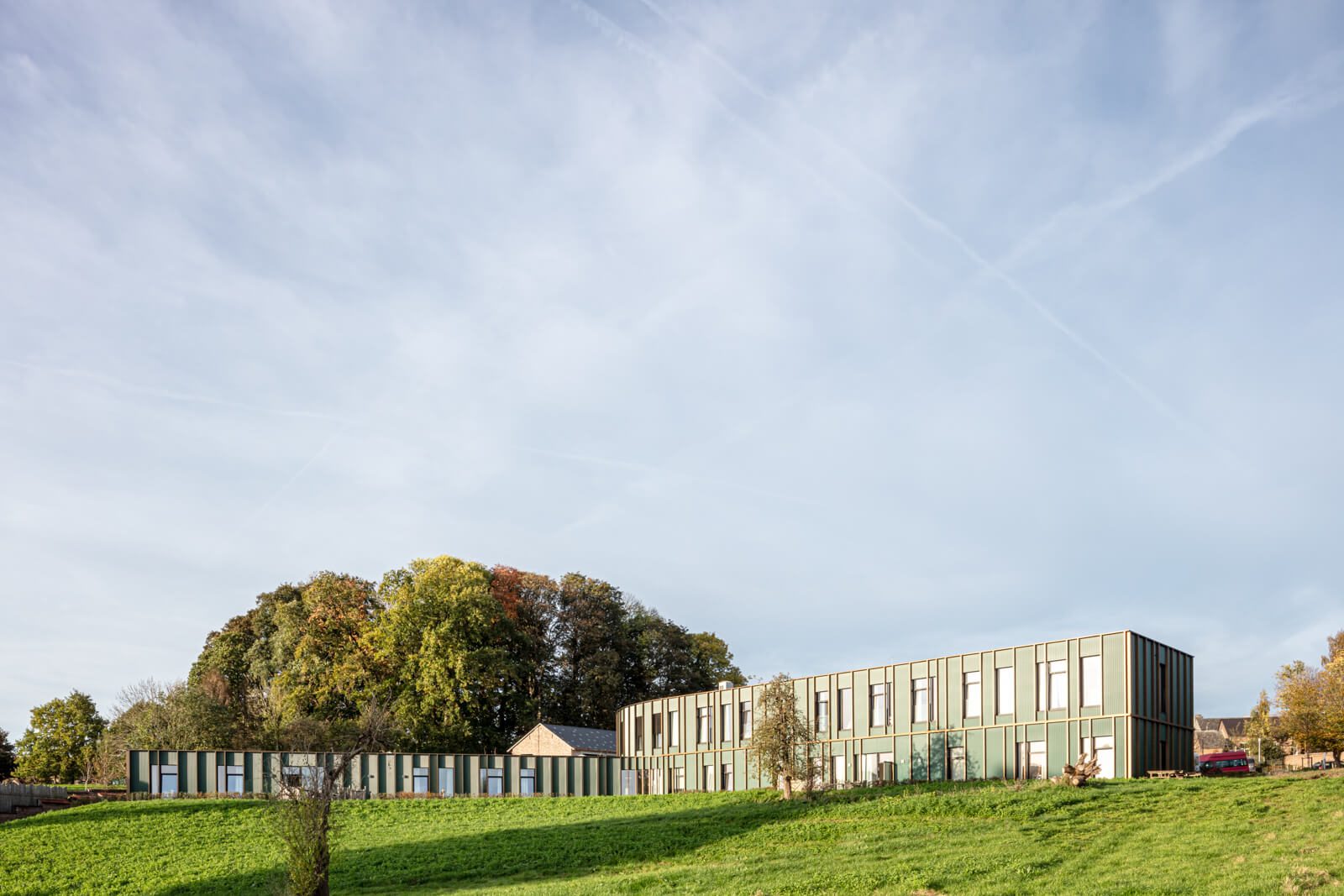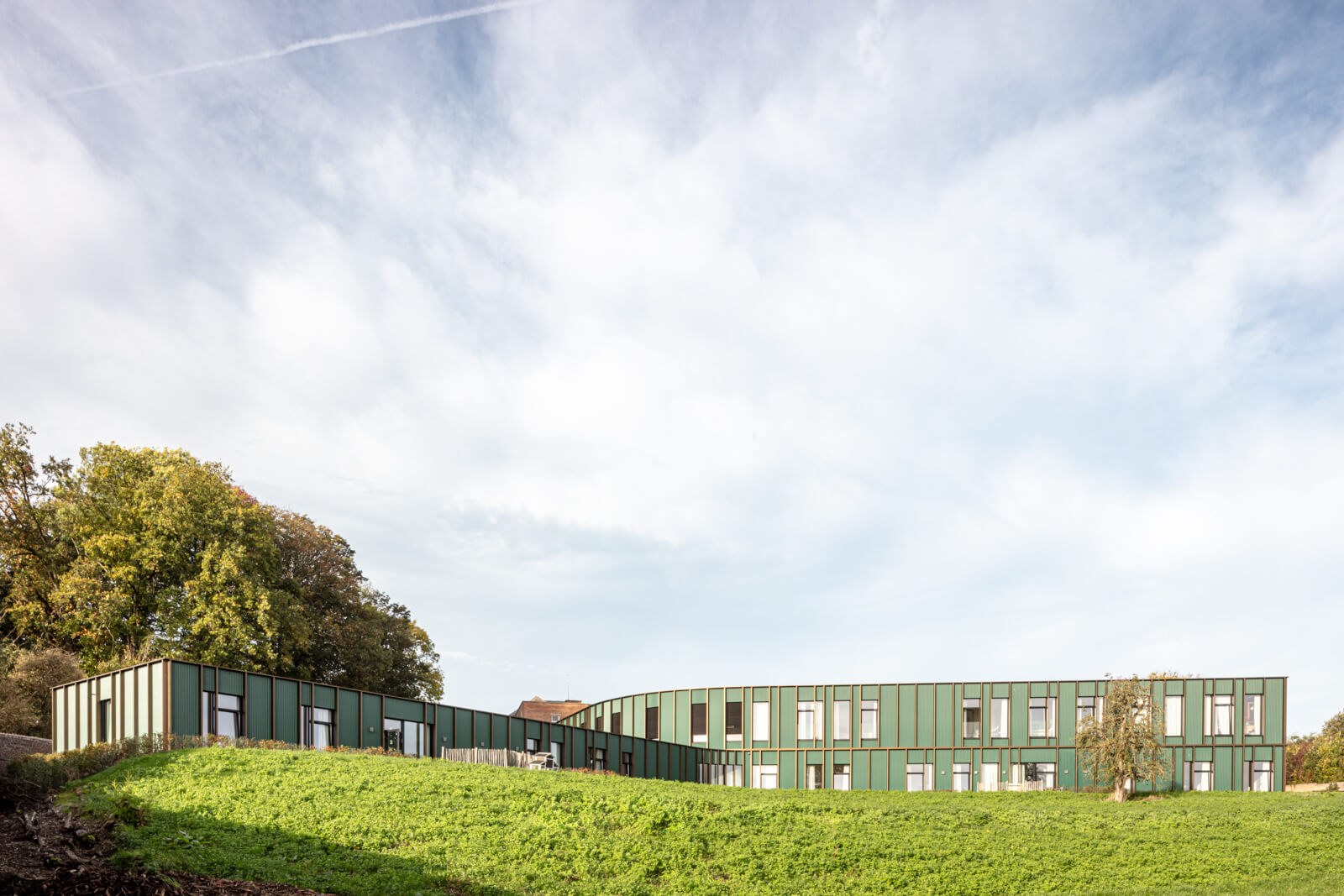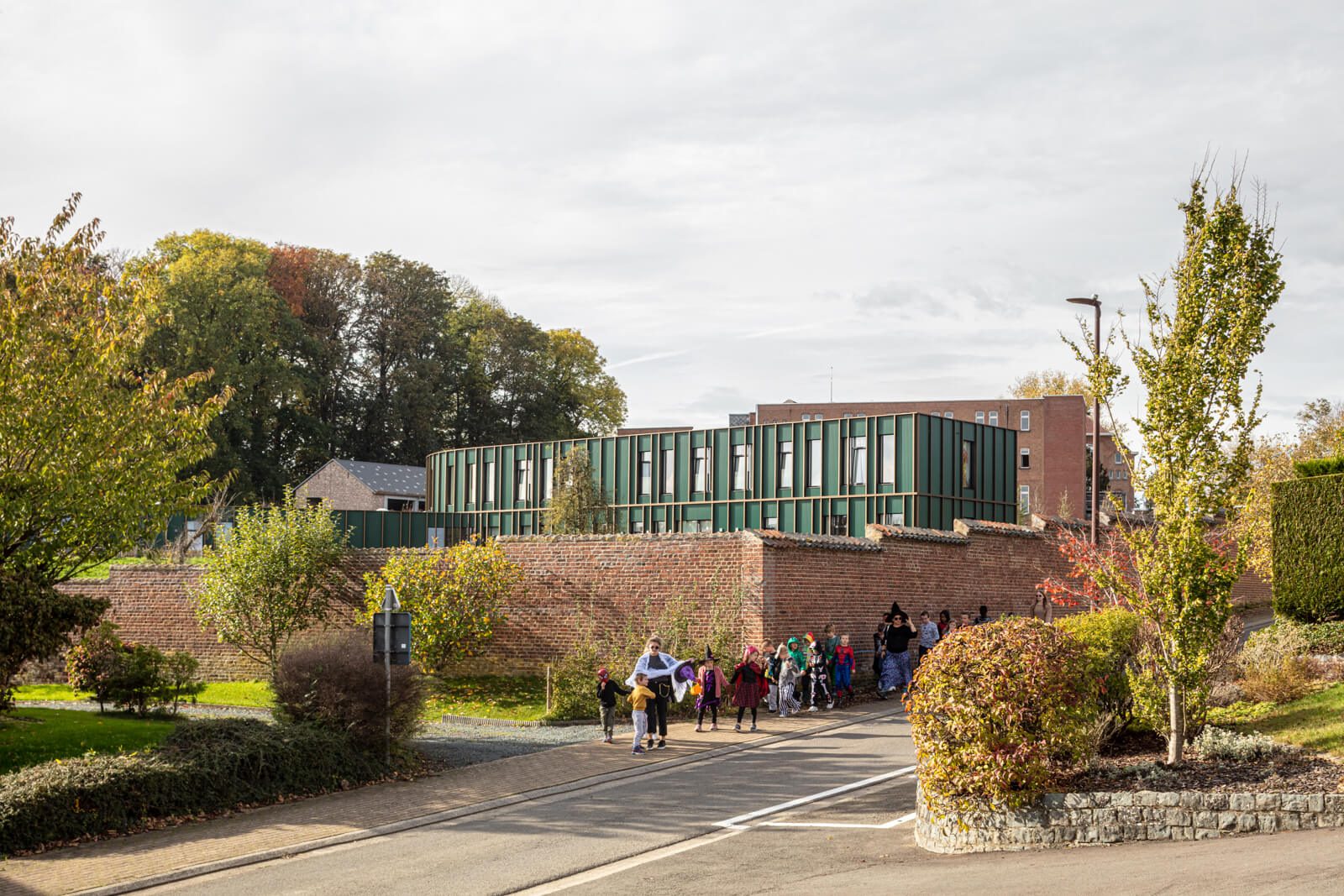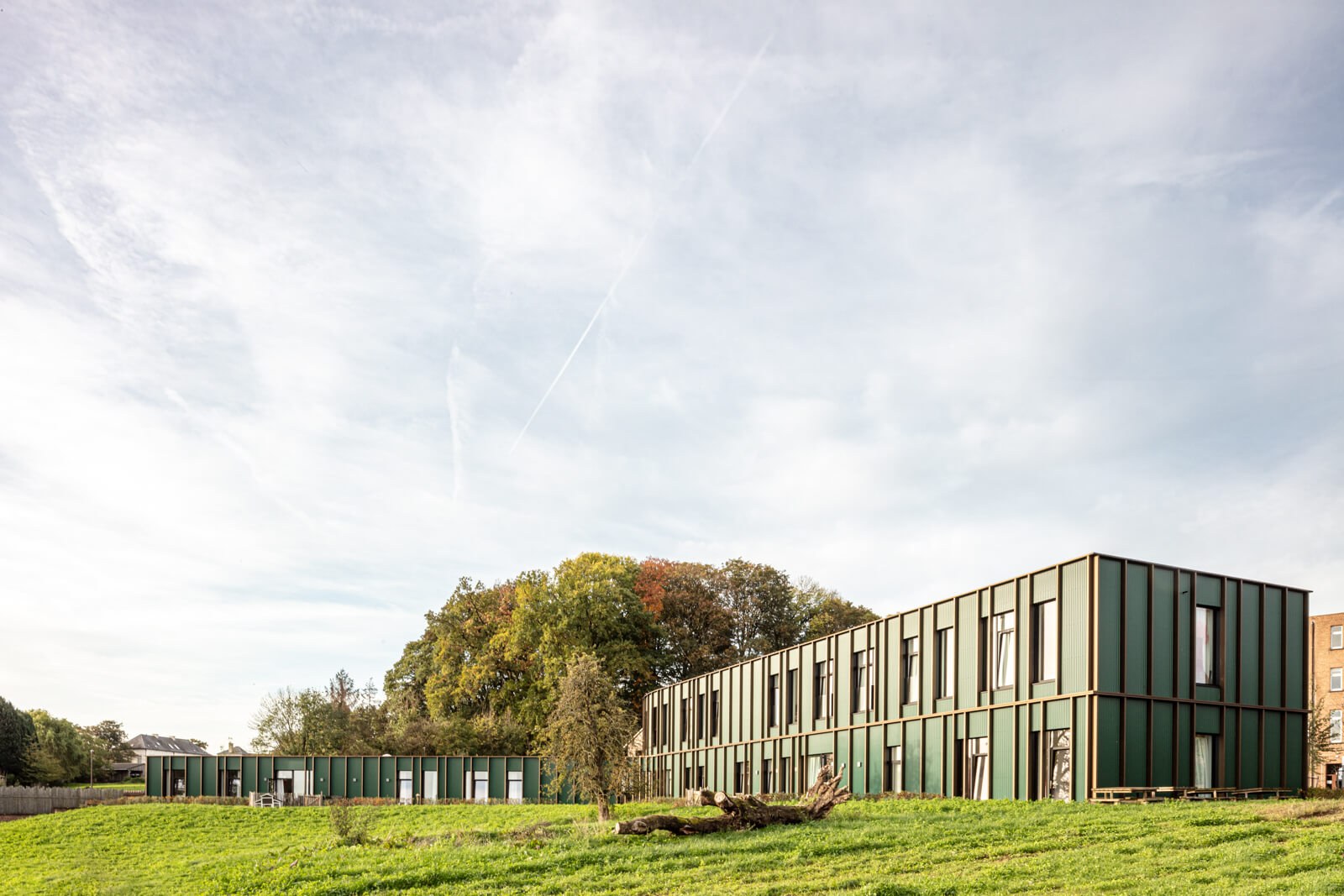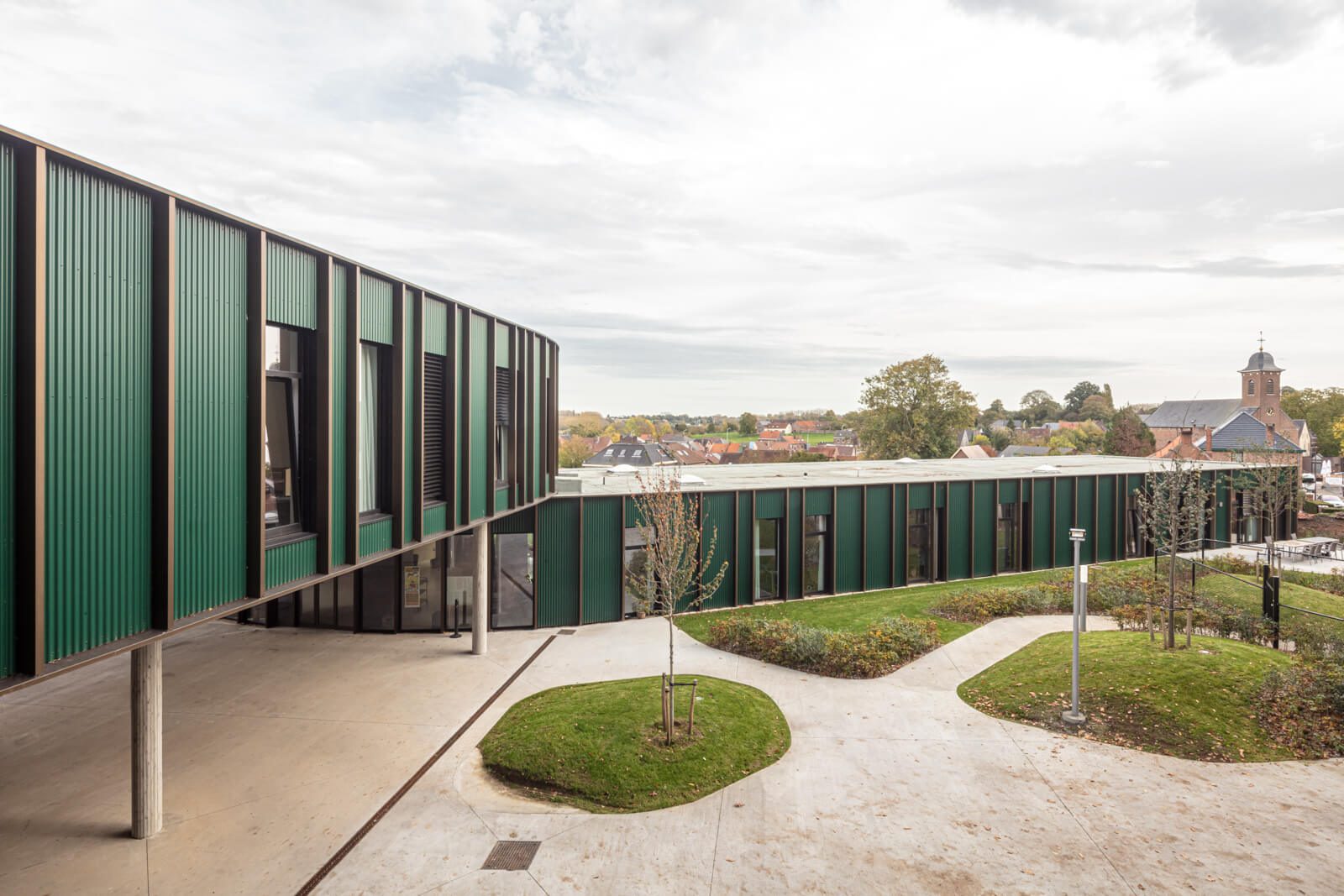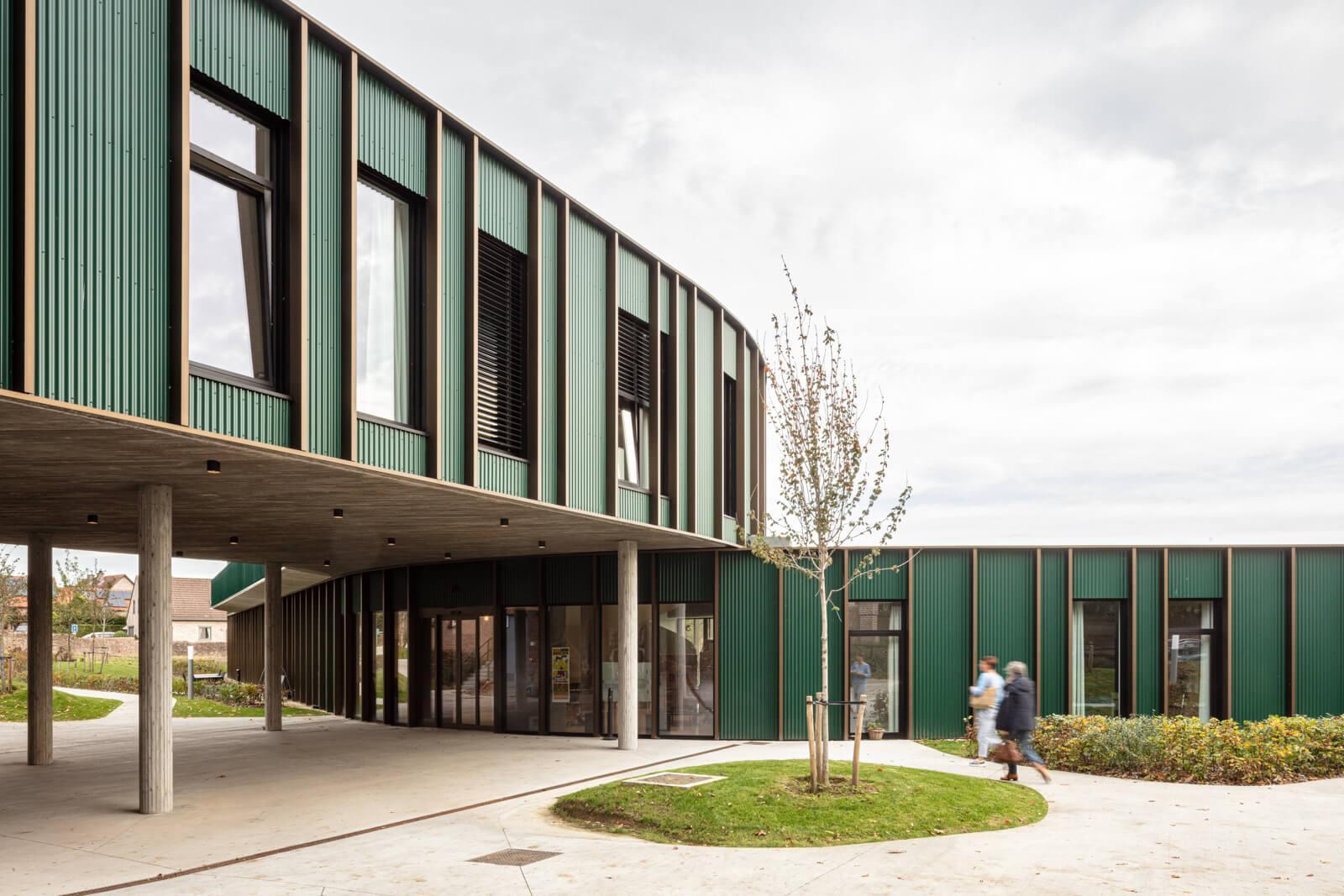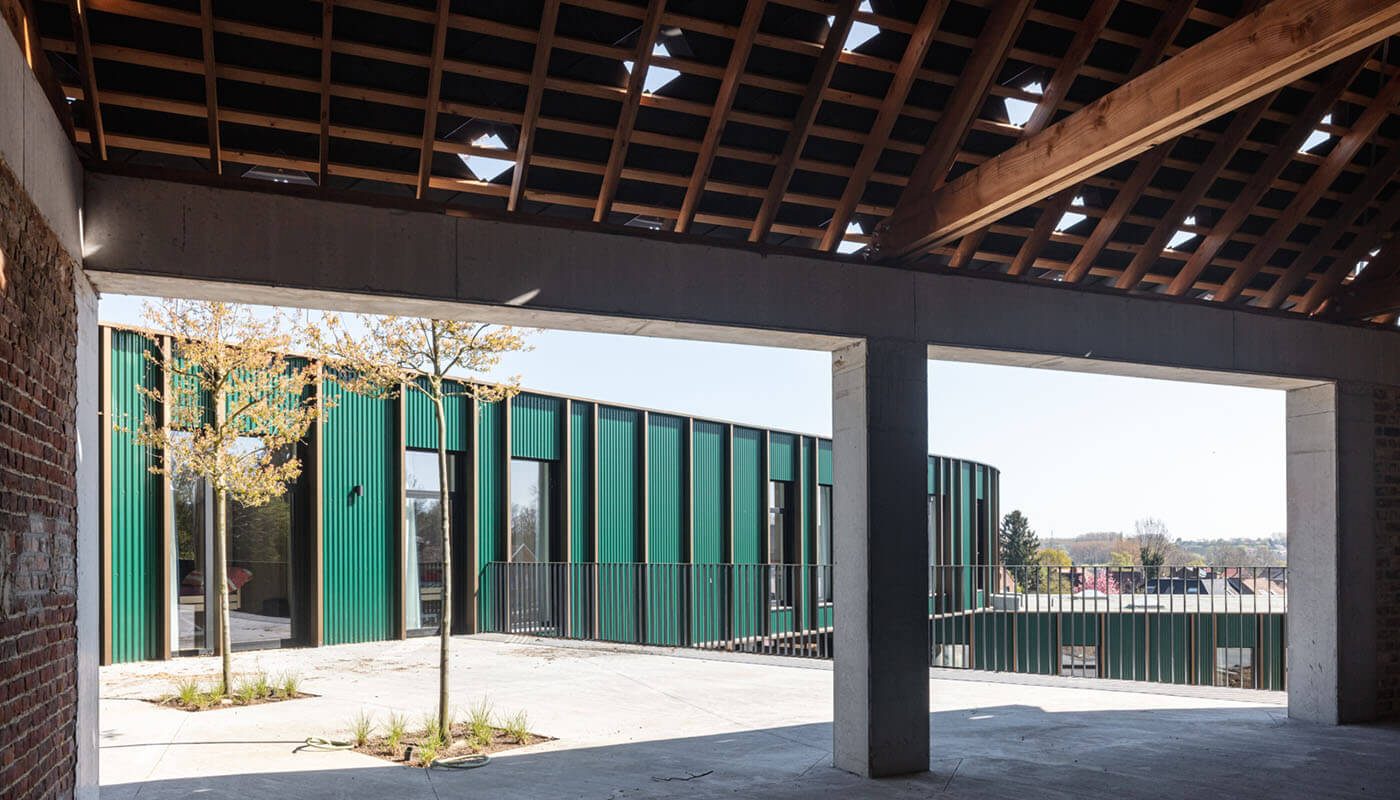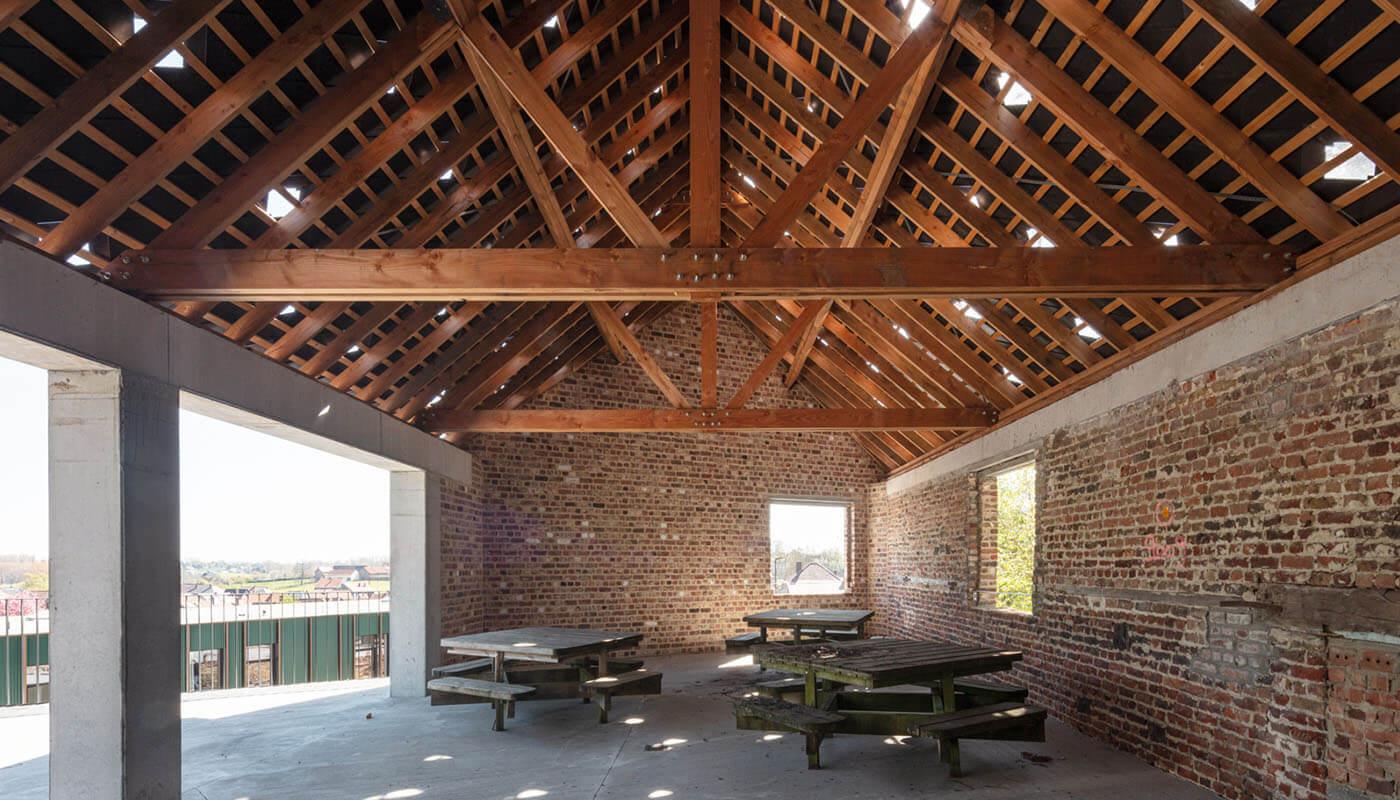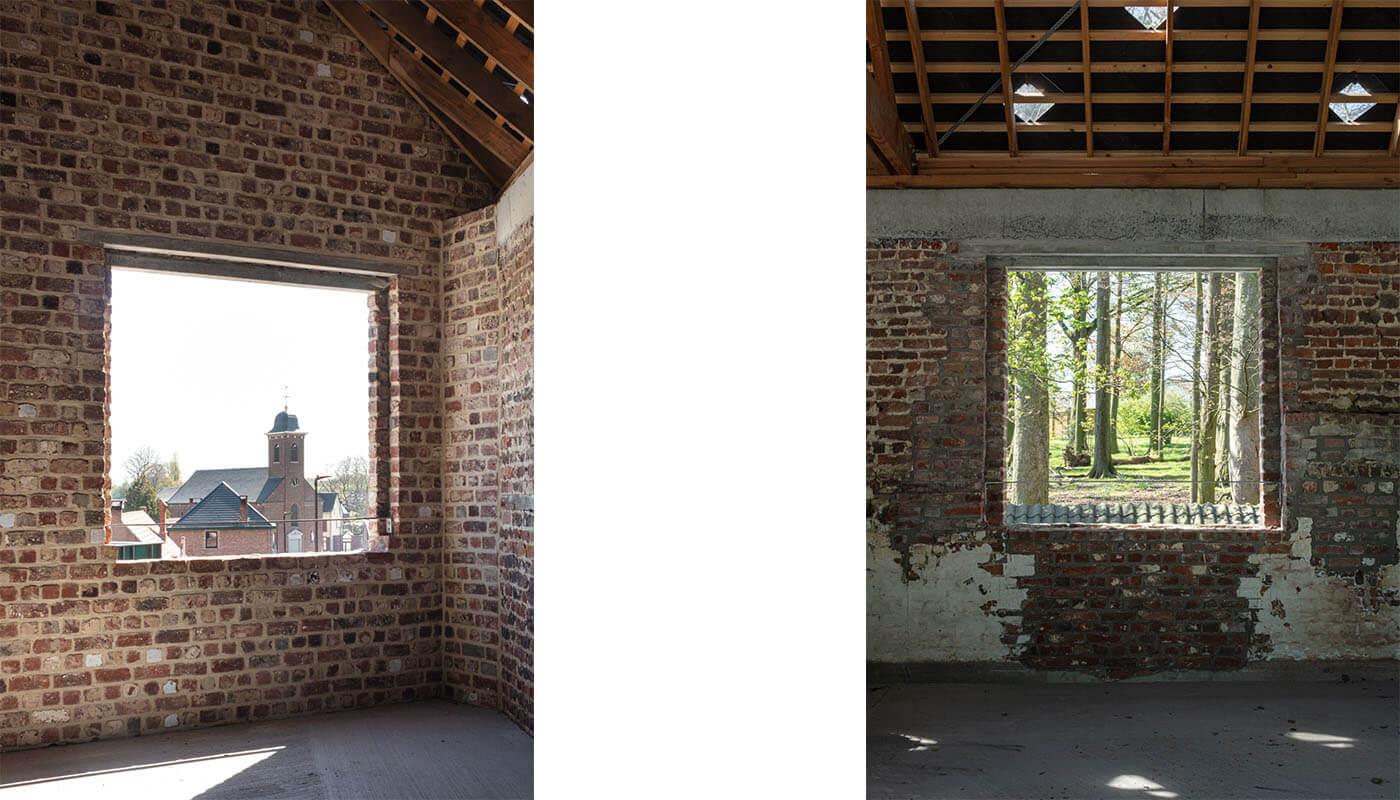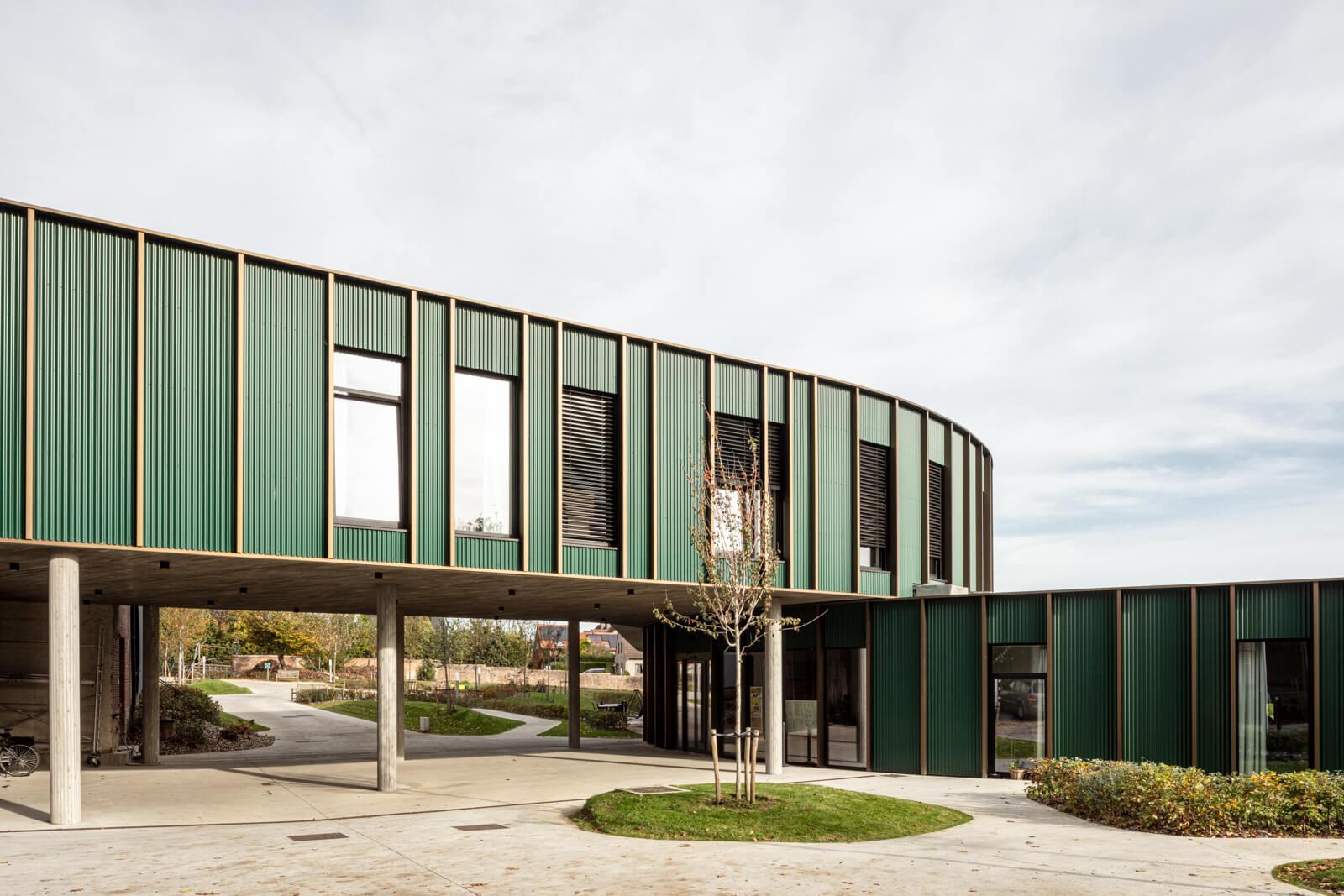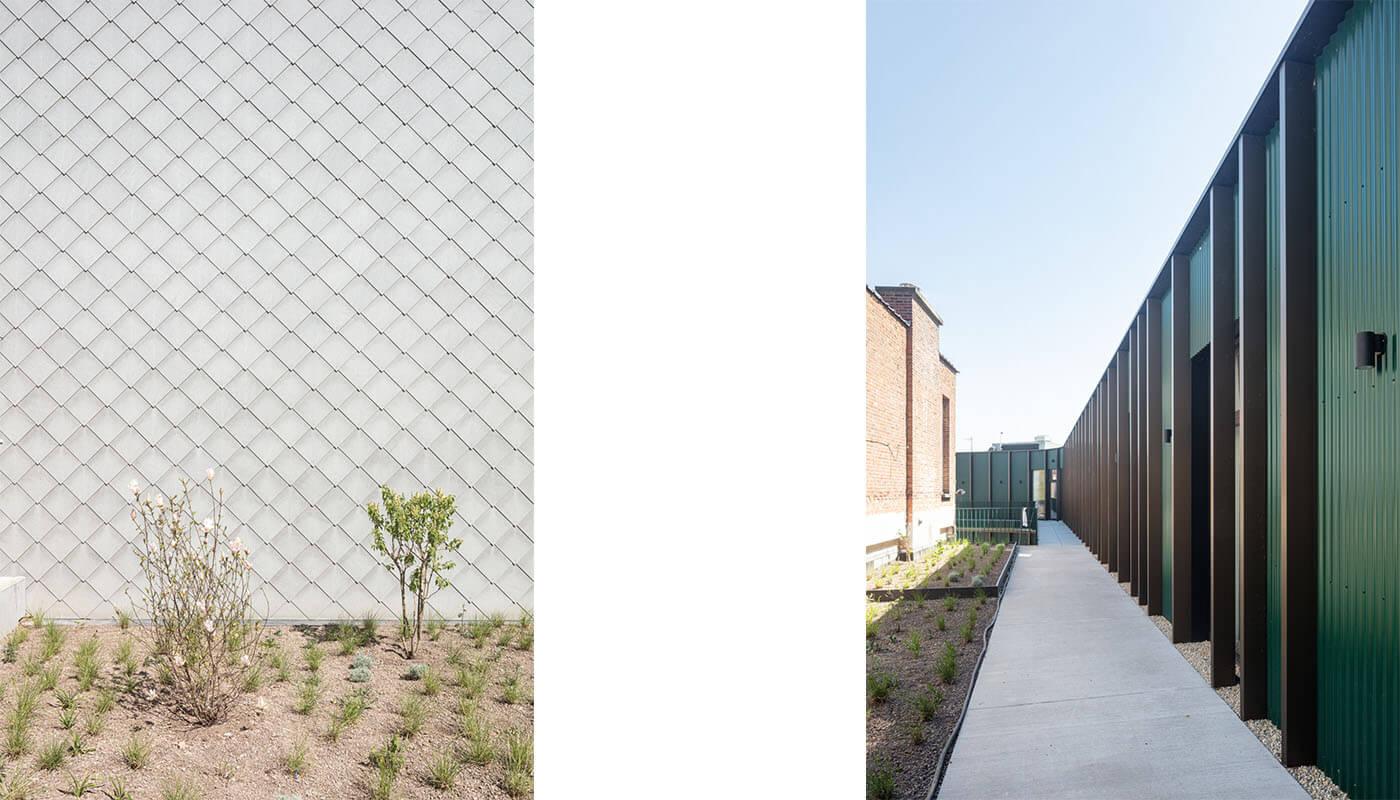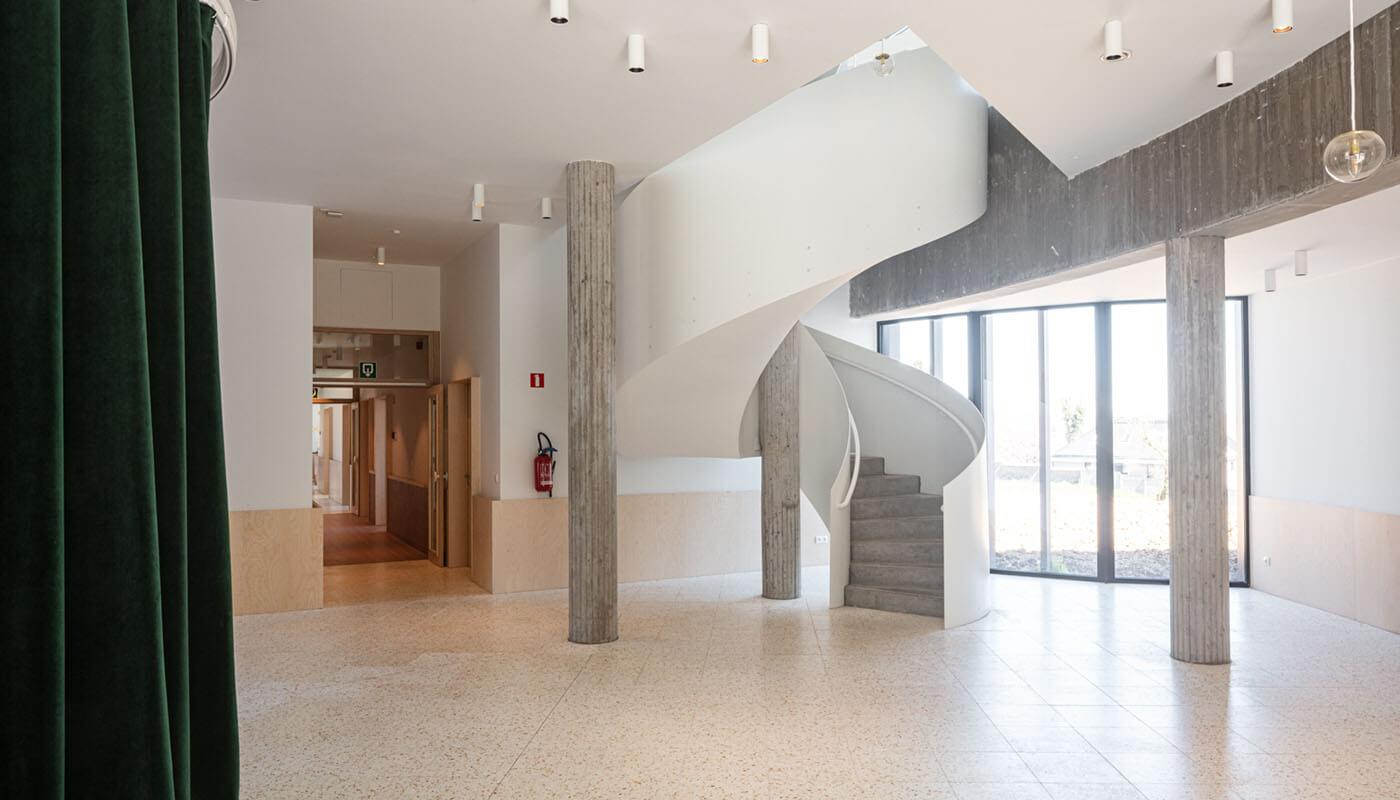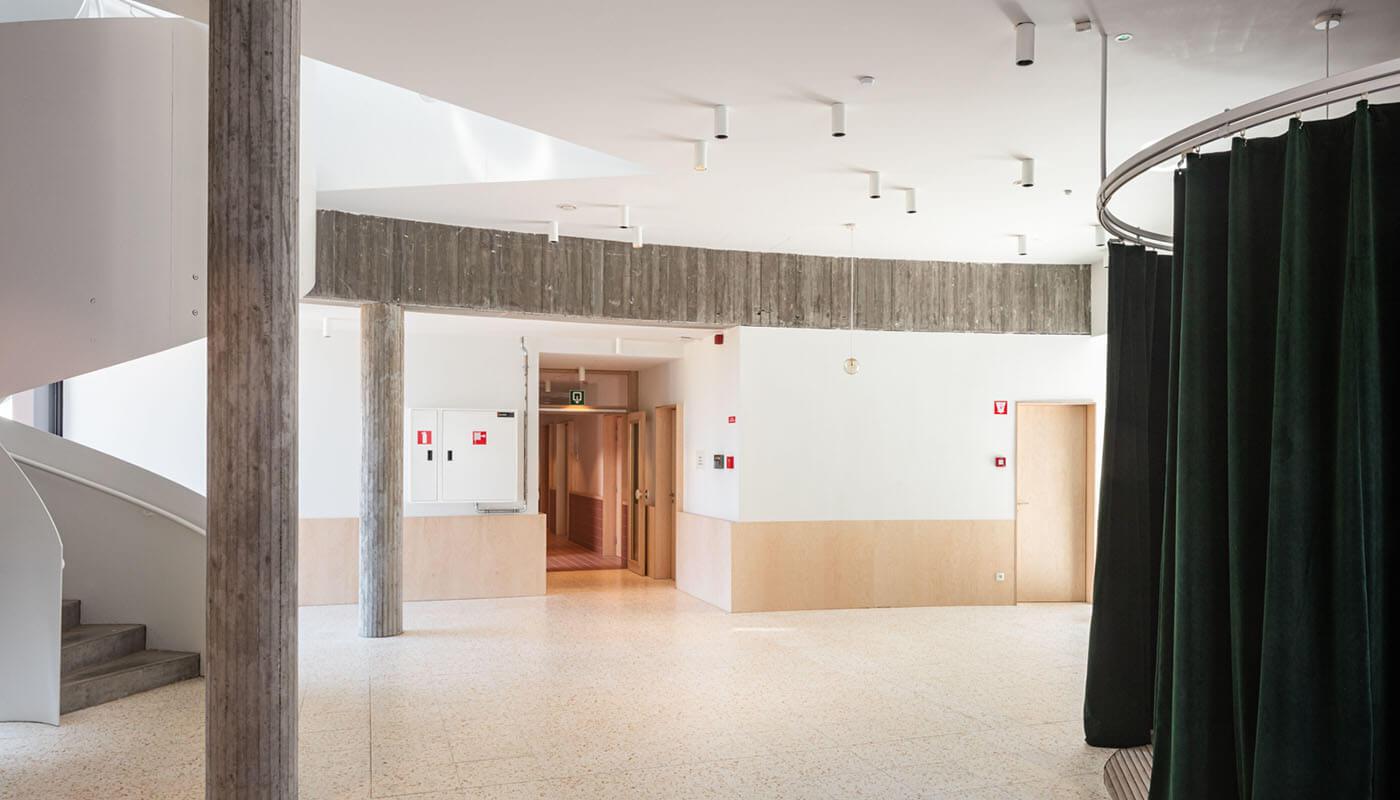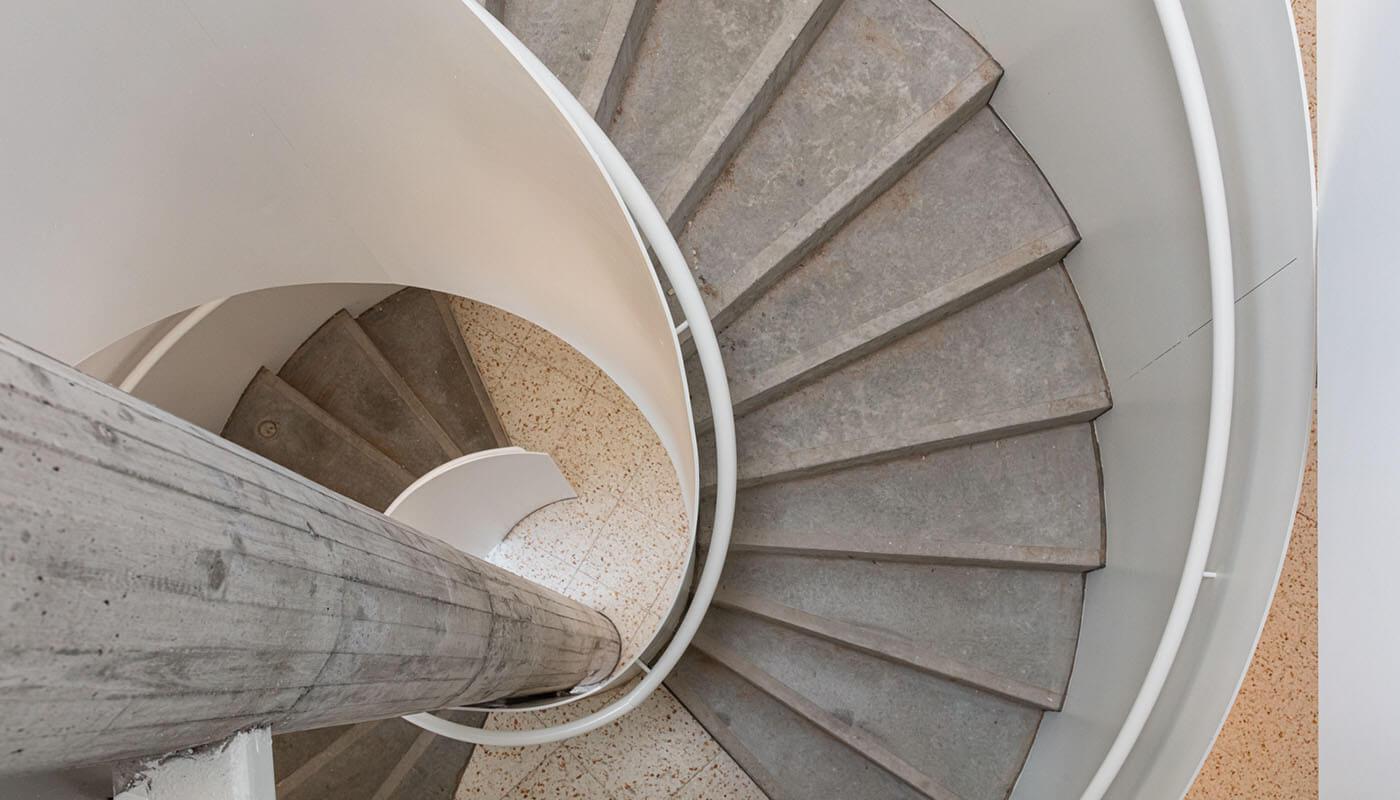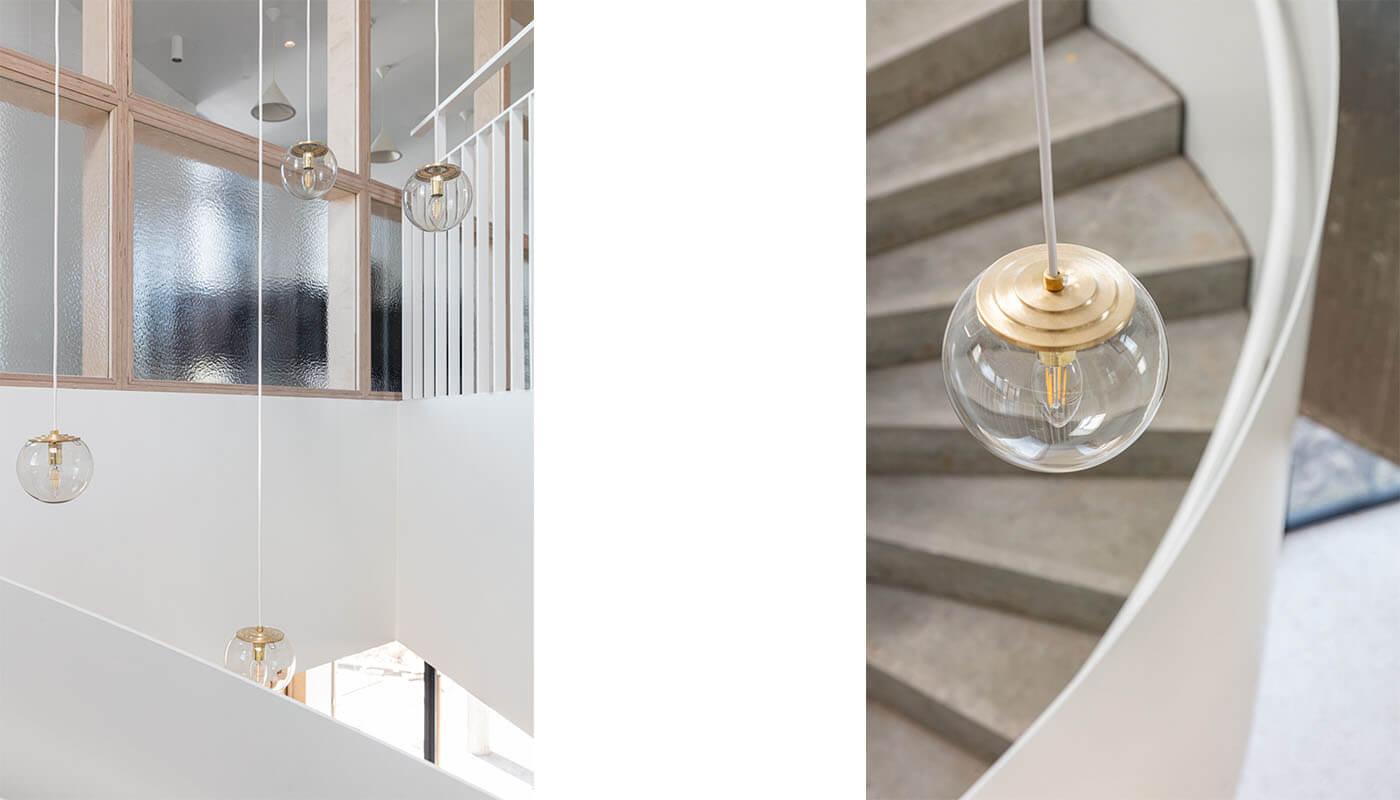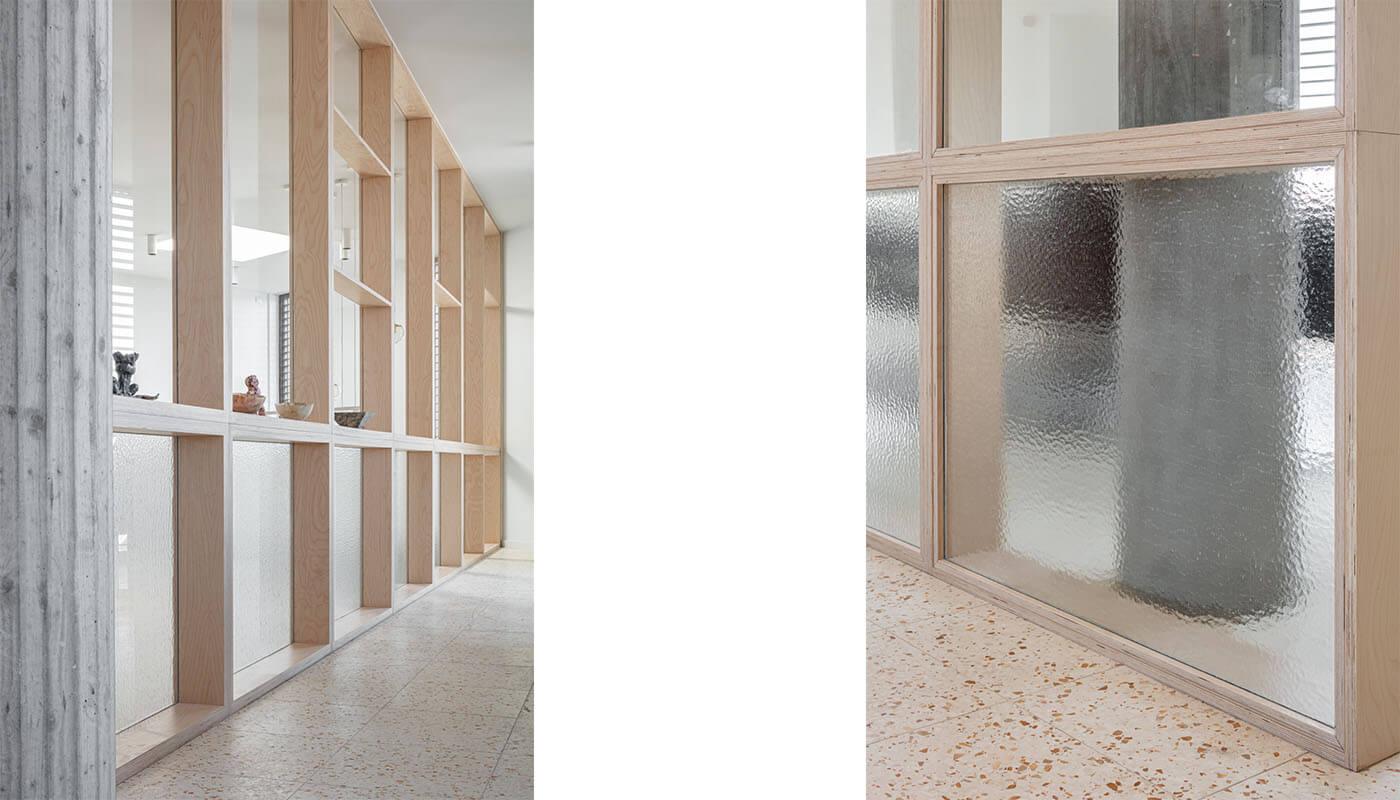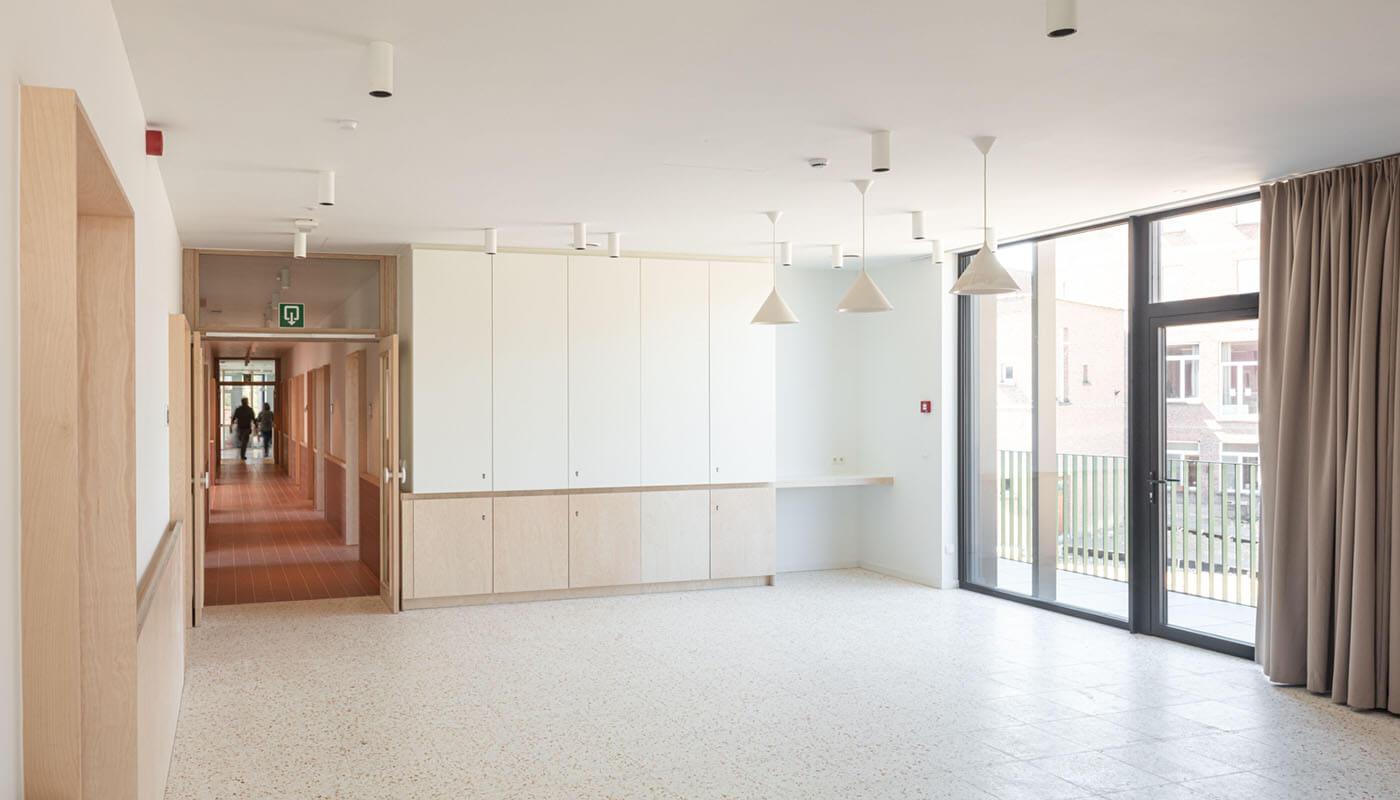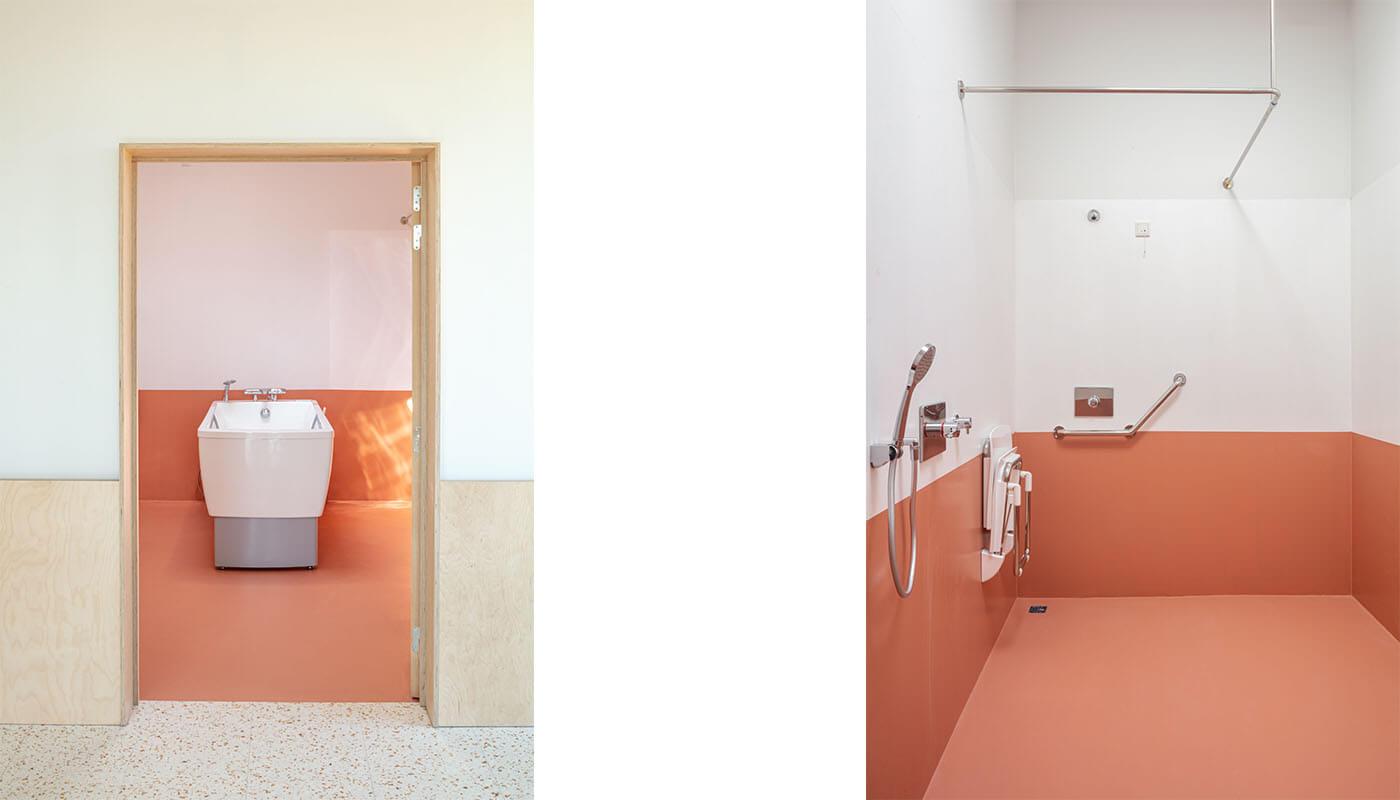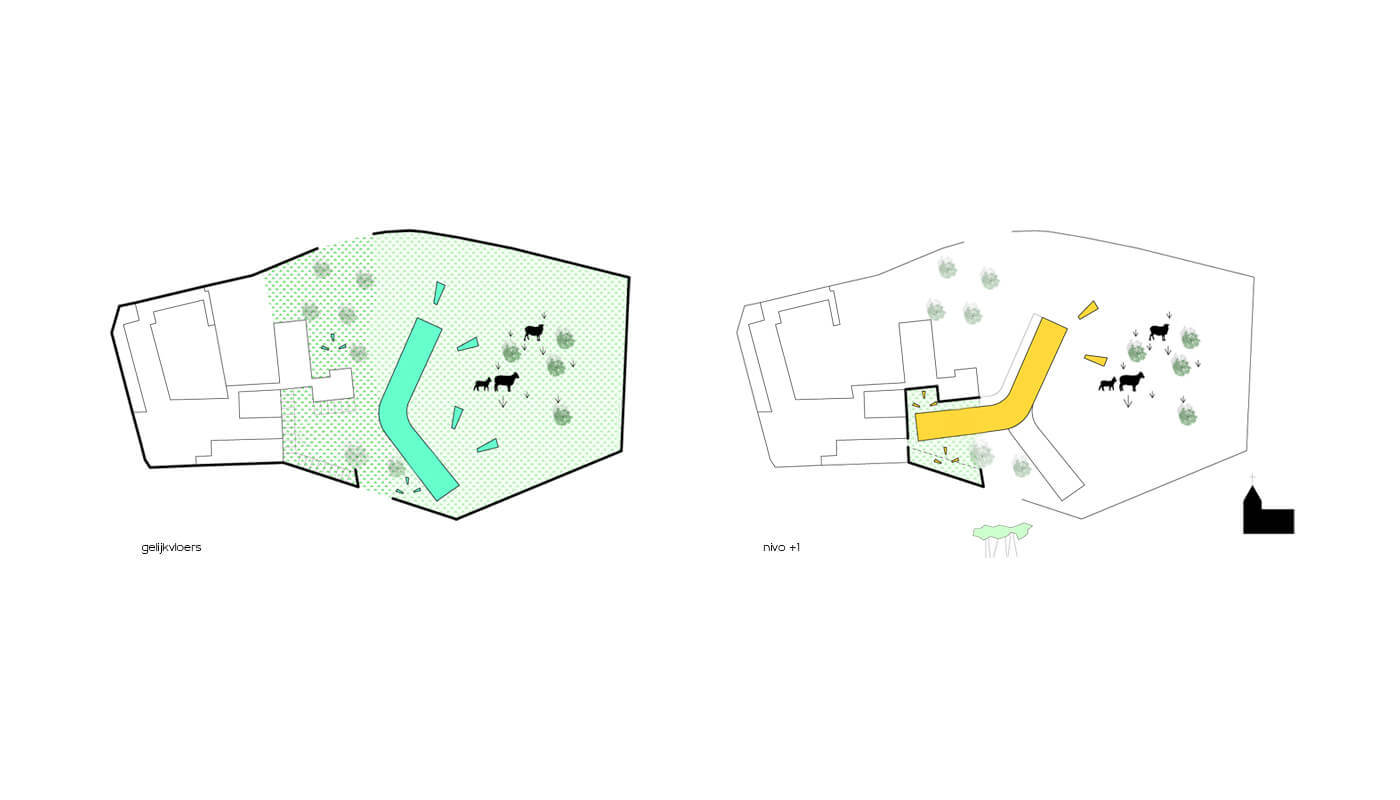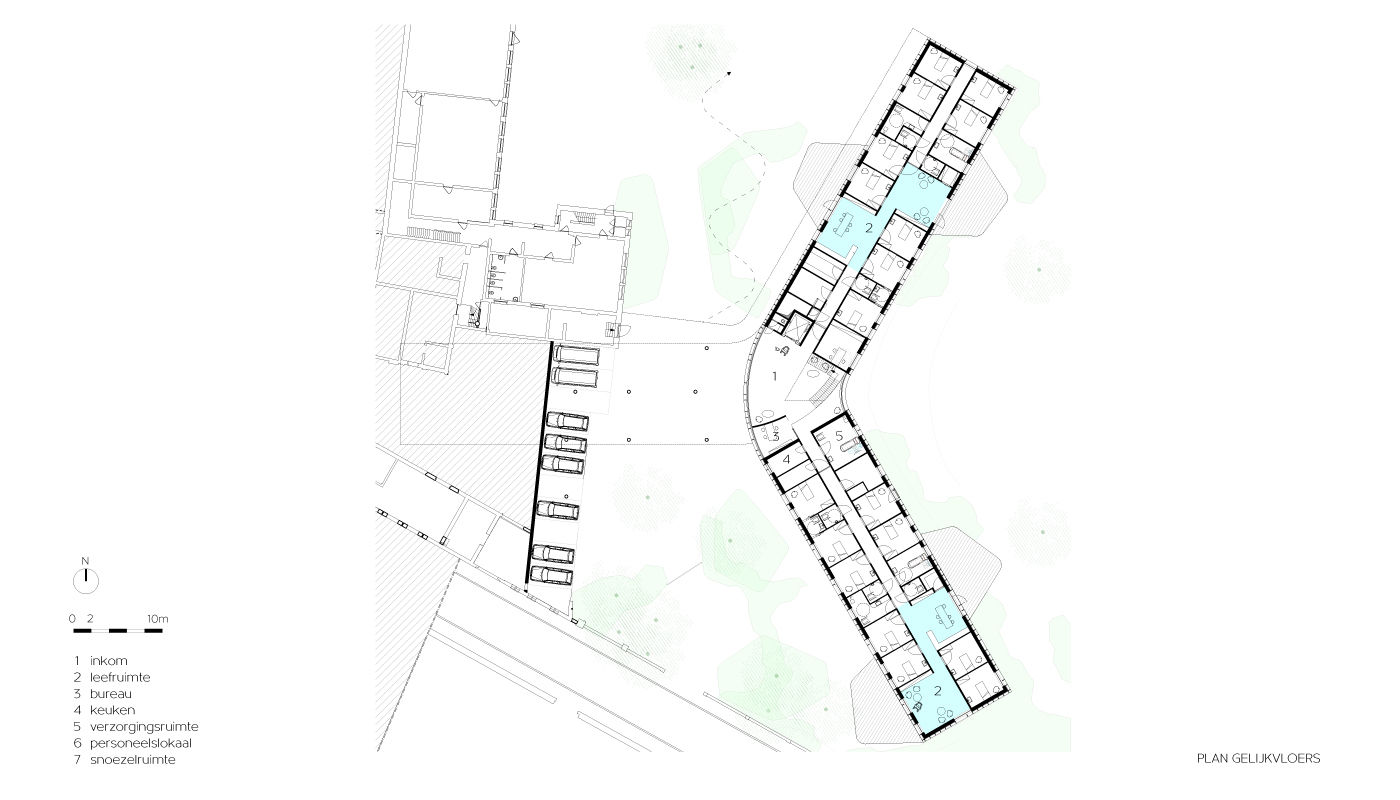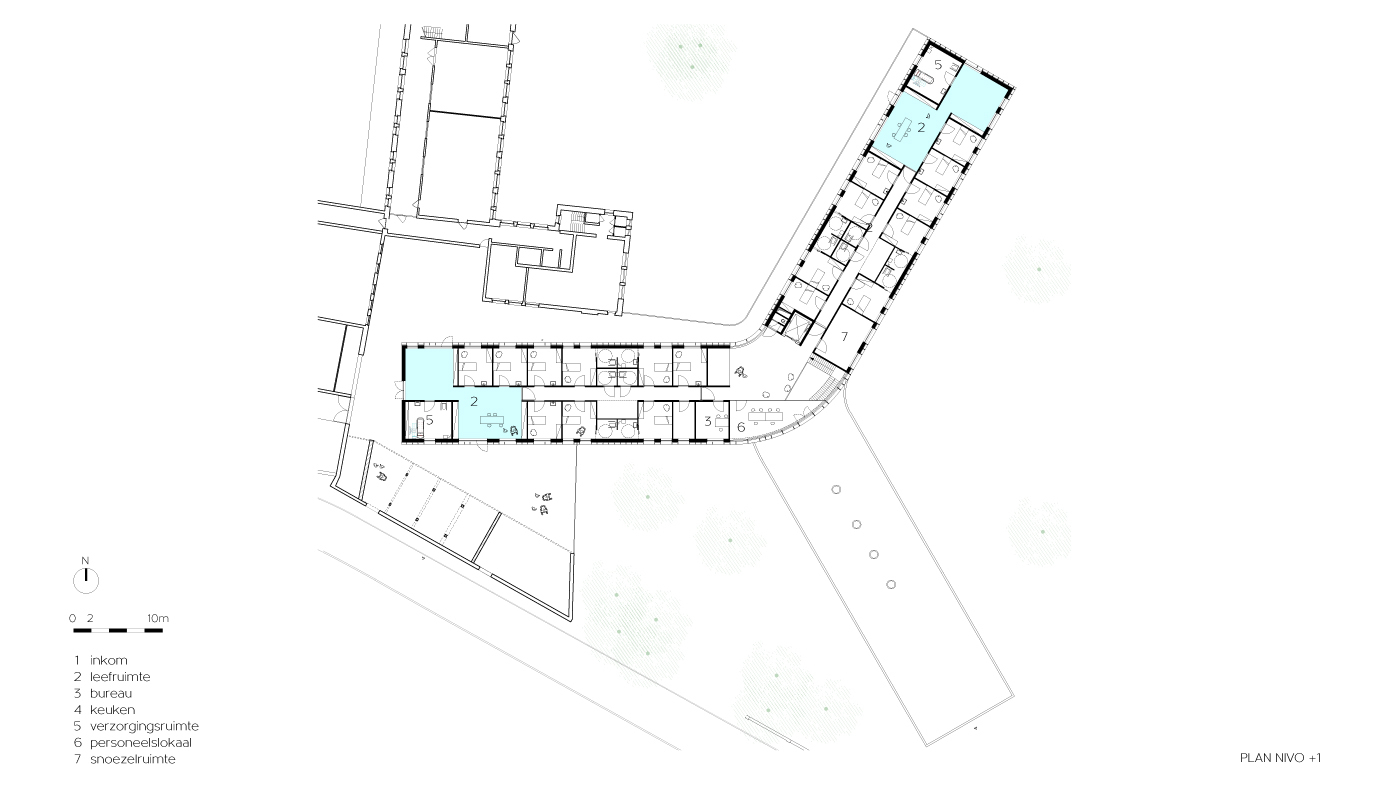 info
client

Zonnelied vzw

location

Eizeringen - Lennik

surface

2200 m²

procedure

Competition - 1st prize

period

2014 - 2021

phase

Completed

team

ZAmpone architectuur - MADAM architectuur - Util - Peritas - Floris Steyaert

photography

Tim Van De Velde

press
Description
Campus Eizeringen in Lennik. Een weidse site bovenaan een helling in hartje Pajottenland, een bucolisch zicht op de vallei met boomgaarden. Een school in het oude kloostergebouw, een voor- en naschoolse opvang en een nieuwbouw, een dagcentrum en -opvang van Zonnelied bevolken de campus. De initiële wedstrijdvraag van Zonnelied vzw betrof een residentiële woonvorm voor 18 meervoudig zwaar gehandicapten. Al gauw verdubbelde de vraag: 2 leefgroepen voor mentaal en licht fysisch gehandicapten moesten eveneens hun stek krijgen op de site.
Het bestaande allegaartje van gebouwen met verschillende schaal, stijl en versnipperde inplanting leest chaotisch. De oude kloostermuur omarmt de ganse campus en is het bindende element en bepalend voor het zicht van de omwonenden. Dwars over het domein loopt een verbindingsweg die door de dorpelingen als sluipweg gebruikt wordt.
Bouwen voor deze specifieke doelgroep vraagt een klemtoon op rust, het reduceren van ongewenste prikkels en toch een variëteit aan belevingen binnen geborgenheid.
Bouwen binnen een hechte dorpskern vraagt om maximaal respect voor het dorpsbeeld met de schuur en kloostermuur als persoonlijk patrimonium.
ZAmpone, in samenwerking met Madam Architectuur, kiest voor een nieuwbouw discreet tussen de bestaande gebouwen. Twee balken, twee bouwlagen. Maar niet overal. Het spel met bouwlagen laat de bestaande weg passeren en creëert overdekte parkeergelegenheid maar ook ontstaan zowel een geborgen daktuin als weidse uitzichten of aanknoping voor de bewoners met vertrouwde doorzichten.
Het nieuwe dagcentrum komt tussen de schuur en het huidige dagcentrum. De leefgroepen nestelen zich op de verdieping. De leefruimtes bestaan uit twee verschillende georiënteerde maar gekoppelde delen: gevarieerde ruimtelijke beleving gekoppeld aan hoekjeswerking en huiselijke schaal. De gevelbekleding van geanodiseerde aluminium lamellen volgt de ritmering van de ramen en verandert mee met het licht.
Aan de straatzijde wordt de karakteristieke schuur, een beschermd dorpsgezicht, intact gelaten. Door de achterzijde te verwijderen ontstaat een overdekte buitenruimte of wintertuin. De doordachte positie ten opzichte van de bestaande muur draagt ertoe bij dat het woonzorgcentrum zeer subtiel geïntegreerd is in het dorpsweefsel.
ZAmpone gaat voor dit project eveneens een samenwerking aan met landschapsarchitect Floris Steyaert: de prachtomgeving is er niet alleen om te bewonderen maar ook om te gebruiken. De inkom wordt een landschapsplein met begroende eilandjes, een meanderend paadje krijgt de warmte van de zuidmuur weerkaatst, schapen en kippen geven vrijelijk het goede voorbeeld.
Meer dan een poort in de muur en overtuigingskracht is er niet nodig om ook de kinderen van de buurt een nieuwe speelplek te geven. En de bewoners, die krijgen een streepje jonge energie.
Campus Eizeringen à Lennik. Un vaste site au sommet d'une colline au cœur de la région du Pajottenland, avec une vue bucolique sur la vallée avec des vergers. Le campus abrite une école dans l'ancien bâtiment du monastère, une garderie avant et après l'école, ainsi qu'un nouveau bâtiment pour un centre de jour et une structure de soins de Zonnelied. Initialement, la demande de concours de Zonnelied vzw était pour un environnement résidentiel pour 18 personnes lourdement handicapées. Peu après, la demande a doublé : 2 groupes de vie pour des personnes handicapées mentales et légèrement physiques avaient également besoin d'un emplacement sur le site.
Le mélange existant de bâtiments avec des échelles, des styles et des agencements différents apparaît chaotique. Le vieux mur du monastère entoure tout le campus et sert d'élément unificateur, définissant la vue pour les résidents environnants. Une route de liaison traverse le domaine, utilisée par les villageois comme raccourci.
La construction pour ce groupe cible spécifique nécessite une focalisation sur la tranquillité, la réduction des stimuli indésirables, tout en offrant une variété d'expériences dans un sentiment de sécurité. La construction au sein d'un noyau de village proche demande un respect maximal du paysage du village, avec la grange et le mur du monastère comme patrimoine personnel.
ZAmpone, en collaboration avec Madam Architectuur, opte pour un nouveau bâtiment discrètement placé parmi les structures existantes. Deux poutres, deux étages. Mais pas partout. Le jeu avec les étages permet à la route existante de passer à travers et crée un espace de stationnement couvert, tout en donnant naissance à un jardin de toit abrité ainsi qu'à des vues panoramiques ou perspectives familières pour les résidents.
Le nouveau centre de jour est situé entre la grange et le centre de jour actuel. Les groupes de vie se nichent à l'étage supérieur. Les espaces de vie se composent de deux parties orientées différemment mais reliées entre elles : des expériences spatiales variées liées à des fonctions d'angle et une échelle familiale. Le revêtement de façade en lames d'aluminium anodisé suit le rythme des fenêtres et change avec la lumière.
Du côté de la rue, la grange caractéristique, un repère protégé du village, reste intacte. En retirant l'arrière, un espace extérieur couvert ou un jardin d'hiver est créé. Le positionnement réfléchi par rapport au mur existant contribue à l'intégration harmonieuse du centre de soins résidentiel dans le tissu du village.
ZAmpone collabore également avec le paysagiste Floris Steyaert pour ce projet : les beaux environs ne sont pas seulement faits pour être admirés, mais aussi pour être utilisés. L'entrée devient une place paysagère avec des îlots verdoyants, un chemin sinueux reflète la chaleur du mur sud, et les moutons et les poules errant librement donnent le bon exemple.
Il ne faut pas plus qu'une porte dans le mur et de persuasion pour offrir aux enfants du quartier un nouvel espace de jeu. Et pour les résidents, ils obtiennent une touche d'énergie juvénile.
Campus Eizeringen in Lennik. A vast site on top of a hill in the heart of the Pajottenland region, with a bucolic view of the valley with orchards. The campus is home to a school in the old monastery building, before- and after-school care, and a new building for a day center and care facility by Zonnelied. Initially, the competition request from Zonnelied vzw was for a residential living environment for 18 severely multiply disabled individuals. Soon after, the request doubled: 2 living groups for mentally and mildly physically disabled individuals also needed a place on the site.
The existing hodgepodge of buildings with different scales, styles, and scattered layout appears chaotic. The old monastery wall embraces the entire campus and serves as the binding element, defining the view for the surrounding residents. A connecting road runs through the domain, used by the villagers as a shortcut.
Building for this specific target group requires a focus on tranquility, reducing unwanted stimuli, and still offering a variety of experiences within a sense of security. Building within a close-knit village core demands maximum respect for the village landscape, with the barn and monastery wall as personal heritage.
ZAmpone, in collaboration with Madam Architectuur, opts for a new building discreetly placed among the existing structures. Two beams, two floors. But not everywhere. The play with floors allows the existing road to pass through and creates covered parking space, while also giving rise to a sheltered rooftop garden as well as panoramic views or familiar perspectives for the residents.
The new day center is located between the barn and the current day center. The living groups nestle on the upper floor. The living spaces consist of two differently oriented but connected sections: diverse spatial experiences linked to corner functions and a homely scale. The facade cladding of anodised aluminum lamellas follows the rhythm of the windows and changes with the light.
On the street side, the characteristic barn, a protected village landmark, remains intact. By removing the rear, a covered outdoor space or winter garden is created. The thoughtful positioning in relation to the existing wall contributes to the seamless integration of the residential care center into the village fabric.
ZAmpone also collaborates with landscape architect Floris Steyaert for this project: the beautiful surroundings are not only to admire but also to use. The entrance becomes a landscape square with green islands, a meandering path reflects the warmth of the south wall, and freely roaming sheep and chickens set a good example.
More than a gate in the wall and persuasion is not needed to provide the children of the neighborhood with a new playground. And for the residents, they get a touch of youthful energy.

Download projectsheet
info
client

Zonnelied vzw

location

Eizeringen - Lennik

surface

2200 m²

procedure

Competition - 1st prize

period

2014 - 2021

phase

Completed

team

ZAmpone architectuur - MADAM architectuur - Util - Peritas - Floris Steyaert

photography

Tim Van De Velde

press