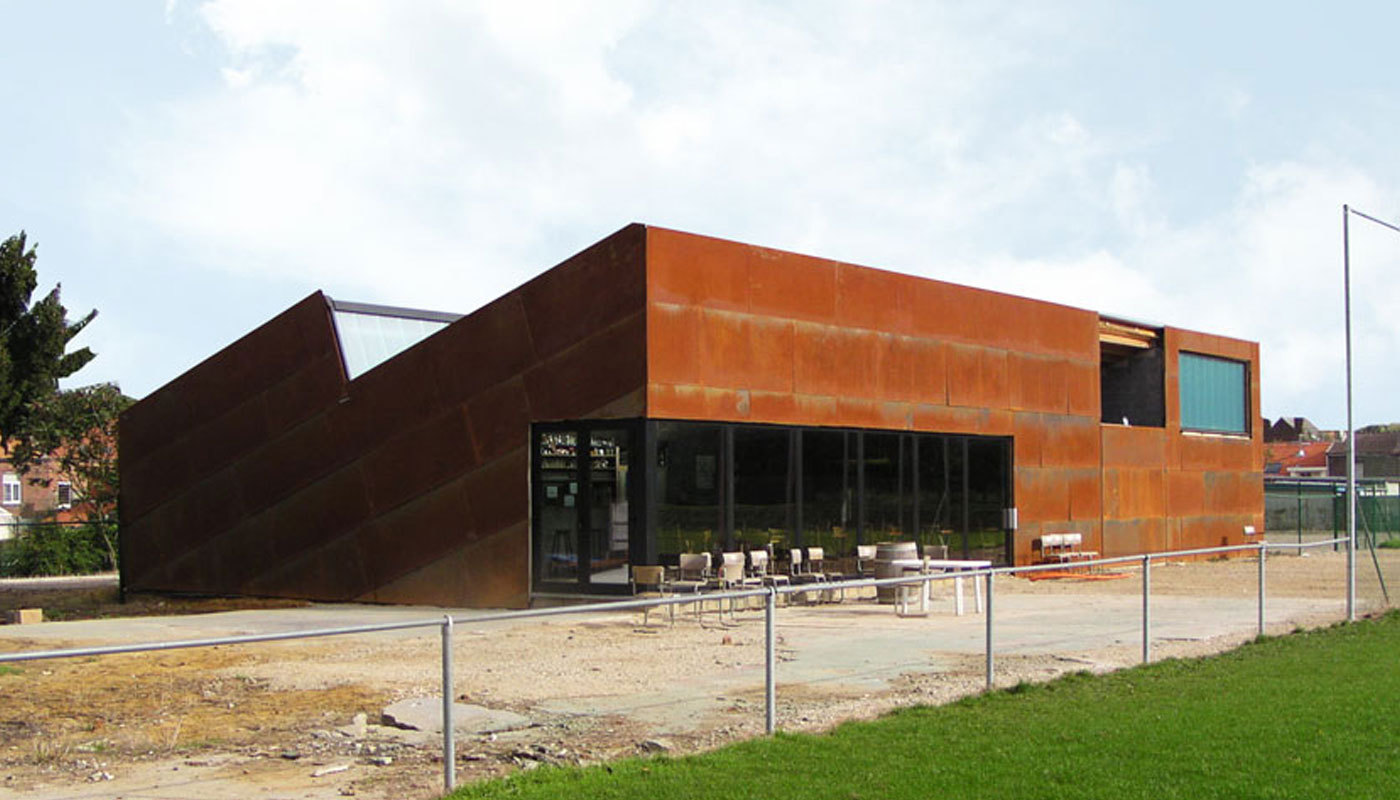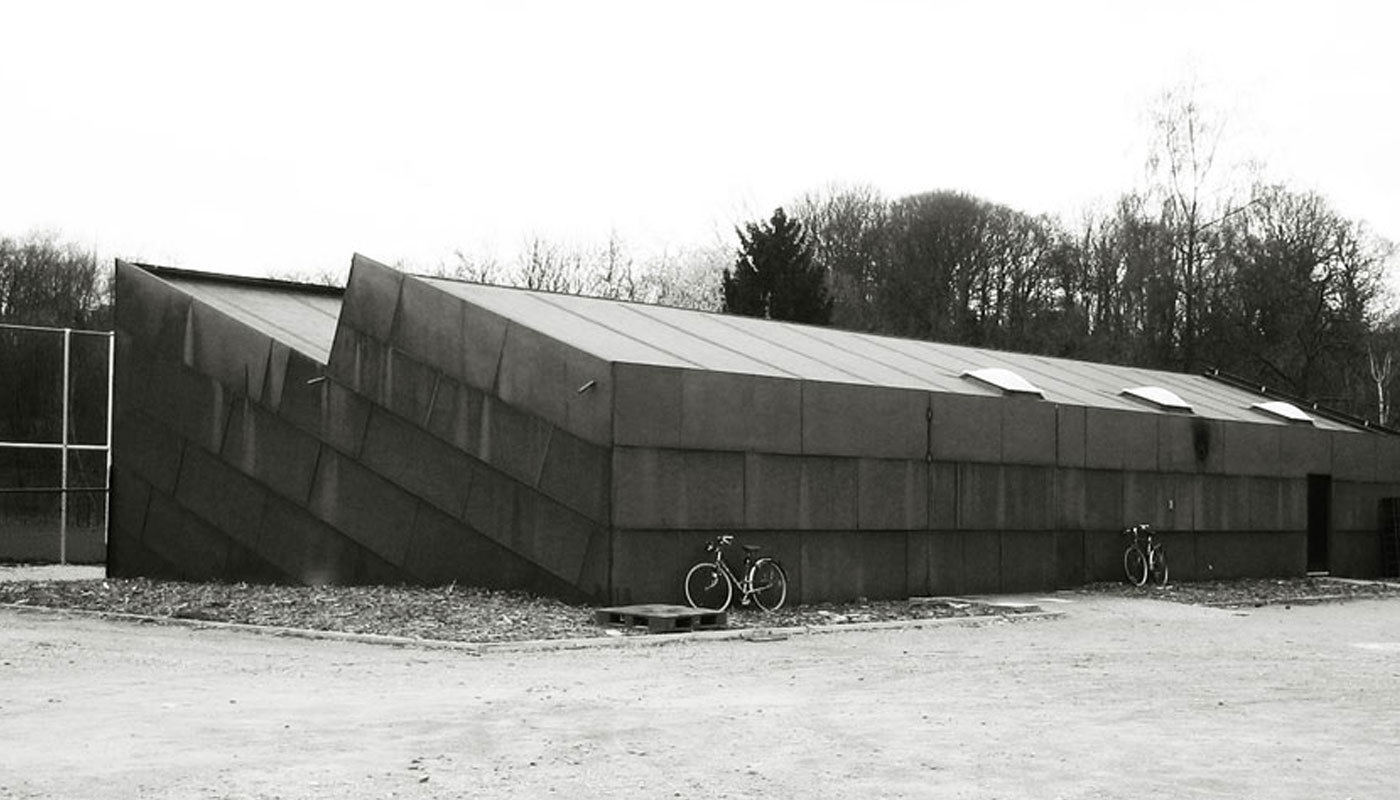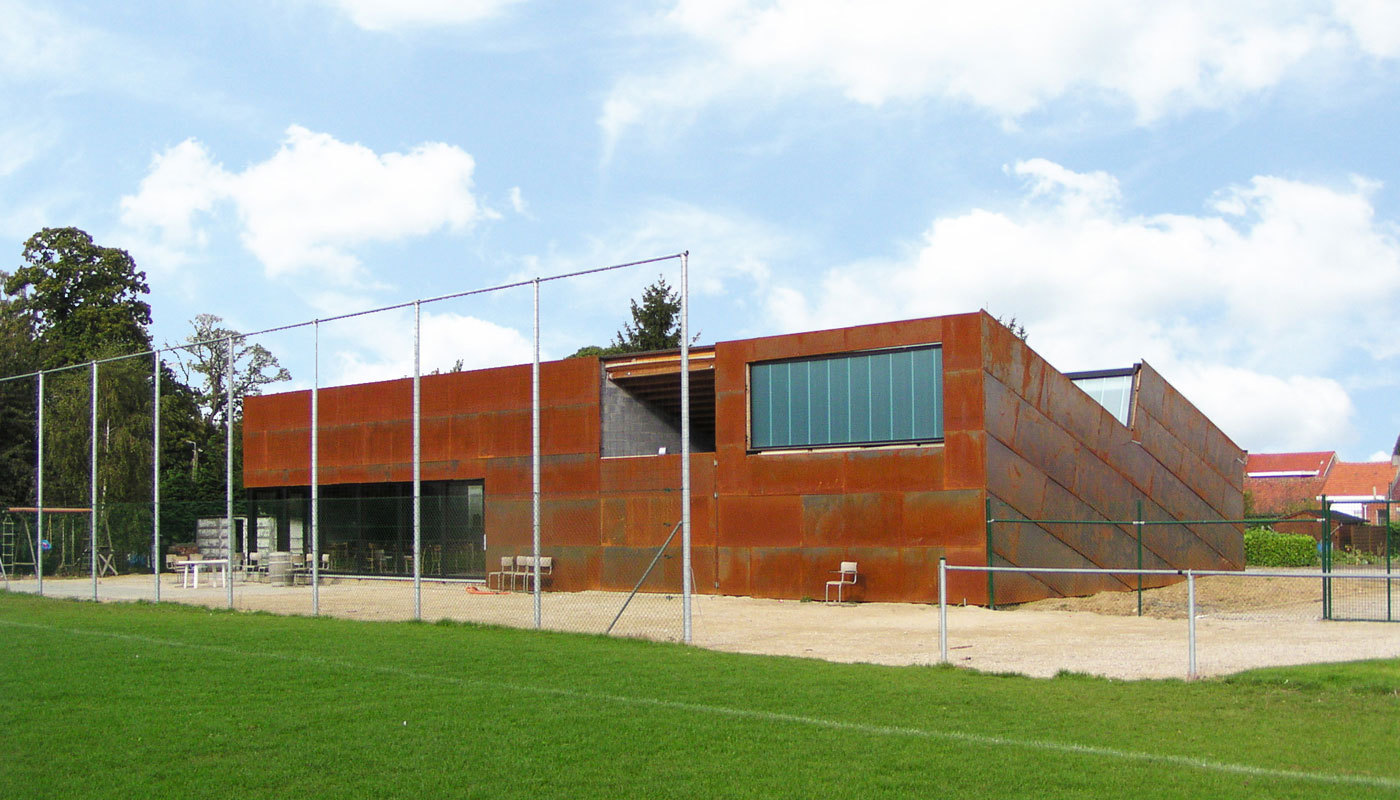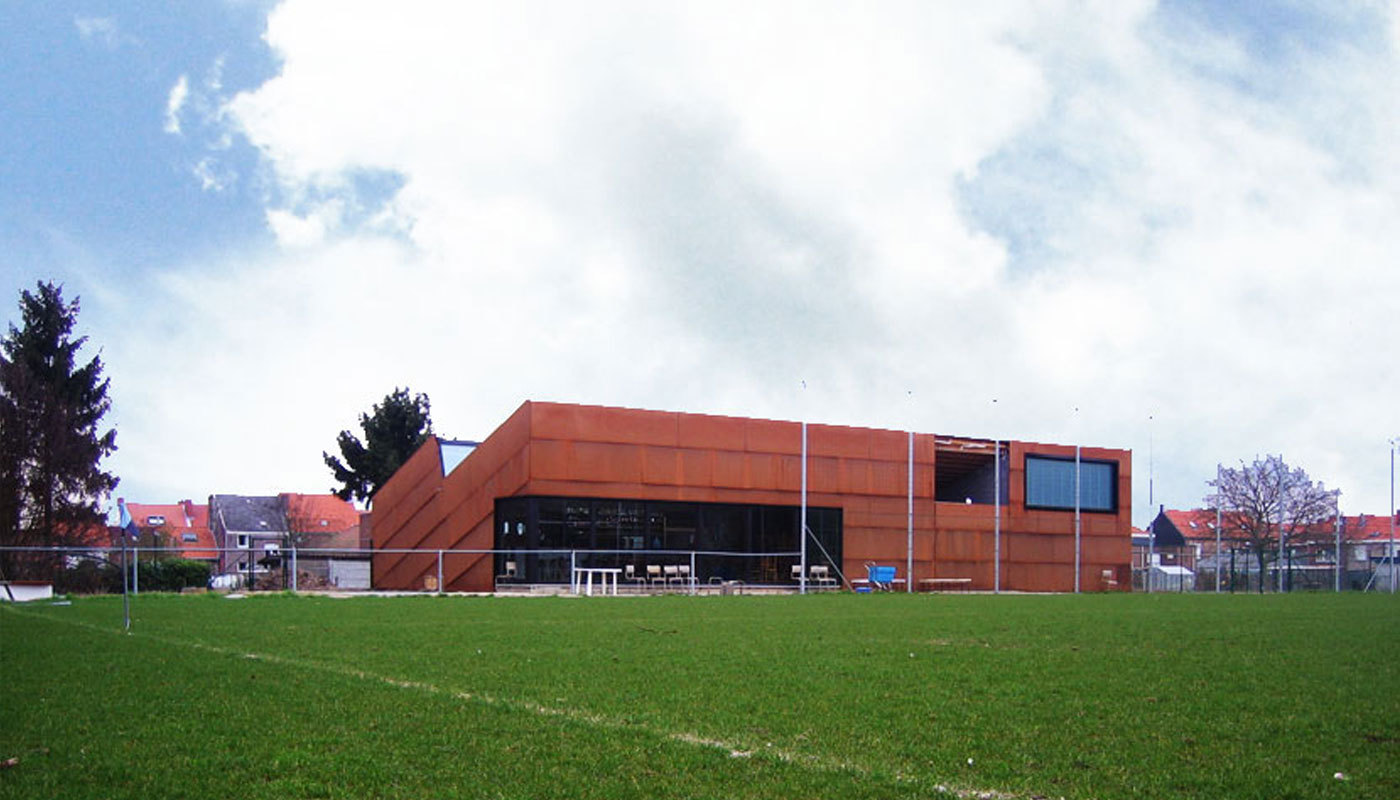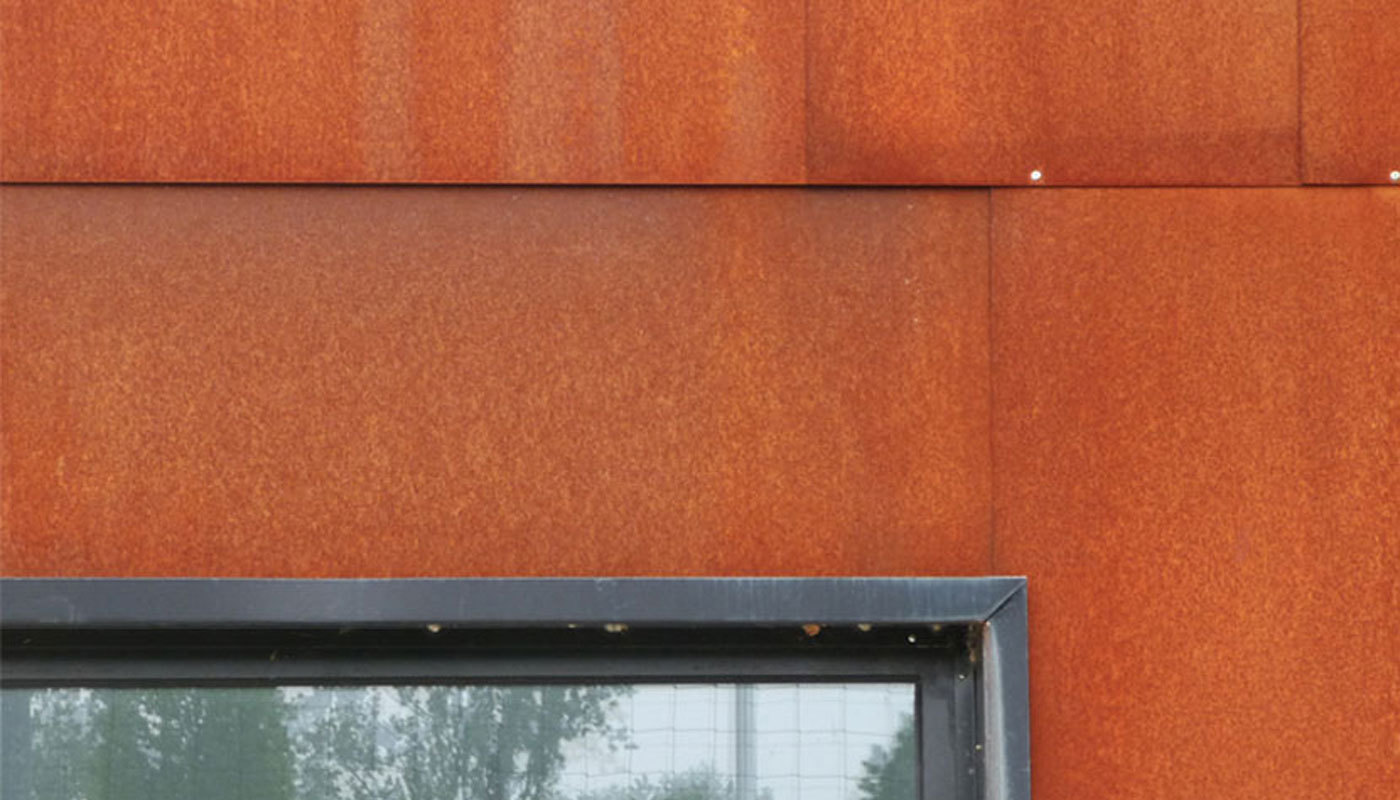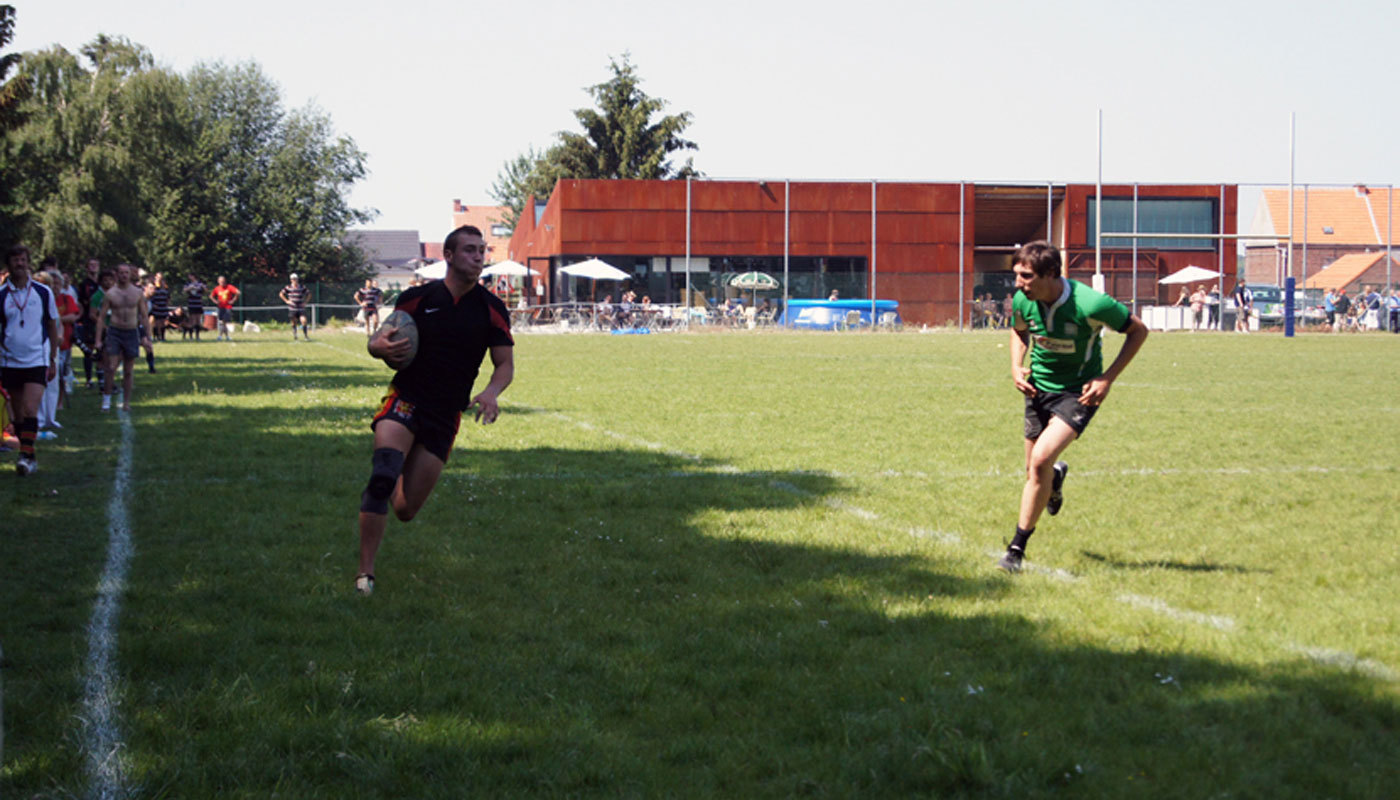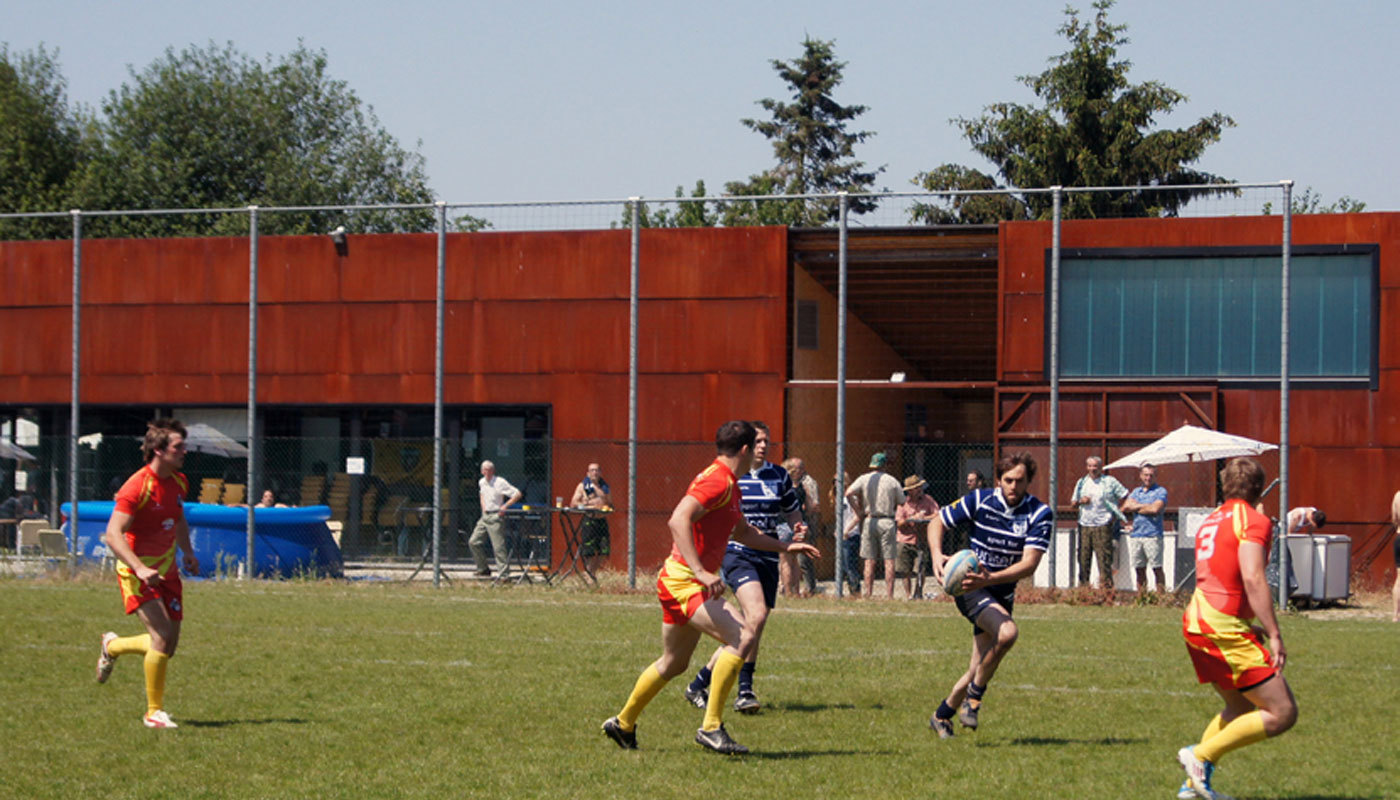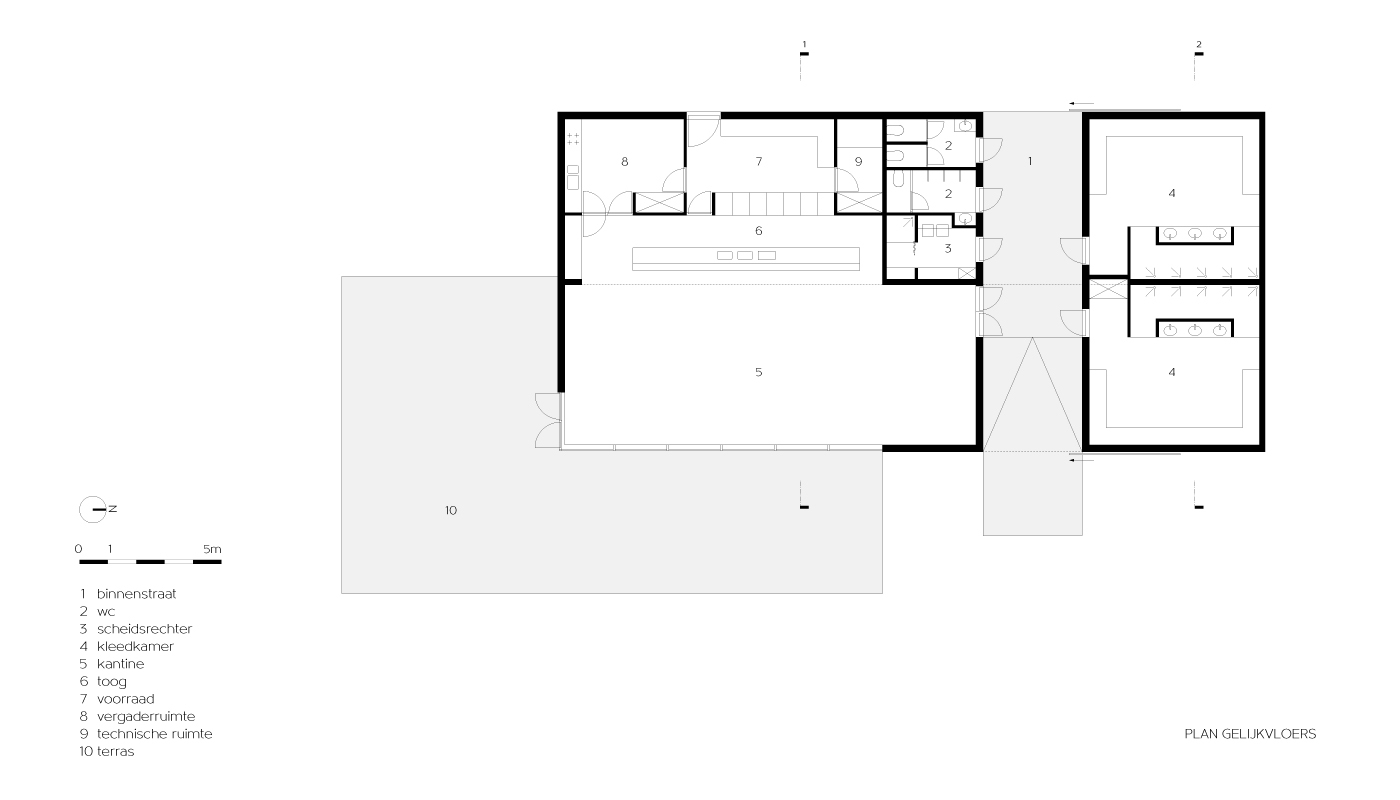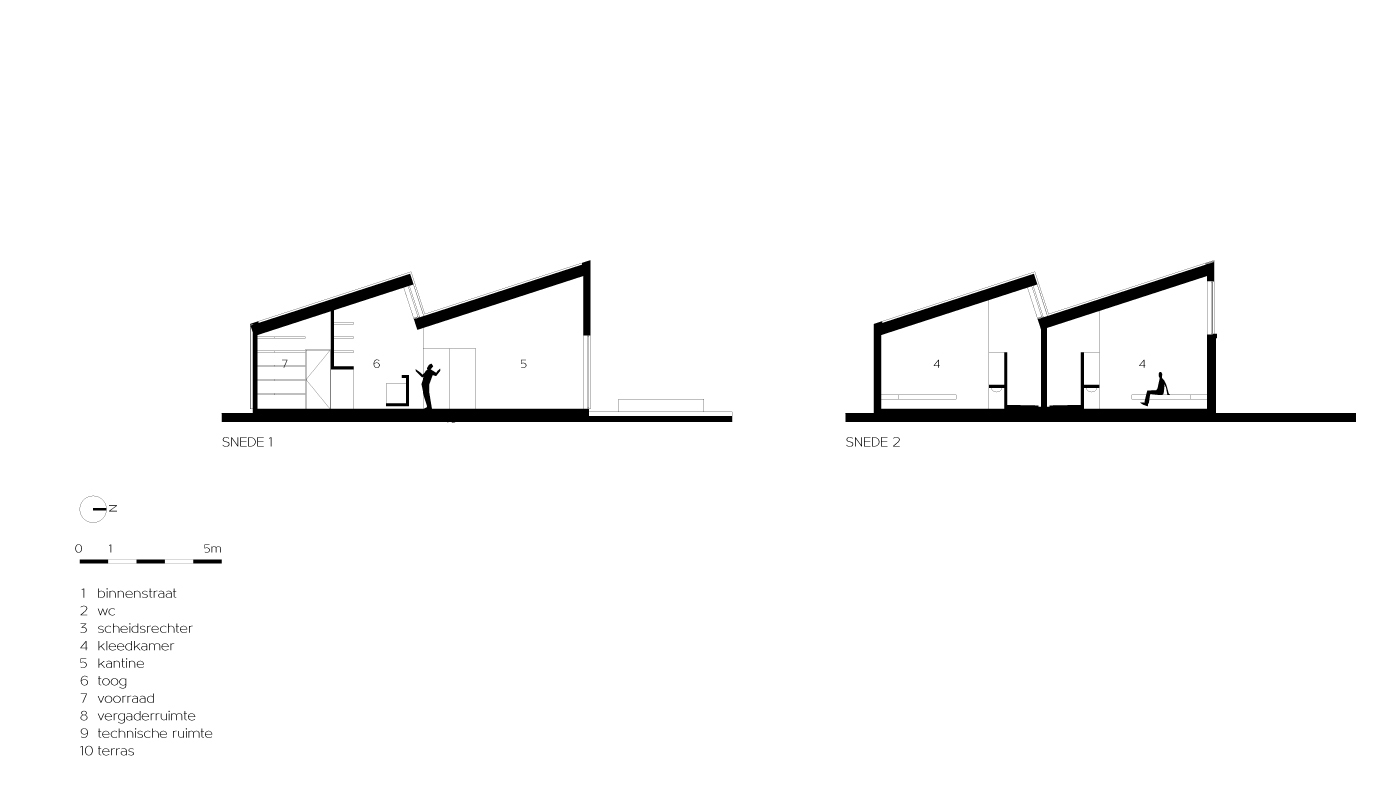 info
client

Rugby Club Leuven

location

Leuven

surface

300 m²

procedure

Competition - 1st prize

period

2002 - 2005

phase

Completed

team

ZAmpone architectuur - UTIL
Description
Het terrein van de Leuvense rugbyclub ligt midden in een woonzone, in een rustig binnengebied uitgevend op achtertuintjes.
ZAmpone respecteert bij de bouw van het clubcomplex de privacy en beperkt eventuele geluidsoverlast door drie gevels quasi volledig gesloten te houden, enkel de vierde gevel, uitgevend op het wedstrijdveld, krijgt een groot raam voor de kantine en een hoog raam voor de kleedkamers.
Een ander zorgpunt in het binnengebied is vandalisme. De massieve look enerzijds en de letterlijke geslotenheid anderzijds bieden weerstand.
Een eenvoudig gebaar maakt het mogelijk om het aantal buitendeuren te beperken tot slechts twee: een binnenstraat met aan de ene kant de publieke ruimtes zoals kantine en sanitair, aan de andere kant de kleedkamers. De spelers die net voor een wedstrijd vanuit die binnenstraat het terrein oplopen, krijgen iets mee van de klassieke heroïek van een groot stadion.
Door de gesloten doos te voorzien van een sheddak met lichtstraat over de volledige lengte krijgen de binnenruimtes royaal daglicht.
Er werd consequent gekozen voor brute materialen, gepolierd beton voor de vloeren en betonsteen zonder afwerking voor de muren, een economische keuze met een aangename akoestiek als meerwaarde. De volledige buitenzijde werd bekleed met Cortenstaal-platen die het geheel meer sculptuur dan gebouw maken. Een ruwe look die zonder onderhoud mooi veroudert en zelf tegen een stootje kan.
Les terrains du club de rugby de Leuven sont situés au milieu d'une zone résidentielle, dans un quartier calme, face à des jardins arrière.
Pendant la construction du club-house, ZAmpone respecte l'intimité et réduit au maximum les nuisances sonores potentielles en gardant trois façades presque entièrement fermées. Seule la quatrième façade, face au terrain de jeu, comporte une grande fenêtre pour la cantine et une fenêtre haute pour les vestiaires.
Un autre souci dans cette zone est le vandalisme. L'apparence massive, d'une part, et l'enclos littéral, d'autre part, offrent une certaine résistance.
Un geste simple permet de réduire le nombre de portes extérieures à seulement deux : une rue intérieure avec des espaces publics tels que la cantine et les toilettes d'un côté, et les vestiaires de l'autre. Les joueurs qui entrent sur le terrain depuis cette rue intérieure juste avant un match ressentent une touche d'héroïsme classique d'un grand stade.
En équipant la structure fermée d'un toit en appentis et d'un puits de lumière sur toute sa longueur, les espaces intérieurs reçoivent une généreuse lumière naturelle.
Un usage cohérent de matériaux robustes a été choisi : du béton poli pour les sols et des blocs de béton non finis pour les murs - un choix économique avec une acoustique agréable comme valeur ajoutée. L'ensemble de l'extérieur a été revêtu de plaques en acier Corten, lui donnant une apparence sculpturale plutôt que celle d'un bâtiment typique. Ce look brut vieillit magnifiquement sans entretien et est également durable contre l'usure.
The grounds of the Leuven rugby club are situated in the middle of a residential area, within a quiet inner area, facing backyard gardens.
During the construction of the clubhouse, ZAmpone respects privacy and minimizes potential noise disturbance by keeping three facades almost entirely closed. Only the fourth facade, facing the playing field, features a large window for the canteen and a tall window for the changing rooms.
Another concern in the inner area is vandalism. The massive appearance on one hand and the literal enclosedness on the other hand provide resistance.
A simple gesture reduces the number of exterior doors to just two: an interior street with public areas such as the canteen and restroom on one side, and the changing rooms on the other. Players who enter the field from this interior street just before a match experience a touch of the classical heroism of a grand stadium.
By equipping the closed structure with a shed roof and skylight along its entire length, the interior spaces receive generous natural daylight.
Consistent use of robust materials: polished concrete for the floors and unfinished concrete blocks for the walls – an economical choice with pleasant acoustics as an added value. The entire exterior was clad in Corten steel plates, giving it a sculptural appearance rather than a typical building. This rough look ages beautifully without maintenance and is also durable against wear and tear.

Download projectsheet
info
client

Rugby Club Leuven

location

Leuven

surface

300 m²

procedure

Competition - 1st prize

period

2002 - 2005

phase

Completed

team

ZAmpone architectuur - UTIL