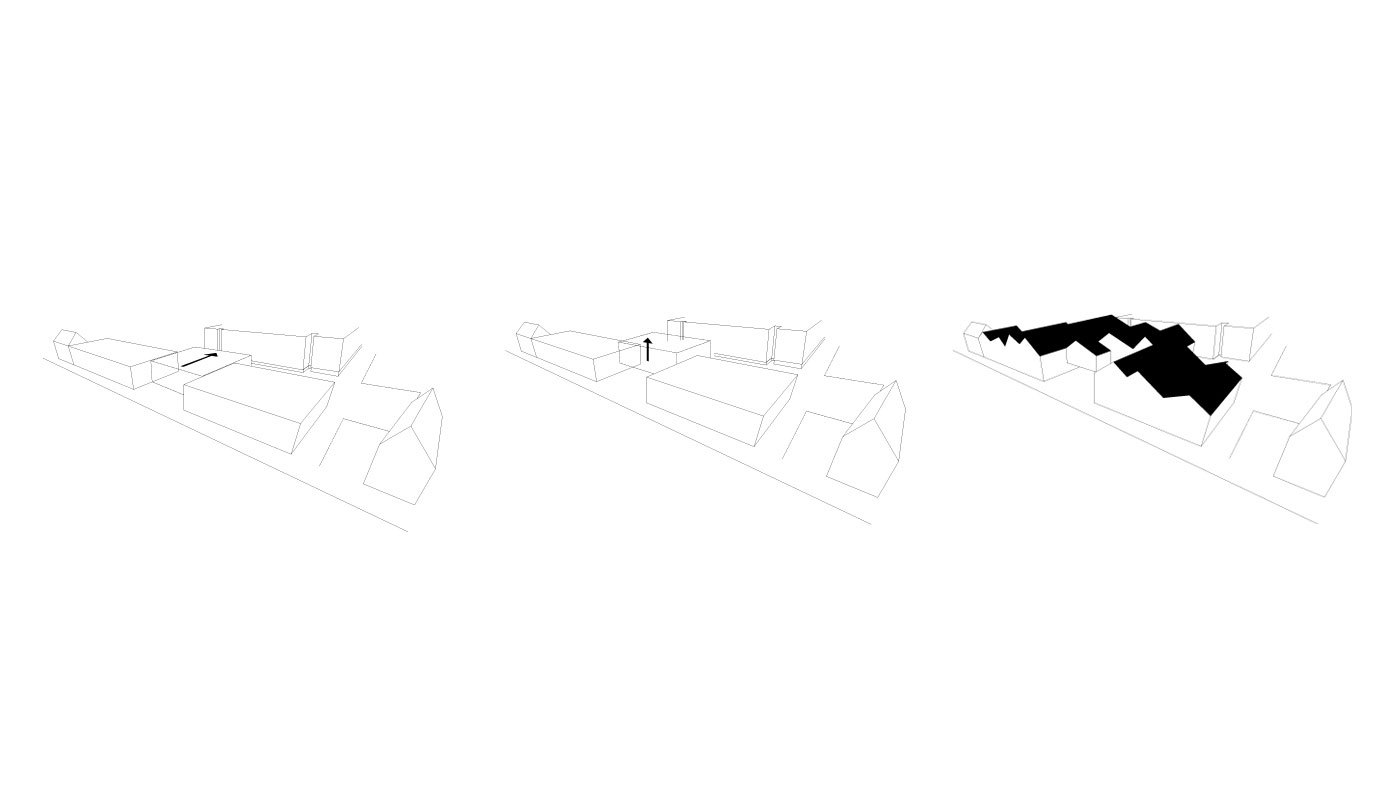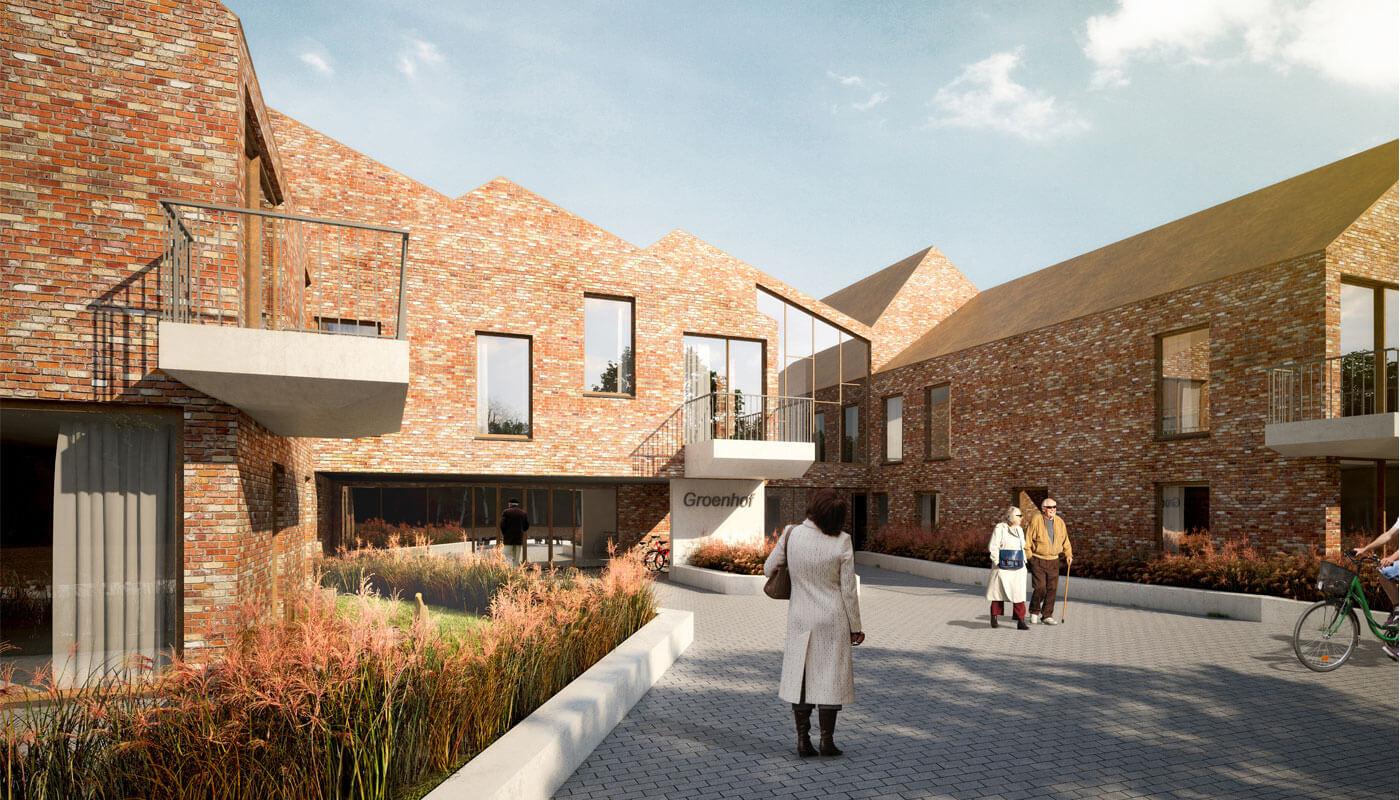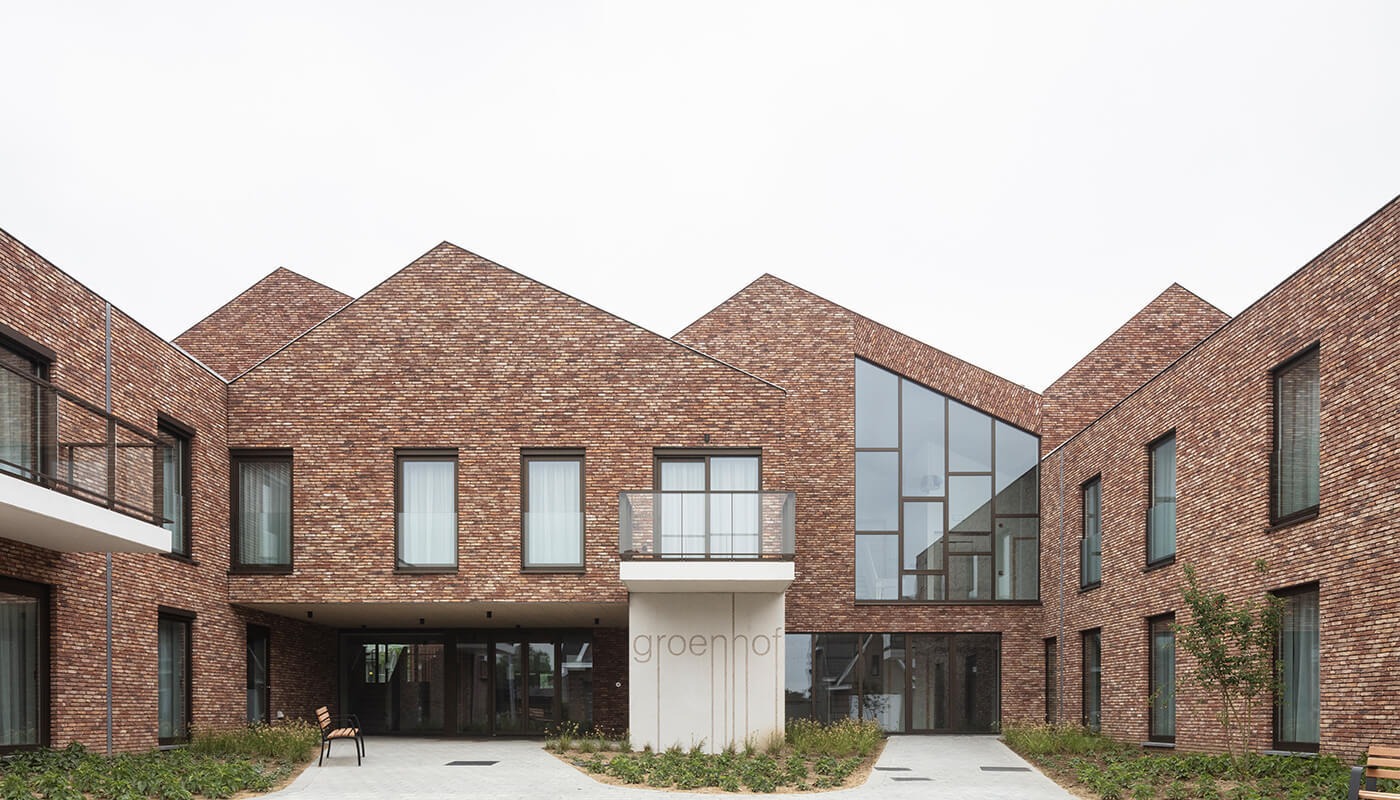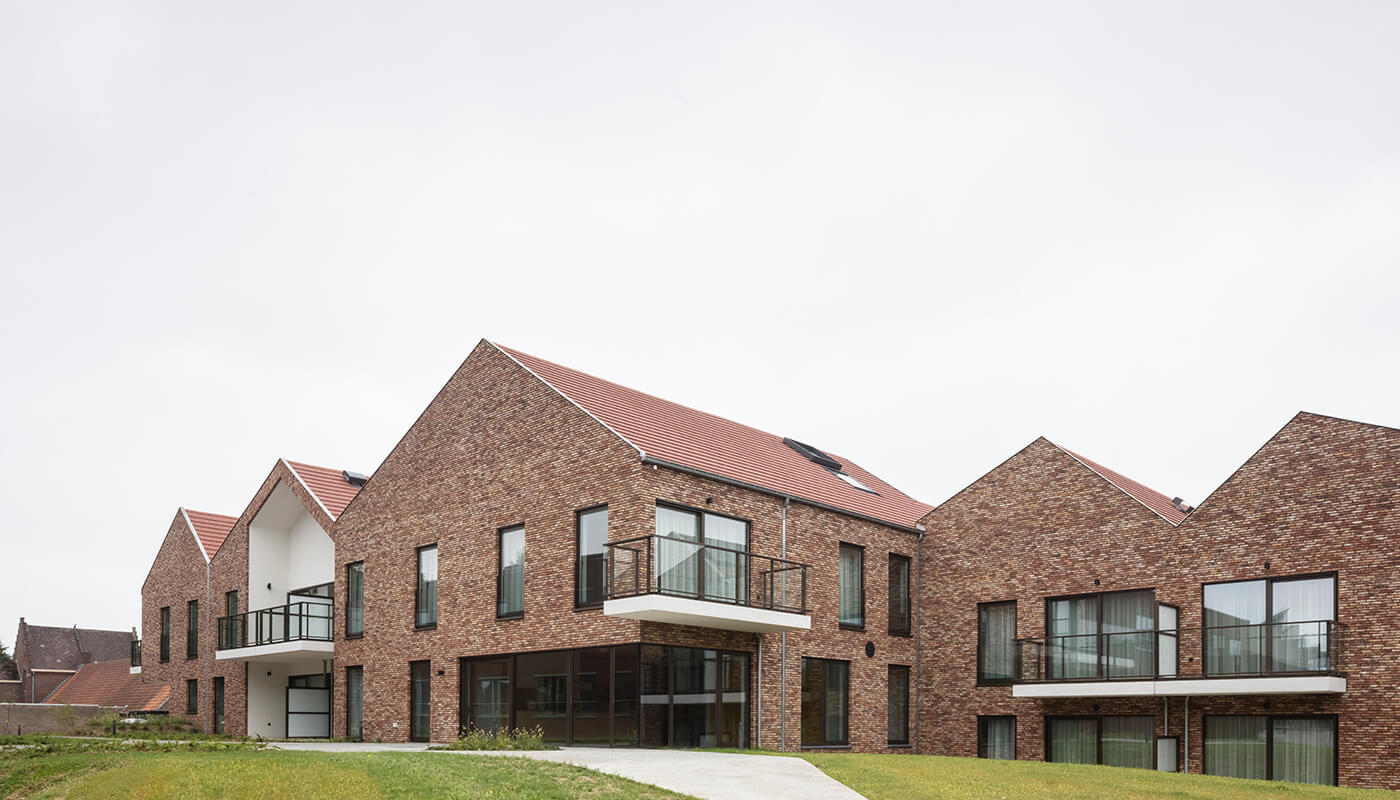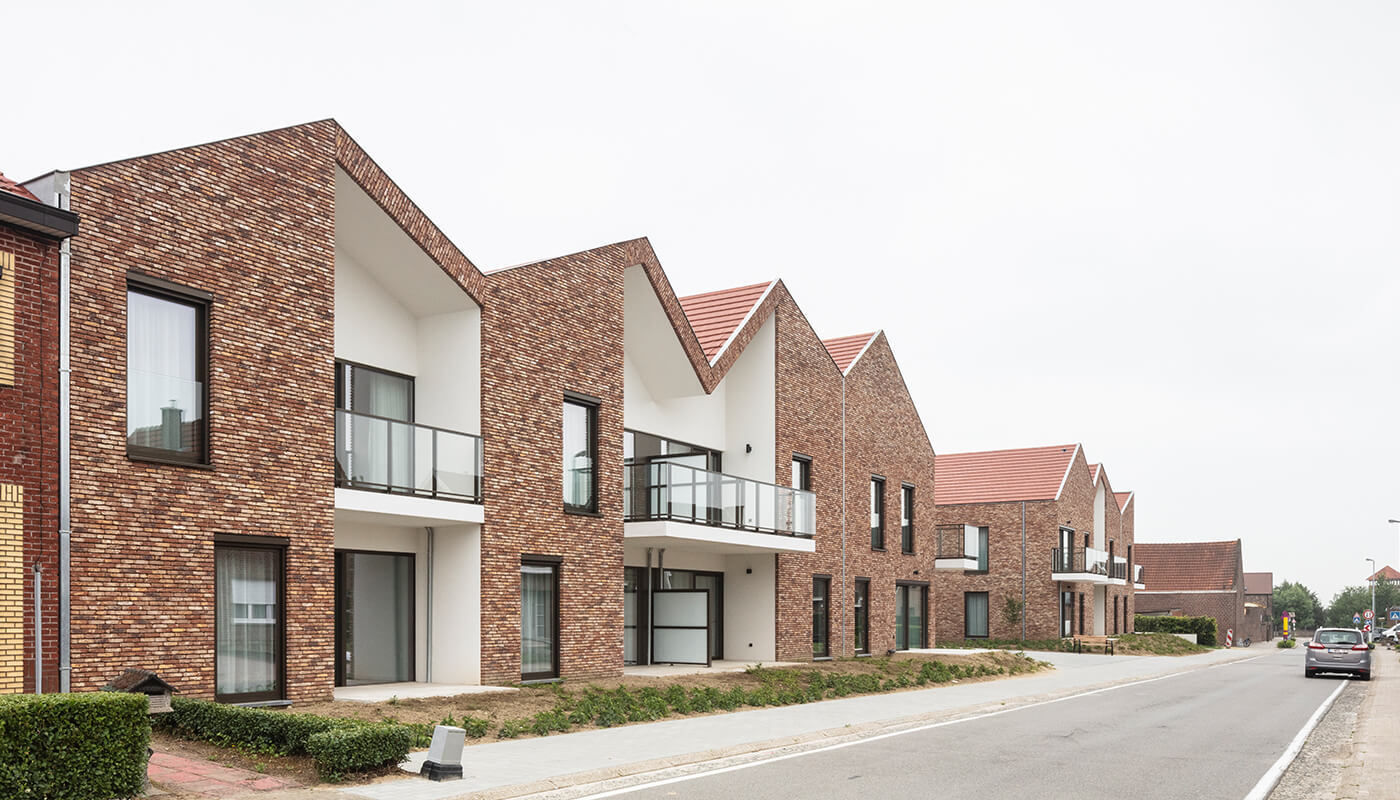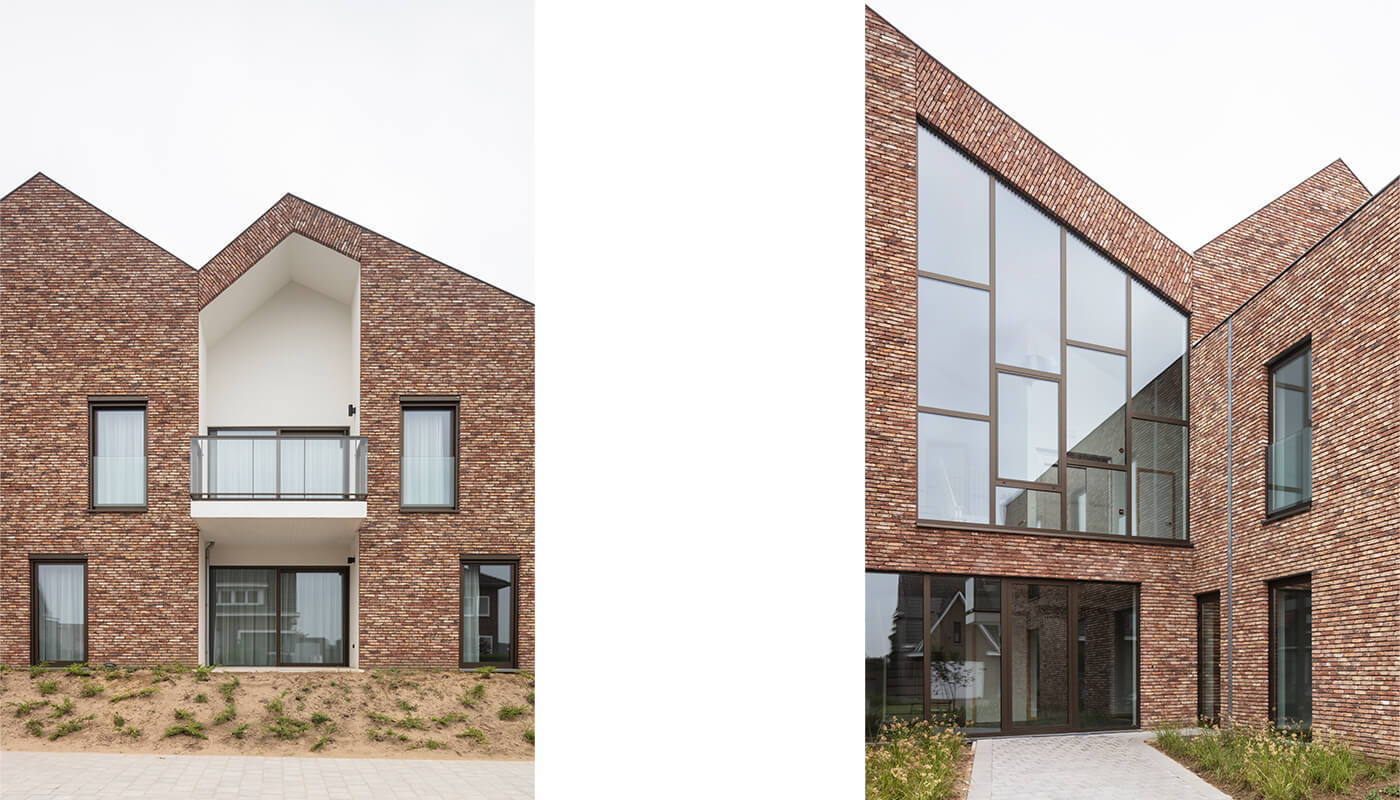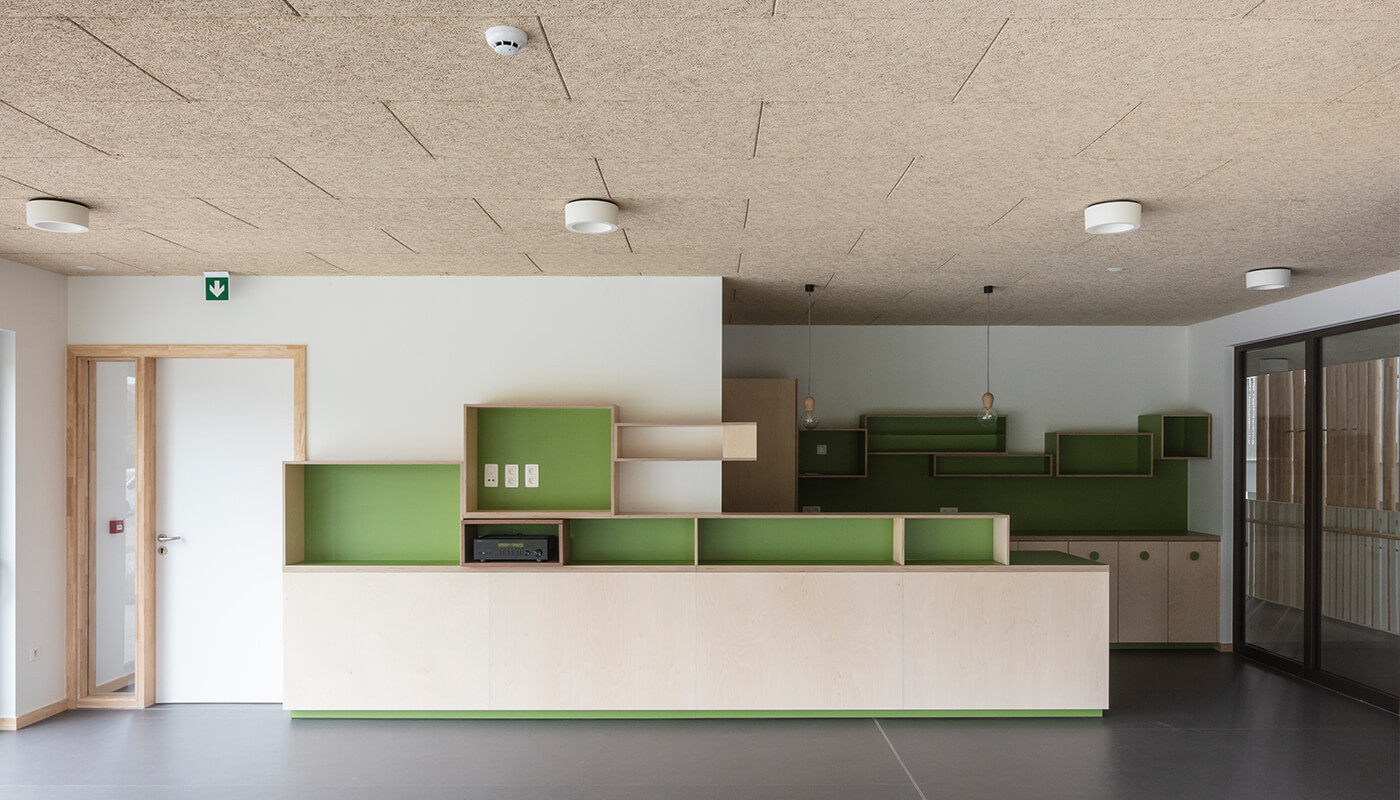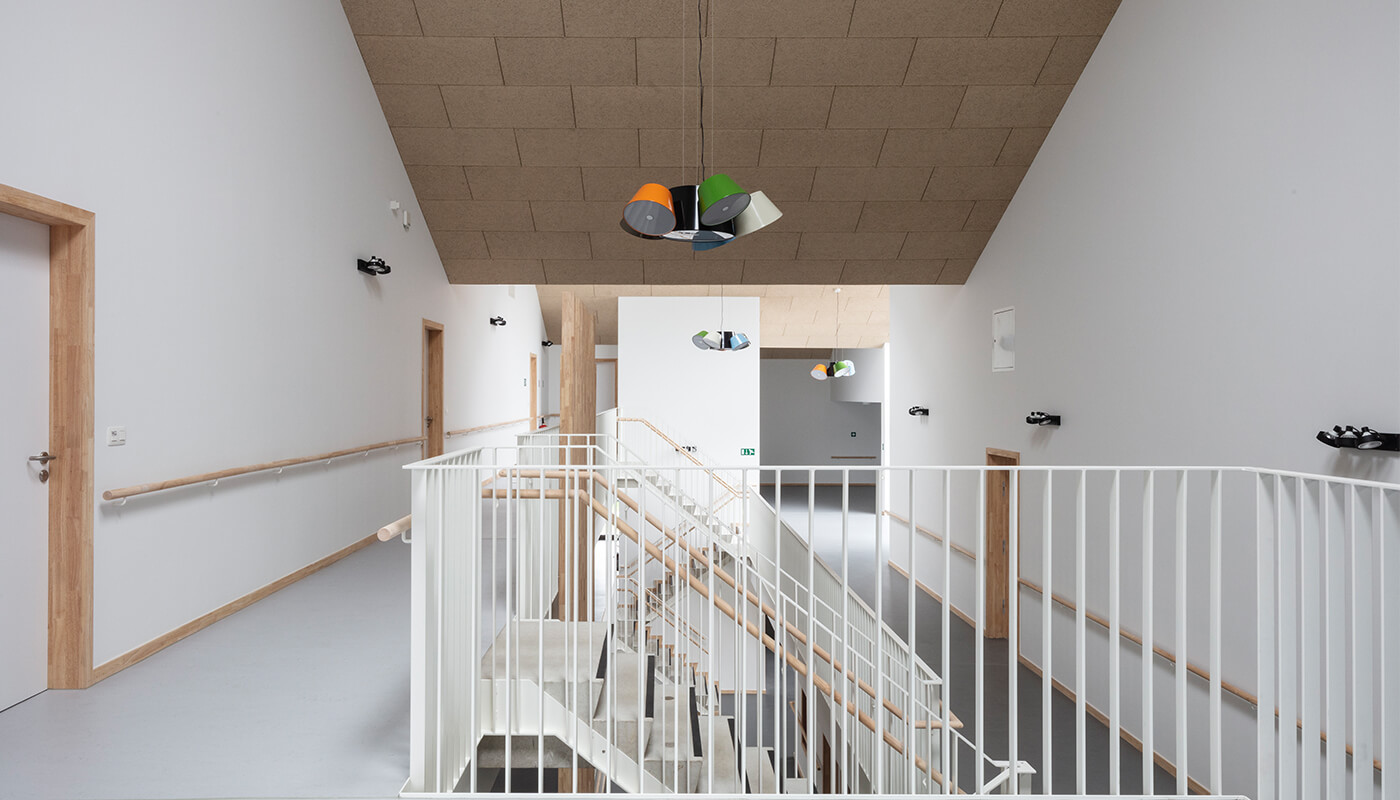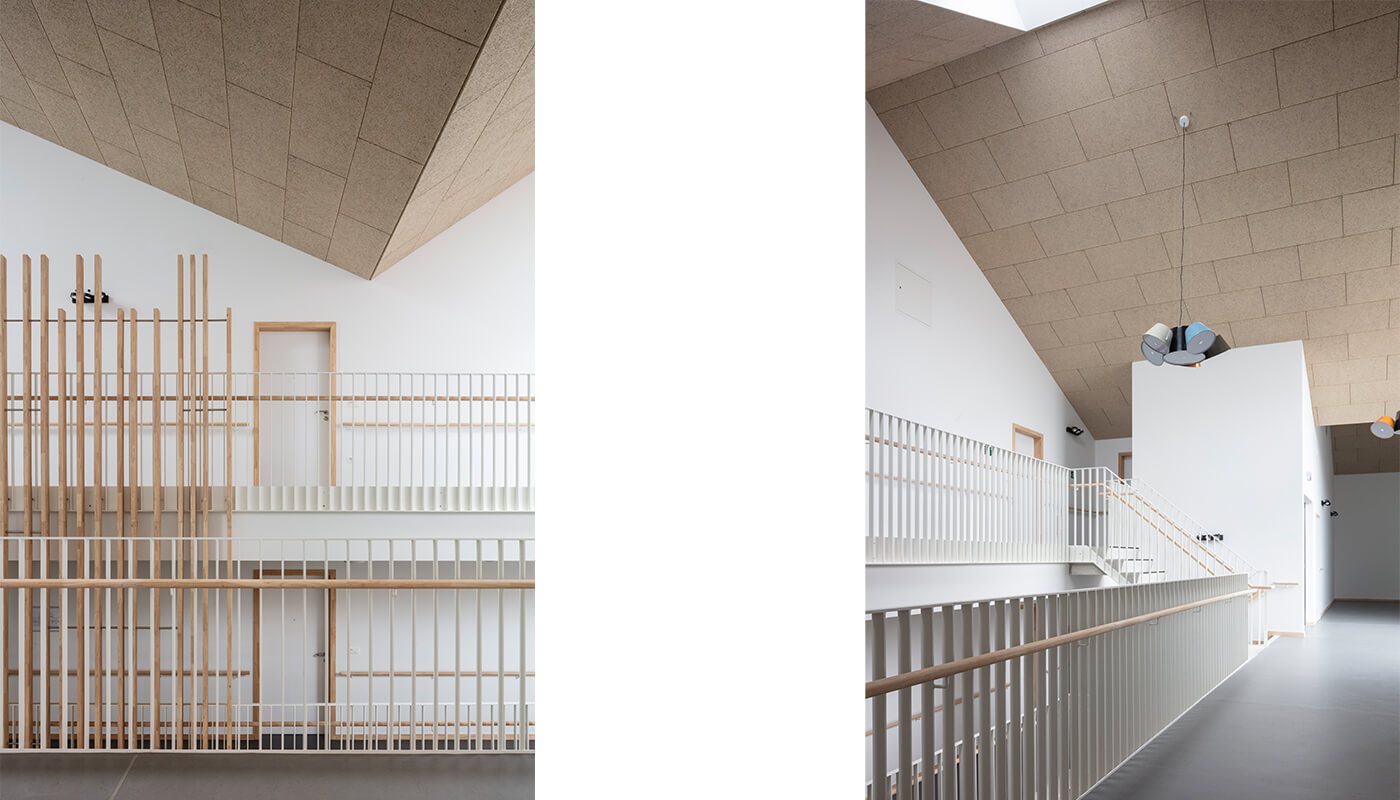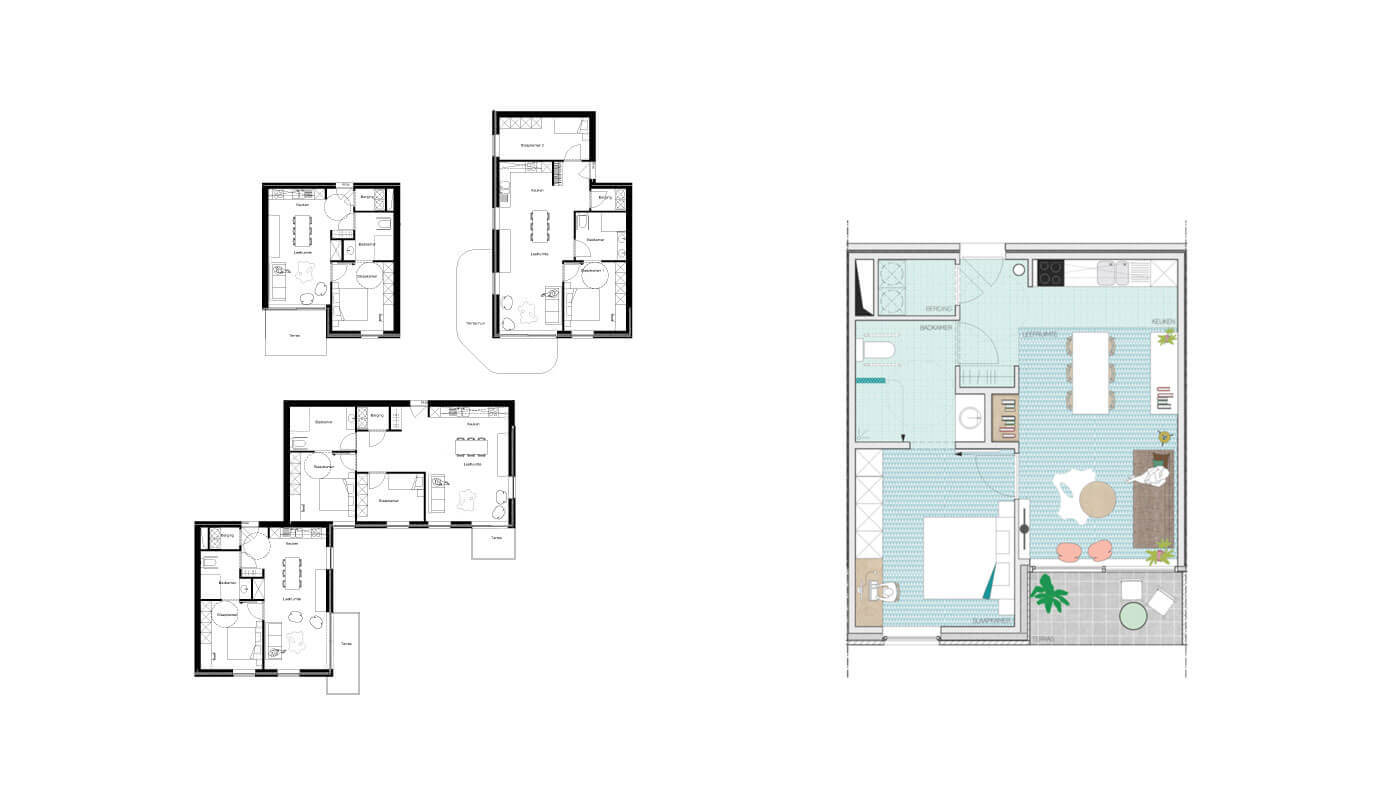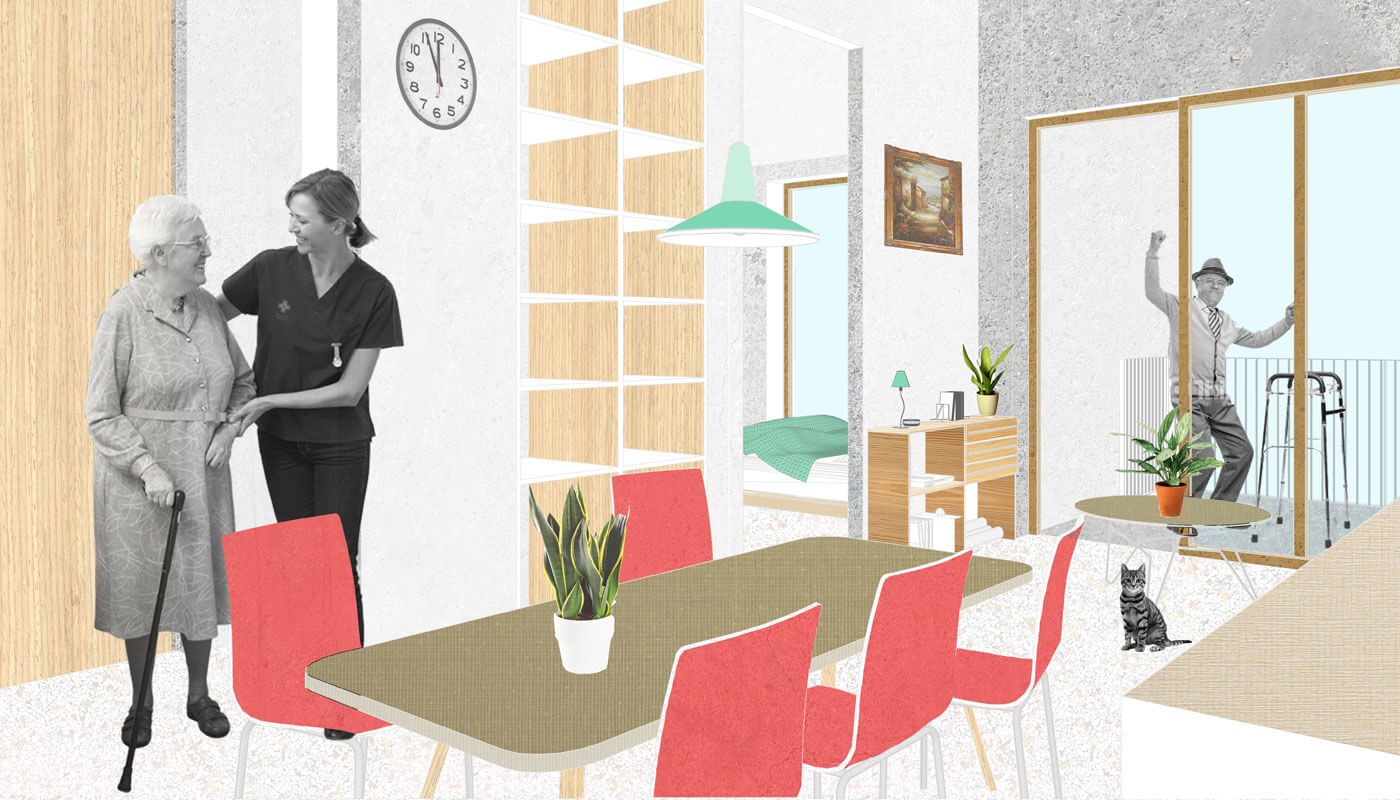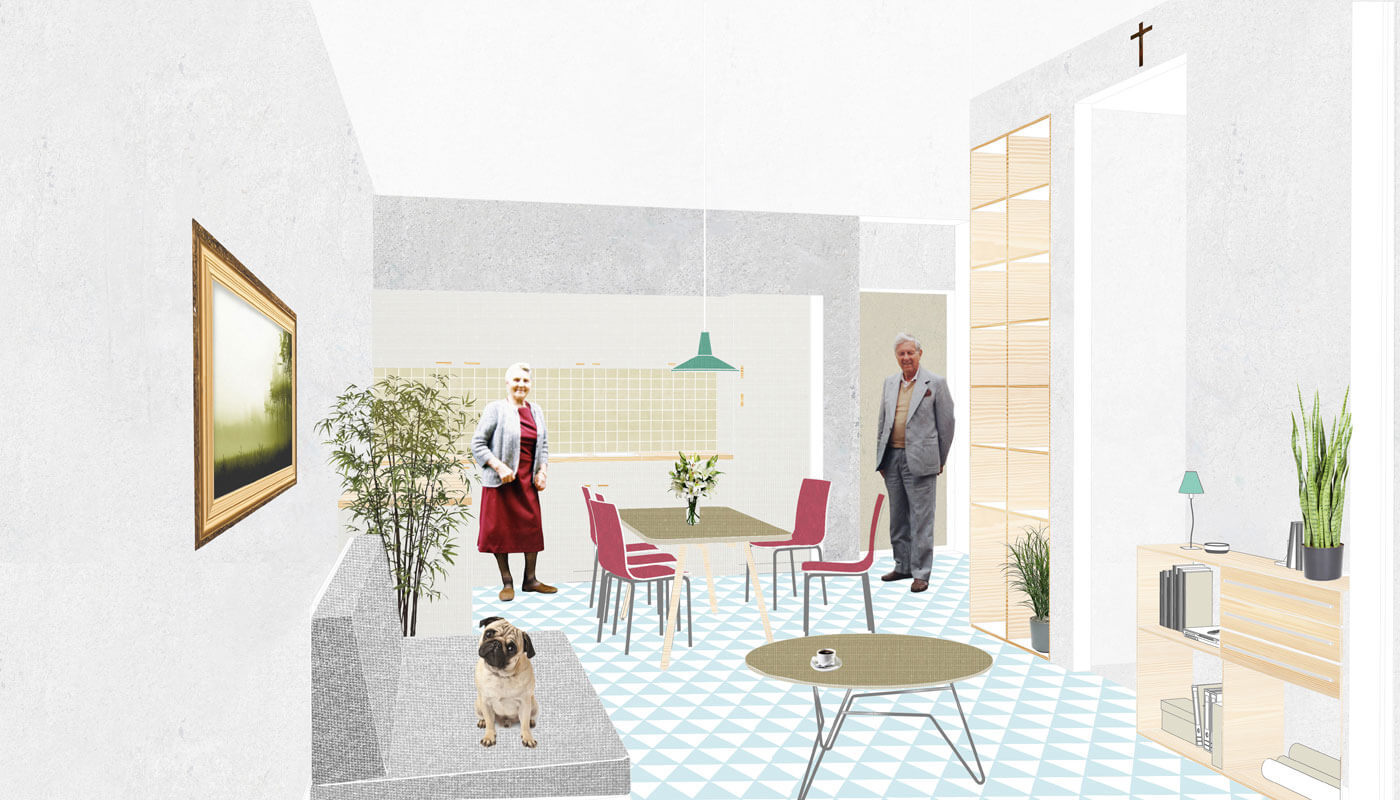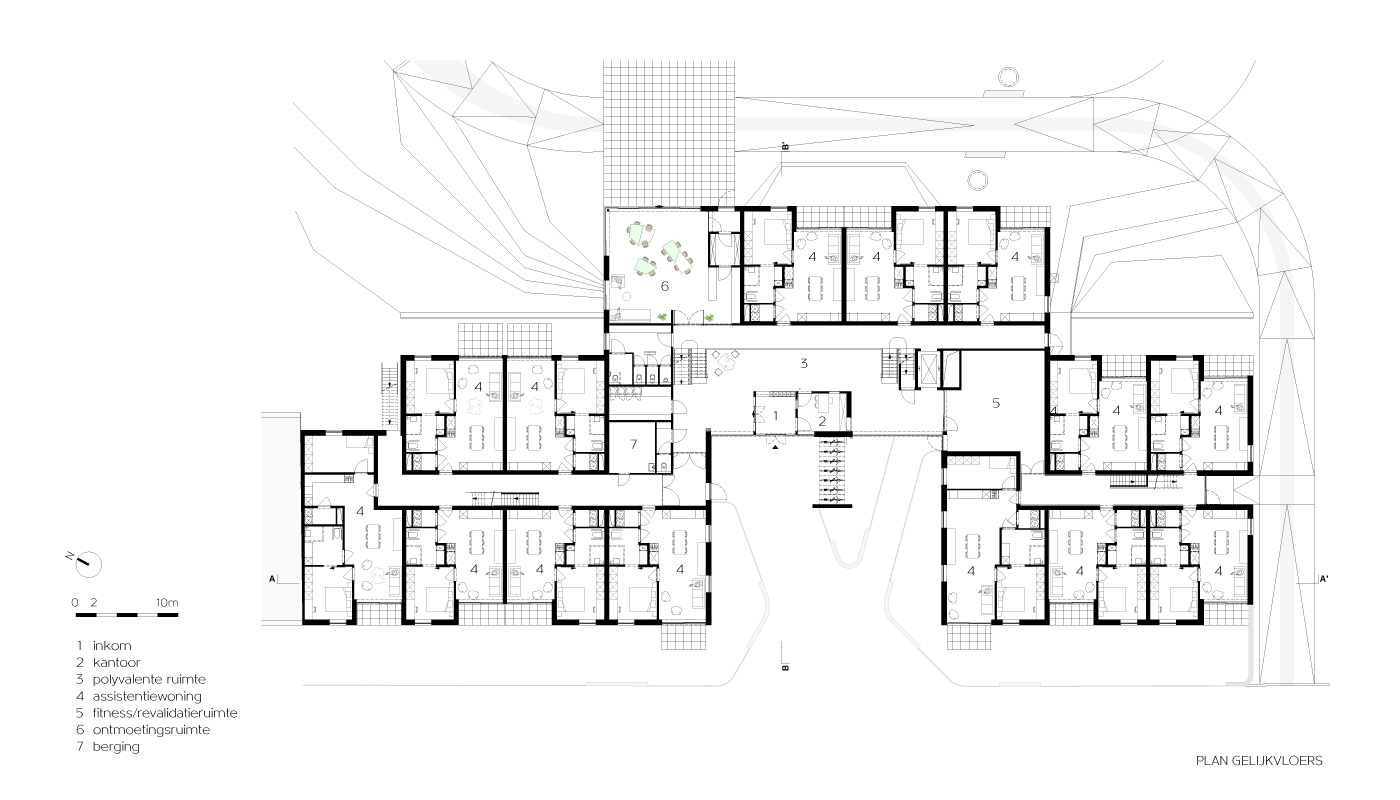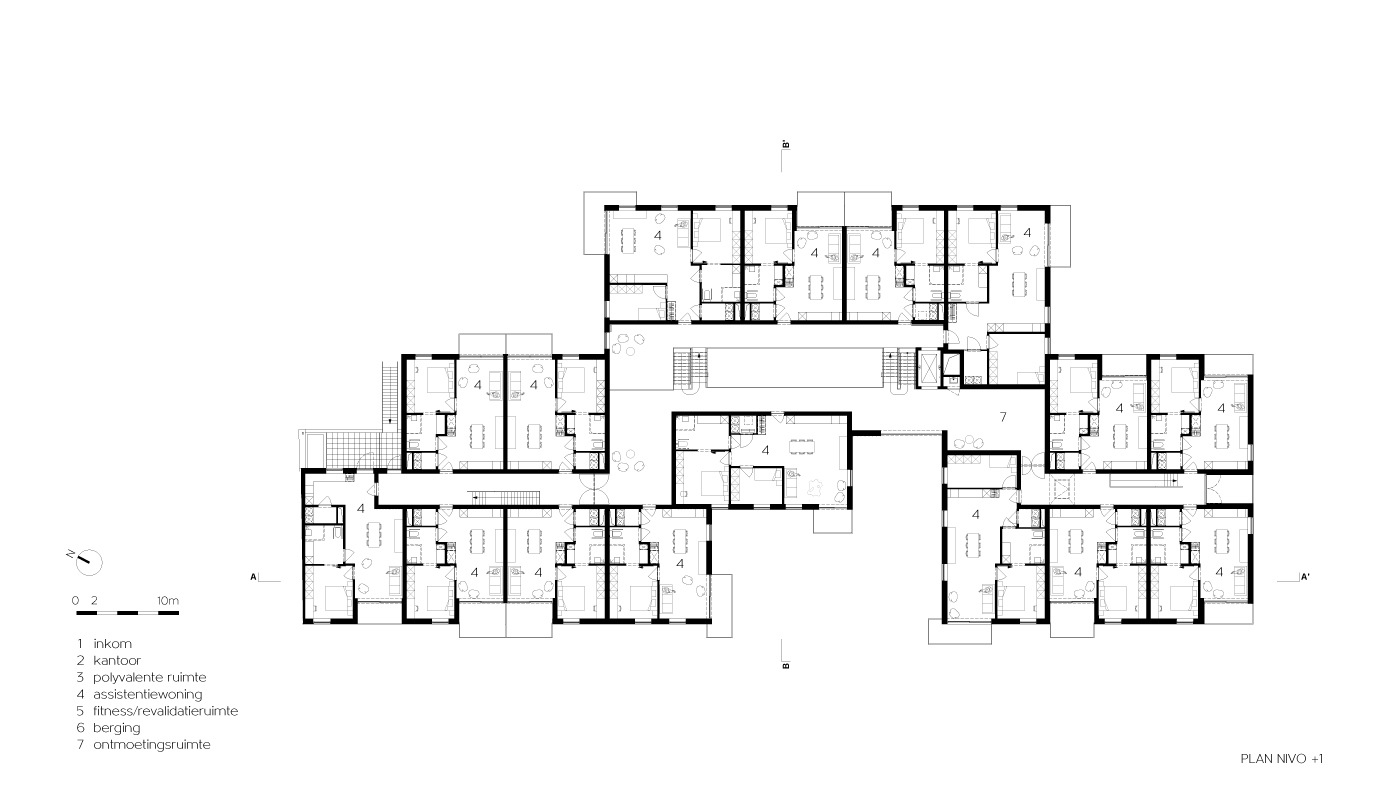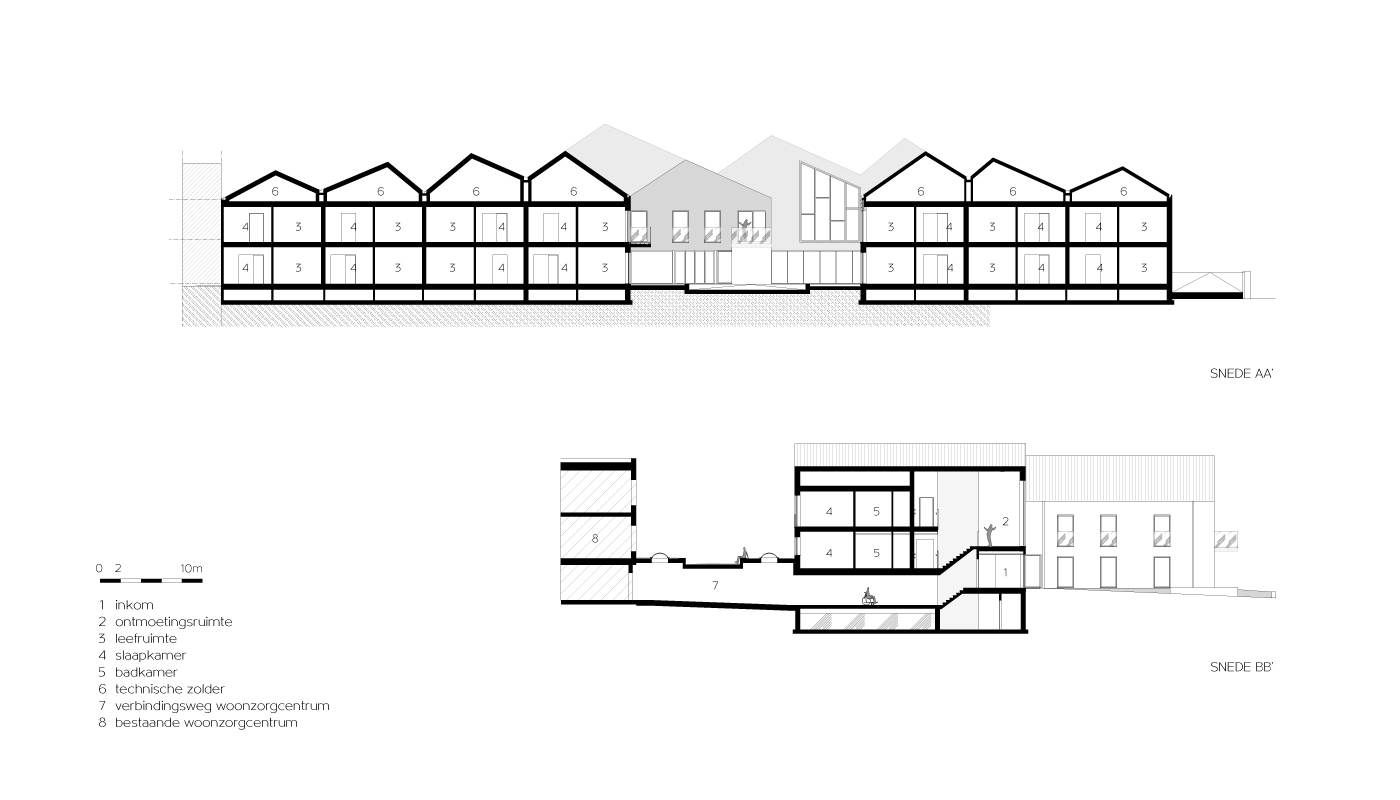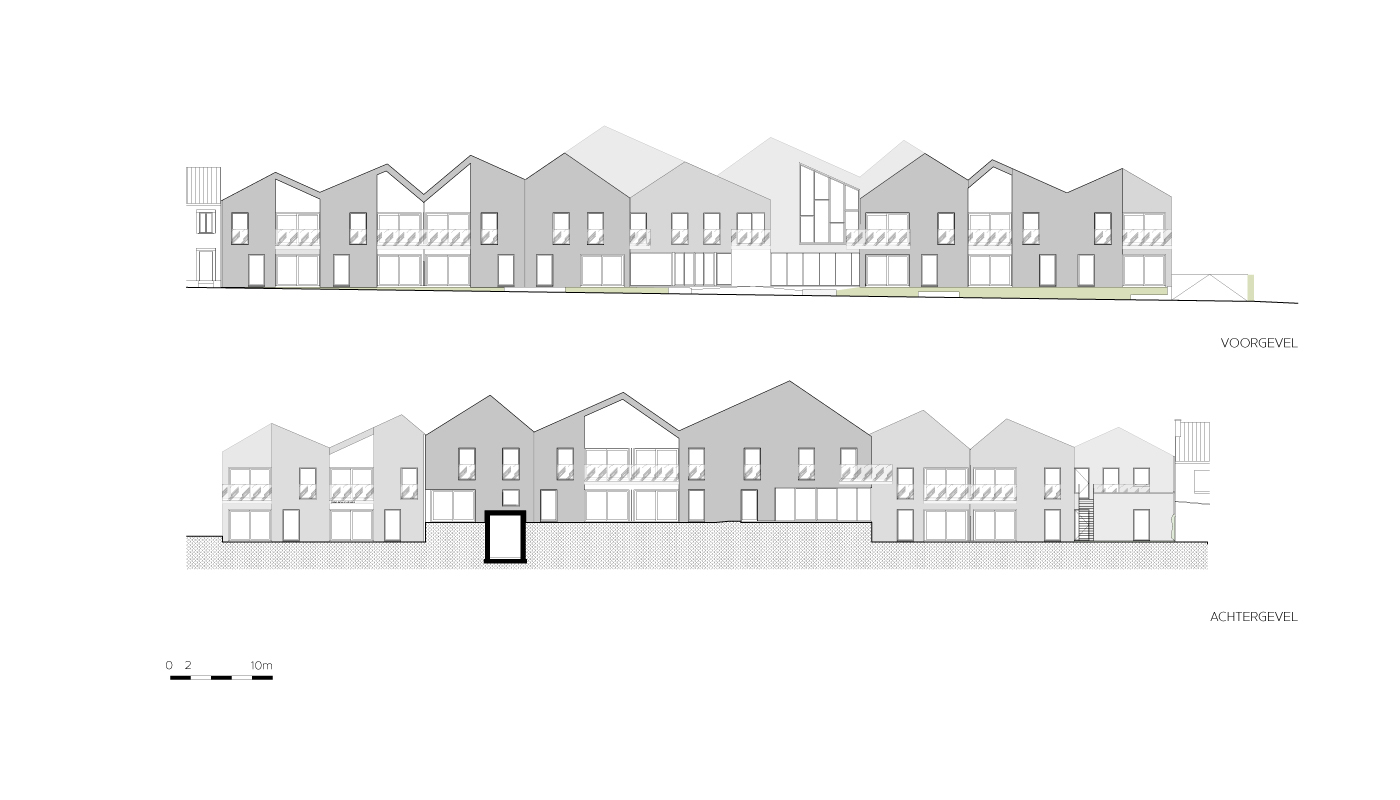 info
client

OCMW Tienen

location

Kumtich - Tienen

surface

3300 m²

procedure

Design & Build Competition - 1st prize

period

2015 - 2018

phase

Completed

team

ZAmpone architectuur - Dethier - V2S - Ivec

photography

Tim Van De Velde
Description
Dertig assistentiewoningen in Kumtich, een grote site met een bejaardentehuis, geflankeerd door een school, temidden van kleine, klassieke gezinswoningen: een oefening in integreren en balanceren, hedendaags versus traditioneel, grootschalig versus kleinschalig.
ZAmpone begint met een eenvoudig gebaar: het middelste bouwvolume wordt een halve verdieping opgetild en enkele meters naar achter geschoven.De impact is multiple. Buiten ontstaat een inkomplein waarvan de toegankelijkheid benadrukt wordt door de bestrating identiek te houden aan die van het voetpad. Binnen bezorgen de split levels de oudere bewoners rust na elke halve trapsteek. Doordachte schakelingen vermijden de gedachte aan een instituut, ruime bordessen en korte gangen in warme materialen bevorderen een thuisgevoel.
Spontane integratie: een verrijking en een vermenselijking. In de refter van de school, die huist in het woonzorgcentrum, op het inkomplein en in de gemengde groene zones doen jong en oud samen hun ding.
ZAmpone neemt een loopje met de archetypische kroonlijsten van de buren. Is ouder worden niet het evenwichtsspel tussen traditie en vernieuwing?
De woningen zijn gebouwd volgens de BEN-norm met een maximum aan gezonde materialen.
Trente logements pour personnes âgées à Kumtich, un vaste site comprenant une maison de repos, flanqué d'une école au milieu de petites maisons familiales classiques : un exercice d'intégration et d'équilibre entre le contemporain et le traditionnel, le grand et le petit.
ZAmpone commence par un geste simple : le volume du bâtiment central est surélevé d'un demi-étage et reculé de quelques mètres. L'impact est multiple. À l'extérieur, une place d'entrée est créée, dont l'accessibilité est soulignée par l'utilisation du même revêtement que celui du trottoir. À l'intérieur, les niveaux divisés offrent aux résidents âgés un moment de repos après chaque demi-volée d'escaliers. Des connexions réfléchies évitent l'impression d'un établissement, de larges paliers et de courts couloirs en matériaux chaleureux favorisent une sensation de chez-soi.
Intégration spontanée : un enrichissement et une humanisation. Dans la salle à manger de l'école, située dans le centre de soins résidentiel, sur la place d'entrée et dans les espaces verts mixtes, jeunes et moins jeunes partagent des moments ensemble.
ZAmpone s'amuse à dévier des corniches archétypales des maisons voisines. Le vieillissement n'est-il pas un équilibre entre tradition et innovation ?
Les logements sont construits selon la norme BEN (Bâtiment à Énergie Presque Nulle) avec un maximum de matériaux sains.
Thirty assisted-living homes in Kumtich, a large site with a nursing home, flanked by a school amidst small, classical family homes: an exercise in integrating and balancing contemporary versus traditional, large-scale versus small-scale.
ZAmpone starts with a simple gesture: the middle building volume is raised half a floor and shifted a few meters backward. The impact is manifold. Outside, an entrance square is created, its accessibility emphasized by using the same paving as the sidewalk. Inside, the split levels provide older residents with rest after every half flight of stairs. Thoughtful connections avoid the feeling of an institution, spacious landings and short corridors in warm materials promote a sense of home.
Spontaneous integration: an enrichment and humanization. In the school's dining room, housed in the residential care center, on the entrance square, and in the mixed green areas, young and old do things together.
ZAmpone playfully deviates from the neighboring houses' archetypal cornices. Isn't aging a balancing act between tradition and innovation?
The homes are built according to the BEN (Nearly Energy Neutral) standard with a maximum of healthy materials.

Download projectsheet
info
client

OCMW Tienen

location

Kumtich - Tienen

surface

3300 m²

procedure

Design & Build Competition - 1st prize

period

2015 - 2018

phase

Completed

team

ZAmpone architectuur - Dethier - V2S - Ivec

photography

Tim Van De Velde